Musical Theater
Aug. 01, 2008 04:02PM EST
Three Teachers Who Will Give You a Direct Link to the Masters of Musical Theater
If you're a musical-theater baby, names like Jack Cole, Bob Fosse, Agnes de Mille, Michael Bennett and Gower Champion probably already top your list of must-knows. Their iconic moves are the foundation of musical theater today, and they also continue to inspire new generations of dancers. Their legacy is alive and thriving in teachers who are directly linked to them—and who are renowned in their own right as well. So get into the studio with these experts and learn from those who made the Great White Way great—and who keep it that way!
Diana Laurenson
Focus on performance with this Fosse-show veteran.
"It's showtime, folks!" from Bob Fosse's movie All That Jazz punctures the silence. Diana Laurenson stands front and center, commanding attention like a revered director: "Curtain's up! There is no mirror anymore. Raise your eyes to the balcony. Now slowly lower them until you reach an audience member in the fourth row orchestra—this is a performance." The studio becomes a stage and the students are remade into an ensemble.
With a generous smile and the mantra "gracious confidence," Laurenson is an authentic and accessible musical-theater treasure. She first moved to NYC as an aspiring journalist and auditioned for Fosse's Dancin' on a dare! Her natural talent, guts and personality—not to mention legs for days—got her noticed. But it was a unique mix of what Fosse saw as sexuality and innocence that earned her a spot in the ensemble. Laurenson's class is truly an inside look at musical theater—and she specifically asks students to leave technique class behind.
"I offer the chance to work on performance," she explains. "Here, they can combine movement with facial expression and vocals. We need to practice performance just like we practice tendus!" Laurenson moves through a warm-up of Pilates, yoga, isolations and even a center ballet barre (facing a partner across the room!) without ever losing the thread of performance.
She then jumps straight into a combination from a musical, often original choreography. Fosse standards like "There's Gotta Be Something Better Than This" (Sweet Charity) and "Hot Honey Rag" (Chicago) are mixed in with classics like "America" from West Side Story. (Laurenson played Anybodys in the world tour.) An extra treat is hearing anecdotes from her career, which usually start with "Bob [Fosse] used to say. . ." or "I remember when Jerry [Robbins]. . ."! In addition, you'll learn about the history and context of a show, which makes each class as challenging mentally as it is physically.
Steven Sofia
Learn time-period traits from this song-and-dance man.
At Steps on Broadway, you might be surprised to hear "Margarita!" or "Weekend!" echo through the halls. But peer into the upstairs studio and you'll find the jubilant Steven Sofia encouraging dancers to smile during barre—what a concept! Holding an unshakable balance in a passé relevé, Sofia calmly explains, "This is just breath, bones and energy. You can still be human up here!"
Growing up in NYC, Sofia was instantly attracted to musical theater. During a summer break from LaGuardia High School for the Performing Arts, Sofia attended a workshop that included teachers from the American Dance Machine, the monumental company that served as a living archive of musical theater choreography. He was hooked by period-specific pieces, and joined the company after graduating. While part of ADM, he learned choreography straight from the greats themselves: Agnes de Mille, Buzz Miller, Gwen Verdon and Tony Stevens.
His ADM background and experience with these icons is apparent from the very start of his class. Sofia first uses a yoga exercise as "a great moment to close the door and make a conscious effort to commit to learn and become a better dancer," he says. Next, a short ballet barre inspired by Nenette Charisse (Cyd's sister-in-law!), followed by isolations in the center culled from the ADM warm-up to work each tiny body part—even fingertips.
While the warm-up concentrates on mastery of the body, once the combination begins, get ready to move—and act! "It's great to be a technical dancer, but in musical theater, if you're not also connecting to the piece as an actor, it doesn't work," Sofia says.
If you take his class regularly you'll work through a dizzying variety of choreography, but always with a time period and character in mind. "Unless you're specifically playing a dancer in a musical like A Chorus Line, you're always playing a character. You might be a maid, a showgirl or a gangster and you have to embody them differently," Sofia says. "They're from a certain time period and that makes them move differently. Indulge in the world you are trying to create, and make the human connection."
Tony Stevens
Be part of the process with an artist who's done it all!
Tony Stevens demonstrates with the full force of a star in the spotlight. His blue eyes twinkle with a hint of mischief, and his dancing shames that of a youngster trying to push to the front. Stevens worked as a dancer (On the Town, Seesaw and Hello, Dolly!) and choreographer (Annie Get Your Gun; assistant choreographer to Bob Fosse on Chicago). Plus, he was one of the main inspirations for A Chorus Line!
In Stevens' class, you feel connected to the golden age of Broadway. Class starts slowly: flat on the back, and then sitting for gentle stretches. His warm-up, created to heat up (but not wear out) dancers before a show, is simple and energized, including isolations, pliés, tendus and developpés, as well as an arm series. You'll also find trademark musical theater moves, like shoulder rolls and sexy hips; watching Stevens do the steps himself is a lesson in finesse.
His combinations are a blend of classic jazz and musical theater, with plenty of sass, stylization and grounded movement. At Steps, Stevens teaches one phrase through three classes in a week. While the Monday class concentrates on general choreography, the next two classes focus on reworking, improving and imbuing the character in the piece—with input from the students.
"In my day, the choreographers created on us and integrated it with us to make it better," he explains. "When you see a piece on bodies, it morphs. The students become my clay. Everyone is part of the process."
Throughout class, Stevens stresses two things: style and acting. "The difference between theater dance and other genres is that you're required to be an actual person!" he says. "You must tell the story with a point of view. Every dancer needs to say something. Dancing is your vocabulary."
Win It
Sep. 05, 2017 12:10PM EST
Photos by Erin Baiano
It's time to get your pirouette on! From September 5th to September 30th, we're hosting a contest to find out who's the best turner of them all.

Put together your most impressive turning combo. Post a video online. Share your turns with us and thousands of other dancers around the world. And if our editors think you're the top turner, you'll win a fabulous prize.
Keep reading...
Show less
All of 18-year-old Kaylin Maggard's dreams—from scoring the title of National Senior Outstanding Dancer at New York City Dance Alliance Nationals to winning the 2017 Dance Spirit Cover Model Search—are coming true. And to anyone who knows the gorgeous contemporary dancer, that's no surprise.
From the moment the Dance Spirit staff met Kaylin, it was obvious her humility and talent would take her far. Not only did she go full-out during the photo shoot and class at Broadway Dance Center, but she was always cheering on, laughing with, and supporting her fellow CMS contestants Haley Hartsfield and Michelle Quiner. During the voting period, the social media world was abuzz with praise for her work ethic, positive attitude, and generosity.
Since her CMS trip to NYC, Kaylin's moved from her hometown of Columbia, MO, to the Big Apple for her freshman year at Juilliard, and is busy getting acquainted with the city. As for the future? She's taking it one opportunity at a time, but something tells us we'll be seeing this contemporary queen reach new heights every year.
Keep reading...
Show less
In our "Dear Katie" series, former NYCB soloist Kathryn Morgan answers your pressing dance questions. Have something you want to ask Katie? Email dearkatie@dancespirit.com for a chance to be featured!
Dear Katie,
I know I'm not getting good enough dance training from any of my local studios. But I'm not sure I'm ready to move away to study at a big-name school, either. How do you know when you're ready to leave home to pursue your passion?
Marisa
Keep reading...
Show less
Instagram star Kylie Shea has built a following of nearly 170,000 with her playful workout videos, which combine traditional fitness activities, like jumping rope or running on the treadmill, with pointe shoes and sassy choreography. Shea's effortless cool-girl-next-door vibe and solid ballet technique make her vids totally irresistible.
Now Shea's using her platform to address the body image issues that tend to plague dancers. In a poignant video, she sheds her clothes and tugs at her skin. The caption explains her relationship with her body and the pressure she feels to maintain a certain aesthetic as a dancer.
Keep reading...
Show less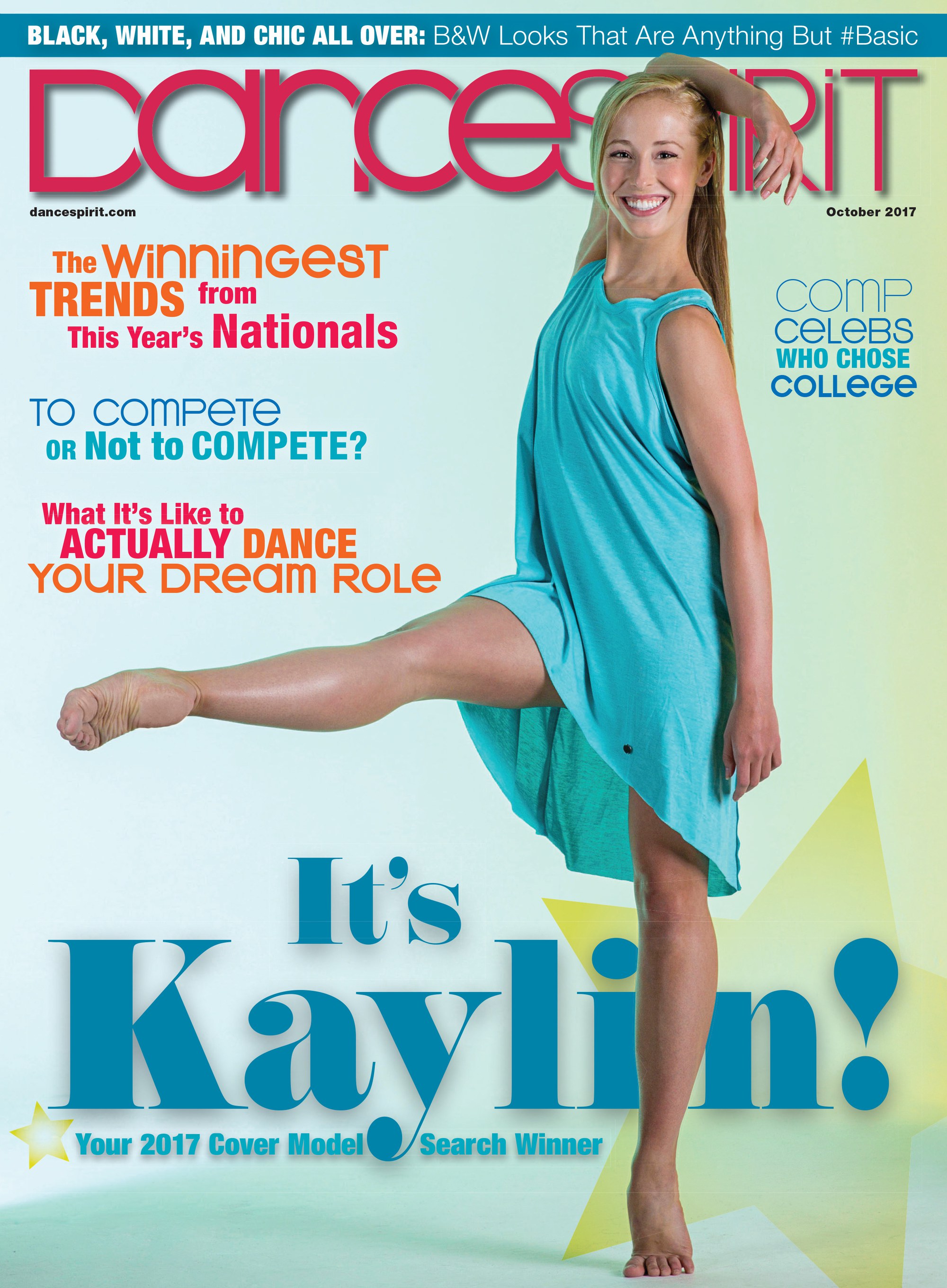 Get Dance Spirit in your inbox