How To
Mar. 28, 2017 12:35PM EST
Top Turning Tips from the Experts
Photo by Erin Baiano
Consistent turns are a must for aspiring professional dancers, but pretty much everyone struggles with pirouettes at some point. Luckily, since we're all beholden to the same rules of physics, there are concrete steps every dancer can take to reach his or her top turning potential. "Three is the new two when it comes to pirouettes, but the secret to turning is technique, not magic," says Bojan Spassoff, president and director of The Rock School for Dance Education in Philadelphia.
Falling out of your doubles? Aspiring to go revolution for revolution with your class's star turner? No matter where you lie on the turning spectrum, our 360-degree guide to pirouettes will help you improve.
---
Do Yourself a Solid
The stability of the passé position is the heart of every good pirouette. "I wasn't always great at turning," says 12-year-old Sophia Lucia—showing off her skills in the Instagram post above—who holds the Guinness World Record for the most consecutive pirouettes (55). She's learned to go down the RAFT checklist (rectangle, arch, focus, tightness) before each turn. Her shoulders and hips should be level, so the outline of her torso forms a rectangle. Her arch should push over the second toe of her supporting foot. She should focus her eyes on a specific spot. "And there shouldn't be one loose muscle in my body," Sophia says. "I'm not tense, just compact, which holds the whole position together as I turn."
Assess your own passé position in a simple balance. Are you using your highest possible relevé? "You should feel a stretch through the top of your foot, like someone is lifting under your heel," says Stephanie Wolf Spassoff, co-director of The Rock School. The front of the hips should be flat and level; your core muscles should support your passé; and your back and shoulder muscles should support your arms. Be sure to draw your passé up to its fullest height. "In a good position, you'll feel taller than you've ever felt before," says Darla Hoover, artistic director of the Ballet Academy East Pre-Professional Division in NYC. Once everything's properly placed, you should be able to balance easily.

Whip It Good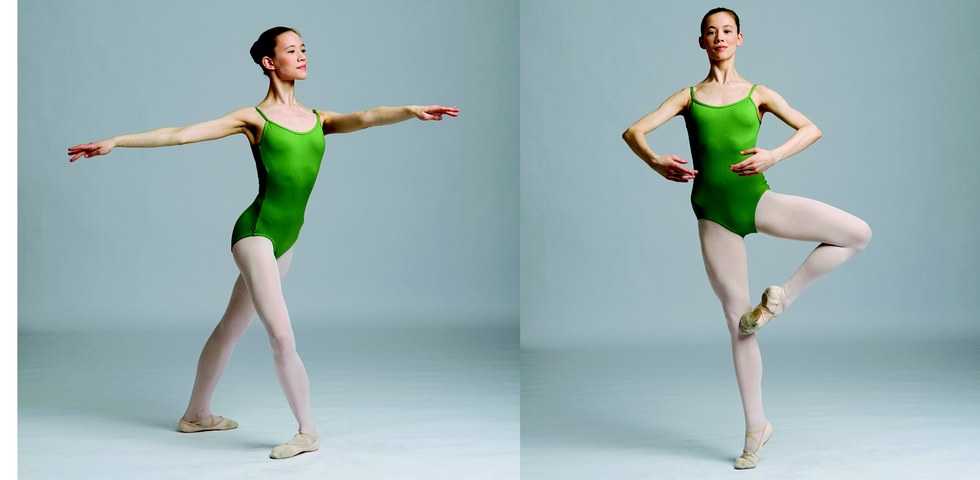 Feel your weight in the floor in preparation, and pull up quickly into a solid passé.
Photo by Erin Baiano
Your preparation is what sets that perfect passé in motion—and the key is a deep plié that gives you the force you need to get on top of your leg, according to Denise Wall, artistic director of Denise Wall's Dance Energy in Virginia Beach, VA. "Especially in fast-paced pieces, I see dancers bending their knees in plié without really connecting to the floor," she says. Feel your weight in the plié and push off the floor equally with both feet as you go into your turn. "Then find the quickest, most direct way to get from preparation to passé, and don't let the position lose integrity," Wolf Spassoff says. "There's a tendency for dancers to use a lot of force and go for as many turns as possible, but they literally throw themselves off balance. You have to be controlled and coordinated as you squeeze up to that position."
A strong spot will also help whip you around—but don't let your head go wild. "Your head is the heaviest part of your body, and it should drive down into the supporting leg," Wall says. Otherwise, the weight of your head will pull you off balance, causing you to fall out of the turn. "Your eyes should truly see something right from the moment of takeoff," Hoover adds. "If you have trouble spotting, practice by doing chaîné turns, which are simpler and naturally rhythmic, and put up actual targets to spot."
And don't forget about your arms. "You wouldn't want to be on a plane with a flapping wing," Hoover says. Engage your latissimus dorsi (lats), the large muscles that run down the back. If you're having trouble finding that feeling, start by pirouetting with your hands on your hips, keeping your elbows from moving. But don't let your upper body get stiff. "The arms don't have to be static," Wolf Spassoff says. "They should feel supported and buoyant—almost as if they're floating on water."

Troubleshoot (a Video)
The foundations of a good pirouette may be the same for all, but because everyone's body is different, corrections for one dancer don't necessarily apply to the rest of the class. "I'd love to be able to say, 'Go take your pirouette vitamin,' like the answer is the same for everyone," Spassoff says. "But your body is unique, and you need to find out how to use it most efficiently for your turns." (Some of Spassoff's Rock School students are finding their own unique ways to multiples in the video above.)
Ask a friend to record a video of you doing a series of preparations and turns on both sides, and analyze what you see. Falling sideways? You might be hiking up your working hip as you draw your foot up to passé. Falling backwards? You might be raising your shoulders or throwing your arms behind you. Rewind, rewind and rewind again, looking for the keys that will unlock your perfect pirouette. When in doubt, check in with that passé position, and don't get discouraged. "A turn is a living thing you're molding," Wolf Spassoff says.
Everyone has moments of frustration. "The day before a performance, I ran my solo 10 times and wasn't getting my turns," Sophia remembers. "I had a meltdown. But my mom helped me be confident by reminding me how hard I'd trained." On days when your pirouettes aren't working, remember that you've already got the tools you need to fix them in your turning toolbox: science, strength and awareness.
A version of this story appeared in the October 2015 issue of Dance Spirit.

Kalani Hilliker made "Dance Moms" fans sit up a little straighter when she first appeared on "Abby's Ultimate Dance Competition" back in 2013. The then–12-year-old ballerina had charisma, she had sass—and, wow, did she have technique! Abby Lee Miller, the show's infamous host, saw Kalani's star potential from the start, saving her from elimination and ultimately inviting her to perform alongside Maddie Ziegler on Season 4 of "Dance Moms." "I was never supposed to be on 'Dance Moms' beyond that one performance," says Kalani, now 16, but she ended up staying on the show for the whole season—and the following three. "It was my first time, but not my last time, causing drama. And it was also the first time I got to meet the other dancers, who have become like sisters."
Keep reading...
Show less
Isaac Hernández in "Despertares" (via Vimeo)
Move over, Sergei Polunin*: There's a new ballet heartthrob in town.
Well, not "new," exactly: The fabulously talented Isaac Hernández has been a lead principal with the English National Ballet since 2015, and previously danced with Dutch National Ballet and San Francisco Ballet. (He's also part of a distinguished dance family: You met his brother, SFB corps member Esteban, in our March issue roundup of up-and-coming danseurs.)
But a dreamy new video by filmmaker Ezra Hurwitz—"Despertares" [Wake Up], featuring Hernández dancing in studios and on rooftops all over NYC—makes a strong case for this beautiful dancer becoming your next ballet crush:
Keep reading...
Show less
Popular
Aug. 16, 2017 02:26PM EST
Dance students performing in the graduation ceremony for the Boston Conservatory at Berklee's class of 2016 (Mila Thigpen, courtesy Alyssa Markowitz)
You probably already know the dance division at the Boston Conservatory as a top destination for contemporary dancers. But in June 2016, the Conservatory uncovered a new part of its identity when it merged with Berklee College of Music. It's a move that's opening up all kinds of new opportunities for students—especially dancers.
Keep reading...
Show less
Jade Chynoweth knows how to mesmerize an audience with some killer eye contact. (Joe Toreno)
In an audition or onstage, knowing how to use eye contact appropriately is a total game changer. Dancers who aren't afraid to meet the eyes of judges or audience members exude a special confidence that allows them to be seen as capable, talented performers. When dancers look at the floor or around the room, though, they telegraph insecurity. Don't send your critics looking for flaws! Avoid these three no-no's and become a true master of eye contact.
Keep reading...
Show less


Get Dance Spirit in your inbox