Between academic classes, dance classes, homework and trying to hang on to a social life, you're busy every day. With a schedule like that, who has time to hit the gym? But just because you can't log a sweat session on the treadmill or hit the free weights doesn't mean you can't tone up a few times a week. DS sought out Rachel Piskin, co-founder of ChaiseFitness, to find out which exercises are ideal for dancers who can only spare 10 minutes a day.
You'll Need: A Thera-Band
Exercise 1: Banded Pliés
Where you'll feel the burn: glutes and thighs
Fold your Thera-Band in half and hold one end in each hand. Stand in a wide second position, with your legs turned out, and extend your arms straight in front of you at shoulder height.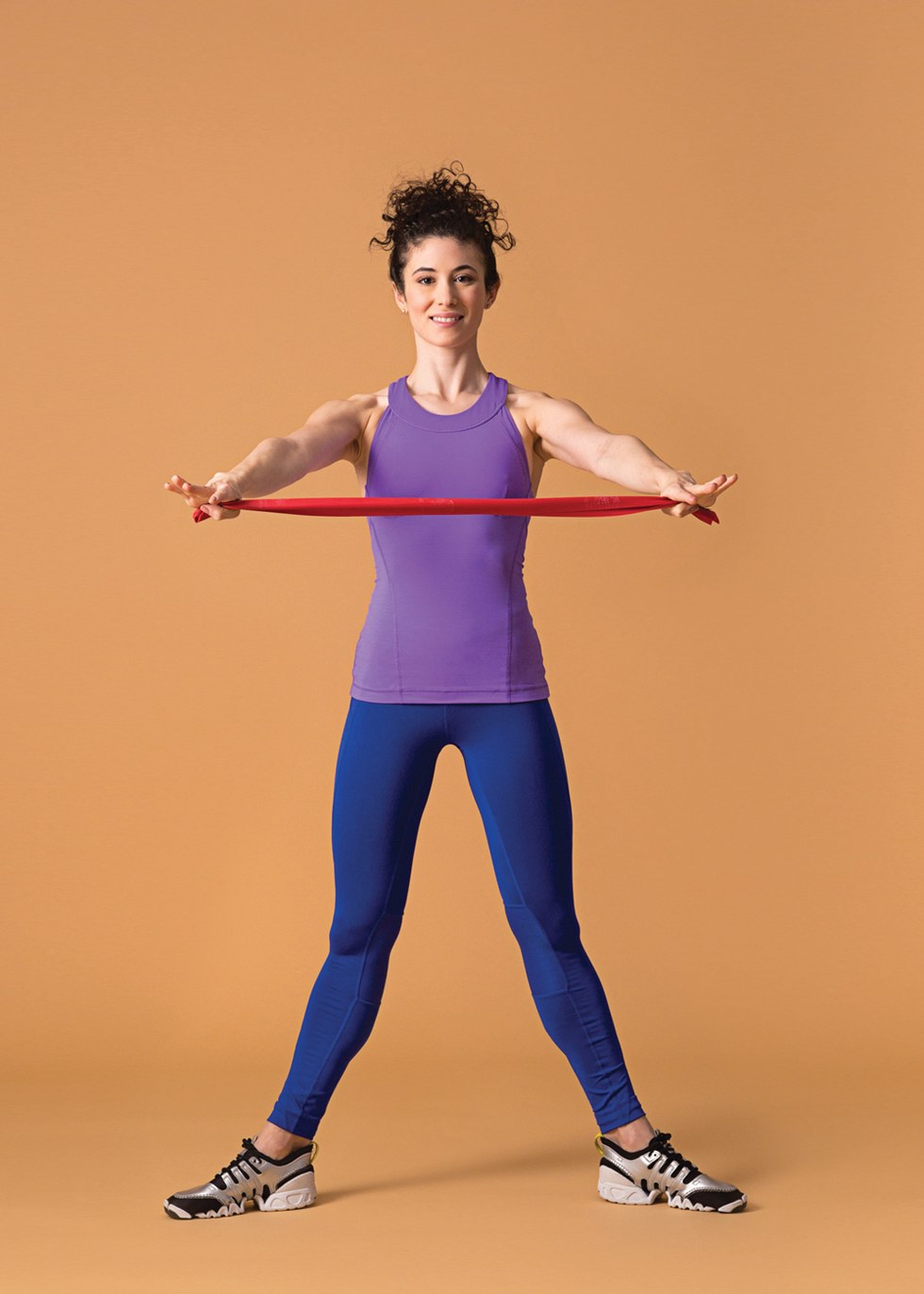 Plié as you reach your arms overhead, keeping them straight. Return to the starting position. Repeat 20 times.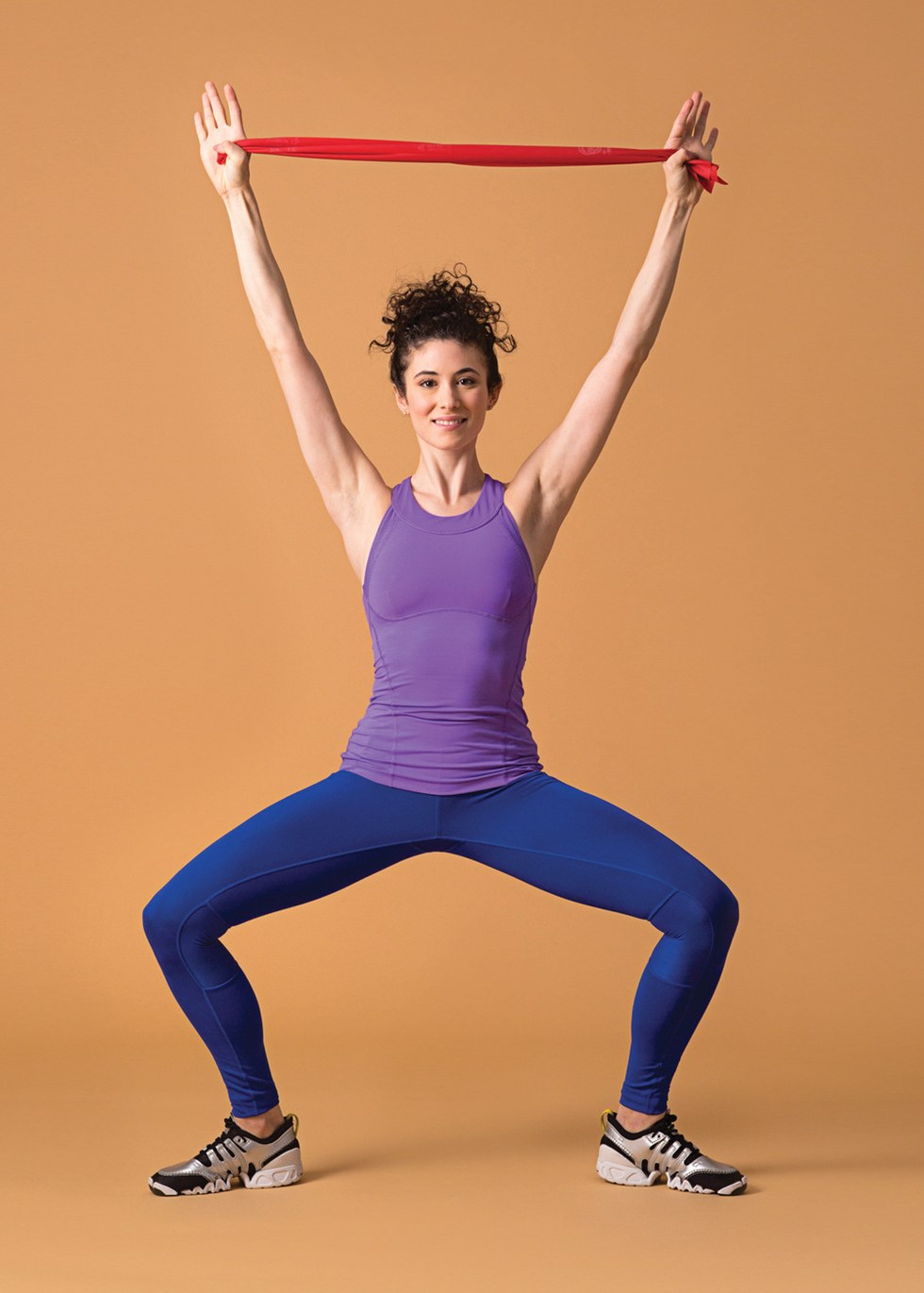 Piskin says: "Keep your shoulders down and create more resistance in the band as you plié."
Exercise 2: Heel Lifts
Where you'll feel the burn: thighs
Begin in the same starting position as Exercise 1.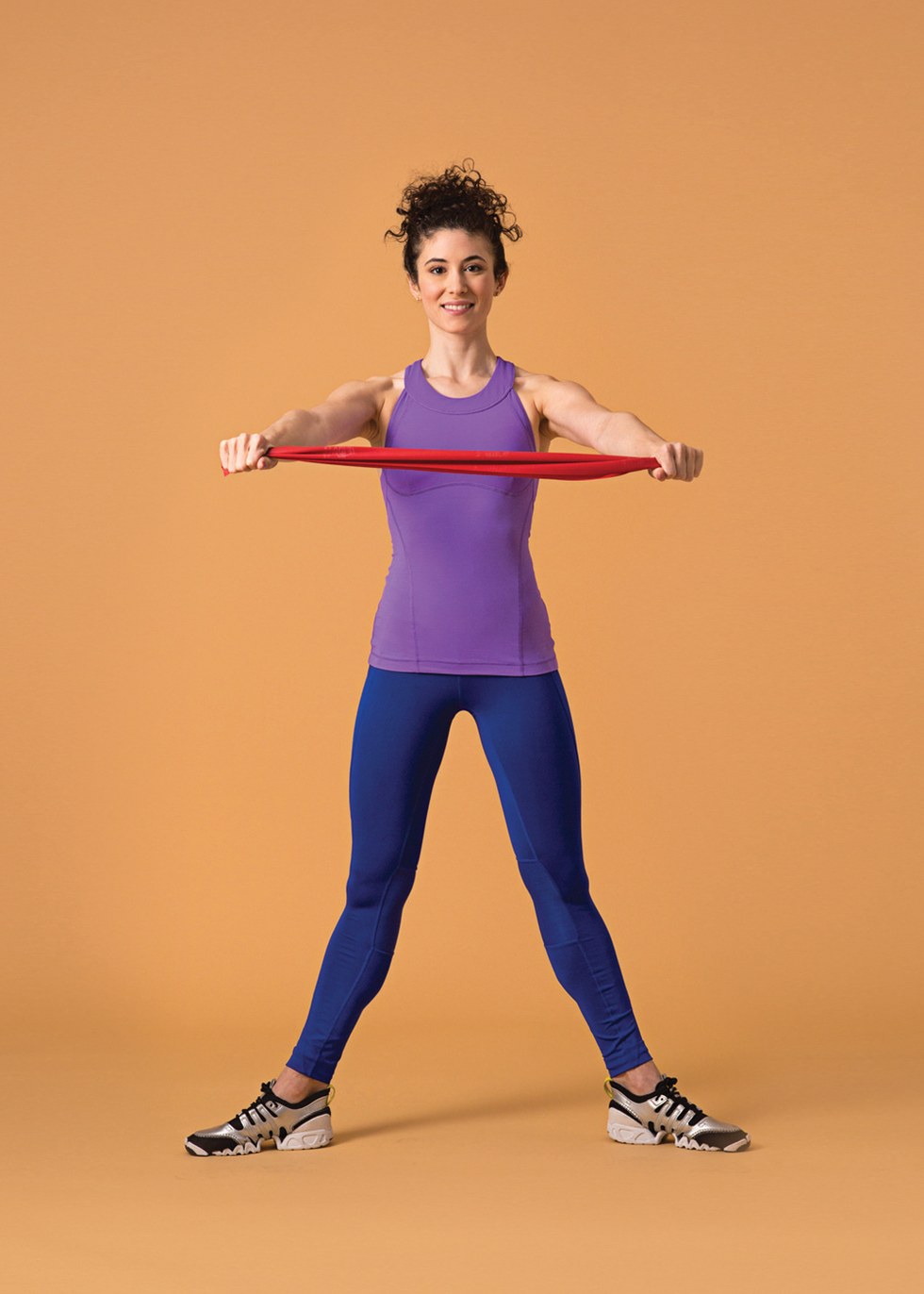 Lower into a deep second plié.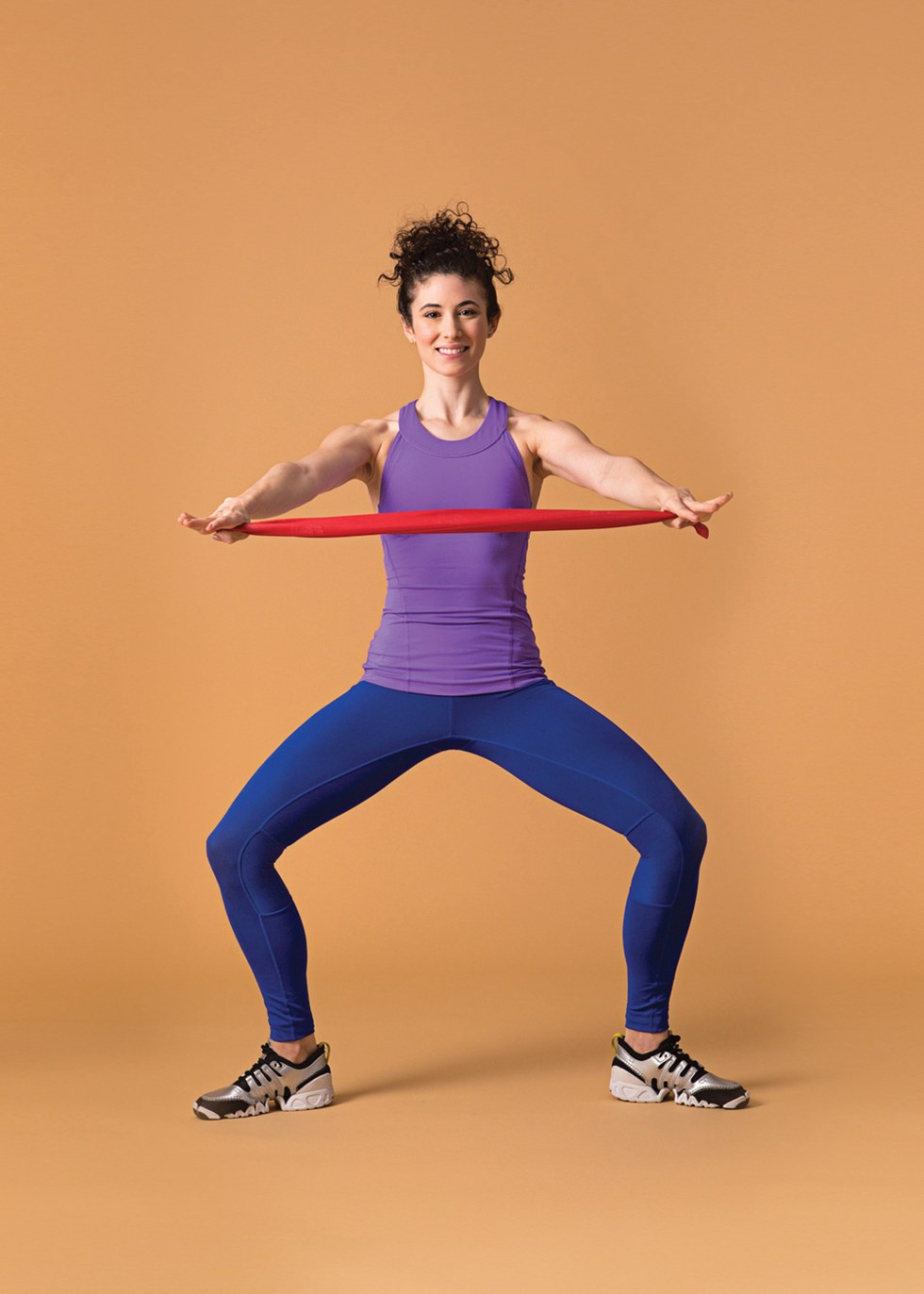 Staying in plié, lift both heels off the ground as you extend your arms straight overhead. Remaining in plié, lower your heels and arms. Repeat heel lift 20 times.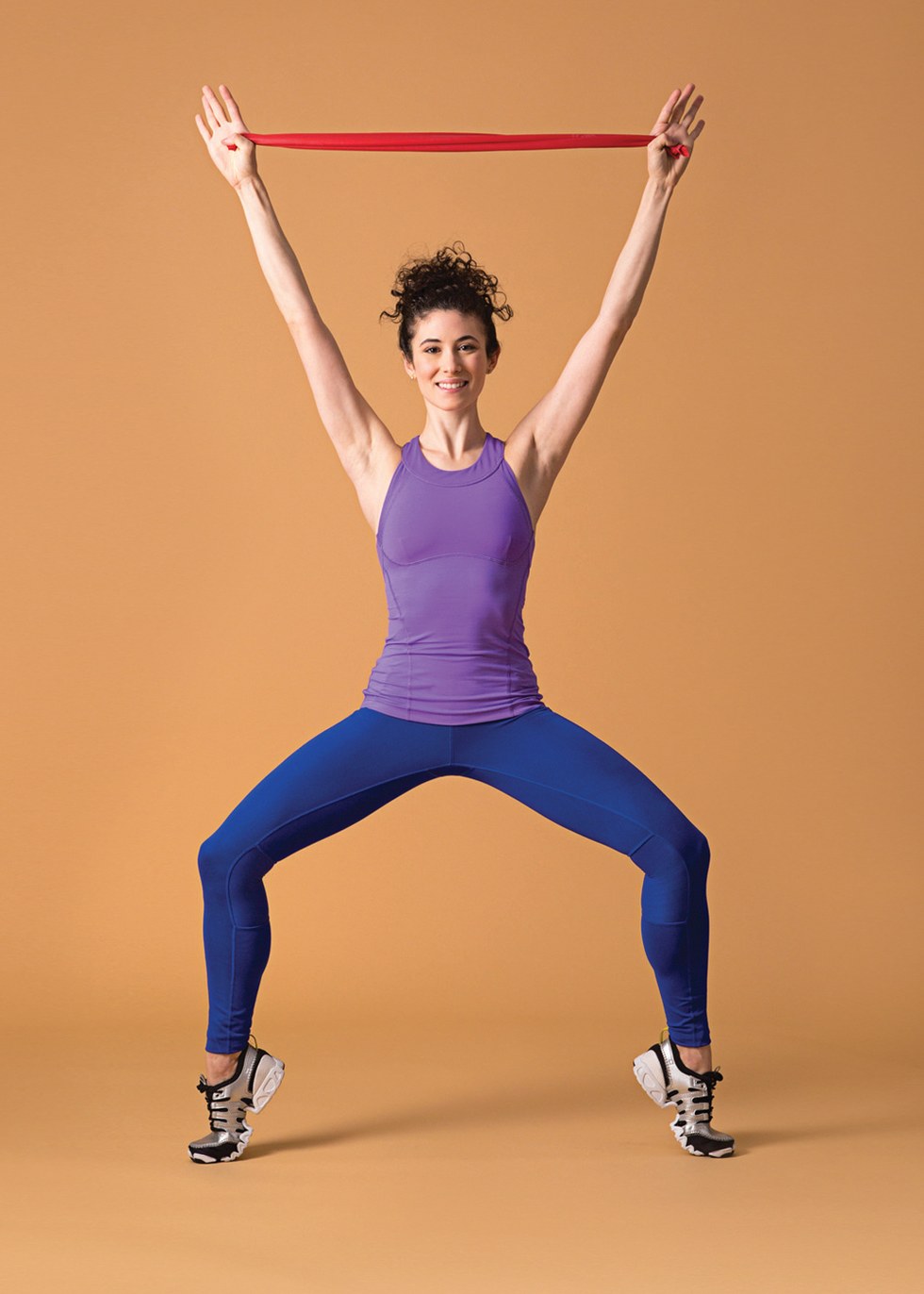 Piskin says: "Keep your core and glutes engaged throughout the exercise so your heels and arms move together in one smooth progression."
Exercise 3: Pull the Sword
Where you'll feel the burn: back muscles and triceps
Stand in parallel with both feet on top of the Thera-Band, hips-distance apart. Hold the long end of the band in your left hand, in front of your right thigh. Keep your right hand on your hip.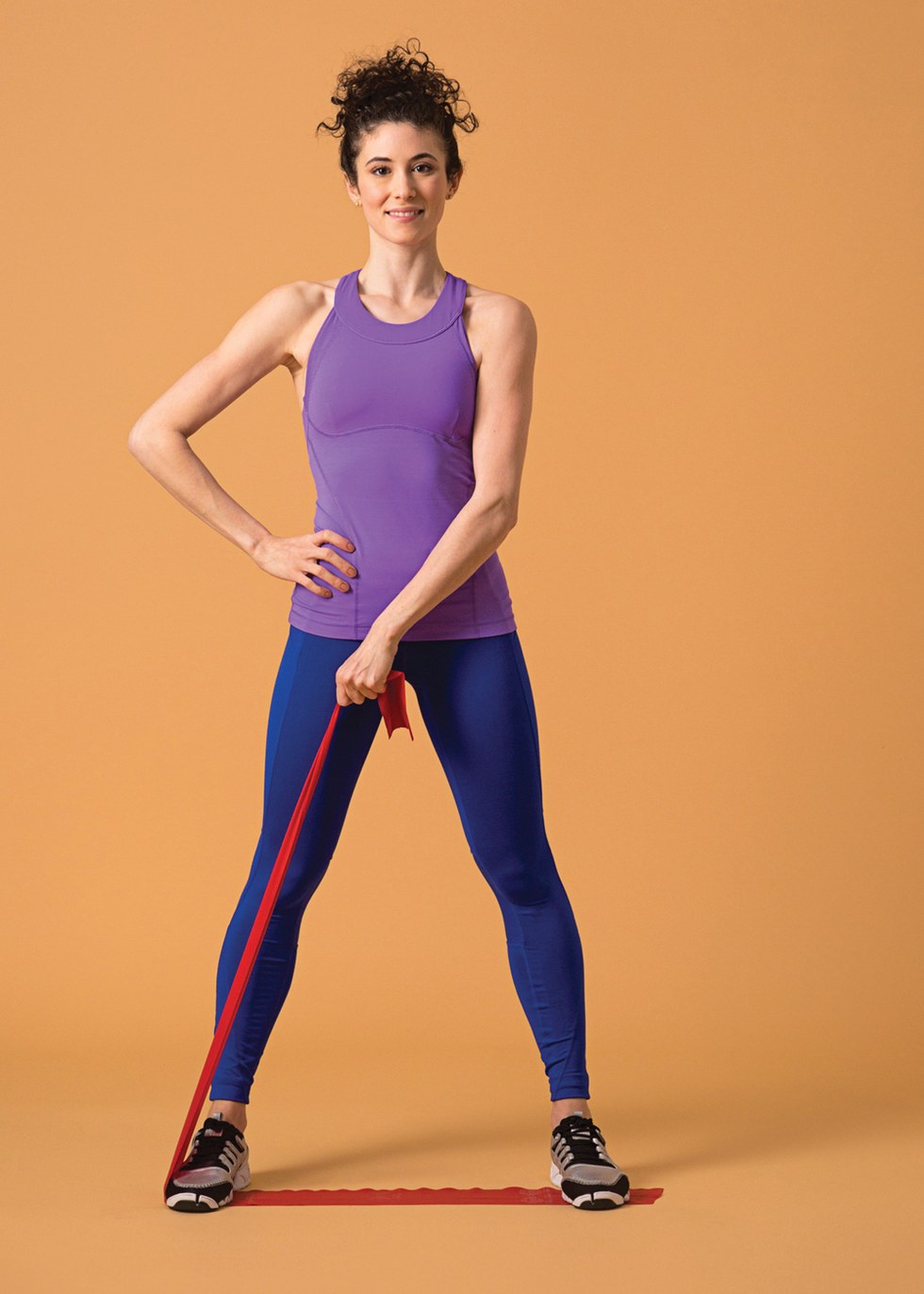 Pull the band on a diagonal toward the ceiling, bending the elbow as you pull and then extending your arm straight. Return to the starting position. Do two sets of 12 and then repeat on the opposite side.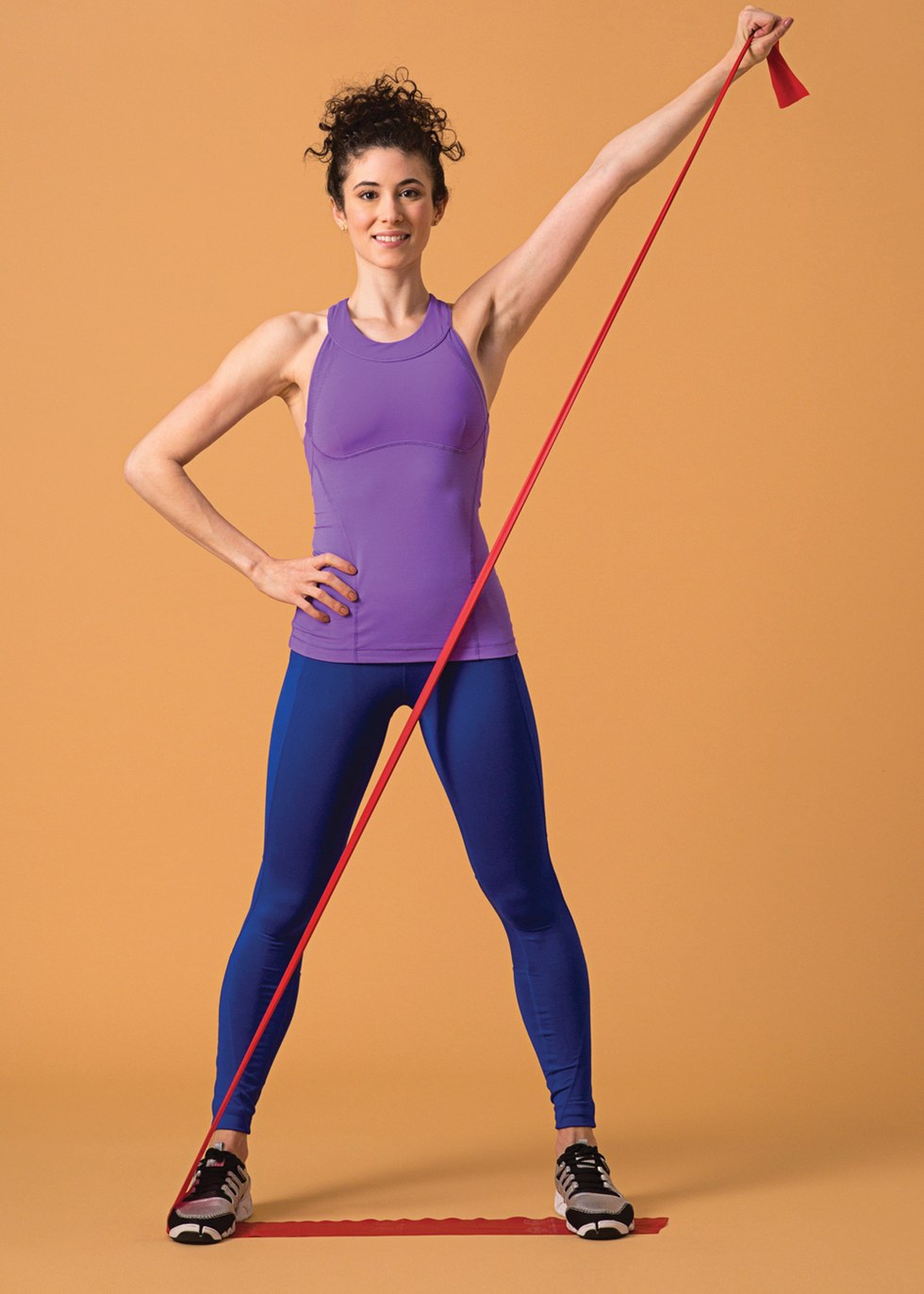 Piskin says: "Keep your working wrist straight so you're isolating and sculpting your back and arm muscles, not your wrist."
Exercise 4: Arm-Extension Curtsy
Where you'll feel the burn: arms, glutes and hamstrings
Stand on the middle of the band with your left foot, turned out. Point your right leg behind you, staying on the ball of your foot so you're in a curtsy position. Hold one end of the band in each hand, with your arms by your sides.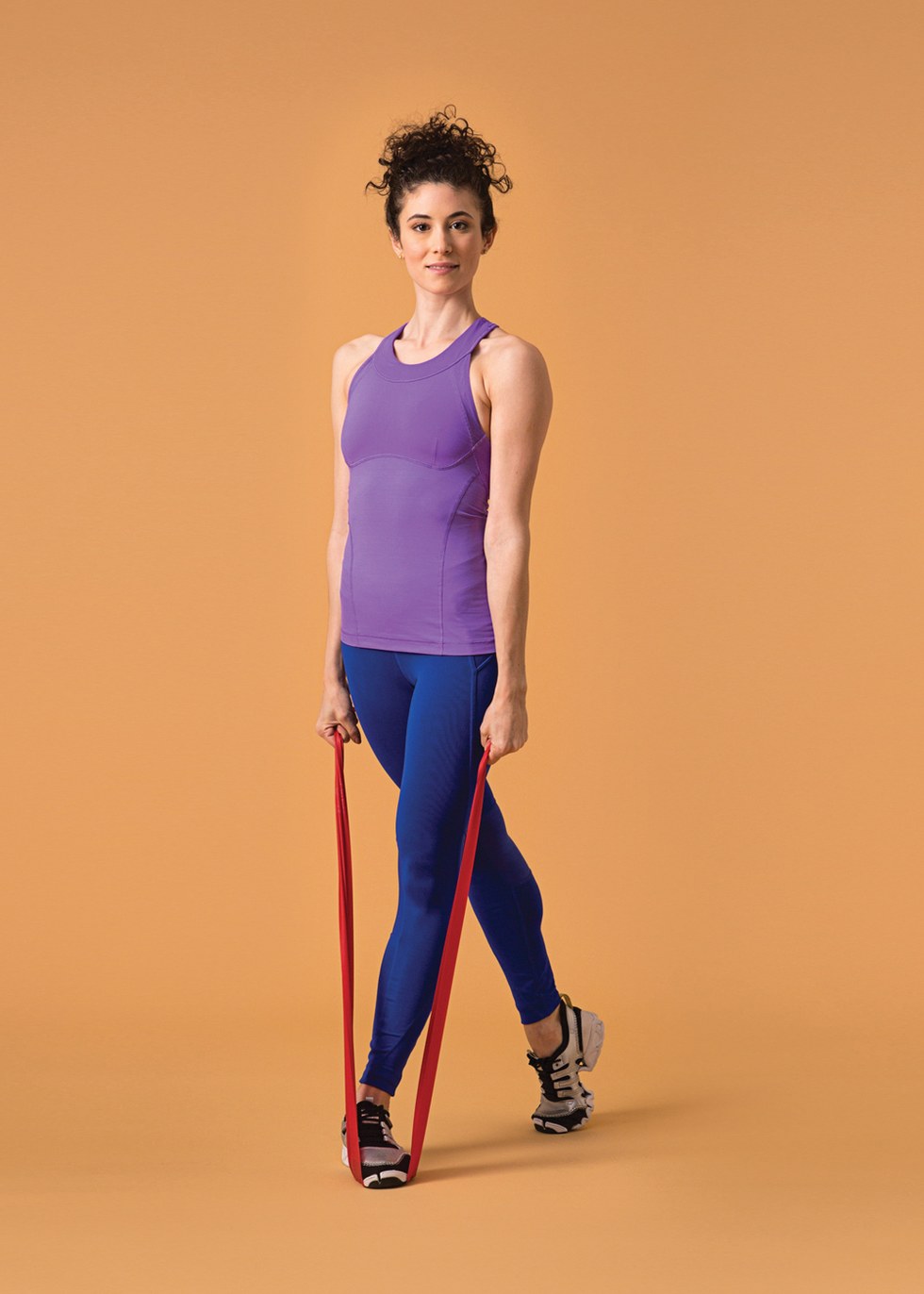 Pull your arms up and out to your sides as you lower into a deep curtsy. Return to the starting position. Repeat 10 times and then switch sides.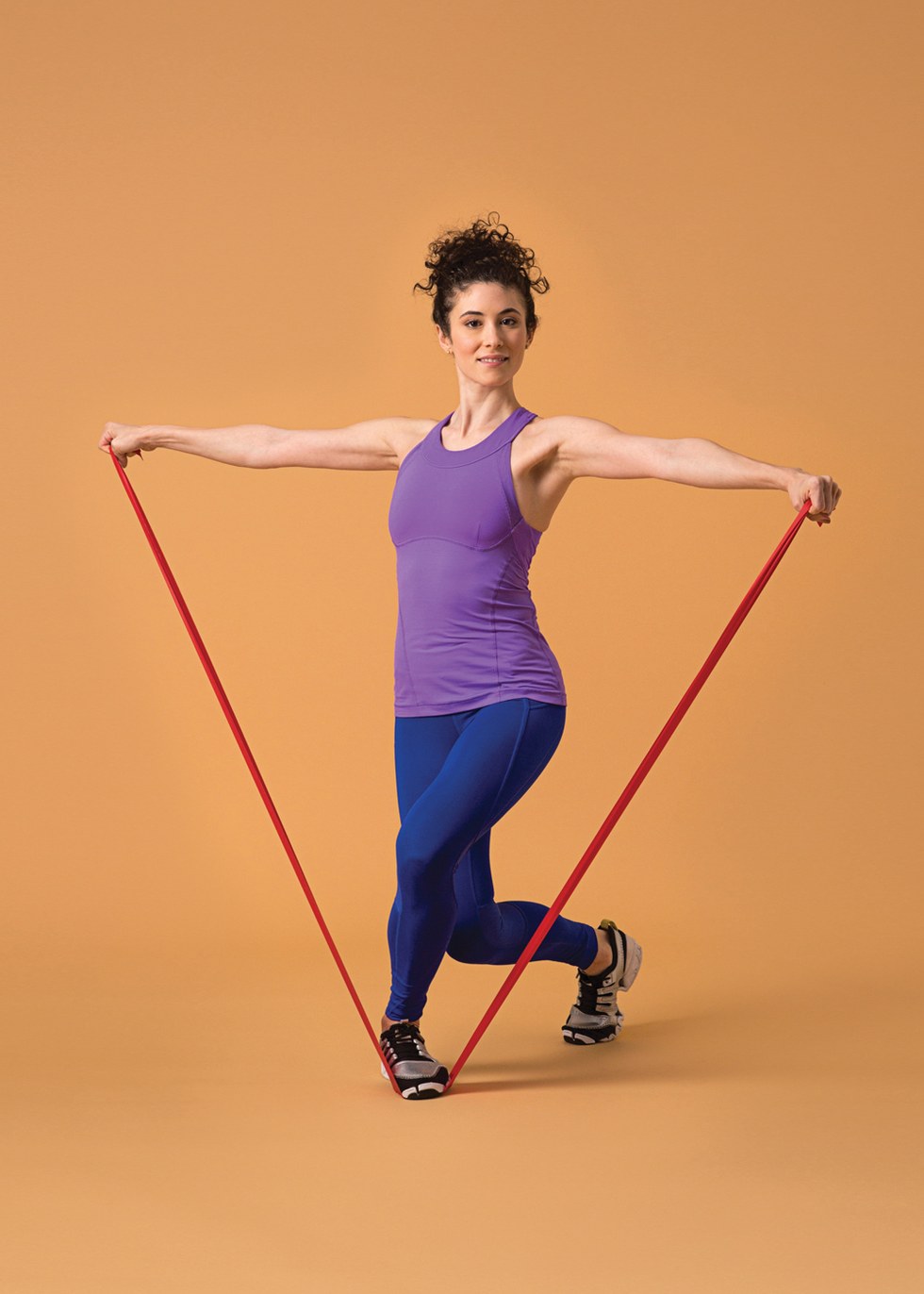 Piskin says: "Keep your back leg parallel to the floor. As you curtsy, you should feel like you're crossing your legs in a chair—this will engage and sculpt your glutes and hamstrings. You can make it harder by pulsing 10 times in the low curtsy position."
Exercise 5: Bicep Cross Curtsy
Where you'll feel the burn: biceps and glutes
Begin in the same starting position as Exercise 4, but cross the band in front of you and hold one end in each hand, with your palms facing the ceiling.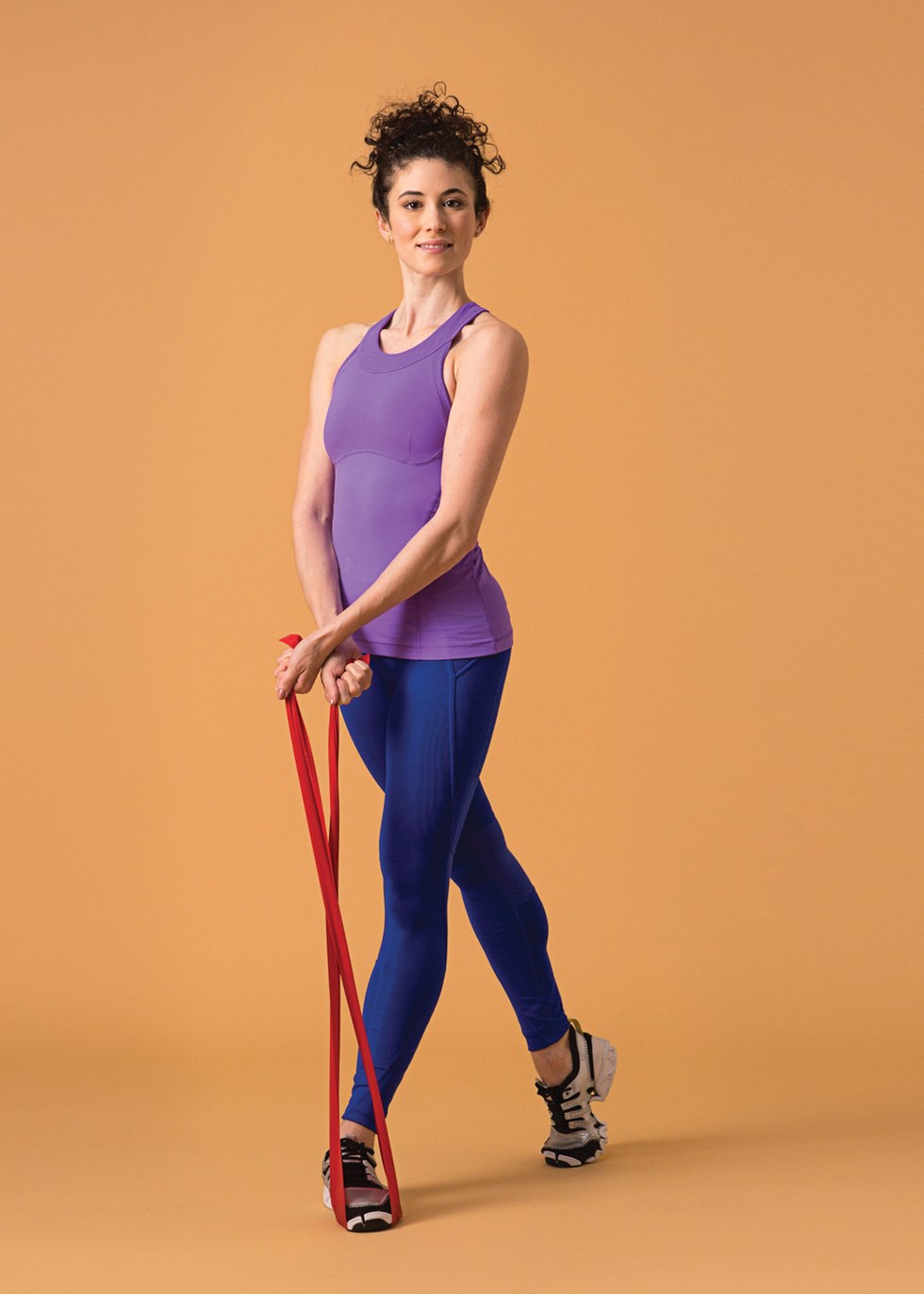 As you curtsy, curl your fists in toward your body, working the bicep muscles. Straighten your legs and return your arms to the starting position. Do two sets of 10 and then switch sides.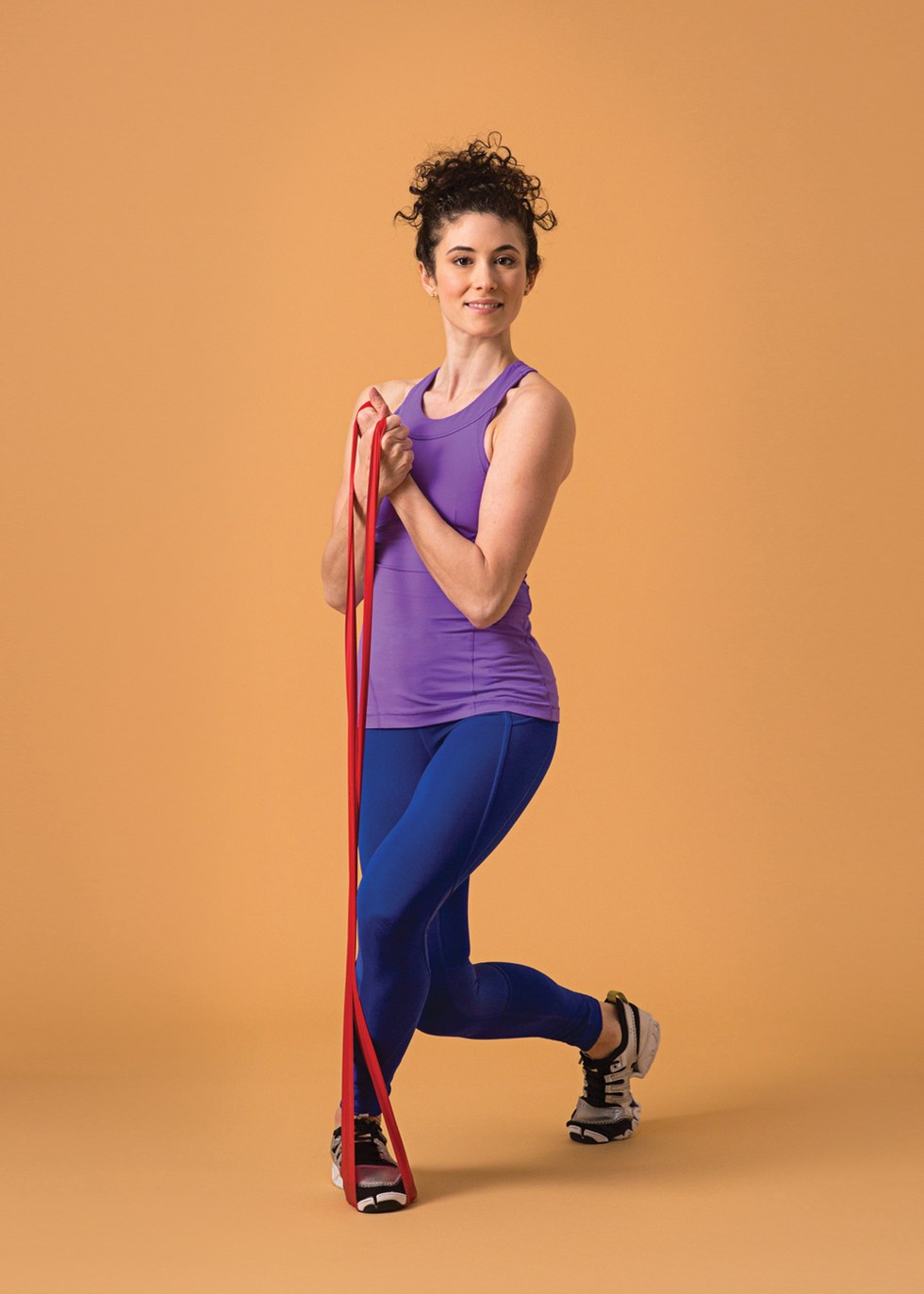 Piskin says: "Keep your elbows tight to your body so you're working your bicep muscles, not using momentum."
Exercise 6: Arabesque Arm Extensions
Where you'll feel the burn: upper back, thighs and glutes
Stand on the center of the band with your left foot, bending your left leg slightly. Hold an end of the band in each hand and tendu your right foot back. Keep your focus on the ground in front of you.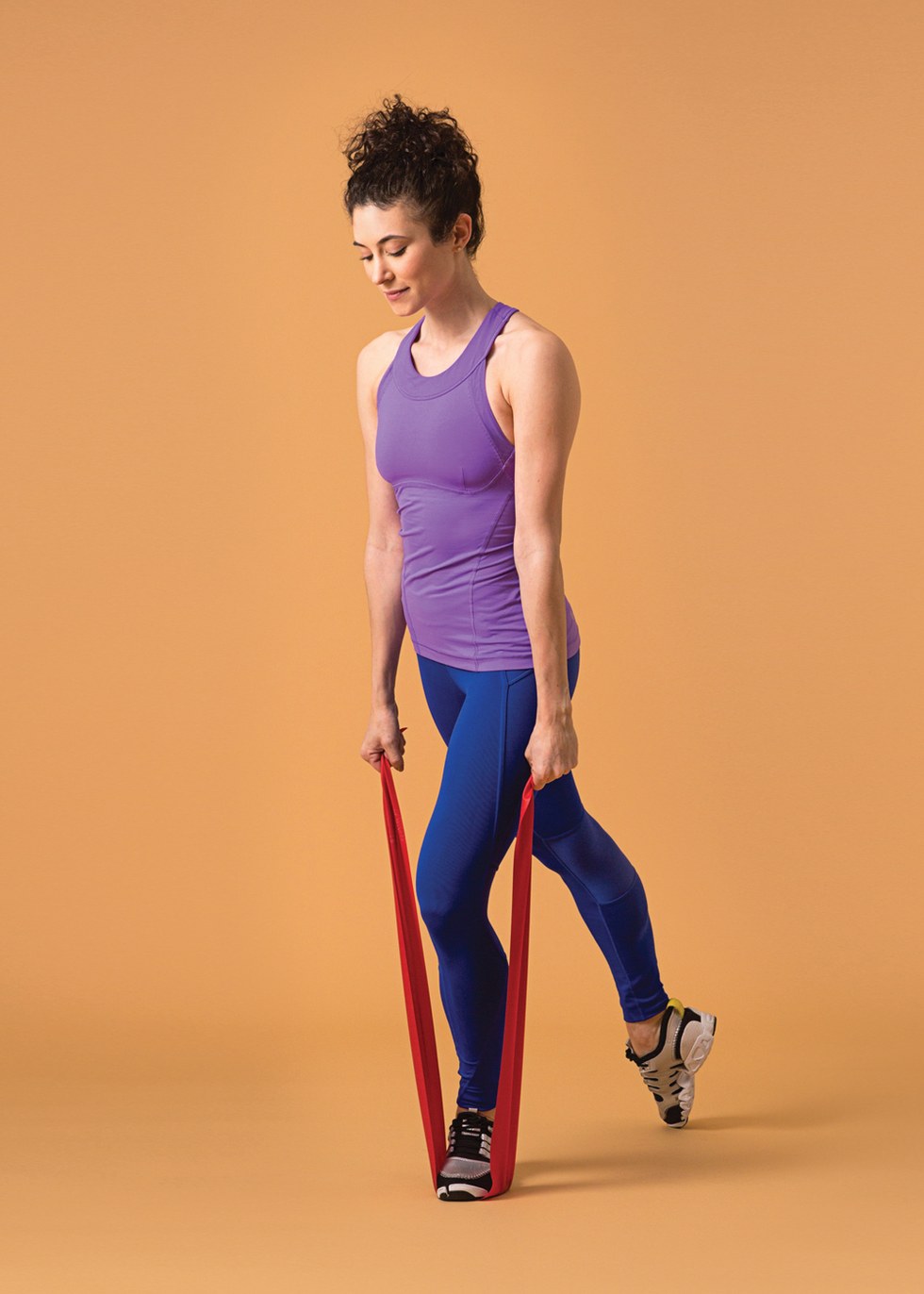 Lift your right leg to arabesque as you pull the bands out to your sides. Lower your leg and arms to return to the starting position. Repeat 12 times and then switch sides.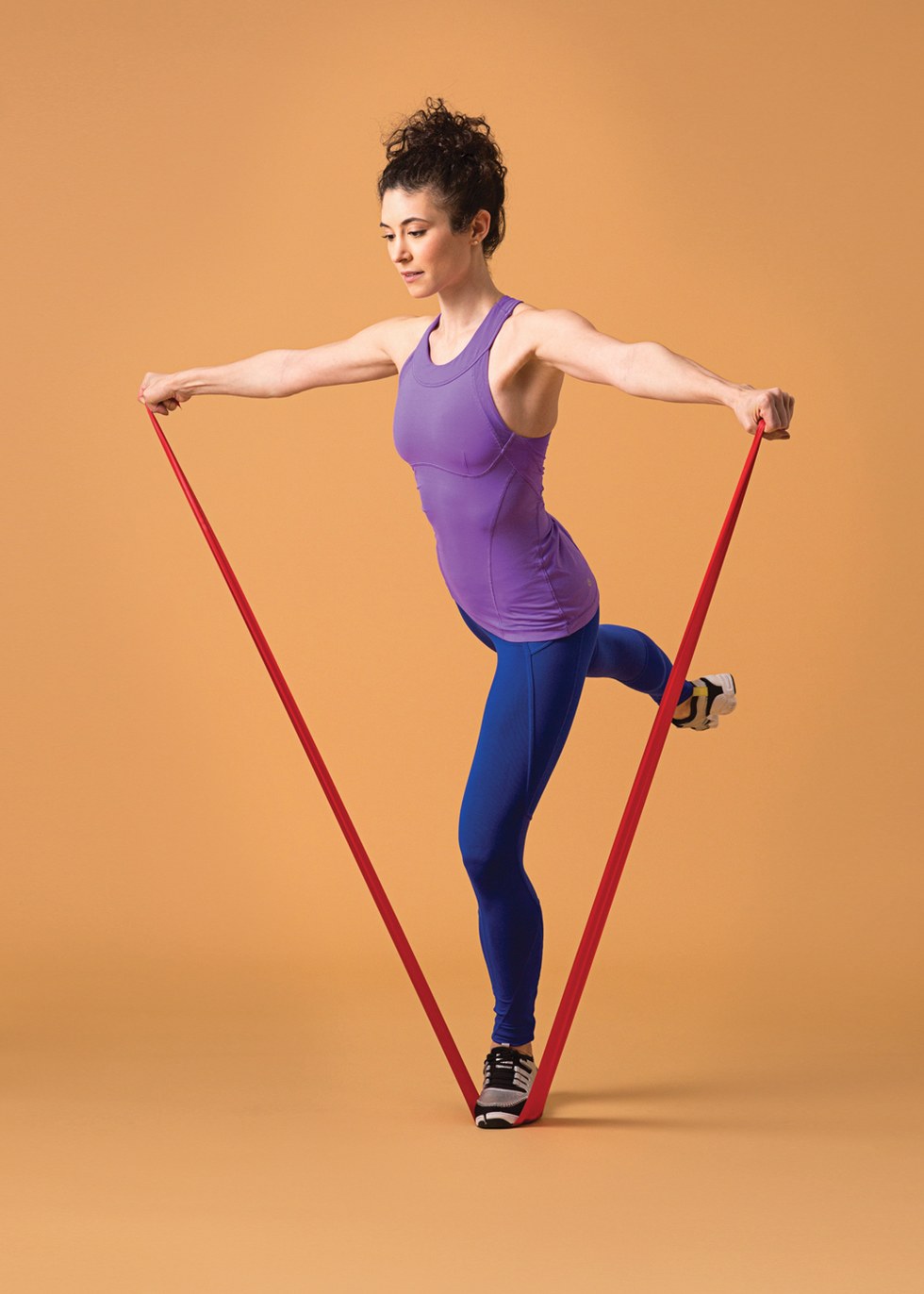 Piskin says: "Keep your standing leg bent and focus on engaging your core to stabilize your body."
Photography by Erin Baiano; hair and makeup by Chuck Jensen for Mark Edward Inc., modeled by Rachel Piskin.
What's more daunting than getting into your dream college dance program? Figuring out how you'll cover the costs of tuition, room and board, incidental expenses and more. Here's the good news: The right scholarship(s) can bring your dream school well within reach.
Look Around, Look Around
Scholarship applications are due between the fall of senior year and graduation time, so familiarize yourself with funding opportunities during the spring of junior year. And there are a lot of opportunities out there, says Kate Walker, chair of dance at Booker T. Washington High School for the Performing and Visual Arts in Dallas, TX. "A lot of school guidance counselors now have software that automatically matches you with scholarships," she says.
Seek out scholarships on your own, too. According to Walker, "a lot of corporations are required to have some community engagement, including offering scholarships, so research corporations in your community." Your parents' employers might offer assistance too, says Doug Long, an academic and college counselor at Interlochen Arts Academy in Interlochen, MI. "They might have scholarships you can apply for just because your parent works there."
Other sources of grant money you won't have to pay back (as you would a loan)? The YoungArts Foundation; competitions/conventions, like New York City Dance Alliance; and the university or dance department you're applying to. Even some scholarships aimed at athletes are open to dancers!
Apply Yourself
A winning scholarship application involves a fair amount of paperwork, especially if the organization requires you to show financial need. In addition, certain scholarships ask for the College Board's CSS/Financial Aid Profile, which gives the awarding organization a more complete picture of your family finances.
Other ingredients of a successful scholarship application include recommendation letters, a dance and/or academic resumé and an essay or statement of purpose. Treat these components just like college applications: Have multiple trusted adults proofread your materials, and ask for recommendation letters or transcripts long before deadlines.
A note for non-dance scholarships: Including objective measures of achievement can only help you. "List national recognitions, like YoungArts or other competitions," says Long. "That shows the scholarship committees that people at high levels have acknowledged you as an artist of quality." And don't forget who your audience is. "Especially in writing samples, make sure you paint a vivid picture for your reader," Walker says. "Don't assume they know about all the things—like barre every day—that we as dancers take for granted."
No award amount is too small to be worth your time and effort. As Walker says, "Don't pooh-pooh a couple hundred dollars in award money, because any scholarship is funding that you didn't have yesterday."
A version of this story appeared in the July/August 2017 issue of Dance Spirit with the title "All Aboard the Scholar-ship."
Every ballet dancer knows the time, sweat, and occasional tears the art form demands. But many non-dancers are clueless about just how much work a ballet dancer puts into perfecting his or her dancing. So when the mainstream crowd recognizes our crazy work ethic, we'll accept the round of applause any way it comes—even if it comes via four men in tutus. Yep, we're talking about "The Try Guys Try Ballet" video.
Keep reading...
Show less
(via YouTube)
Remember that fabulous old-school clip of dancers tapping in pointe shoes that Tabitha and Napoleon D'umo brought to our attention back in March? As we mentioned then, toe-tap dancing was actually super popular back in the 1920s and 30s—which means there are more videos where that one came from. And because #ToeTapTuesday has a nice ring to it, we thought we'd take this opportunity to introduce you to Dick and Edith Barstow, a toe-tapping brother and sister duo from that era who are nothing short of incredible:
Keep reading...
Show less
(Adam Rose/FOX)
Guess who's back? Back again? The Academy's back! Tell a friend.
After one day at The Academy, the All Stars have successfully taken the Top 100 down to 62. But their work is just getting started: Now they need to keep narrowing the field to a Top 10, ultimately deciding who each will partner with during the live shows.
Keep reading...
Show less


Get Dance Spirit in your inbox