Between academic classes, dance classes, homework and trying to hang on to a social life, you're busy every day. With a schedule like that, who has time to hit the gym? But just because you can't log a sweat session on the treadmill or hit the free weights doesn't mean you can't tone up a few times a week. DS sought out Rachel Piskin, co-founder of ChaiseFitness, to find out which exercises are ideal for dancers who can only spare 10 minutes a day.
You'll Need: A Thera-Band
Exercise 1: Banded Pliés
Where you'll feel the burn: glutes and thighs
Fold your Thera-Band in half and hold one end in each hand. Stand in a wide second position, with your legs turned out, and extend your arms straight in front of you at shoulder height.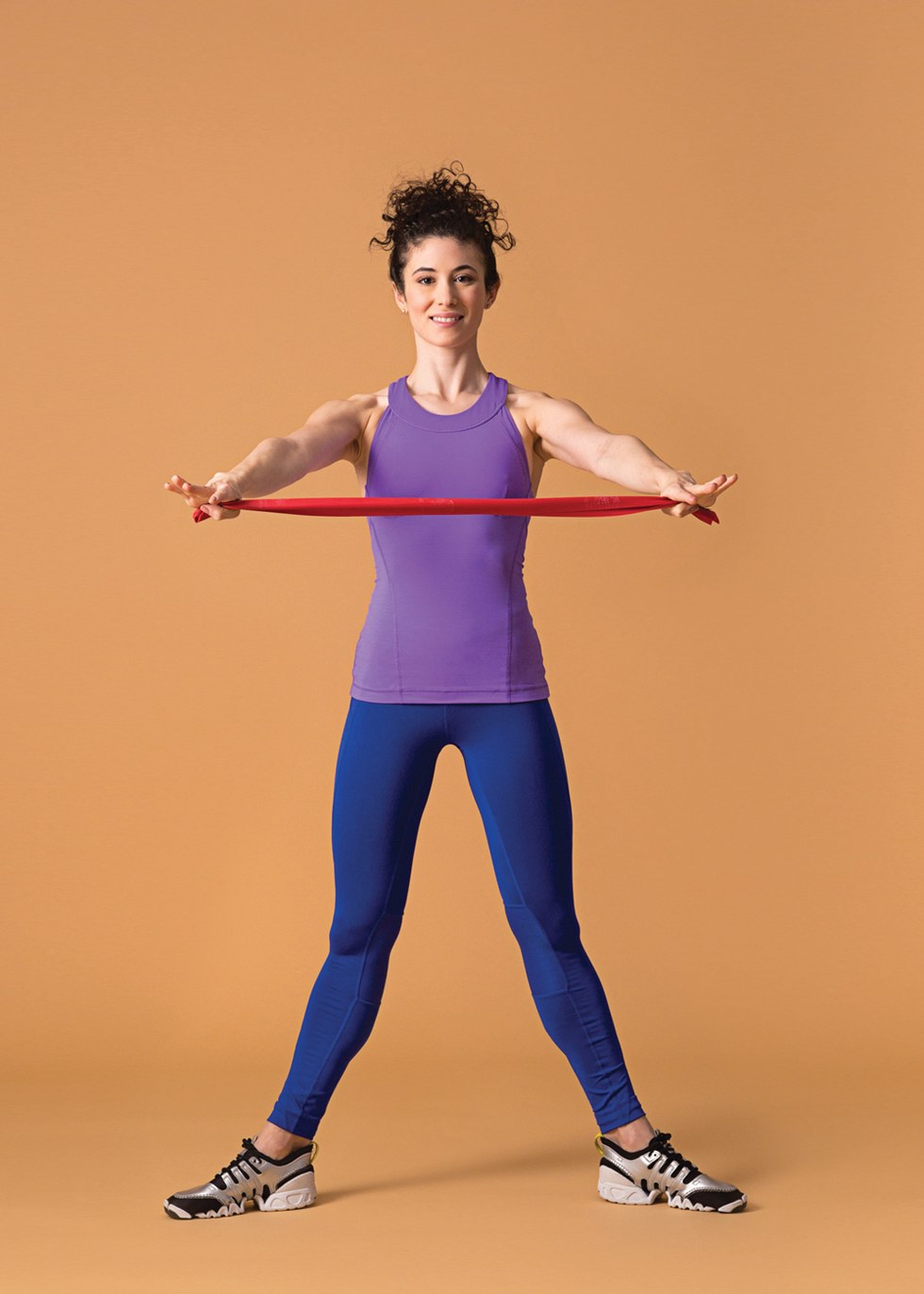 Plié as you reach your arms overhead, keeping them straight. Return to the starting position. Repeat 20 times.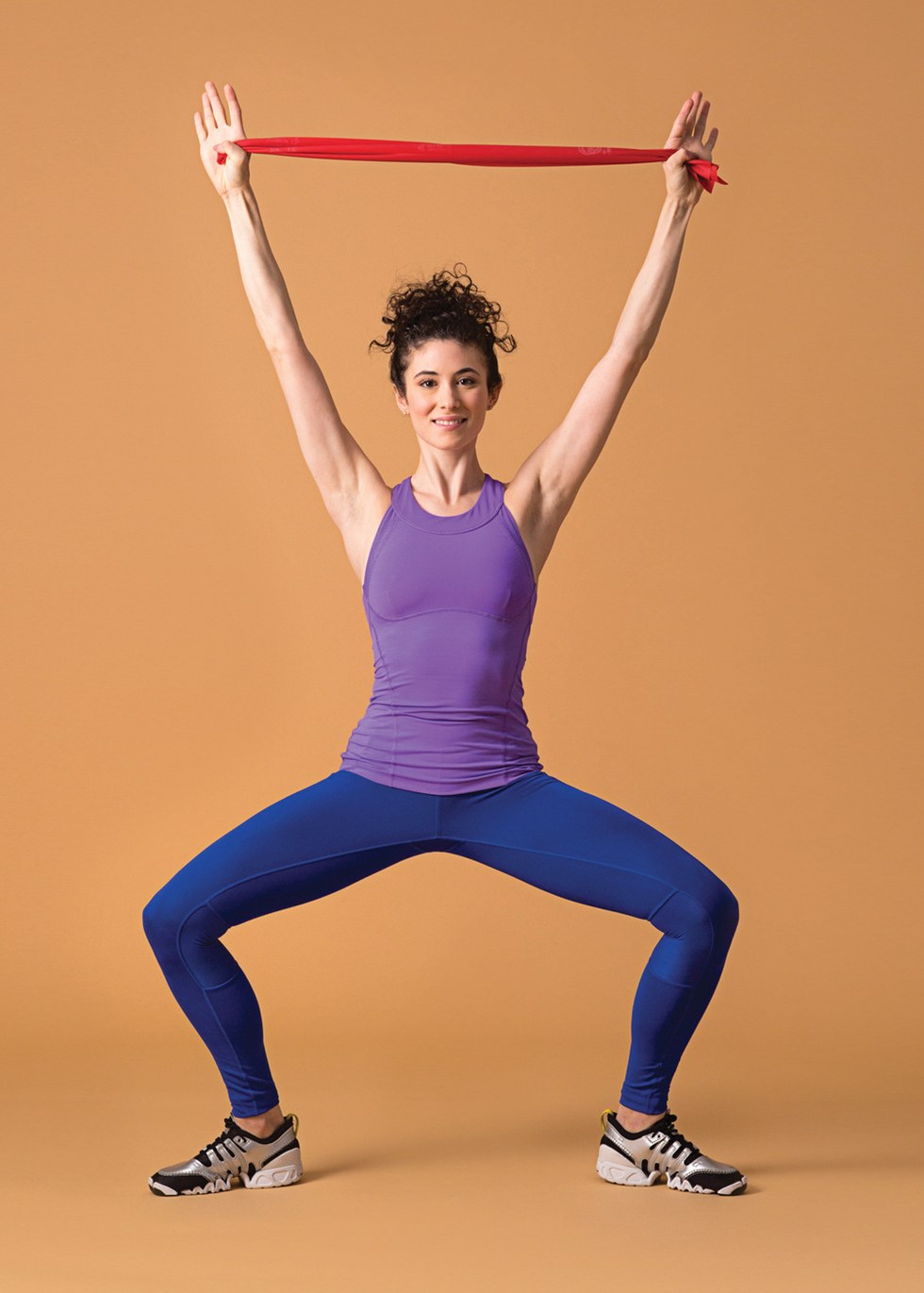 Piskin says: "Keep your shoulders down and create more resistance in the band as you plié."
Exercise 2: Heel Lifts
Where you'll feel the burn: thighs
Begin in the same starting position as Exercise 1.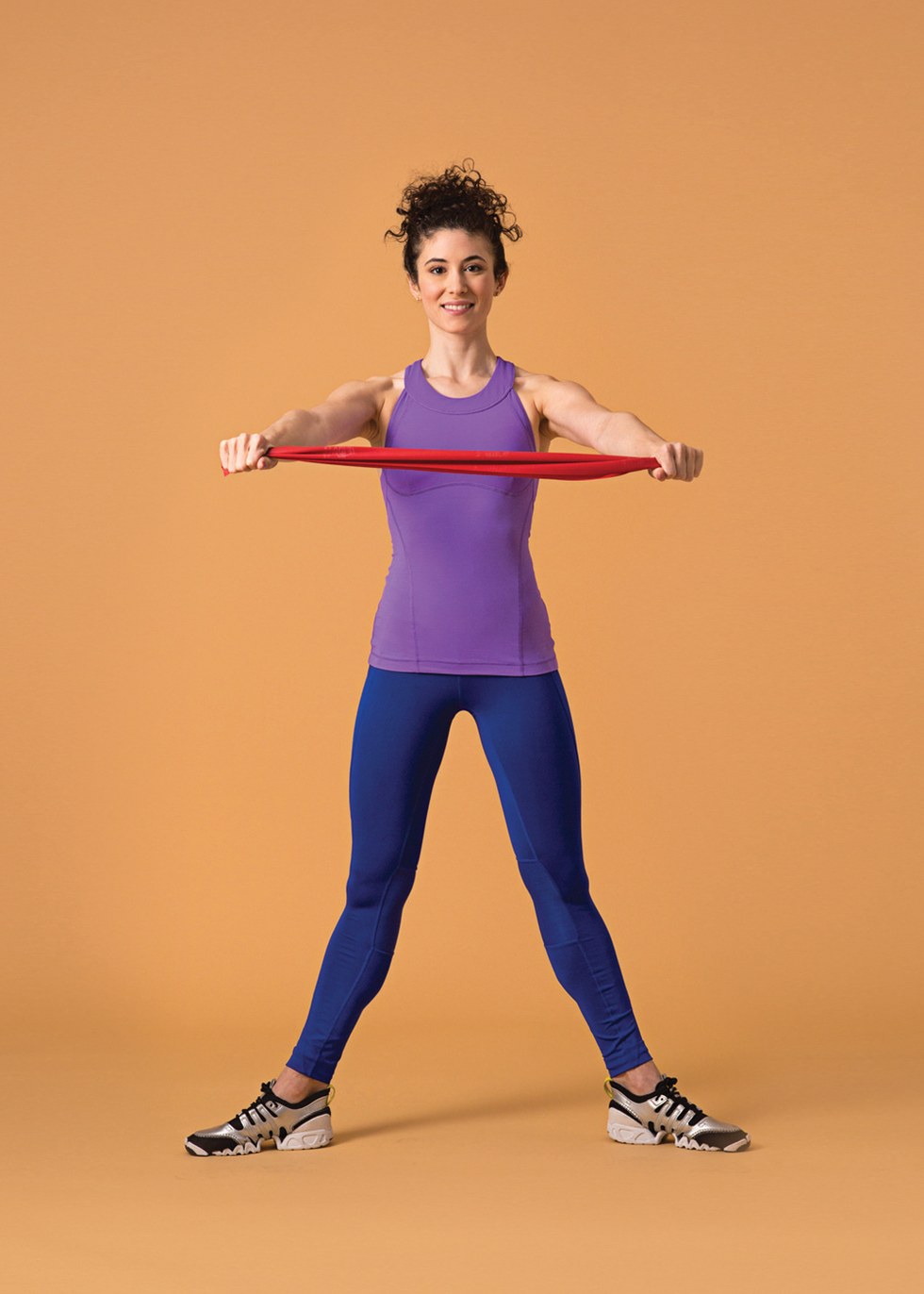 Lower into a deep second plié.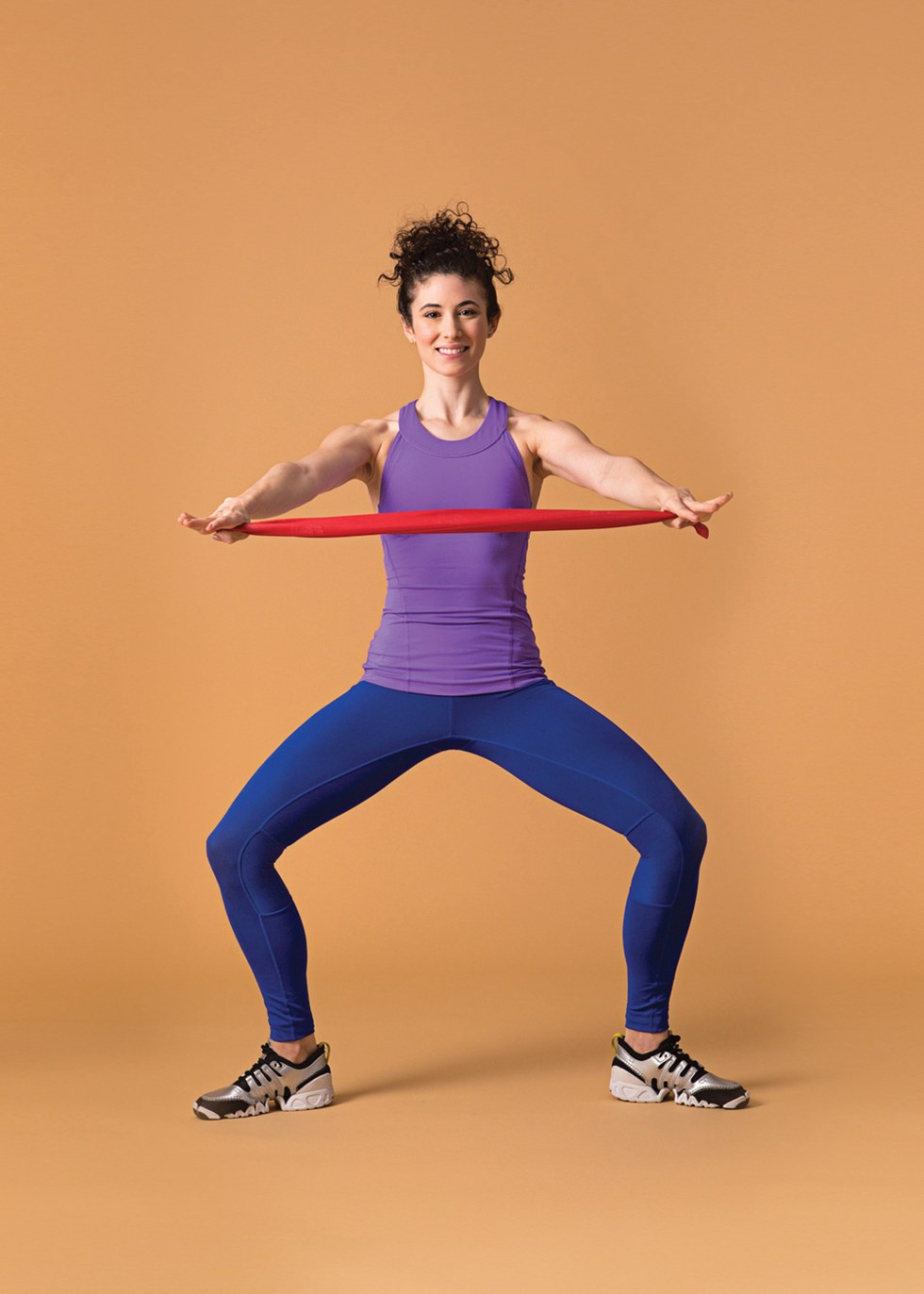 Staying in plié, lift both heels off the ground as you extend your arms straight overhead. Remaining in plié, lower your heels and arms. Repeat heel lift 20 times.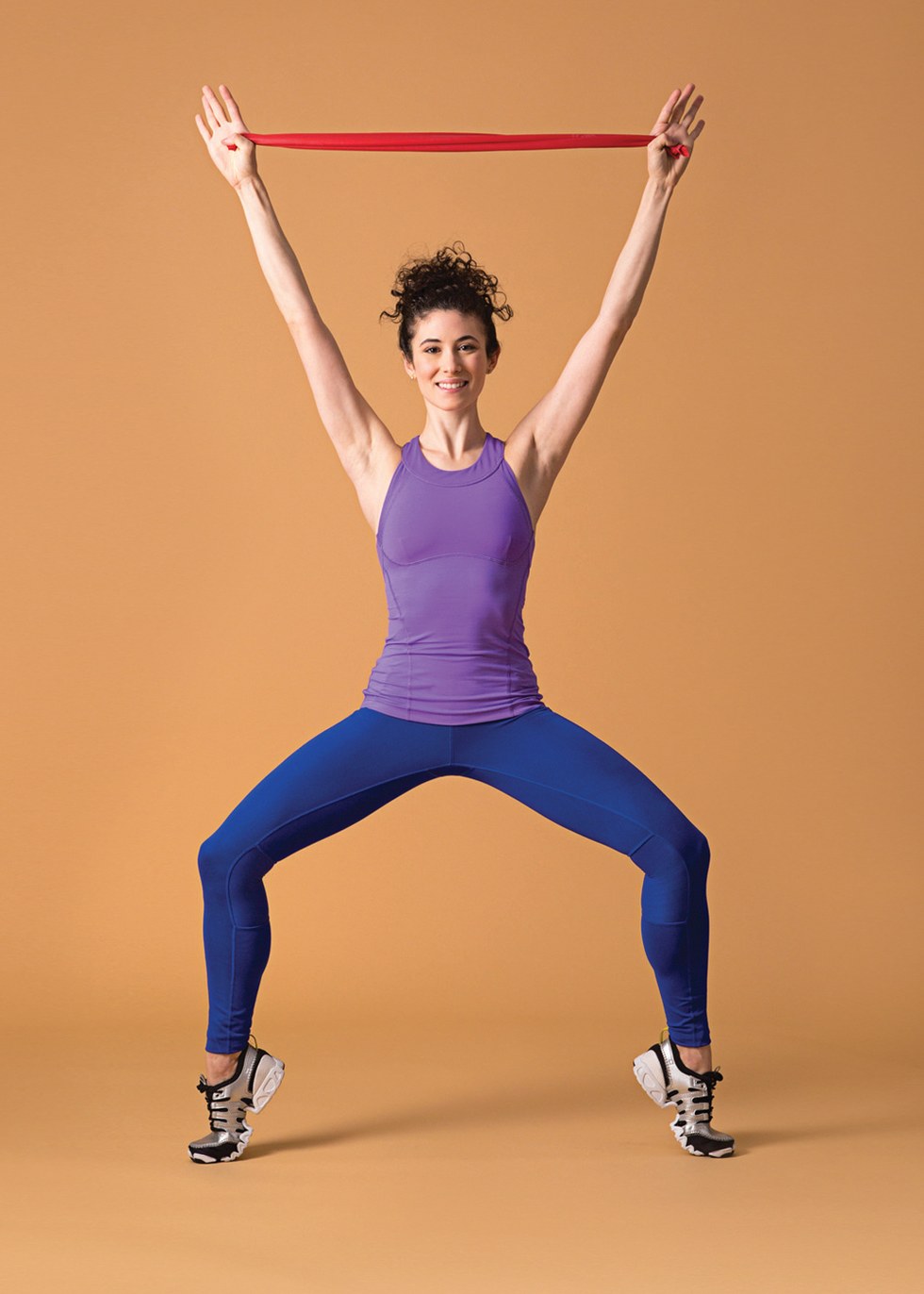 Piskin says: "Keep your core and glutes engaged throughout the exercise so your heels and arms move together in one smooth progression."
Exercise 3: Pull the Sword
Where you'll feel the burn: back muscles and triceps
Stand in parallel with both feet on top of the Thera-Band, hips-distance apart. Hold the long end of the band in your left hand, in front of your right thigh. Keep your right hand on your hip.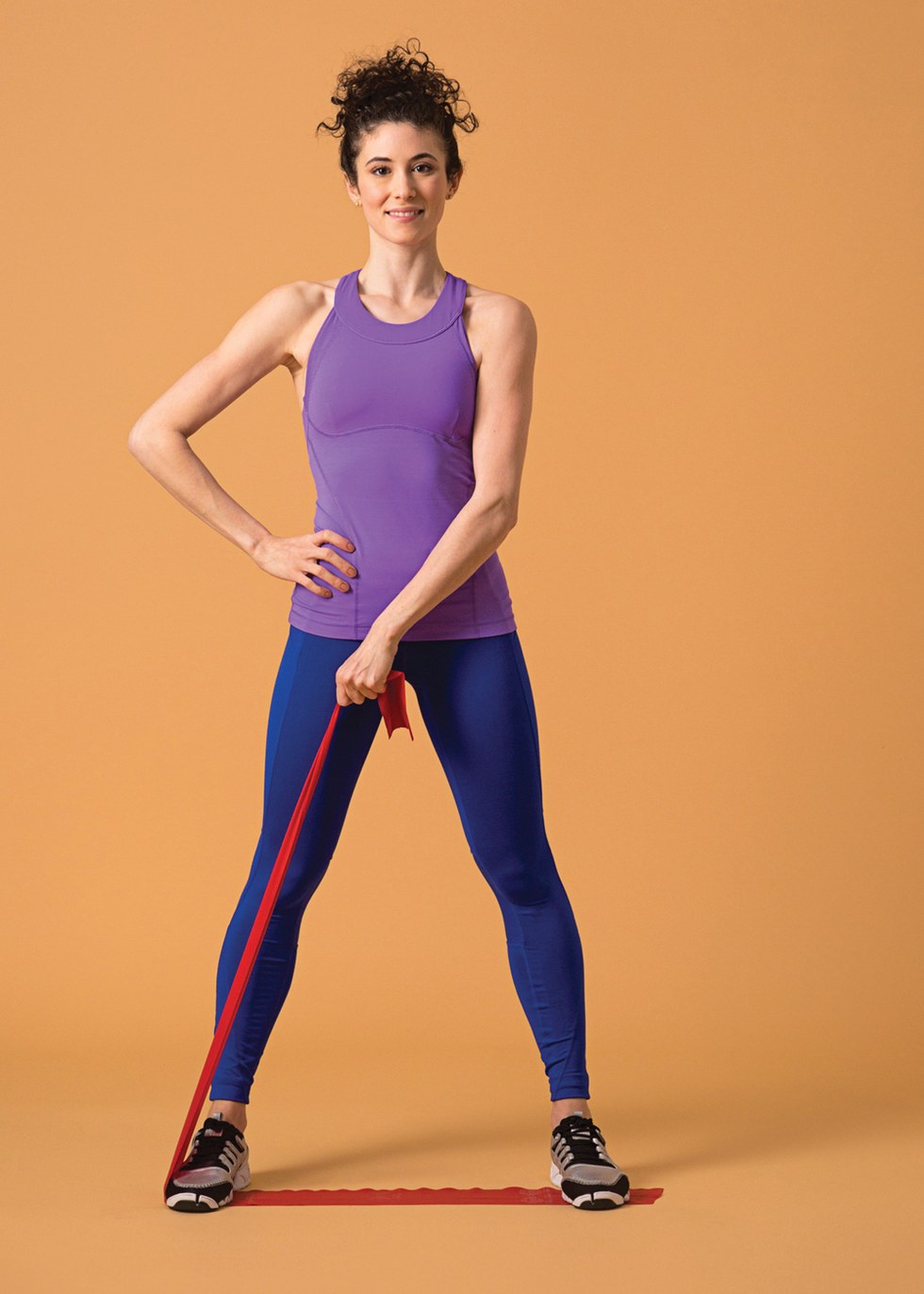 Pull the band on a diagonal toward the ceiling, bending the elbow as you pull and then extending your arm straight. Return to the starting position. Do two sets of 12 and then repeat on the opposite side.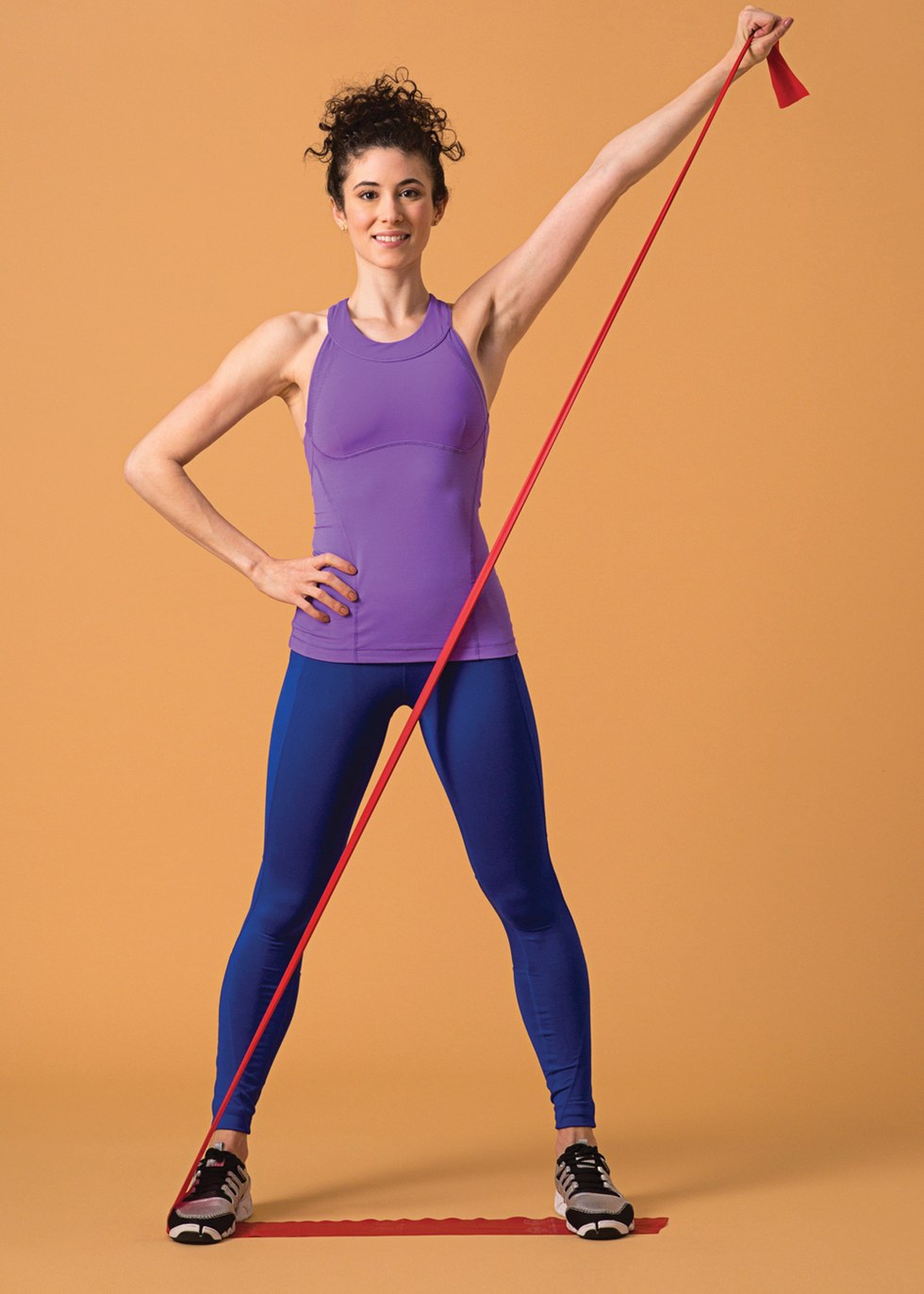 Piskin says: "Keep your working wrist straight so you're isolating and sculpting your back and arm muscles, not your wrist."
Exercise 4: Arm-Extension Curtsy
Where you'll feel the burn: arms, glutes and hamstrings
Stand on the middle of the band with your left foot, turned out. Point your right leg behind you, staying on the ball of your foot so you're in a curtsy position. Hold one end of the band in each hand, with your arms by your sides.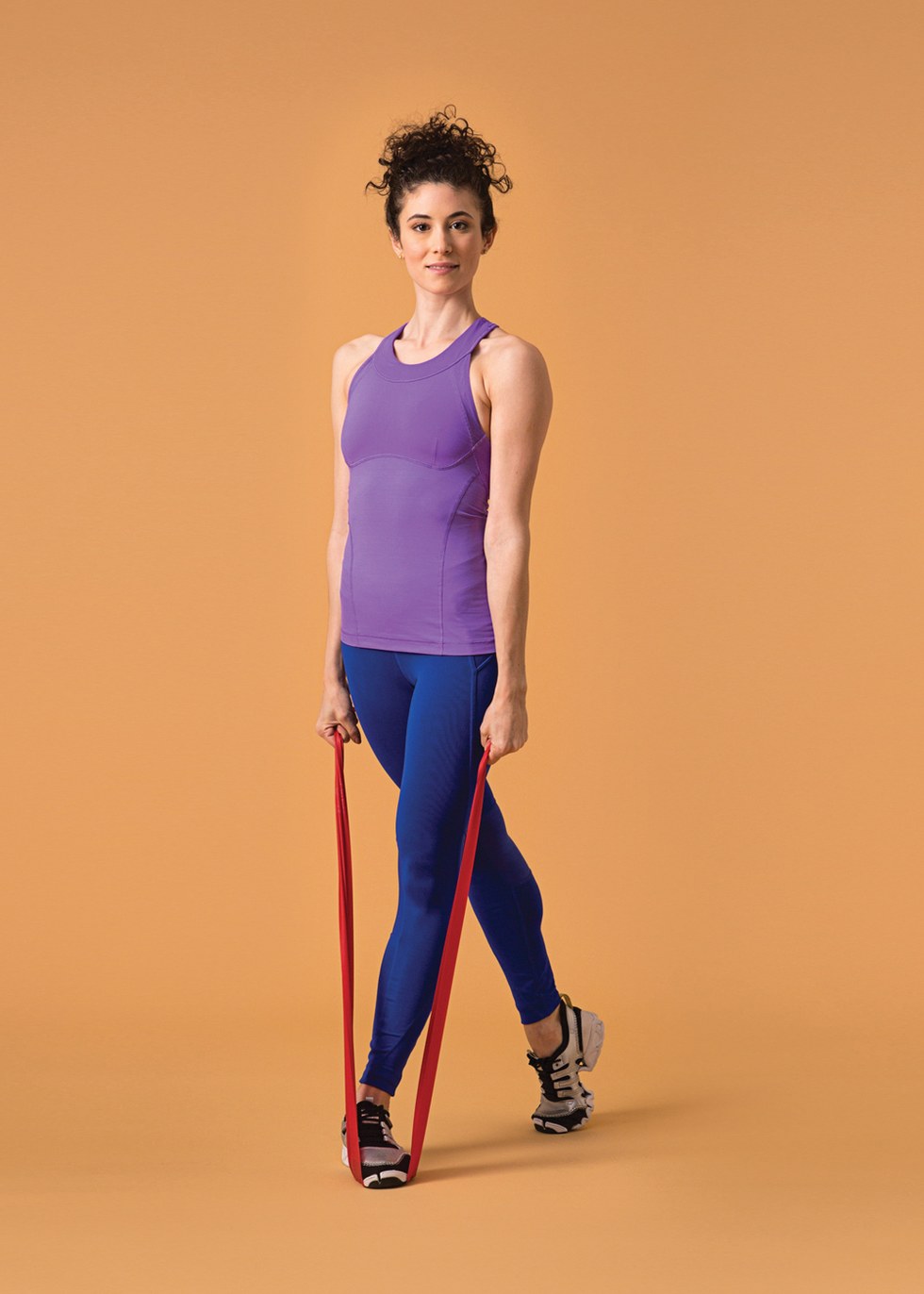 Pull your arms up and out to your sides as you lower into a deep curtsy. Return to the starting position. Repeat 10 times and then switch sides.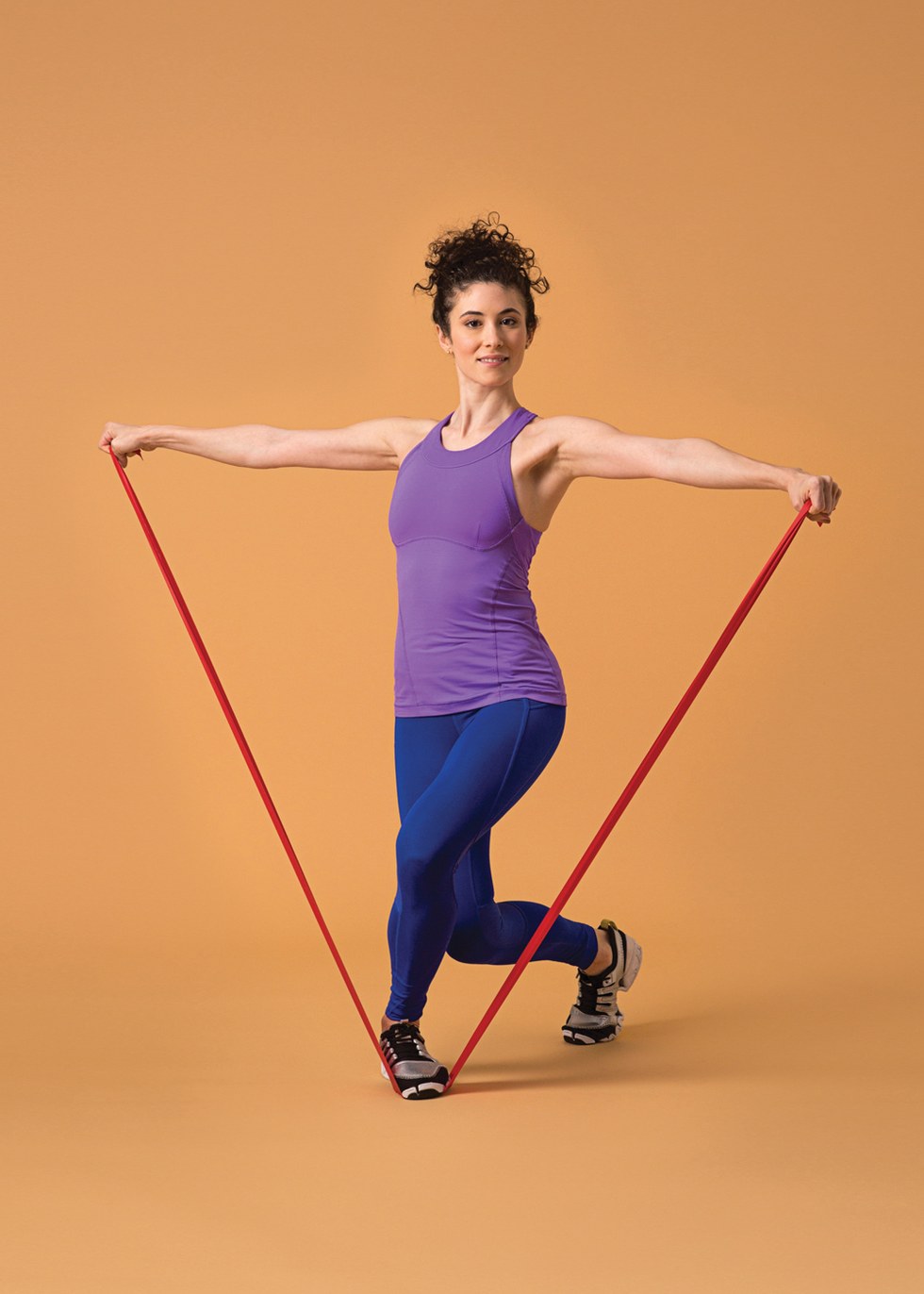 Piskin says: "Keep your back leg parallel to the floor. As you curtsy, you should feel like you're crossing your legs in a chair—this will engage and sculpt your glutes and hamstrings. You can make it harder by pulsing 10 times in the low curtsy position."
Exercise 5: Bicep Cross Curtsy
Where you'll feel the burn: biceps and glutes
Begin in the same starting position as Exercise 4, but cross the band in front of you and hold one end in each hand, with your palms facing the ceiling.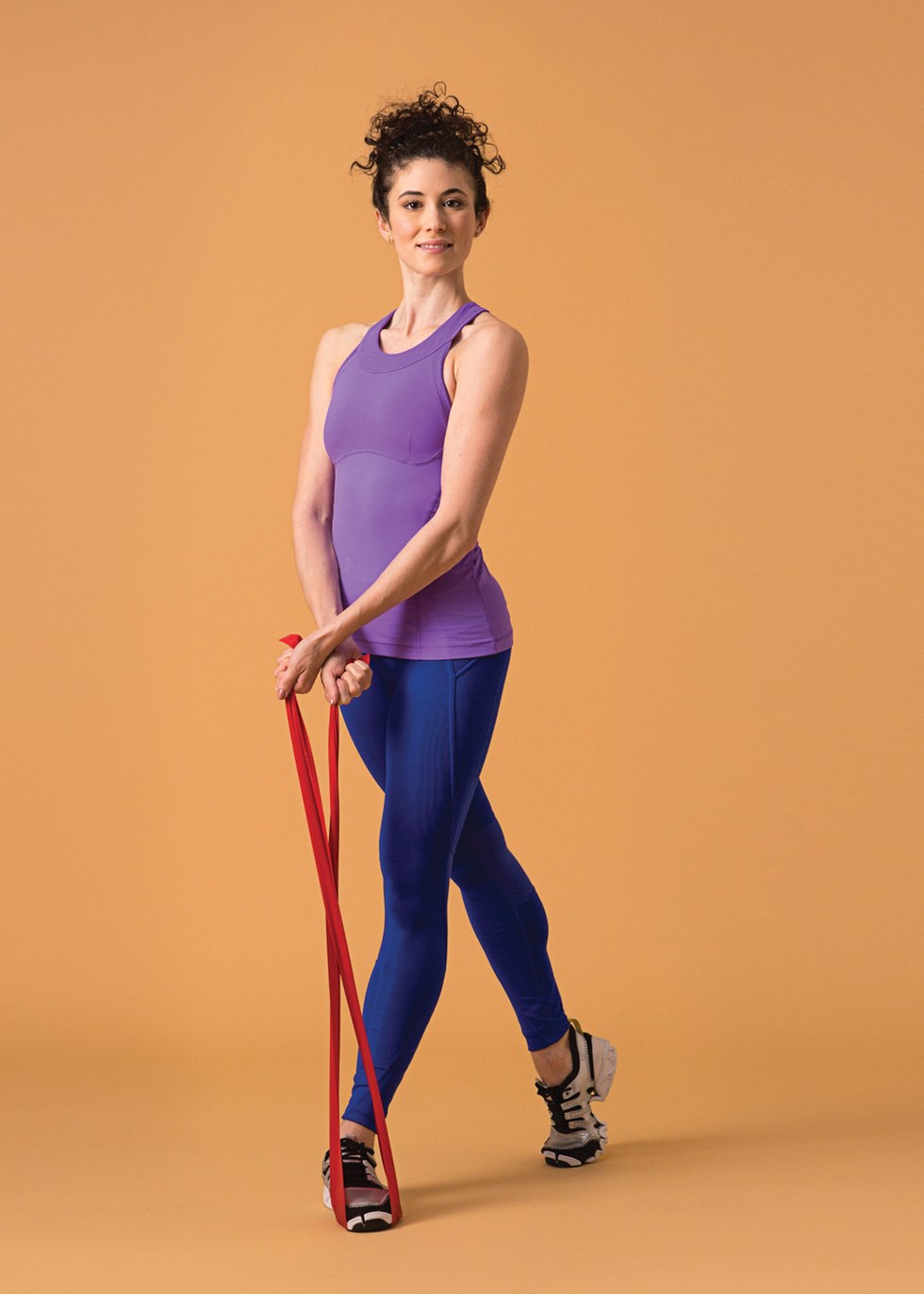 As you curtsy, curl your fists in toward your body, working the bicep muscles. Straighten your legs and return your arms to the starting position. Do two sets of 10 and then switch sides.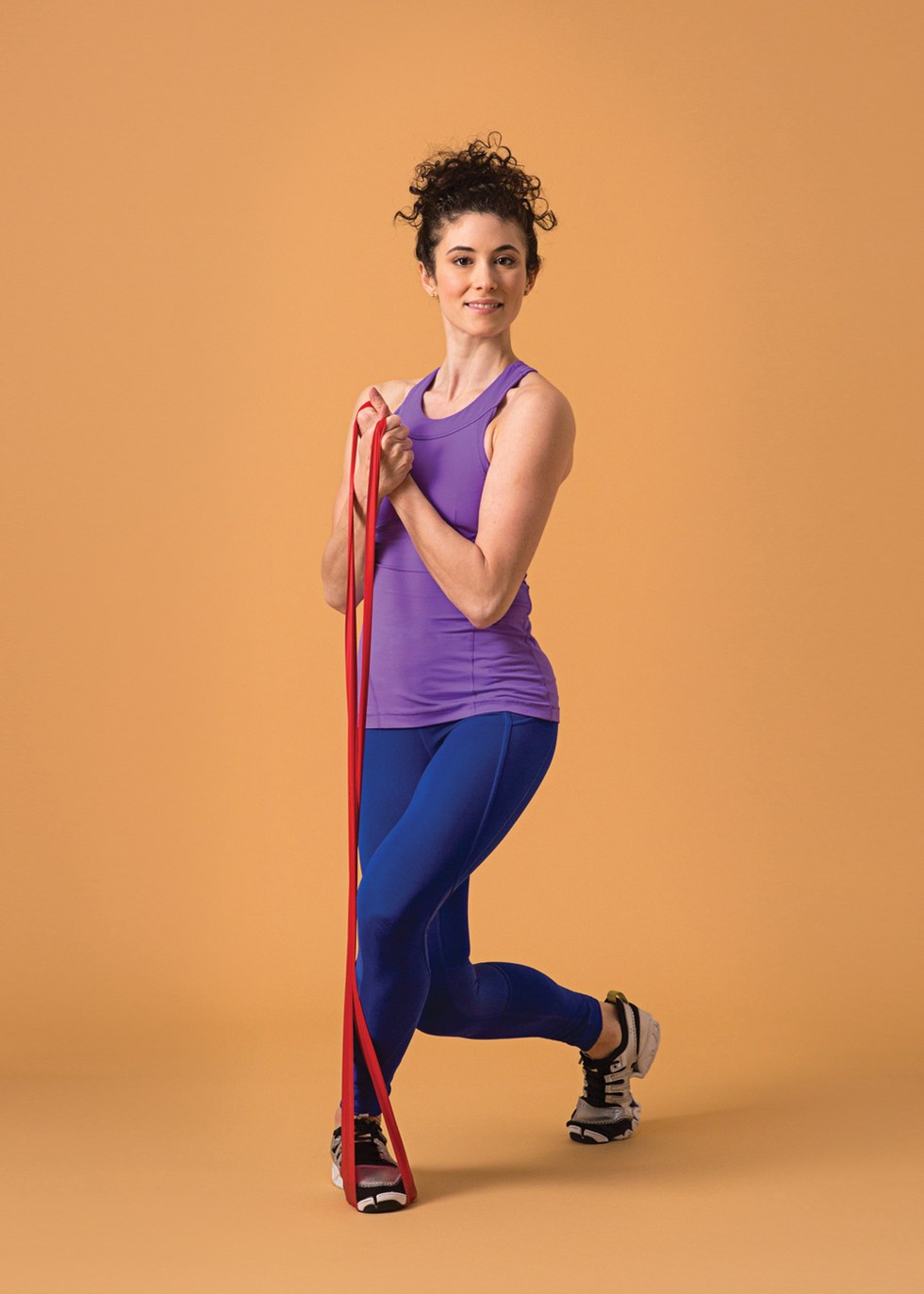 Piskin says: "Keep your elbows tight to your body so you're working your bicep muscles, not using momentum."
Exercise 6: Arabesque Arm Extensions
Where you'll feel the burn: upper back, thighs and glutes
Stand on the center of the band with your left foot, bending your left leg slightly. Hold an end of the band in each hand and tendu your right foot back. Keep your focus on the ground in front of you.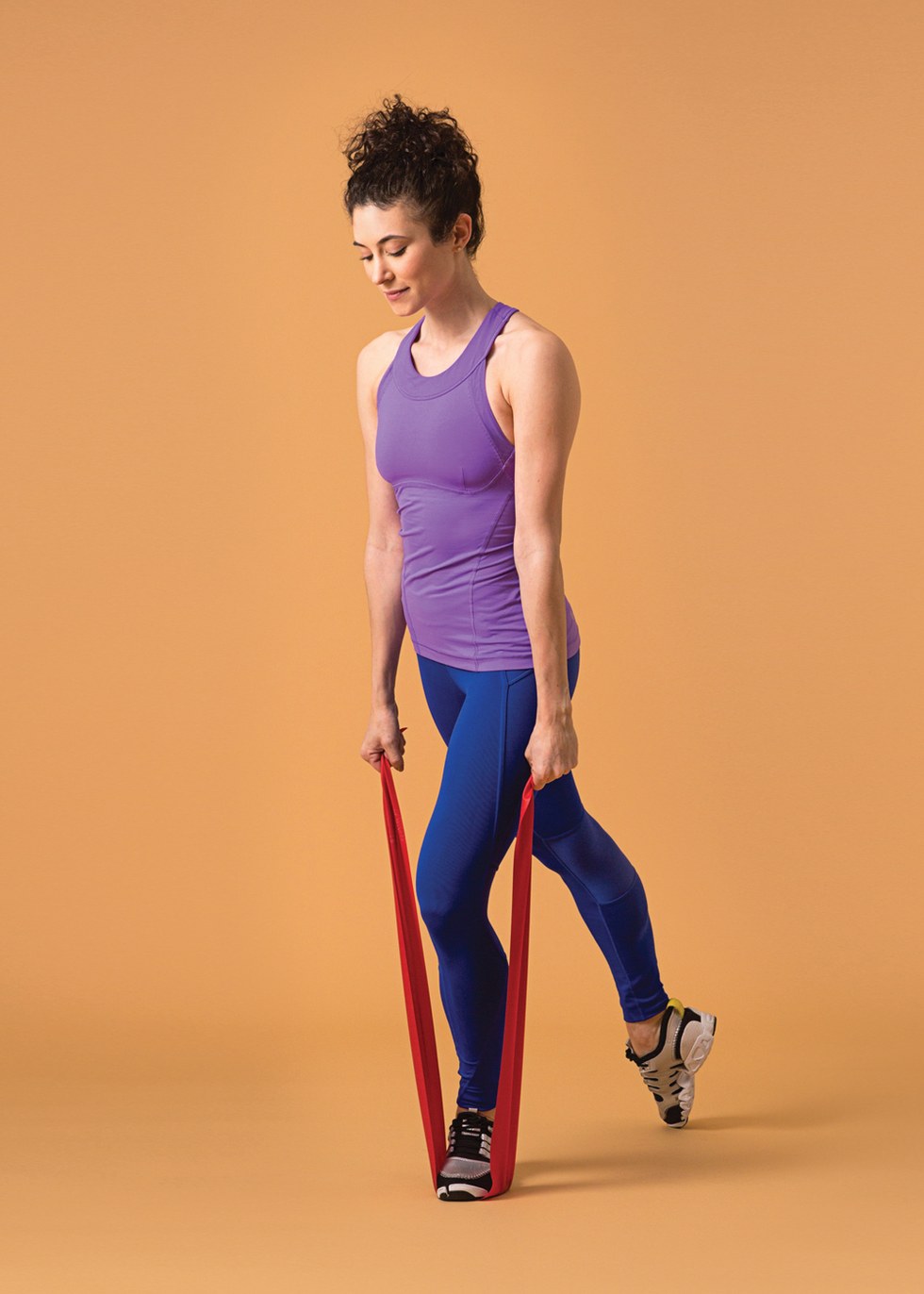 Lift your right leg to arabesque as you pull the bands out to your sides. Lower your leg and arms to return to the starting position. Repeat 12 times and then switch sides.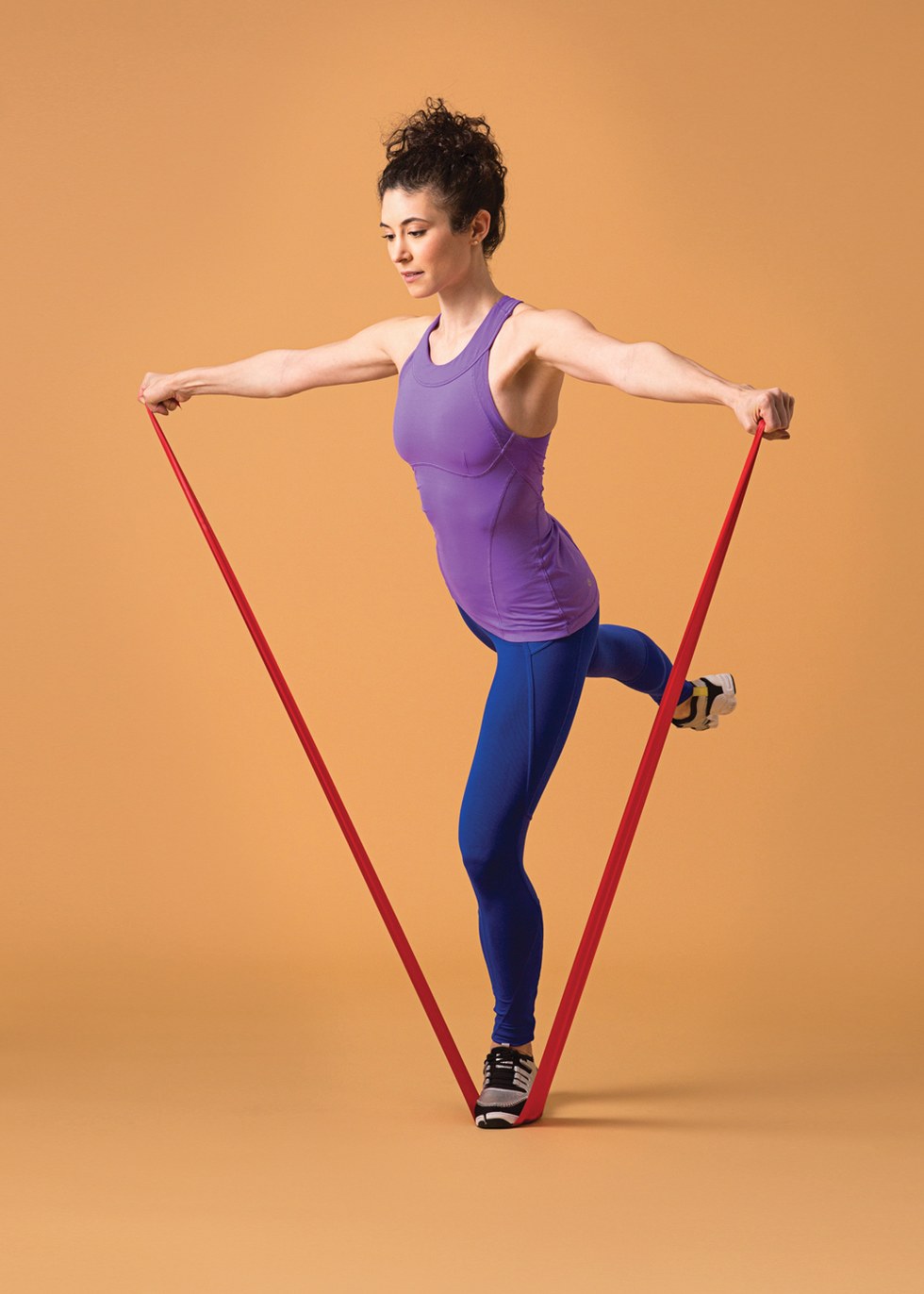 Piskin says: "Keep your standing leg bent and focus on engaging your core to stabilize your body."
Photography by Erin Baiano; hair and makeup by Chuck Jensen for Mark Edward Inc., modeled by Rachel Piskin.
Apr. 11, 2017 04:18PM EST
Welcome to the new dancespirit.com—a completely addictive way to enjoy our top-notch dance content.
It's got all the stuff you've always loved: gorgeous images of your favorite dancers, internet-breaking viral videos, thoughtful technical advice for dancers of all styles, effective health and wellness tips, crazy-good giveaways. And now there's a lot more of it—right at your fingertips.

We've invested in the latest technology to produce a brilliant digital experience, using the powerful tools for social discovery and engagement developed by our partner, RebelMouse. They know what they're doing, guys.
Produced by the editors and writers you trust. Powered by RebelMouse. BOOM.
Pacific Northwest Ballet principal Noelani Pantastico is famous for her passionate stage presence and strong, powerful technique. Originally from Oahu, HI, Pantastico trained at Central Pennsylvania Youth Ballet and frequently attended summer courses at PNB. In 1997, she joined PNB as an apprentice, and was promoted to principal in 2004. Four years later, she joined Les Ballets de Monte-Carlo as a soloist—but, in 2015, Pantastico headed back home to PNB, and she's danced there ever since. Catch her in the company's June program, which features George Balanchine's La Source, Jerome Robbins' Opus 19 and Alexei Ratmansky's Pictures at an Exhibition. Read on for her letter!
"Dear Noe,

You'll soon enter a career that will shape the course of your existence. Pay attention and enjoy every moment, because it goes very quickly. Life in the dance world is beautiful, although there will be times when deep reflection is necessary, and when roadblocks will make you rethink your career path. This is normal, and it's OK. Here's some advice that will help you get through.

Don't complain, and ignore idle gossip. Negativity will do nothing for you. It's wasted energy. Your mental state is connected to your physical being and immune system—being mindful can help you stay healthy. You won't want to believe this, but the sooner you do, the sooner you'll get better and won't be dealing with so many ailments. When you're dealing with pain, injury or even a common cold, consider whether you're also going through an emotional problem or change. This is total body care.

Don't try to control the course of things. Everything that happens is meant to happen. There's a lesson in every moment. Just listen, observe and work hard. This will give you intelligence and power, and ultimately the ability to handle anything the world throws at you.

Lastly, give the best you can every day. Don't waste a minute. Remember: Life responds to you and to what you put out there. It's not about what happens to you, but about what you make of it. Be meticulous with your steps. Care for every motion. Your love and gratitude will vibrate beyond you.

I love you very much,
Noe"
Photo by Angela SterlingPantastico in Jean-Christophe Maillot's "Roméo et Juliette"
Keep reading...
Show less
"When a biology major asked if I was illiterate because I studied dance, I realized just how much of a joke my field of study is to some people."
That's how Camryn Eakes, a junior dance major, opens her incredibly powerful open letter asking fellow Chapman University students to (as the title puts it) "Recognize the complexities of the dance major." It's a frustration that's way too familiar to just about every dancer: We've all had this beloved art form of ours questioned, ridiculed, trivialized or worse.
Eakes' passionate writing speaks to so many of the misconceptions that drive dancers CRAZY, along with the huge demands our art form puts on us:

"Dance requires us to be willing, to expose our rawest self to any set of eyes. Every day, I must be willing to relive both the euphoric and depressing memories I house in the deepest depths of me. That's my job; that's our job. We are storytellers, protesters, advocators, thinkers, entertainers, actors and innovators. Studio time is our lab, our calculator, our pen and paper. It is not enough just to physically show up to class. Our growth and talent is a full-time investment inside and out of class and that's just part of being an artist. We cannot destroy our bodies with alcohol and all-nighters. Our bodies are our tools and something we can't purchase over and over again when it breaks. The professional artist lifespan is only so long as our health will last, that we cannot afford nor want to lose any time we have enjoying and delving deeper into what we cannot live without."
You can read the complete version of Camyrn's letter on The Panther's website. And check out this video of Camryn dancing—she's obviously a gorgeous mover and a beautiful writer.
Keep reading...
Show less
In our "Dear Katie" series, former NYCB soloist Kathryn Morgan answers your pressing dance questions. Have something you want to ask Katie? Email dearkatie@dancespirit.com for a chance to be featured!
Dear Katie,
I have super-archy feet, which is great—sometimes. But they're hard to control because they're so flexible. How can I make them stronger and easier to work with? I have a hard time even standing properly in pointe shoes.
Natalia

Dear Natalia,
While I'm sure many of your fellow dancers envy you, having beautiful feet can be tough! The first thing to do is to make sure you have the right pointe shoe. You need a good, strong shank to support that arch, but not a rock-hard shoe that'll keep your feet from getting stronger. Go to your local dance store and try everything. Having the right shoe can do wonders!

Establish a daily Thera-Band routine. Your super-flexible feet will need a really high-resistance band—I'd suggest either a black, gray or blue band. Do lots of simple push-through-the-feet exercises to build stability in your ankles and metatarsals.

Once you're in your pointe shoes, add extra relevés, élevés and balances to your pre-class warm-up to improve your strength. Even doing simple tendu and dégagé exercises in your pointe shoes, focusing on pushing through your metatarsals, will help your feet and ankles learn to stabilize the rest of your body. It's all about repetition and time!
Using a Thera-Band every day is super important.Photo by Nathan Sayers
Dear Katie,
I've loved dance for as long as I can remember, and I want to pursue it professionally. But lately, I haven't felt
the same joy when I dance. I'm always sad at the studio, and I'm not even sure why. I miss the old me. What should I do?
Saleen

Dear Saleen,
Many dancers go through a "burnout" period, either in their training or once they become professionals. Think back to why you started dancing in the first place. Was it the music? The freedom of the movement? Reconnecting with those initial feelings can help you find your joy again.

We dancers also tend to get caught up in the pursuit of perfection, and that can mess with your head. Scary as it sounds, try taking a few days, or even a week, away from dance. (Pick a time when not a lot is going on at the studio, so you won't be missing any performances or other important opportunities.) Odds are, just putting a little space—mentally and physically—between you and the dance world for a while will allow you to come back to class newly energized and excited.
However, if that time away leads you to realize that you no longer want to dance, that's OK too! It doesn't make you a failure. It just means your passions and goals have changed. And if that's the case, it's better to realize it now than 10 years down the road.

Dear Katie,
I just got a big part in my school's musical. There's a lot of dancing, which I'm not worried about at all—but I also have to sing and speak. I'm not used to using my voice onstage! What can I do to get comfortable?
Karen

Dear Karen,
The first time I had to speak and sing onstage, I was terrified. Thankfully, I had some great coaching. I'll pass along the wisdom I received!

Dancers are taught to lift up through their bodies. But if you lift up while singing, you'll run out of air. Instead, during singing and speaking passages, focus on staying grounded. Let your body relax and your weight drop into the floor—foreign as that might feel.

Be sure to actively enunciate every lyric or line of dialogue, too. In normal speech, eliding your words, so they slur together a bit, is OK. But onstage, it's not—the audience has to hear everything clearly to be able to understand you. You might feel silly hitting every "t" and "d" hard, but it's important!

Finally, focus on projecting your voice, just as you project your dancing up and out. The people in the back row have to hear you as well as see you! Well-supported breathing, using your diaphragm, will help your voice carry to the far reaches of the theater
Keep reading...
Show less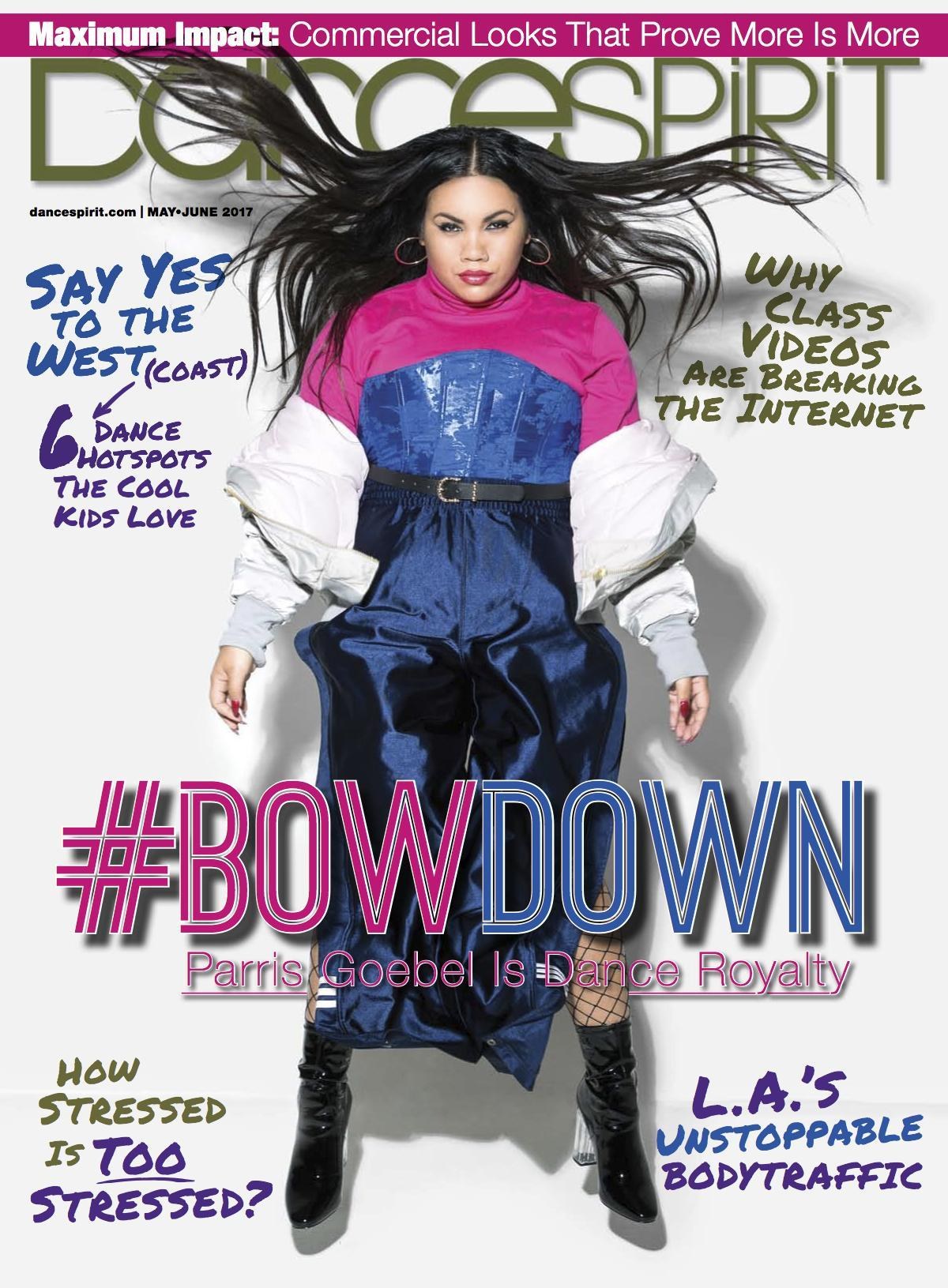 Featured College Dance Program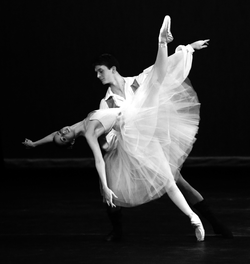 Get Dance Spirit in your inbox