Totally Tiler (And Robbie)
When I see a dancer I love, I tend to get a little obsessed. Like after the first time I saw Sarah Pippin perform at competition, I could. not. stop. watching. her. videos.
Productivity goes straight out the door and I'm hooked on researching. Photos, videos, things I can watch or print and hang at my desk...you get it.
My latest?
Tiler Peck.
Sweet, romantic, awesome Tiler Peck.
You know her story: Former comp kid takes the ballet world by storm and flies through the ranks at New York City Ballet, nabbing herself a principal dancer title.
And you know about her love life, too, right?
She's dating fellow NYCB hottie (and principal) Robbie Fairchild.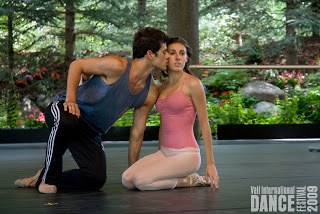 I imagine their life together is perfect and filled with pink tights, pointe shoes and well-trained puppies.
I saw Tiler perform the lead role in NYCB's production of The Sleeping Beauty on Friday night and now all I want to do is watch more from her...and pretend to be her.
Enjoy this clip of Tiler and Robbie dancing a Dee Caspary contemporary routine (cool!) at last year's Vail International Dance Festival.
Sara Mearns and Chase Finlay in Pontus Lidberg's "The Shimmering Asphalt" (via @saramearns on Instagram)
We've said it before and we'll say it again: New York City Ballet principal Sara Mearns is some SERIOUS #goals. Her strength and power onstage borders on superhuman. But what's extra magical about Mearns is that she really puts in the fitness and cross-training work outside of the rehearsal studio. And she's overcome her fair share of injuries. Which is why she was the perfect source for Vogue's latest ballet fitness story.
Keep reading...
Show less
Jul. 23, 2017 07:00AM EST


Get Dance Spirit in your inbox