Sep. 08, 2009 11:14AM EST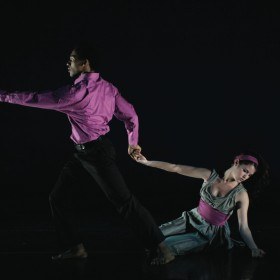 When Rachel Bahler, now age 20, applied to colleges, she knew she wanted to pursue musical theater and singing. But since she's from North Carolina, in-state tuition at The University of North Carolina at Chapel Hill was too good to pass up, even though they didn't have a musical-theater program. She enrolled as a vocal performance major, but within the first semester, Rachel decided the school was not the right choice. Her musical theater talents weren't growing, and she knew she wanted to transfer. So she researched other conservatories and university programs to find a better fit. "I doubted I was good enough for a big musical theater program, but I didn't want a huge 'what if' to linger if I never tried," she says.
Although Rachel doesn't regret going to UNC for a year—without tuition costs she saved $30,000 and learned a lot about herself—it was difficult to feel so unhappy while her friends were enjoying their freshman year. "I was panicked! I didn't feel I was in my niche," she says. "I didn't want to graduate without a degree I felt confident in." Instead of getting down, she decided to use her dissatisfaction to fuel her transferring fire.
Before the end of freshman year at UNC, Rachel had applied and auditioned at several schools, including her top choice, University of Michigan. By April she received her acceptance letter: She would be transferring to the sophomore musical theater class at UM School of Music, Theatre and Dance!
Warning: The transfer tango is not always as smooth as Rachel's experience was. Lots of research, time, effort and full-on soul searching needs to happen before you take the plunge. We talked with The Ailey/Fordham B.F.A. co-director Ana Marie Forsythe and two successful transfer students to find out what to do if you're itching for a switch.
Should I Stay or Go?
College is full of excitement and expectations, but as recent Boston Conservatory grad Jessie Stinnett found out, it can also be disappointing. Because her father taught at Berklee College of Music, she received free tuition, but there was no dance program. She settled for a vocal major but soon realized she needed to focus on dance. So, she transferred to The Hartt School after her sophomore year.
Unfortunately, the dance program there wasn't the best fit either. "I became disappointed at Hartt because I felt it was a strong pedagogy focus, and I wanted to develop myself as a performer instead," she says. Her previous experience at Berklee taught her that it wasn't her fault for feeling out of place; it just wasn't the right school for her. Rather than blaming herself, she kept her eye on the prize: a performing dance career. During her first year at Hartt, she auditioned at Boston Conservatory and received a scholarship to transfer into the sophomore class, and graduated from there within two years.
Weighing the Cons
For Jessie, the "go" was definitely the clear choice. But for other students, sometimes the grass always seems greener on the other side. So be sure to think about the difficult aspects of transferring. Financially, moving to a private conservatory or out-of-state university means more moolah. Federal financial aid will transfer over, but say good bye to institutional aid you may have. If you do decide to transfer, reapply for scholarship and financial aid opportunities, even work/study (trading hours working for your school in return for tuition dollars), at your new school.
Housing can also pose problems for transfer students. A city school like the Ailey program at Fordham University does not guarantee dorm housing for transfers. While living off campus is exciting, it can challenge your integration with classmates, who may all live together in the dorm. "I was the only new person, so it was hard to join the sophomore group at Boston Conservatory," Jessie says. "It was a test of character, and I had to ask myself, 'Is this about finding best friends or about honing my craft as a dancer?'" On the other hand, Rachel lived in a dorm while her 20 new classmates lived off campus. Luckily they made a great effort to include her in activities and parties.
Playing catch-up is another challenge. Rachel had to beef up her ballet and jazz training, taking these classes several times a week. At Ailey, Forsythe says, "Most transfers feel behind in Horton and Graham classes because we are so specific in those techniques." Sophomore transfer students without experience in either style must start with one or the other during the first year, while the rest of the sophomores take both classes.
Déjà Vu: Applying—Again!
Once you've decided you definitely want to look into transferring, get to work right away! To help with your decision, research schools with interesting programs. Get info by e-mailing directors, talking and meeting with current students and visiting the campus. Identify what is missing from your current program and see if any prospective schools fill the gaps. Do you need stronger dance training? Are you looking for a balanced academic/artistic course load, or is a conservatory a better fit? Discuss these questions with your parents so they can understand and support your decision. Then fill out applications and hit those auditions! School websites always include transfer application deadlines and audition info.
Get Credit for Credits
After switching between three schools in five years, Jessie discovered that being proactive was the key to transferring credits. Courses often have different names, so you need to explain the similarities between your old courses and the ones at your new school to your advisor to get as many credits accepted as possible. "I met with the registrar to discuss my transcript," Jessie explains. "I printed out course descriptions at the Conservatory and the syllabi for courses I'd previously taken."
Many schools require transfers to start in the fall semester as a freshman, but this is negotiable if enough previous credits are accepted. "As a transfer, the minimum time you can spend at Ailey/Fordham is three years," describes Forsythe. "The decision is based on technical scores during the audition, and if they fit into the existing class situation." But be prepared, you may have to start at the very beginning like a freshman!
A Transfer Transformation
For some students, all this effort pays off in the long run. During her audition orientation at Michigan, Rachel says, "I finally had the feeling that this school was the right place for me." Her first year at UNC taught her about being on her own, while transferring allowed her to concentrate on her Broadway career goals.
Although Jessie went through three schools over five years, she is proud of her choices and experiences. "I'm not worried about what to do next because I know I can handle anything now. Things will work out with hard work." She is now secure on her professional dance path: She went to Paris in June for an international dance exchange program, and moved to NYC in July to apprentice with a contemporary ballet group, Eryc Taylor Dance!
While transferring isn't always easy, sometimes it's a necessary step toward fulfilling your academic and artistic aspirations. Perfection and "the best four years of your life" are unrealistic goals, but transferring may lead you down a more inspiring college road.
What's more daunting than getting into your dream college dance program? Figuring out how you'll cover the costs of tuition, room and board, incidental expenses and more. Here's the good news: The right scholarship(s) can bring your dream school well within reach.
Look Around, Look Around
Scholarship applications are due between the fall of senior year and graduation time, so familiarize yourself with funding opportunities during the spring of junior year. And there are a lot of opportunities out there, says Kate Walker, chair of dance at Booker T. Washington High School for the Performing and Visual Arts in Dallas, TX. "A lot of school guidance counselors now have software that automatically matches you with scholarships," she says.
Seek out scholarships on your own, too. According to Walker, "a lot of corporations are required to have some community engagement, including offering scholarships, so research corporations in your community." Your parents' employers might offer assistance too, says Doug Long, an academic and college counselor at Interlochen Arts Academy in Interlochen, MI. "They might have scholarships you can apply for just because your parent works there."
Other sources of grant money you won't have to pay back (as you would a loan)? The YoungArts Foundation; competitions/conventions, like New York City Dance Alliance; and the university or dance department you're applying to. Even some scholarships aimed at athletes are open to dancers!
Apply Yourself
A winning scholarship application involves a fair amount of paperwork, especially if the organization requires you to show financial need. In addition, certain scholarships ask for the College Board's CSS/Financial Aid Profile, which gives the awarding organization a more complete picture of your family finances.
Other ingredients of a successful scholarship application include recommendation letters, a dance and/or academic resumé and an essay or statement of purpose. Treat these components just like college applications: Have multiple trusted adults proofread your materials, and ask for recommendation letters or transcripts long before deadlines.
A note for non-dance scholarships: Including objective measures of achievement can only help you. "List national recognitions, like YoungArts or other competitions," says Long. "That shows the scholarship committees that people at high levels have acknowledged you as an artist of quality." And don't forget who your audience is. "Especially in writing samples, make sure you paint a vivid picture for your reader," Walker says. "Don't assume they know about all the things—like barre every day—that we as dancers take for granted."
No award amount is too small to be worth your time and effort. As Walker says, "Don't pooh-pooh a couple hundred dollars in award money, because any scholarship is funding that you didn't have yesterday."
A version of this story appeared in the July/August 2017 issue of Dance Spirit with the title "All Aboard the Scholar-ship."
Every ballet dancer knows the time, sweat, and occasional tears the art form demands. But many non-dancers are clueless about just how much work a ballet dancer puts into perfecting his or her dancing. So when the mainstream crowd recognizes our crazy work ethic, we'll accept the round of applause any way it comes—even if it comes via four men in tutus. Yep, we're talking about "The Try Guys Try Ballet" video.
Keep reading...
Show less
(via YouTube)
Remember that fabulous old-school clip of dancers tapping in pointe shoes that Tabitha and Napoleon D'umo brought to our attention back in March? As we mentioned then, toe-tap dancing was actually super popular back in the 1920s and 30s—which means there are more videos where that one came from. And because #ToeTapTuesday has a nice ring to it, we thought we'd take this opportunity to introduce you to Dick and Edith Barstow, a toe-tapping brother and sister duo from that era who are nothing short of incredible:
Keep reading...
Show less
(Adam Rose/FOX)
Guess who's back? Back again? The Academy's back! Tell a friend.
After one day at The Academy, the All Stars have successfully taken the Top 100 down to 62. But their work is just getting started: Now they need to keep narrowing the field to a Top 10, ultimately deciding who each will partner with during the live shows.
Keep reading...
Show less


Get Dance Spirit in your inbox