Sep. 16, 2009 12:02PM EST
Cabaret—Ooh, La, La!
Dancers dripping in bling brought sass to the stage! We saw sparkly bra-tops, corsets, fishnets and fringe, which are all reminiscent of the flapper style.
"I don't like dancing in layers because I feel restricted. At my studio, we buy our own bras and cover them with material. They look really nice onstage, especially when they have a lot of diamonds!" — Madison Booth, 15, dancer at Elite Danceworx in Toronto, ON, CAN (far right)
"Slips are comfortable and easy to dance in. It doesn't feel like you're wearing a costume."— Kayla Troughton, 16 dancer at Elite Danceworx in Toronto, ON, CAN (center)
Mad for Plaid
Convention goers piled on scarves, socks, shorts, backpacks and button-downs in plaid patterns. Checks please!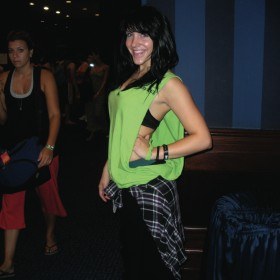 "At first I was like, 'why are dancers wearing scarves? It's 90 degrees in LA!' But the scarves are actually really thin and accent the rest of an outfit." —Shane Sparks, teacher at The PULSE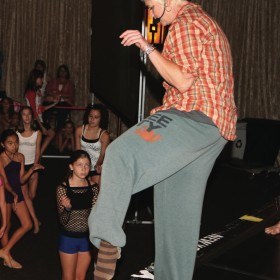 "All ages and levels were sporting plaid of some sort in classes at The PULSE on Tour this year. The most popular colors were yellow, red, purple, blue and black and white. We saw plaid button-down shirts, plaid shorts and dresses. I even saw a pair of red plaid shoes on one of the protégés in NYC. —April Cook, PR/Marketing Director at The PULSE
Femme and Fabulous
You got your girly-girl on and looked lovely in ruffles, lace, satin and pretty dresses.
"I'm wearing a vintage dress from the 50s. It's very housewife-esque: innocent and put together." —Danna Rosenfield, 17, (right) dancer at Bobbie's School of Performing Arts in Newbury Park, CA
Heavy Metal
Metallic booty shorts, dresses, leggings, sneakers and even unitards made dancers shine—literally!
"I would totally wear this dress to a homecoming dance or a formal dinner." —Naja Lee, 15, (right) dancer at Premier One Dance Academy in Chicago, IL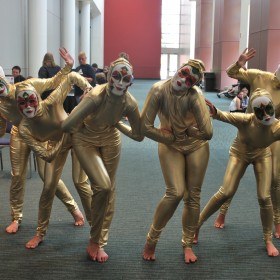 Each of these masks was hand-painted and customized for the dancers. Perhaps some competition for the JabbaWockeeZ?
Partnering
This year choreographers gave a nod to "So You Think You Can Dance" by adding partnering to their routines. We saw it in every style from ballet to hip hop.
"We do a lot of interesting lifts in this dance. Some people are in ballet slippers and some are in pointe shoes. It's modern ballet, and it's scary." —Kaylie Pearson from Excite Dance Company in Flower Mound, TX, on her Dracula-themed ballet routine
Breaking The Mold
Many studios played on the idea of high school stereotypes, from the popular clique to the geeks.
The dancers from Southwest School of Dance in Marshall, MN, are not friends until the end of the number when they flip their signs to show real names, indicating that they've broken down barriers. Their routine was titled "Labels" and they danced to Citizen Cope's "Let the Drummer Kick."
"Everyone is waiting on the world to change, but we're the ones to change it, and we're doing that through dance." —Fenton Fulgham, co-owner and choreographer at Revelation Dance Studio in Plano, TX, on his production number to John Mayer's "Waiting on the World to Change" about high school cliques
"This year, I've noticed a lot of novelty and character pieces, like 'Ring Them Bells' and 'Speaking French.' It's all about musical theater." —Amber Skipps from South Coast Performing Arts in Tustin, CA
"Every team brought its own individuality this year from the music to the choreography. We saw a lot of variety. The one thing that all the teams had in common was amazing choreographers and dancers with strong work ethics. Every team really pushed to the limit." —Rodney Chester, Trio Talent Agency, judge at LA Dance Magic
"What's been really big this year is that contemporary is totally outshining the other styles due to 'So You Think You Can Dance.' The tricks are now more than just kicks and turns. Teams are watching the moves on TV and making them their own. We've also seen a lot of lyrical hip-hop, probably thanks to Tabitha and Napoleon D'umo." —Harmony Flores from Dance & Cheer Stars in Manteca, CA
"We're seeing real contemporary, not just flopping around and falling on the floor. Choreographers are telling a story rather than just creating steps. The music editing has also improved greatly this year." —Rustin Matthews, judge at Hollywood Vibe
"Ever since 'So You Think You Can Dance,' I've noticed people are choreographing to slow songs and incorporating themed choreography. Themes make you want to pay attention. I'm very theme-oriented. I can't just get up there and do moves because moves don't mean anything. This is something that I hope people start catching on to, so that at the end of a piece people are like, 'I really felt that.'" —Shane Sparks, teacher at The PULSE
The songs of the season: "Halo" by Beyoncé, "The Garden" by Mirah, "Gravity" by Sara Bareilles, "Breakable" by Ingrid Michaelson, "Putting on the Ritz" by Irving Berlin, "Cell Block Tango" from Chicago, "When I Grow Up" by the Pussycat Dolls, "Rock This Party" by Bob Sinclair, "Mercy" by Duffy, "Slow Dancing in a Burning Room" by John Mayer, "Lost" by Anouk, "Thoroughly Modern Millie" from Thoroughly Modern Millie, "Ring Them Bells" by Bob Dylan, "Be Our Guest" from Broadway's Beauty and the Beast, "Cabaret" from Cabaret, "Whatever Lola Wants" from Damn Yankees, "Closer" by Ne-Yo, "Shy" from Once Upon a Mattress," "Celebration" by Kool & the Gang, "Boogie Shoes" by KC and the Sunshine Band, "Single Ladies (Put A Ring On It) " by "Beyoncé, "Uptown Girl" by Billy Joel," "Boom Boom Pow" by Black Eyed Peas, "Cool" from West Side Story, "Peanut Butter Jelly Time" by Buckwheat Boyz, "Innocence" by Bjork, "Champagne Supernova" by Angie Aparo, "Grace" by Kate Havnevik, "Feeling Good" by Michael Bublé...
What's more daunting than getting into your dream college dance program? Figuring out how you'll cover the costs of tuition, room and board, incidental expenses and more. Here's the good news: The right scholarship(s) can bring your dream school well within reach.
Look Around, Look Around
Scholarship applications are due between the fall of senior year and graduation time, so familiarize yourself with funding opportunities during the spring of junior year. And there are a lot of opportunities out there, says Kate Walker, chair of dance at Booker T. Washington High School for the Performing and Visual Arts in Dallas, TX. "A lot of school guidance counselors now have software that automatically matches you with scholarships," she says.
Seek out scholarships on your own, too. According to Walker, "a lot of corporations are required to have some community engagement, including offering scholarships, so research corporations in your community." Your parents' employers might offer assistance too, says Doug Long, an academic and college counselor at Interlochen Arts Academy in Interlochen, MI. "They might have scholarships you can apply for just because your parent works there."
Other sources of grant money you won't have to pay back (as you would a loan)? The YoungArts Foundation; competitions/conventions, like New York City Dance Alliance; and the university or dance department you're applying to. Even some scholarships aimed at athletes are open to dancers!
Apply Yourself
A winning scholarship application involves a fair amount of paperwork, especially if the organization requires you to show financial need. In addition, certain scholarships ask for the College Board's CSS/Financial Aid Profile, which gives the awarding organization a more complete picture of your family finances.
Other ingredients of a successful scholarship application include recommendation letters, a dance and/or academic resumé and an essay or statement of purpose. Treat these components just like college applications: Have multiple trusted adults proofread your materials, and ask for recommendation letters or transcripts long before deadlines.
A note for non-dance scholarships: Including objective measures of achievement can only help you. "List national recognitions, like YoungArts or other competitions," says Long. "That shows the scholarship committees that people at high levels have acknowledged you as an artist of quality." And don't forget who your audience is. "Especially in writing samples, make sure you paint a vivid picture for your reader," Walker says. "Don't assume they know about all the things—like barre every day—that we as dancers take for granted."
No award amount is too small to be worth your time and effort. As Walker says, "Don't pooh-pooh a couple hundred dollars in award money, because any scholarship is funding that you didn't have yesterday."
A version of this story appeared in the July/August 2017 issue of Dance Spirit with the title "All Aboard the Scholar-ship."
Every ballet dancer knows the time, sweat, and occasional tears the art form demands. But many non-dancers are clueless about just how much work a ballet dancer puts into perfecting his or her dancing. So when the mainstream crowd recognizes our crazy work ethic, we'll accept the round of applause any way it comes—even if it comes via four men in tutus. Yep, we're talking about "The Try Guys Try Ballet" video.
Keep reading...
Show less
(via YouTube)
Remember that fabulous old-school clip of dancers tapping in pointe shoes that Tabitha and Napoleon D'umo brought to our attention back in March? As we mentioned then, toe-tap dancing was actually super popular back in the 1920s and 30s—which means there are more videos where that one came from. And because #ToeTapTuesday has a nice ring to it, we thought we'd take this opportunity to introduce you to Dick and Edith Barstow, a toe-tapping brother and sister duo from that era who are nothing short of incredible:
Keep reading...
Show less
(Adam Rose/FOX)
Guess who's back? Back again? The Academy's back! Tell a friend.
After one day at The Academy, the All Stars have successfully taken the Top 100 down to 62. But their work is just getting started: Now they need to keep narrowing the field to a Top 10, ultimately deciding who each will partner with during the live shows.
Keep reading...
Show less


Get Dance Spirit in your inbox