Joey Haro's never been easy to categorize. His parents are Cuban, but he looks ethnically diverse enough that he was called back for both the Jets and the Sharks, the rival gangs in the long-awaited Broadway revival of West Side Story. Plus, his boyish good looks contradict the maturity with which he carries himself in conversation and as a dancer.
Then there's his wide-ranging talent. The 21-year-old is vocally adept enough to be cast for his ability to belt out high notes; a versatile enough dancer to execute hip-hop and musical theater moves with equal conviction; and a strong enough actor that he can now handle his star role as Chino in West Side Story, which requires him to kill the leading man each night.
But while Haro's rise to prominence has been meteoric, it's been far from effortless—or conventional—and it all started with a leap of faith. Two years ago, after his sophomore year of college, he decided to make a risky decision (one that's ended less happily for other dancers): Haro left Florida State University to move to NYC to train and pursue his dream of being a professional triple threat.
Joey didn't initially strive to excel at so many things. During his childhood, he only saw himself as an actor. It wasn't until middle school, when he watched a video of Stephen Sondheim's Into the Woods, that everything changed. "Suddenly music enhanced the acting, and dancing was another expression of the emotions," he says.
His natural talent led him to stay in that world. He auditioned for the musical theater department at Miami's New World School of the Arts and was accepted. There he honed his dancing and singing, along with acting.
"Growing up at a performing arts school helped you do just that—grow," says Joey. "It was a safe space to figure out who you were with teachers who pushed you to your creative limits."
Throughout high school and two years of college, Haro became a serious triple threat. With all this training in tow, within weeks of arriving in New York, he was cast as a swing in a regional production of the off-Broadway hit Altar Boyz—but it required a move to Chicago.
Haro went on for several parts during his time in the Windy City, but his life as a swing remained inconsistent. Sometimes he would be on for a month straight, only to do nothing but sit around the next. Plus, after seven months the show folded, and Haro experienced another professional reality: unemployment.
"I was sitting on the couch one day, and my phone rang," he recalls of his return to New York. "People in the industry joke, 'Pick it up, it might be Broadway!'" It wasn't Broadway yet, but it was off-Broadway. The New York production of Altar Boyz needed a vacation swing, and Haro nabbed the job.
Since he already knew the show, he required little rehearsal and kept auditioning for other roles. His agent let him know a vacation swing was needed for Hairspray, so he switched from the pop dance of Altar Boyz to Jerry Mitchell's '60s style and nailed the audition. Even before he made his off-Broadway debut, he found out he was to start performances on Broadway in two weeks!
The ride didn't stop there. While he was walking to the Hairspray theater for his final dress rehearsal, he opened an e-mail from his agent where he found the words, "YOU ARE CHINO." After months of auditions for West Side Story, he could breath a sigh of relief.
All that Haro has known so far is the uncertain life of a swing. With West Side Story, he'll have the chance to develop a character in a classic with lyrics by Sondheim, the artist who inspired his love of the craft.
"It's the stuff you dream about," Joey admits. "I'm not going to be the replacement anymore! To think that I'm 21 years old, I would be a senior in college, and I just came here on a gut instinct, and everything fell right into place. It's absurd!"
Leah Morrison in Trisha Brown's If You Couldn't See Me, in which the soloist never faces the audience (photo by Julia Cervantes, courtesy Trisha Brown Dance Company)
Postmodern pioneer Trisha Brown redefined how dance is seen and felt. A founding member of Judson Dance Theater, Brown frequently collaborated with other experimental artists like Yvonne Rainer, Merce Cunningham, Twyla Tharp, and Steve Paxton.
She embraced pedestrian movement, pairing everyday gesture with rhythm and fluidity. "It's liquid," says Wendy Perron, who danced with Brown in the '60s and '70s. "Like a river with many tributaries, water coming out of a faucet, or being on a raft and seeing the water move away in different directions." Brown also pushed beyond stages with choreography in fields, museums—even on the sides of buildings.
Keep reading...
Show less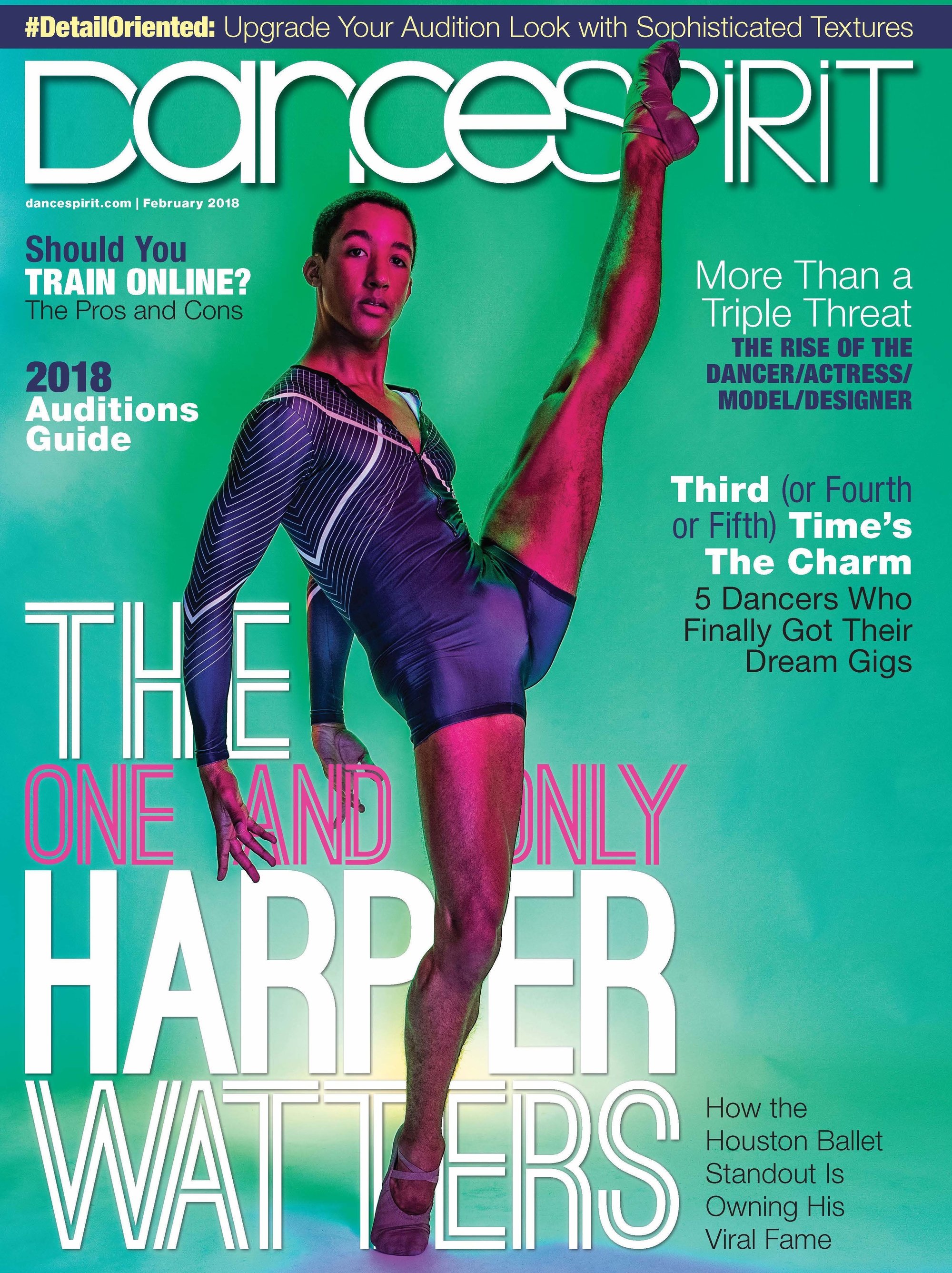 Get Dance Spirit in your inbox