Feb. 01, 2013 12:09PM EST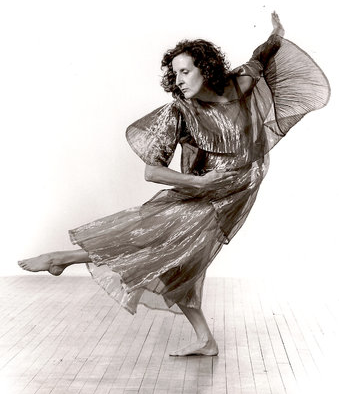 It's the end of an era: Legendary choreographer Trisha Brown has announced that she will no longer lead the Trisha Brown Dance Company, which she founded in 1970.
Now 76 years old, Brown has been suffering from health problems which have made it difficult for her to communicate. (Here's a testament to the power of art: Even though she was ailing, Brown was still choreographing as recently as 2011.)
The TBDC isn't going anywhere yet, though. It's putting together a three-year international farewell tour, and no end date for the troupe has been announced. There are also plans to create a Trisha Brown archive and website.
Though Brown is an iconic figure in the dance world, you may not be familiar with her work, unless you're into the modern/experimental scene. And that is a problem that needs to be fixed.
But rather than try to explain the sophisticated beauty of Brown's dances, I thought I'd show you a few.
Here's Brown herself, performing Accumulation in 1971. It looks like a memory game—one long, growing phrase, with a new movement added after each repetition:
Here's an excerpt from the haunting Glacial Decoy (1979), performed in silence, with a kaleidoscopic set designed by artist Robert Rauschenberg:
Here's Stephen Petronio (a well-known choreographer in his own right) performing Man Walking Down the Side of a Building (1970), one of Brown's famous gravity-defying works:
And here are five TBDC alumni—including Dance Magazine editor in chief Wendy Perron—performing the simple, perfect Spanish Dance (1793) at Brown's 75th birthday celebration:
Jul. 22, 2017 04:55PM EST
via YouTube
It's no secret that ballet in pop culture has sparked its fair share of controversy. Which is why this video from Refinery29, featuring ABT's Isabella Boylston, is not only a super-fun watch, but a breath of fresh air.
Keep reading...
Show less
Jul. 21, 2017 12:26PM EST
via @phil_wright_ on Instagram
Well, this brings class videos to a whole new level! Choreographer Phil Wright and dancer Ashley Liai have been together eight-plus years, but she was still in total shock when he proposed to her mid-dance at Millennium Dance Complex earlier this week. Why? Well, the whole thing was unbelievably perfect.
Keep reading...
Show less
Jul. 21, 2017 11:03AM EST
(Courtesy ABC)
In the dance industry, dancers don't always have a say in what they wear on their bodies. This can get tricky if you're asked to wear something that compromises your own personal values. So what should you do if you find yourself in this sticky situation? We sat down for a Q&A with "Dancing with the Stars" alumn Ashly Costa to answer that very question. Here's what she had to say about the options dancers have surrounding questionable costumes.
Keep reading...
Show less


Get Dance Spirit in your inbox