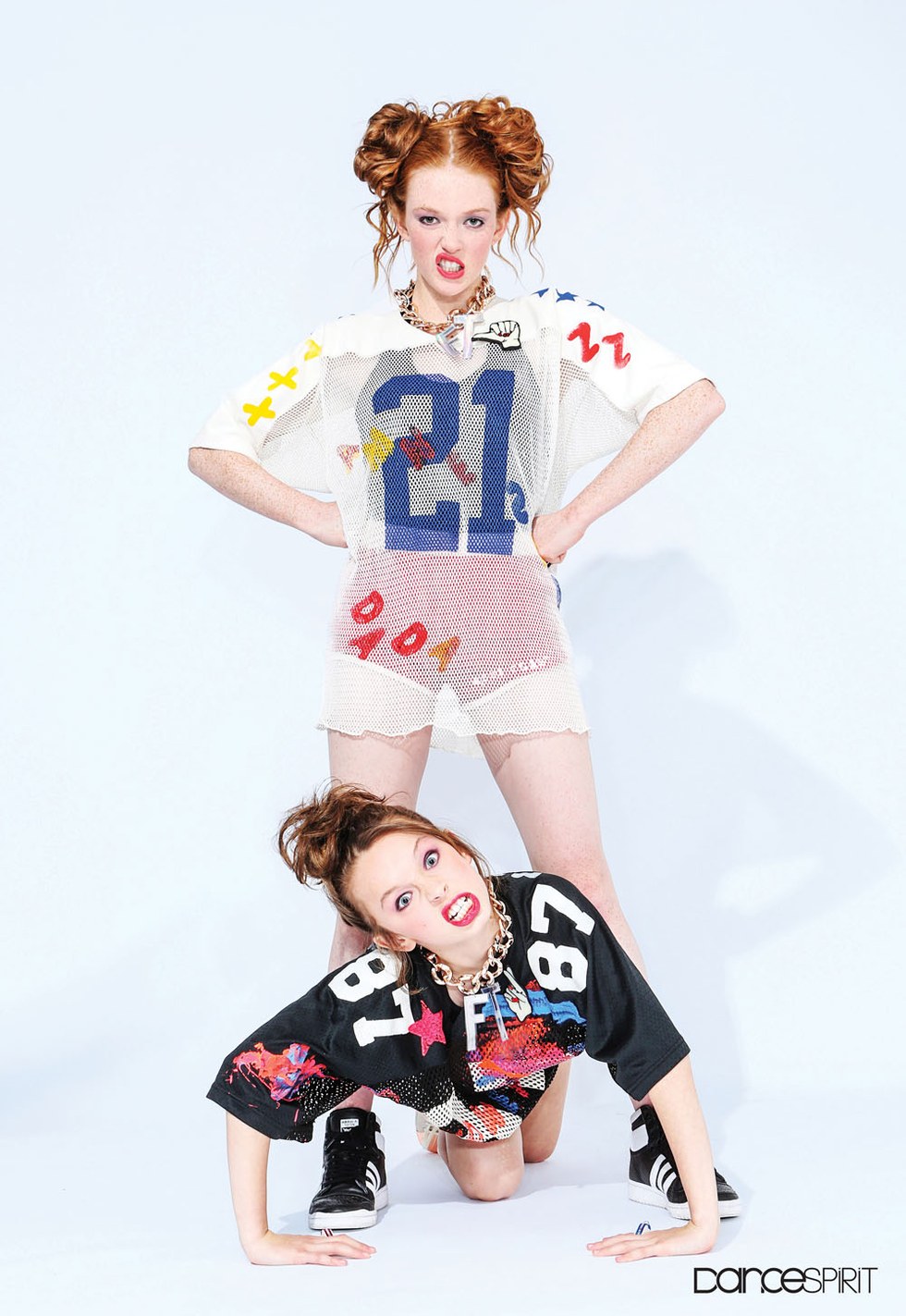 (Photo by Jayme Thornton)
How did hip-hop prodigies Taylor Hatala and Larsen Thompson become the "Fraternal Twins"? Well, let's see: Both are rising stars on the commercial scene, booking coveted gig after coveted gig. Both are members of Will "WilldaBeast" Adams' immaBEAST crew and Brian Friedman's Suga N Spice crew. Both dominate in Janelle Ginestra's crazy-popular YouTube videos. Both are known for giving profoundly, overwhelmingly impressive stank face. Basically, these talented ladies are two of a (truly extraordinary) kind. And did we mention they're best friends? Taylor, now 12, and Larsen, now 15, first met while filming a concept video with immaBEAST. "I'd already seen Larsen a few times and thought, 'Holy crow, this girl is so darn good!' " Taylor says. Soon the two started training together with Friedman, Matt Steffanina, Kyle Hanagami and Tricia Miranda. It didn't take long before Ginestra choreographed a YouTube video for them to Britney Spears' "How I Roll," showcasing their special skills. "Janelle said, 'Your movements are so synchronized and in the exact same style—I love you as a duet,' " Larsen remembers. "She was the one who came up with the name 'Fraternal Twins.' "It was the beginning of a beautiful partnership. Since then, Taylor and Larsen have filmed five videos together, all of which have torn up the internet and earned major media buzz. (Ryan Seacrest premiered their recent video for Sweety High on his show, and Glamour dubbed them "our new YouTube dancing obsessions.") "At first, we didn't even care about views. At the end of the day, we do it because we love it," Larsen says. "But it's been so fun to see people around the world watching us, enjoying our performances and commenting."
All that attention is well earned, given the amount of hard work the girls put in behind the scenes. Each video requires about two weeks of planning, from location scouting to music mixing, followed by two days of rehearsal and a full day of shooting. The resulting clips feature a wide range of looks and styles—from the Beyoncé-driven high-power office setting of "Run the World" to the desert showdown of "IDFWU," in which they rock out in Ginestra's vintage muscle car. But they're all marked by the signature Fraternal Twins style: super-sharp movements, outrageous energy and exaggerated facials. "Both Taylor and Larsen are completely full-out," Ginestra says. "Anything I give them, they attack full force. And they complement each other—Taylor brings a more masculine energy and Larsen brings the femininity."
So what's next for these social media darlings? Along with more Fraternal Twins videos, the two are in the process of filming a dance reality show (though they can't share too many details yet). They recently competed on "America's Got Talent" with the Suga N Spice crew, and starred in a DC Comics project as the "DC Super Hero Girls." Both are also making headway with their non-dance ambitions, including singing (Taylor) and modeling (Larsen).
Even as their plates become increasingly full with professional jobs, both Taylor and Larsen say they'll always make time for Fraternal Twins fun. "I look up to Taylor and she looks up to me," Larsen says. "We feed off each other's energy." Taylor agrees. "I love the whole 'twin' thing!" she says. "I hope we can inspire younger girls to go out and find that creative partner who makes you happy."
All About Larsen
Dancing? Modeling? Acting? Check, check and check: This fiery redhead can do it all. Larsen started her dance training at age 4, and her varied skills have earned her spots in Target and Microsoft commercials and on TV shows, including "Shake It Up." She even showed off her modeling chops on a recent cover of fashion magazine Neo2.
Of course, balancing all that with life as a high school freshman is no easy feat. Larsen often sandwiches dance classes between schoolwork, auditions and modeling gigs. "Usually I don't finish my homework until 2 am," she says. "But I'm doing what I love—so I don't care how late I have to stay up!"
All About Taylor
Most 12-year-olds don't get the chance to tour with Janet Jackson, but Taylor isn't most 12-year-olds. The charismatic cutie first got noticed when clips of her dancing to songs like "Shake It Off" and "All About That Bass" in Matt Steffanina's class went viral. (Everyone from Chris Brown to Nicki Minaj has shared her videos. NBD.) Her popularity continued to grow after she performed on "The Ellen DeGeneres Show" with choreographer Laurence Kaiwai. Now the Canada native is on the road with Jackson's Unbreakable World Tour, which hits Europe this spring. Taylor starts each show day with four hours of schooling on site, followed by rehearsals, a quick bite, and hair and makeup before hitting the stage. "I'll never forget the moment choreographer Gil Duldulao said, 'Congratulations, you just booked Janet Jackson's world tour,' " says Taylor, who beat out more than 150 other young dancers for the job. "It's been such a whirlwind."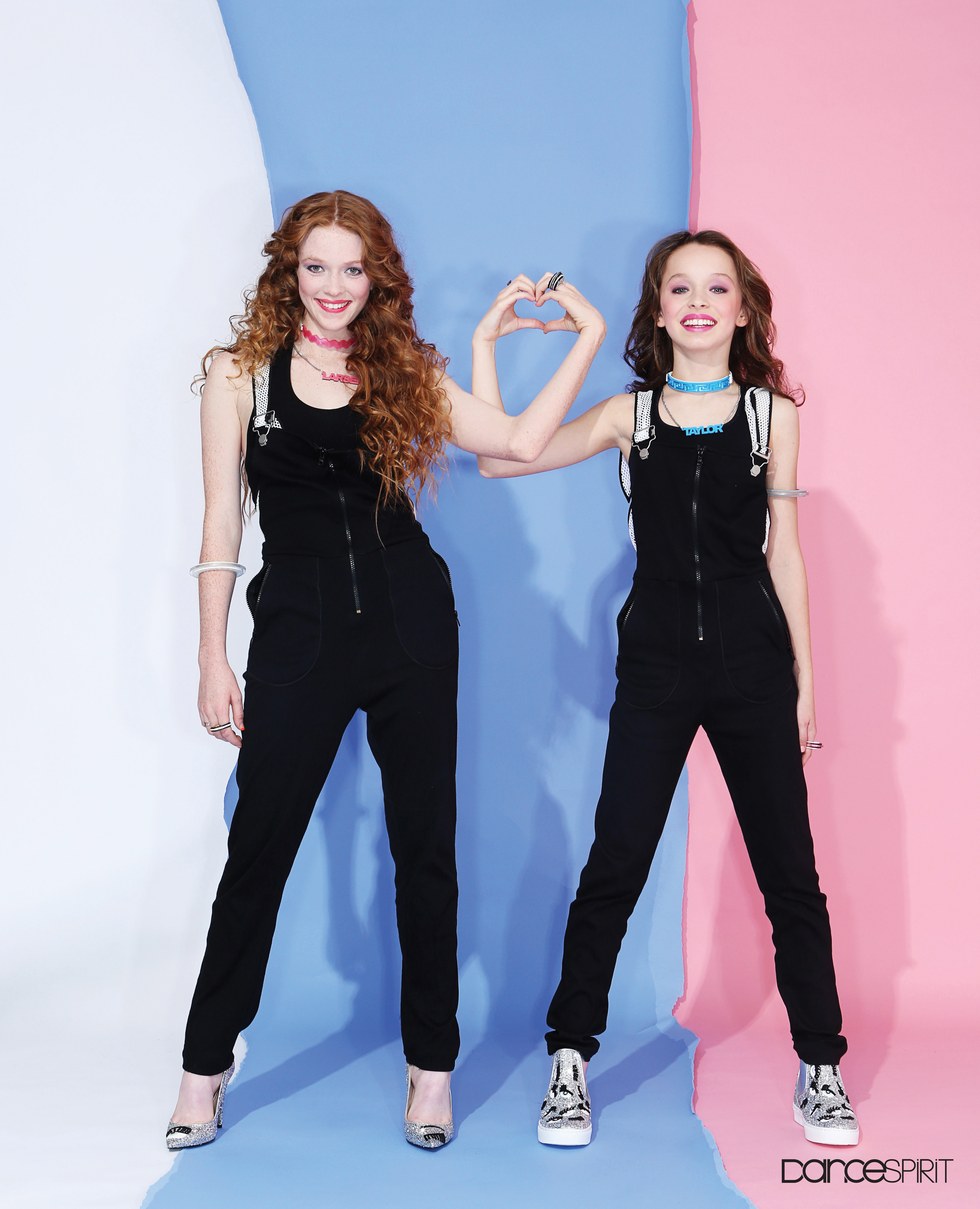 BFF goals. (Photo by Jayme Thornton)
Look up "BFFL" in the dictionary, and you'll likely see a photo of this tight-knit twosome. In fact, Larsen says they often get into texting fights over who can send each other the most heart emojis (!). Here are a few fun facts about Taylor and Larsen's forever friendship.
How Taylor describes Larsen: "Hilarious, inspiring and loving."
How Larsen describes Taylor: "Trustworthy, shy at first but outgoing once you know her, and the kindest person I've ever met."
What they do for fun: Have sleepovers, stage random fashion shows, watch "Gossip Girl," go out for fro-yo, start spontaneous dance parties to Taylor Swift and Justin Bieber songs ("What Do You Mean?" is their current fave) and make time-lapse videos on their phones.
Sister act: Choreographer Janelle Ginestra says these two love each other like sisters, and Taylor and Larsen agree. But who's the big sis? Even though Larsen's older, Taylor often acts as the senior sibling. "She's so mature for her age—it shocks me all the time," Larsen says.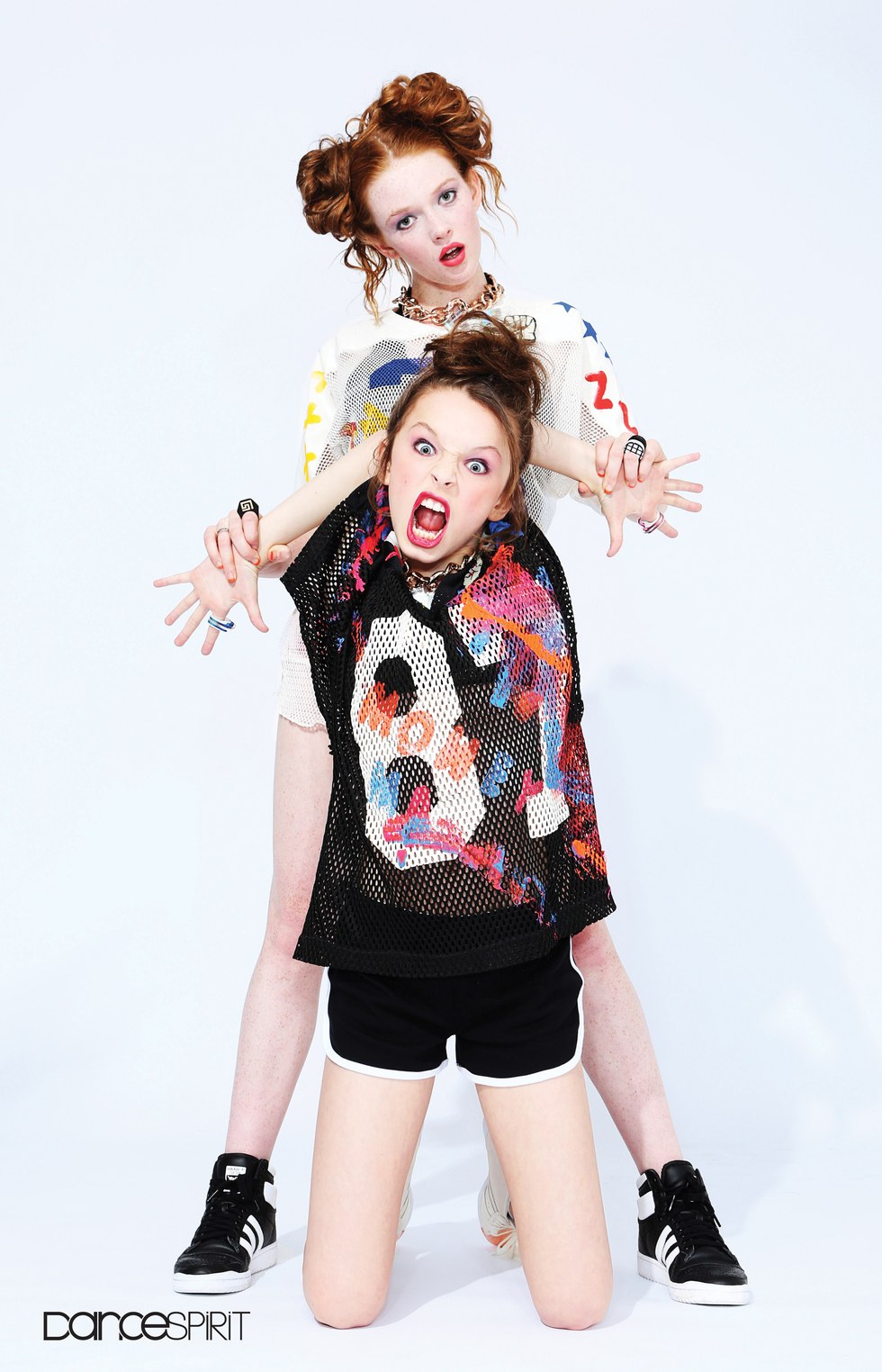 (Photo by Jayme Thornton)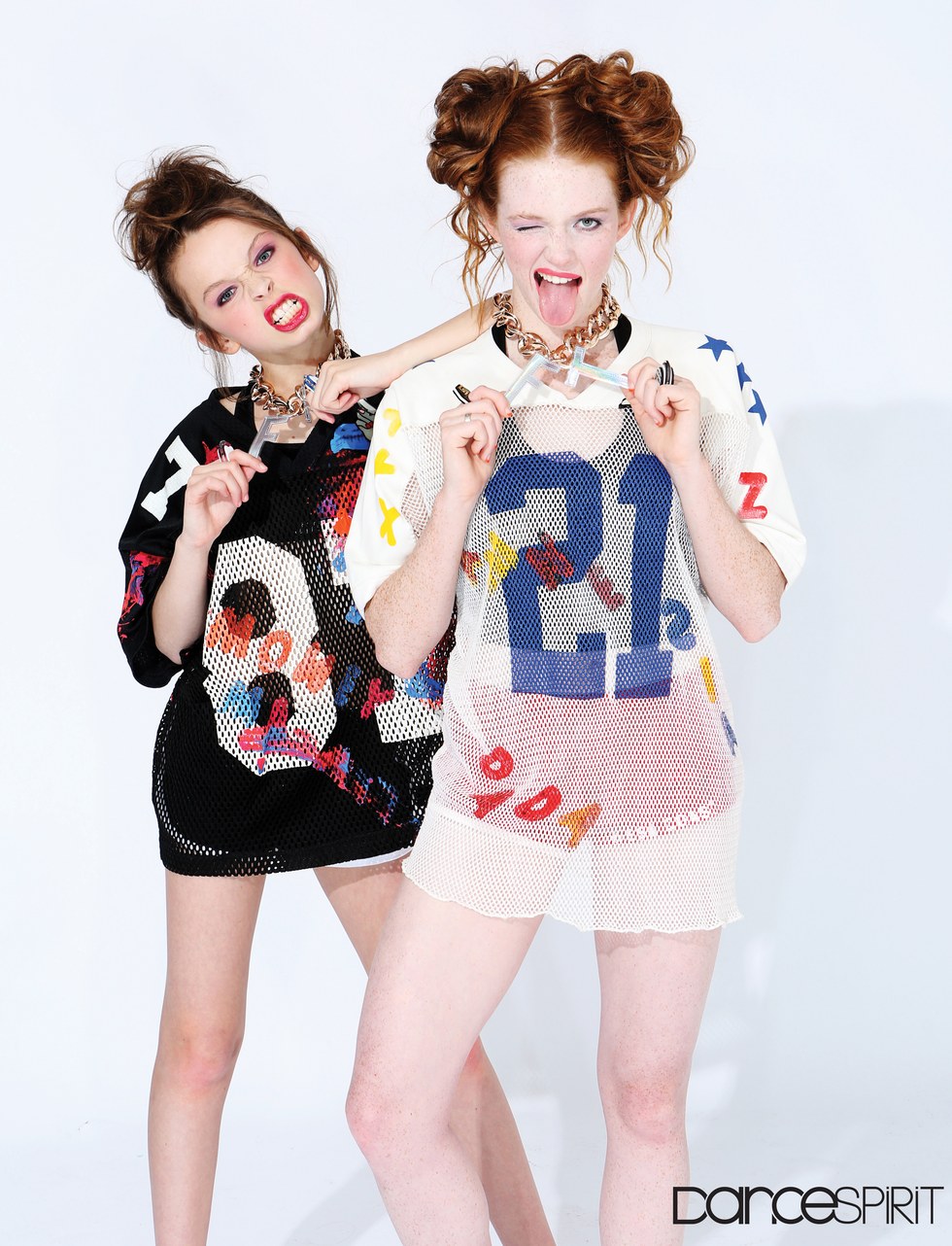 (Photo by Jayme Thornton)
Jun. 15, 2017 02:00PM EST
From left: Haley Hartsfield, Kaylin Maggard, and Michelle Quiner (photos by Erin Baiano)
Congratulations to Dance Spirit's 2017 Cover Model Search finalists: Haley Hartsfield, Kaylin Maggard and Michelle Quiner! One of them will win a spot on Dance Spirit's October 2016 cover. Learn more about the dancers on their profile pages, and then vote for your favorite below.
We also want you to get social! We'll be factoring social media likes and shares into our final tallies. Be sure to show your favorite finalist some love on Facebook, Instagram, and Twitter, sharing their profile pages and using the hashtag #DanceSpiritCMS.
Keep reading...
Show less
via YouTube
...This clip, "'Hamilton' Choreographer Breaks Down His Moves," popped up on my YouTube recommended list. I mean, I could watch Hamilton's dance wizard Andy Blankenbuehler talk about anything. Have you read our interview with him back when he was making the moves for Bandstand? The guy is freaking fascinating.
Keep reading...
Show less
Jun. 23, 2017 03:57PM EST
via YouTube
Great contemporary choreographers and soulful singer-songwriters have always made for a perfect match. That's why we were thrilled when we found out "SYTYCD" and "Dance Moms" choreographer Kristin McQuaid created the music video for "Light the Sky," a hit single from "America's Got Talent" winner Grace VanderWaal.
Keep reading...
Show less


Get Dance Spirit in your inbox