Contemporary
Nov. 01, 2007 04:10PM EST
Video Vixens? Not Really...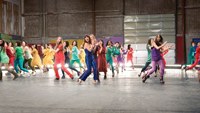 Forty-eight dancers huddle in Crayola-colored clusters on an empty soundstage. They've performed their three-minute routine straight through nearly 25 times to get the perfect take, while the big star hogs the spotlight. Who are they dancing for? Beyoncé? Justin Timberlake? Rihanna?
Feist.
If the name doesn't immediately conjure up images of dance moves and big-budget videos, it's understandable. Feist, a Canadian indie singer/songwriter, never got much screen time on mainstream MTV—until the release of her 2007 video for the song "1234," which is filled with a crew of Technicolor-tinged back-up dancers.
But the indie-songbird isn't the first artist who didn't know a pirouette from a grand jeté before getting noticed with a dance video—just look at OK Go. Or go a little further back in time and see that non-dancing artists like Björk, Fatboy Slim and Daft Punk have been cutting a rug (or having others do it for them) in cutting-edge videos for years.
An Unusual Medium
For Noémie LaFrance, a modern choreographer known for site-specific works like Agora, which was set in an empty swimming pool in Brooklyn, the idea of working on two music videos for Feist was an interesting proposition. LaFrance appreciated the chance to tackle a dance music video in her own choreographic voice (which is distinctly different from what's usually showcased on "TRL"). She was also attracted by Feist's idea to have the performances seem spontaneous, and to complete both videos in one long take, with no editing.
The choreographer worked with Feist for 10 days, choreographing, setting and filming the videos. "1234" features bouncy, brightly-dressed dancers skipping, step-ball-changing and falling to the floor in an elaborate peel-off, while "My Moon, My Man" has Feist and a few dimly-lit dancers performing on moving sidewalks at the Toronto Pearson International Airport. The dancers for both videos were cast at an open audition in Toronto, and the shoot was a paid gig—and a chance for dancers who might never hit the music-video scene to make their mark on the genre.
Impeccable Timing
When Trish Sie, a former competitive ballroom dancer and studio owner, was asked by her brother Damian Kulash to choreograph for his band, OK Go, the group never imagined they'd end up YouTube celebrities. Their first dance video, for the song "A Million Ways," started with Sie filming the guys rehearsing in her backyard. That footage got uploaded to the web and eventually became the official video for the song. Countless downloads later, the band decided to see if lightning could strike twice, with a song called "Here It Goes Again" and some treadmills.
"'A Million Ways' was just a goofy dance that referenced pop culture and every silly dance show through the ages," Sie says. "After it turned into this big viral success, we thought 'Is it possible to do it again?'" Sie bought some treadmills on her credit card (and returned them when the shoot was finished) and the band took time off from a tour to film the video, which has OK Go's members sliding backward, forward and through each other's legs in an elaborate, carefully-timed treadmill ballet.
When "Here It Goes Again" was released, everything changed. "That was one of those moments where things kind of come together," Sie says. The video's insane popularity gave the band's record an extra push in sales, and had them all over TV, including a live reenactment of the tricky dance at the 2006 Video Music Awards.
The Odd Couple
Sie says it's the surprise of seeing people you don't think can dance or expect to have back-up dancers that makes quirky videos like OK Go's instantly loveable. "You take these four geeky guys who have never danced and then you add treadmills or a backyard or cowboy boots—something off," she explains. It's also about seeing certain things in a new light: "People who make videos—the ones that are good—take something everybody sees on an everyday basis and give it a new twist."
LaFrance believes that out-of-the-box videos are the natural outgrowth of working with hyper-creative artists. "If you're working with a singer who has a statement [to make] and has a soul," she says, "then it's a shared creative experience."
And with the Internet and YouTube at artists' disposal, being creative has never been easier. "With YouTube there seems to be a rebirth in creativity and music videos," Sie says. "You don't need to throw $3 million at a video."
For LaFrance, music videos are a perfect way to expose the dance novices of the world to what's out there. "Because people don't necessarily seek it out, they don't know dance unless they are put in a situation where they are in touch with it," LaFrance says. "With a music video, dance travels to people that wouldn't normally see it, which is good because it might interest them."
(Break the Floor Productions)
In addition to training, competing and winning titles in just about every style you can think of, 13-year-old Kaylee Quinn is a regular on the sci-fi drama "Stitchers," playing the younger version of the show's main character. Her path in dance hasn't been without challenges, though. Last summer, Kaylee won the Hope Award at her regional Youth America Grand Prix, but wasn't sure she'd be able to compete at the NYC finals due to a broken foot. Patience paid off: With her doctor's blessing, Kaylee danced her variations in flat shoes and won the gold medal.
Keep reading...
Show less
Trae Patton/NBC
Week 2 of Misty Copeland as guest judge, week 2 of merciless cuts...How can the final episodes of "World of Dance" possibly live up to the sheer dramaaaaaaaaa of last night's episode? Well, based on the nail-biting results dished out by Copeland and Co. last night, the competition is only going to get fiercer from here. Without further ado, last night's results, as told by Kween Misty.
Keep reading...
Show less
Jul. 25, 2017 05:04PM EST


Get Dance Spirit in your inbox