Keeping It Natural: How to Walk and Run Onstage
Michelle Fleet (center) and Company in Paul Taylor's Also Playing (Paul B. Goode, courtesy PTAMD)
When dancers audition for Paul Taylor Dance Company, they're often thrown by one particular request: to walk across the studio by themselves. "Paul can see a lot about a person by the way they walk," says Michelle Fleet, a veteran Taylor dancer. "But many people get cut at that point, because they're terrified—a walk can be so revealing."
---
What is it about walking and running that makes even the most talented dancers clam up? These pedestrian actions seem so simple (we do them every day!), but they're tough to get right in front of an audience. And they're important, too: Whether you're strutting through the commercial scene, running in pointe shoes or stepping out on Broadway, how you walk and run can say a lot about you and the character you're portraying. Here are the experts' tricks for keeping these "natural" movements looking, well, natural.
Don't Overdo It
Walking and running are such basic movements, it's easy for dancers to overdo them, adding dance-world mannerisms—overly pointed feet, exaggerated arm swings—that end up looking affected. "Don't be tempted to make a walk or run too dance-y," says Ryan Ramirez, a commercial dancer and "So You Think You Can Dance" alum. "Choreographers often put runs and walks into dances because they want to show humanness or vulnerability. A simple run is powerful because everyone, not just dancers, can connect to it."
Ballet dancers in particular tend to have a hard time with simple walks and runs, since they're trained to stay super–turned-out and maintain a high demi-pointe. But those restrictions can make you look stiff. Make a conscious effort to let them go. "I have to remind myself to bend my knees a little bit, and to take bigger, easier steps," says San Francisco Ballet principal Dores André.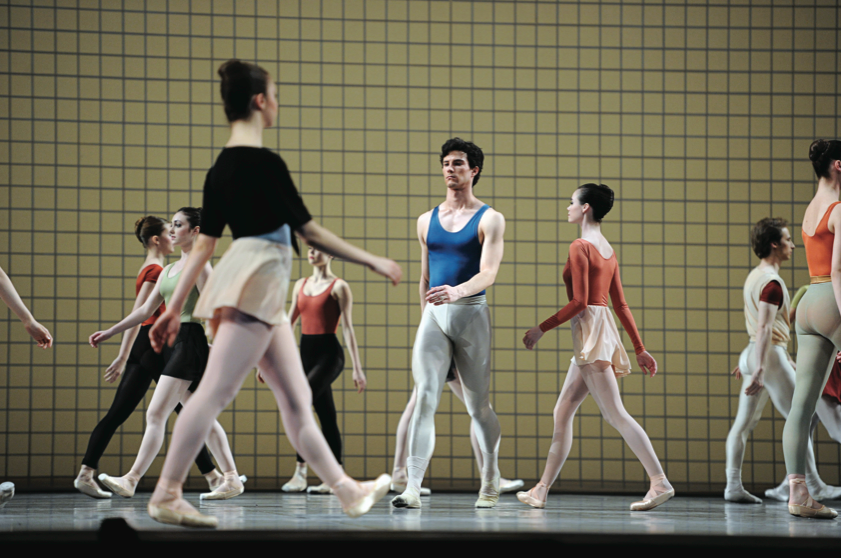 San Francisco Ballet in Jerome Robbins' Glass Pieces (Erik Tomasson, courtesy SFB)
Use Intention and Imagery
Pedestrian steps are valuable tools because they can speak volumes about the kind of character you're trying to portray, or quickly communicate a particular attitude onstage. Big, slow struts, for example, show a sense of command; tiny, fast runs demonstrate a sense of urgency, or a spritely personality.
Think about why you're walking or running. Are you running away from someone? Walking onstage to start a variation? The right intention will help guide your movements and make them feel more natural. "If you have no purpose, that's when the steps start to look flat and stop saying anything," says David Bushman, dance captain for Chicago on Broadway. "Clarify your intention so you have the correct energy."
If it's a joyous run, for example, think about everyday situations in which you might actually run joyfully. "Remember what it feels like to run on the playground," Fleet suggests. "Your chest is open and free, like you're feeling the light of the sun shining on you." Or maybe the mood of the piece is darker, and you want to look like you're slogging through mud, hunched over and curving your back. Real-world metaphors will help you capture the feel of real-world movements.
Find Your Own Style
Remember that there's no "textbook" way to walk or run onstage. These movements should look different on everyone, and finding a signature way of doing them will help you establish your identity as a dancer. "When you see someone walk on the street, you see their personality," André says. "It should be like that onstage, too."
Watch other people—not necessarily dancers!—who have an interesting or singular way of running and walking, and study the components that make up the whole. Film yourself walking or running around the studio, so you can identify your own natural movement patterns. Figure out what it is about your gait that makes you look like you. Above all, don't neglect your walks and runs, however worried you may be about the difficult turn sequence that follows them. They're not "filler"—they deserve as much scrutiny as any other step. "Nowadays, everyone is caught up in technique and tricks," Fleet says, "but it's just as important to have the basics, like walking and running, and to be able to do them well."
Top Troubleshooting Tips!
Be aware of your entire body.
"Maybe you have an arm that's dangling instead of being still. Don't let one component betray the whole picture," says David Bushman, dance captain of Chicago on Broadway.
Never mark a run or walk.
"If you don't do it full-out in rehearsal, it'll show onstage," says San Francisco Ballet principal Dores André. "It's not a break from the dancing—it's part of the dancing!"
Be thoughtful, but don't overanalyze.
"Know what you're trying to accomplish and work on it, then let it go," says Paul Taylor dancer Michelle Fleet. "Sometimes we get into trouble when we overthink things."
(From left) ABT's Erica Lall; NYCB's India Bradley; Washington Ballet's Nardia Boodoo; NYCB's Rachel Hutsell (all photos by Rachel Neville)
Misty Copeland. Her name is synonymous with exquisite artistry and outspoken advocacy. And her visibility has made a huge impact on the ballet world. Ballet's relationship with race has always been strained at best, hostile at worst. But Copeland's persistent message and star quality have finally forced the ballet industry to start talking about racial diversity, inclusivity, and representation. "The rarity of seeing ourselves represented is sad," Copeland says. "The more we see every hue and body shape represented on the stage, the more possibilities young dancers feel they have for themselves."
Keep reading...
Show less
Screenshot via NowThis on Facebook
The Olympics are always full of inspiring Cinderella stories, where athletes no one had heard of mere months ago end up blowing all expectations out of the water, and maybe even nabbing a medal in the bargain. But we've recently caught wind of a different kind of Cinderella story—and it's one we really, really hope shows up in the Closing Ceremonies of the PyeongChang Olympics, airing tonight on NBC starting at 8 pm Eastern/5 pm Pacific time.
Keep reading...
Show less
Being a dancer comes with the task of having to entertain the same questions over and over again from those outside the dance world. Of course, we love having our friends and family take an interest in our passion—but if someone asks ONE MORE TIME whether or not we've met Travis Wall, we might just go crazy.
Here are 10 questions that dancers hate getting asked.
Keep reading...
Show less
ABT JKO School student Miuka Kadoi shoiwng off her beautiful line (photo by Kenneth Edwards)
Contemporary phenom Christina Ricucci has super-flexible hips, which means she can stretch her legs to unbelievable heights. But when she noticed herself making contorted positions in class, Ricucci realized she was approaching her extensions all wrong. "I went back to the basics in class, squaring my hips and using my turnout," Ricucci says. "I learned to create proper positions, rather than whacked-out versions of them."
Some dancers are so wonky they have a hard time supporting their high legs, while others struggle with limited flexibility. But no matter your facility, you can find a balance of stretch and strength to achieve your fullest range of extension. It's not about how high (or not) your legs can go: It's the quality of the movement, and how you get those legs up, that counts.
Keep reading...
Show less
Our nominees (clockwise from top left): Roberto Campanella, Aurélie Dupont, Ashley Wallen, and Anthony Van Laast
Last month, we asked why there wasn't a Best Choreography category at the Oscars—and discovered that many of you agreed with us: Choreographers should definitely be acknowledged for their work on the super-dancy movies we can't get enough of.
Now, we're taking matters into our own (jazz) hands.
We've decided to create a Dance Spirit award for the best cinematic choreography of 2017. With your input, we've narrowed the field to four choreographers whose moves lit up some of the best movies of the year. Check out our nominations for best choreography below—and vote for the choreographer you think deserves the honor. We'll announce the winner on Friday, March 2.


Get Dance Spirit in your inbox