How To
Jul. 07, 2009 10:07AM EST
Imagine this: The curtain rises to reveal a woman standing upstage right, wearing just a white leotard and black high-tops. Another woman, wearing only hot pink shorts and a fake mustache, stands center stage next to a keyboard and drum set. White shiny streamers replace the scrim, and various plastic animals are strewn across the stage. Suddenly, the lights get brighter as someone screams the lyrics to Michael Jackson's "Smooth Criminal." The two women start gyrating and thrusting their hips.
Though the scenario may sound like a scene from a new comedy by Tina Fey and Amy Poehler, it's actually the opening sequence of Snow White, a provocative and stimulating evening-length show by choreographer Ann Liv Young which was performed at NYC's The Kitchen in 2007. But what on earth do you call such a work? Perhaps the most accurate title would be experimental dance—and while that's certainly valid, if you're in NYC, you might also hear it called "downtown dance."
Essentially, "downtown dance" is a label used in NYC to describe work that is in the lineage of modern dance, comes after the postmodern movement of the 1960s and '70s, and doesn't belong to an established technique. Downtown dance historically pushes the boundaries, embraces movement for movement's sake and is rooted in experimentation and improvisation. These characteristics, however, are elusive, which is one reason why geography—the movement was born south of 14th St in Manhattan—is seen as the most concrete thread uniting the genre's choreographers.
Pioneers of the postmodern movement like Yvonne Rainer, Deborah Hay and David Gordon were committed to making work that wasn't commercially driven, so it stands to reason that they lived and worked where the rent was the cheapest. Believe it or not, in the '60s, the rent in Manhattan was lowest below 14th St. This economic separation did not exactly go unnoticed. "There was a division between Upper Manhattan and Lower Manhattan in terms of high and low aesthetics," says Jonah Bokaer, a choreographer and media artist who directs Chez Bushwick, a nonprofit arts organization based in Brooklyn. "Ballet and other more established arts traditions were uptown, while more independent, more adventurous art was happening downtown."
Judson Memorial Church in Greenwich Village, which later spawned the Judson Dance Theater, was experimental dance's incubator. It all started when a group of artists (not only dancers like Trisha Brown, but also composers, writers and painters) participated in a choreography class taught by composer Robert Dunn. Through these interdisciplinary dialogues, the artists developed the idea that dance didn't have to have a storyline or music; it could be performed in silence or to a mishmash of everyday sounds. The movement could be made up on the spot, be based on pedestrian gesture or depend heavily on props. Basically, dance could go anywhere their imaginations led them.
Controversial Characteristics
NYC-based dance artist Juliette Mapp, whose work is politically charged and incorporates spoken word and comedy, feels that the central characteristic of downtown dance is that it continues to change. "It's choreography that has an evolving relationship to the body," she explains. "Downtown dance has come to include a collection of very porous ideas."
Though she acknowledges its prevalence, Mapp prefers not to use the term herself. "Maybe I shirk a little bit about the idea of downtown dance because I feel like it's used as a disparaging term," she says, explaining that experimental art has historically had a rocky reception. "When Cunningham rejected the idea that dance had to in some way have a relationship to music, respond to the music or tell a story, people hated it," she says. "People," of course, meaning critics and those entrenched in the more established arts scenes.
Still, some people love the freedom of the experimental dance scene. Anything goes in this genre. "I think it's pretty voracious," says Bokaer. "It tends to include burlesque, cabaret, work that incorporates nudity, work that's politically charged, and work that slips between dance and theater, as well as installation-based work." (See "Snapshots of the Scene," at right, for some specific choreographers' styles.)
In History
Since Isadora Duncan first flitted around the stage with her flowing scarves in the late 1800s, dancemakers, audience members and critics have added words to our lexicon in an effort to explain what they were seeing and making.
Duncan's style was called "free dance," because it broke the constraints of ballet. Then, in the early 1900s, artists like Martha Graham and Doris Humphrey pushed the rebellion even further and created codified movement styles. They were working at the same time as musicians and artists who were also deviating from established traditions and so that label was easy: The entire era across disciplines was called "modern." But in the mid-1940s, choreographers such as Merce Cunningham and Alwin Nikolais started making work rooted in the idea that any movement is dance and experimenting with notions like chance and the abstract. A new description was needed, and since this was happening directly after and influenced by modern, it was called "postmodern" dance.
Since postmodern's heyday in the '60s, there hasn't been one all-encompassing word to describe the new work made in the lineage of Duncan's free dance. The label "contemporary" generally means a combination of modern and postmodern elements (and maybe jazz, too!), while other descriptions, such as improvisational dance, dance for the camera and dance technology, are more utilitarian. The NYC-based term "downtown dance" is the only one inspired by where the work was being created—and yet the term is becoming obsolete as the rising price of rental space pushes artists out of Lower Manhattan and into NYC's outer boroughs. Still, the shift in location is merely a detail, as the type of avant-garde work "downtown dance" has come to refer to is alive and well.
Photo: Steven Schreiber
Win It
Sep. 05, 2017 12:10PM EST
Photos by Erin Baiano
It's time to get your pirouette on! From September 5th to September 30th, we're hosting a contest to find out who's the best turner of them all.

Put together your most impressive turning combo. Post a video online. Share your turns with us and thousands of other dancers around the world. And if our editors think you're the top turner, you'll win a fabulous prize.
Keep reading...
Show less
All of 18-year-old Kaylin Maggard's dreams—from scoring the title of National Senior Outstanding Dancer at New York City Dance Alliance Nationals to winning the 2017 Dance Spirit Cover Model Search—are coming true. And to anyone who knows the gorgeous contemporary dancer, that's no surprise.
From the moment the Dance Spirit staff met Kaylin, it was obvious her humility and talent would take her far. Not only did she go full-out during the photo shoot and class at Broadway Dance Center, but she was always cheering on, laughing with, and supporting her fellow CMS contestants Haley Hartsfield and Michelle Quiner. During the voting period, the social media world was abuzz with praise for her work ethic, positive attitude, and generosity.
Since her CMS trip to NYC, Kaylin's moved from her hometown of Columbia, MO, to the Big Apple for her freshman year at Juilliard, and is busy getting acquainted with the city. As for the future? She's taking it one opportunity at a time, but something tells us we'll be seeing this contemporary queen reach new heights every year.
Keep reading...
Show less
New York City principal Lauren Lovette has become an icon thanks to her emotional maturity and exceptional musicality. The 26-year-old quickly rose through the ranks after joining the company as an apprentice in 2009, reaching principal status in 2015. A Thousand Oaks, CA, native, Lovette started studying ballet seriously at age 11, at the Cary Ballet Conservatory in Cary, NC. After attending two summer courses at the School of American Ballet, she enrolled as a full-time student in 2006. Last year, she made her choreographic debut with For Clara, her first piece for NYCB. Catch her latest work this month during the company's fall season. —Courtney Bowers
Keep reading...
Show less
In our "Dear Katie" series, former NYCB soloist Kathryn Morgan answers your pressing dance questions. Have something you want to ask Katie? Email dearkatie@dancespirit.com for a chance to be featured!
Dear Katie,
I know I'm not getting good enough dance training from any of my local studios. But I'm not sure I'm ready to move away to study at a big-name school, either. How do you know when you're ready to leave home to pursue your passion?
Marisa
Keep reading...
Show less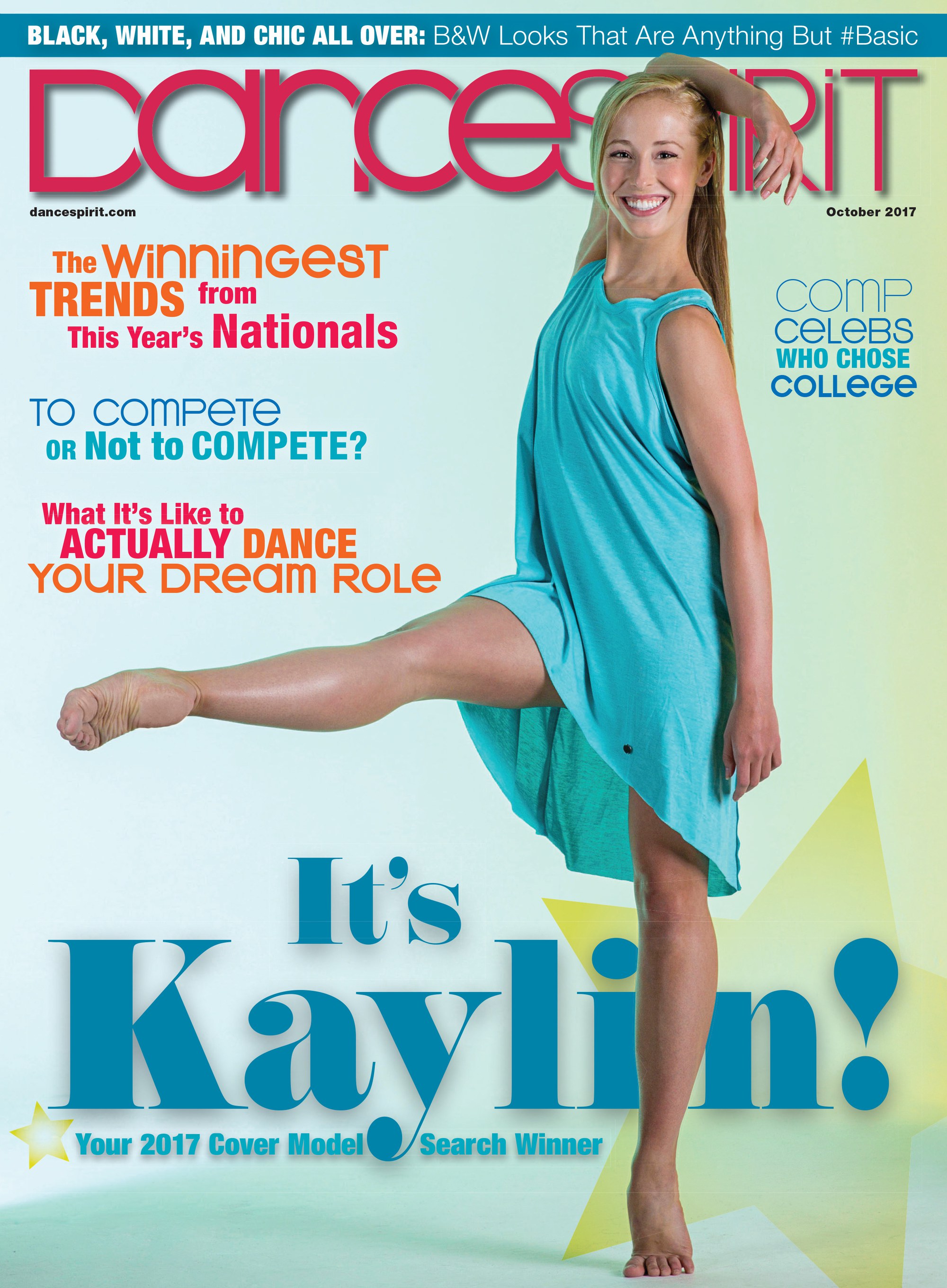 Get Dance Spirit in your inbox