Jun. 01, 2010 02:27PM EST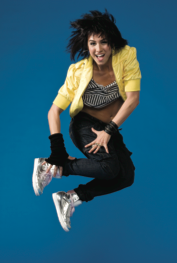 When Lauren Gottlieb was 7 years old, she started taking jazz and tap classes at Dance Action in Scottsdale, AZ—and she hated it. She tried to quit, but her mom convinced her to finish the year. At her first recital, her mom walked her on stage, fearful that Lauren would run off. But by the time the music ended, everything had changed. Lauren had fallen in love with performing. "From that moment on, I never looked back," she says.
The spark ignited on that stage has kept Lauren motivated ever since. Today, the 22-year-old has become an in-demand commercial dancer. But Lauren's not stopping there. She wants to conquer the entire entertainment industry, one genre at a time.
After her first recital, Lauren added ballet and hip hop to her schedule, joined Dance Action's competition team and spent all her free time at the studio.
But before long, Lauren's abilities had outgrown Dance Action. When she was 12, she began taking classes at the Bender Performing Arts school in Phoenix, AZ, where she focused on her ballet technique. "Lauren was driven to keep getting better," says Kevin Bender, who co-owns the school with his wife, Meri. "Every year, we would see improvement in her technique and style."
Although Lauren was progressing, the shift in intensity took a toll on her body: Soon after switching studios she pulled both her hamstrings. "It was frustrating, but I didn't dwell on it," Lauren says. She eventually recovered, but says she still struggles with her flexibility because of the injuries.
At Bender, Lauren continued attending competitions and conventions. Though her technique was still developing, her enthusiasm helped her stand out in the crowd. In 8th grade, she began assisting faculty members with West Coast Dance Explosion and traveled almost every weekend to demonstrate at conventions. A few years later, she won an assistantship with Co. Dance. "Lauren wanted success so badly, and it's so much fun to work with a kid like that," says Judy Rice, who's been on the Co. Dance faculty for eight years. In 2005, Lauren was named Co. Dance's "Performer of the Year."
The following year, Lauren graduated from high school. She moved to L.A. just a few days later and began taking classes at the city's leading studios. She also started auditioning—a daunting task for the new girl on the scene.
But the friendships she had built on the convention circuit eased the transition. As an assistant for Co. Dance, Lauren had developed a close relationship with faculty member Tyce Diorio. Almost immediately upon arriving in L.A., Diorio asked Lauren to assist him with his work as a choreographer for "So You Think You Can Dance" Season 2. Inspired by her experience behind the scenes, Lauren decided to audition for Season 3. Her vibrant personality, tireless commitment and versatility helped her become one of the final three girls that season.
Lauren says that appearing on the show was transformational. "It shaped me as a person," she says. "My dancing felt more passionate." On the show, she performed with the same fire that made her a standout at competitions. When she danced the tango, Lauren was precise yet powerful. In her final solo, between explosive jumps and controlled turns, Lauren relaxed into the music, letting her body roll and sway with each lyric. She filled the stage with her movement.
Lauren also used her time on the show to school herself on other aspects of TV production. "I studied Cat Deeley and the way the show was directed," she says. "I would see why they would pick certain camera angles." These skills have helped Lauren build a multi-faceted career. She hosted an online show called "Leave It On The Floor," appeared as a dancer on "Glee" and has been recording music ("pop with a 1970s flair," she says).
But she's not leaving dance behind—only adding to her ever-expanding resumé. Last year, Lauren helped choreographers Tabitha and Napoleon D'umo revamp the Las Vegas Cirque du Soleil show Viva ELVIS. "We were redoing entire pieces, from lighting to costuming," Napoleon says. Tabitha and Napoleon often sent Lauren off on her own to teach the choreography to the performers. She had to be able to think on her feet, adapting the choreography to suit the performers' skills. "You need someone who understands that it's not about having the dopest dance step—it's about finding a clever way to make a formation change or to make someone look good," Tabitha says. "Lauren's really good at that."
Lauren also continues to perform. In addition to dancing with Shakira and Mariah Carey, she has appeared as a dancer in several films, including Disaster Movie and Hannah Montana: The Movie. And she has returned to her dance convention roots as a faculty member with Co. Dance.
With her career blossoming, Lauren says she didn't expect everything to happen so fast. "I just thought I was going to be a dancer. Now I'm going in all these different directions," she says. But those who knew the young, ambitious girl from Arizona never doubted her success. Says Rice, "Lauren's a prime example of, 'If you want it, you can achieve it.' "
Fast Facts
Birthday: June 8, 1988
Most played on her iPod: Rihanna and Ben Harper
Favorite movie: My Best Friend's Wedding
Favorite dance movie: The original Fame
Must-see TV show: "Chelsea Lately"
Favorite food: Sushi
Favorite teacher: Brian Friedman. "His style always changes, so you have to be on your toes and you can't slack off."
Dance bag must-have: "Fifty changes of clothes! My entire wardrobe is in my dance bag because you never know what you're going to need at an audition. There have been times when I've run out to the car to change after I've seen what other people are wearing."
Dance idol: Tyce Diorio. "He's taught me so much."
Who would play you in a movie? Jennifer Love Hewitt
Dance crush: Wade Robson
Dream co-star: Brad Pitt or Johnny Depp
Advice for DS readers: "Stay in convention classes, because all those teachers and choreographers are people you'll be auditioning for someday. And never be fearful. Never let go of who you are."
(via YouTube)
Remember that fabulous old-school clip of dancers tapping in pointe shoes that Tabitha and Napoleon D'umo brought to our attention back in March? As we mentioned then, toe-tap dancing was actually super popular back in the 1920s and 30s—which means there are more videos where that one came from. And because #ToeTapTuesday has a nice ring to it, we thought we'd take this opportunity to introduce you to Dick and Edith Barstow, a toe-tapping brother and sister duo from that era who are nothing short of incredible:
Keep reading...
Show less
Adam Rose/FOX
Guess who's back? Back again? The Academy's back! Tell a friend.
After one day at The Academy, the All Stars have successfully taken the Top 100 down to 62. But their work is just getting started: Now they need to keep narrowing the field to a Top 10, ultimately deciding who each will partner with during the live shows.
Keep reading...
Show less
Sara Mearns and Chase Finlay in Pontus Lidberg's "The Shimmering Asphalt" (via @saramearns on Instagram)
We've said it before and we'll say it again: New York City Ballet principal Sara Mearns is some SERIOUS #goals. Her strength and power onstage borders on superhuman. But what's extra magical about Mearns is that she really puts in the fitness and cross-training work outside of the rehearsal studio. And she's overcome her fair share of injuries. Which is why she was the perfect source for Vogue's latest ballet fitness story.
Keep reading...
Show less


Get Dance Spirit in your inbox