Musical Theater
Feb. 01, 2014 06:00PM EST
There are certain iconic roles every Broadway performer dreams of playing: Anita in West Side Story, Mimi in Rent, Reno Sweeney in Anything Goes. The lucky triple threats who snag these parts end up with the best solos and the most stage time—not to mention fully developed characters to sink their teeth into. Dancers in the ensemble, on the other hand, may only be labeled "townsperson" or "party guest"—but their characters are still a crucial part of the story.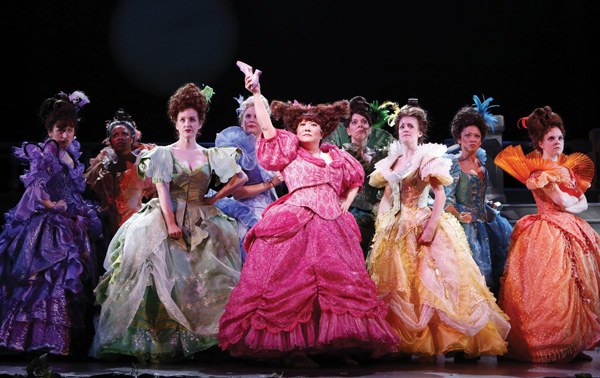 Cinderlla party guests in character, including Kristine Bendul (second from right) (photo by Carol Rosegg)
How can you connect with a role that doesn't have a fully realized identity? It takes a lot of imagination and improvisation, but creating your own character from scratch can be one of the most freeing experiences onstage.
What's in a Name?
You may not have a name in the program, but that doesn't mean you can't create one for yourself. And choosing a name can help you begin to develop an idea of who your character is. Allyson Carr, in the ensemble of Broadway's Mamma Mia!, calls her "party guest" identity Jennifer, after her twin sister. In another number, Carr plays an old woman in the town square and envisions her as a Greek Granny named Erma. Having separate names for her two characters helps her transition between roles during the show.
Kristine Bendul, assistant choreographer and ensemble member in Rodgers + Hammerstein's Cinderella on Broadway, plays a role labeled only "fishmonger"—so she decided to have a little fun. "I named her Noodles," she says. "I imagined my character 'noodling' these very slippery fish with her bare hands." Bendul says that many Cinderella cast members choose funny names for themselves and refer to each other by those names onstage during performances (under their breath, of course).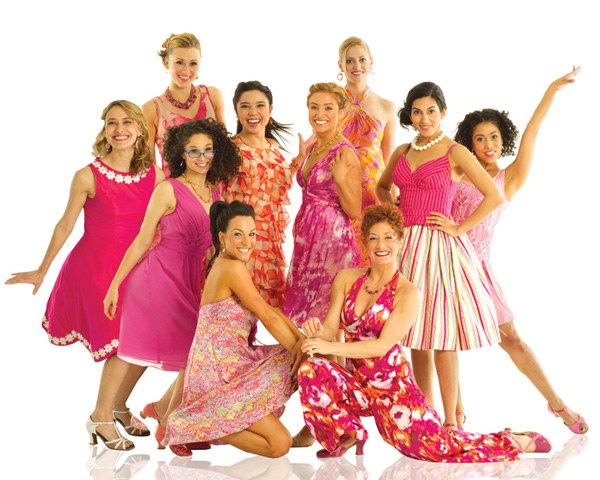 Allyson Carr (bottom right) with the ladies of the Mamma Mia! ensemble (photo by Joan Marcus)
Portraying Personality
Once you have a name, choosing a few personality traits will help anchor your character and give some context for your movement. Carr describes party guest Jennifer as "happy and positive," she says. "I imagine her as someone who wants to go out and meet guys, so she's always giving 100 percent—and that means I give 100 percent when I dance her part."
At the start of Mamma Mia! rehearsals, choreographer Anthony Van Laast asked ensemble members playing partygoers to imagine how their characters knew main character Sophie, and why they were invited to her wedding. From there, Carr was able to come up with a whole backstory for Jennifer: She's a friend of Sophie's from college and is excited to see her old friends and to get a vacation.
Even if your choreographer doesn't give you much direction, try asking yourself a few questions about your character: How old is she? What era does she live in? What's her role within the story? What is she dancing about?
Then use the choreography you're given to further inform your role. For example, the refined movement and careful partnering in Cinderella's party scenes allow Bendul to imagine herself as a dignified, slightly snooty woman: "She's very elegant, which is why she pulls up as she dances," Bendul says.
In the absence of a story, Joanne Chapman, founder and director of the Joanne Chapman School of Dance in Ontario, Canada, finds visualization a key element to getting her students into character. "I turn on the music and ask them to close their eyes and imagine: How do you respond to these lyrics? What kind of movement do you envision for your character? What is your facial expression?" says Chapman, whose musical-theater choreography has won top national titles at The Dance Awards and JUMP Dance Convention. Allowing yourself to imagine your natural responses to the music will help you make the moves your own.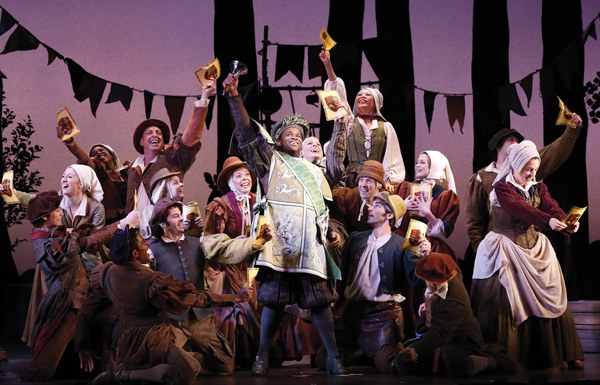 These Cinderella characters all have names—but you won't find them in the program. (Photo by Carol Rosegg)
Change is Good
Don't be afraid to switch things up from night to night. After all, that's one of the most exhilarating parts of live theater. "I'm always Jennifer and Erma on stage, but one night they may be sillier, or more serious, and their quality of movement may change depending on my mood," Carr says. Ensemble members often play the same roles for years at a time, so experimenting with your characters is the best way to avoid getting bored on the job and to always dance at the top of your game. "A lot of dancers don't realize the freedom they have to create," Bendul says, "but it's what makes the job fun!"
via @phil_wright_ on Instagram
Well, this brings class videos to a whole new level! Choreographer Phil Wright and dancer Ashley Liai have been together eight-plus years, but she was still in total shock when he proposed to her mid-dance at Millennium Dance Complex earlier this week. Why? Well, the whole thing was unbelievably perfect.
Keep reading...
Show less
(Courtesy ABC)
In the dance industry, dancers don't always have a say in what they wear on their bodies. This can get tricky if you're asked to wear something that compromises your own personal values. So what should you do if you find yourself in this sticky situation? We sat down for a Q&A with "Dancing with the Stars" alumn Ashly Costa to answer that very question. Here's what she had to say about the options dancers have surrounding questionable costumes.
Keep reading...
Show less
Jul. 20, 2017 04:39PM EST
Erin Carpenter as a Knicks City Dancer (David Safran, courtesy of Erin Carpenter)
The groundwork for Erin Carpenter's company, Nude Barre, began when she was a teenager. At 16, she earned a spot in the residency program at The Kennedy Center in partnership with Dance Theatre of Harlem. "We were required to wear nude—as in, our actual skin tone—tights and shoes," she remembers. Carpenter brought her "sun tan" tights and a pair of pink ballet shoes with her, because that was all she could find. But she wasn't allowed in class because her dancewear didn't match her skin. "I was so embarrassed," she says. "I looked unprepared. I just didn't have the right nudes." Her teacher explained that the dancers dyed their tights and pancaked their shoes.
Keep reading...
Show less


Get Dance Spirit in your inbox