Who Says You Need Two Legs to Break-Dance?
We've met some pretty inspiring dancers over the years—dancers who've had to overcome incredible odds to continue following their dreams. For example, just this month, we met ballerina Maggie Kudirka, who hasn't let her battle with breast cancer stop her from dancing. And today, we meet a young man who's similarly determined: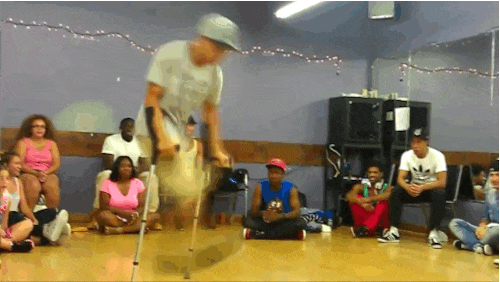 (gif via BuzzFeed)
Without a left leg, this b-boy could've easily turned away from dance for good. Break-dancing requires an incredible amount of strength, after all. (Need we remind you of break-dancer Simon Ata's not-so-chill workout regiment?) We couldn't imagine having to distribute all that effort among only three limbs. But this guy could—and this guy did.
As you can see, he sent his audience members' jaws to the floor when he threw aside his crutches for some seriously impressive floor work. And he's been wowing YouTube viewers, as well: Various clips of his performance have racked up tens of thousands of views in the last week.
This b-boy blew our expectations away—not only does he navigate his body's uniqueness, he embraces it, using it to enhance his overall performance. Check it out!
Our favorite part? When he comes out of the floor work with a perfectly controlled pirouette. That takes some serious balance. If you know anything more about this inspiring b-boy, fill us in!
Jul. 22, 2017 04:55PM EST
via YouTube
It's no secret that ballet in pop culture has sparked its fair share of controversy. Which is why this video from Refinery29, featuring ABT's Isabella Boylston, is not only a super-fun watch, but a breath of fresh air.
Keep reading...
Show less
Jul. 21, 2017 12:26PM EST
via @phil_wright_ on Instagram
Well, this brings class videos to a whole new level! Choreographer Phil Wright and dancer Ashley Liai have been together eight-plus years, but she was still in total shock when he proposed to her mid-dance at Millennium Dance Complex earlier this week. Why? Well, the whole thing was unbelievably perfect.
Keep reading...
Show less
Jul. 21, 2017 11:03AM EST
(Courtesy ABC)
In the dance industry, dancers don't always have a say in what they wear on their bodies. This can get tricky if you're asked to wear something that compromises your own personal values. So what should you do if you find yourself in this sticky situation? We sat down for a Q&A with "Dancing with the Stars" alumn Ashly Costa to answer that very question. Here's what she had to say about the options dancers have surrounding questionable costumes.
Keep reading...
Show less


Get Dance Spirit in your inbox