Who's Who on the Comp Scene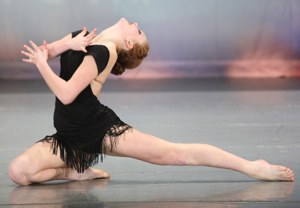 Kali Grinder (PROPIX)
KALI GRINDER
Age: 18
Studio: The Dance Zone in Henderson, NV
In a sea of contemporary soloists, playful musicality and controlled isolations set this long-legged beauty apart. Most recently, Kali was named New York City Dance Alliance's National Senior Outstanding Dancer 2011 and West Coast Dance Explosion's National Runner Up Elite Dancer.
Fun Fact: Kali takes voice lessons and loves to sing. "It really becomes a problem for my teammates and teachers on long car drives!" she says.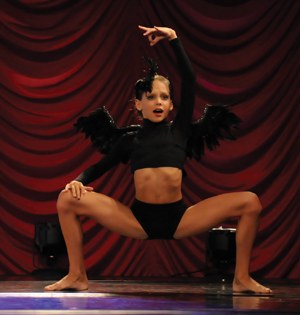 Sarah Pippin (courtesy The Dance Awards)
SARAH PIPPIN
Age: 14
Studio: CC & Co. Dance Complex in Raleigh, NC
The tiny powerhouse wowed audiences in 2011 with her "Black Hawk Waltz" solo, where she showed that she can be delicate, she can be tough and she can balance for days. In 2011, Sarah was named NYCDA's National Junior Female Outstanding Dancer and won the Teen Best Dancer title at The Dance Awards.
Fun Fact: Sarah is a die-hard North Carolina Tar Heels fan.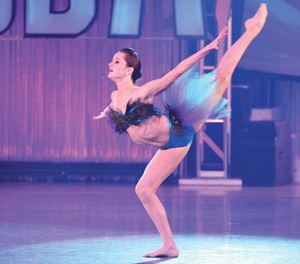 Megan Skalla (PROPIX)
MEGAN SKALLA
Age: 16
Studio: The Dance Club in Orem, UT
A former Clara in the Radio City Christmas Spectacular, this pristine technician has an alluring stage presence and makes an aerial look as easy as skipping down the street.
Fun Fact: Megan is psyched to finally get her driver's license this spring!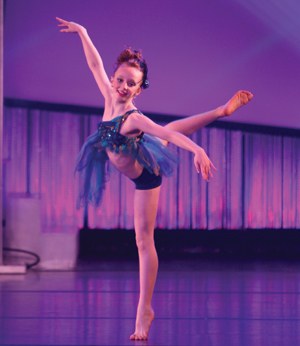 Payton Johnson (PROPIX)
PAYTON JOHNSON
Age: 13
Studios: Jean Leigh Academy of Dance in Denham Springs, LA, and the Dancers' Workshop in Baton Rouge, LA
She's balletic, funky and just plain fun to watch. In 2010, Payton was NYCDA's National Mini Outstanding Dancer and NUVO's National Mini Breakout Artist. Last year, she attended her first ballet competition and won the Youth America Grand Prix Hope Award. She also danced in the film The Curious Case of Benjamin Button and as Clara in the Radio City Christmas Spectacular.
Fun Fact: Payton is a twin! She is two minutes older than her brother Parker.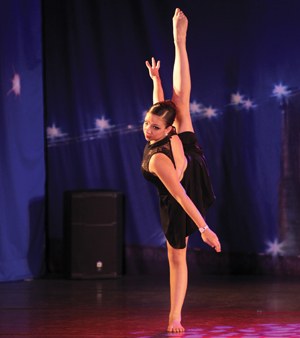 Hannah Seiden (PROPIX)
HANNAH SEIDEN
Age: 18
Studio: Artistic Fusion Dance in Westminster, CO
The beyond-her-years maturity in Hannah's passionate movement is captivating. In addition to dancing in Billy Bell's Lunge Dance Collective, she recently won a four-year half-scholarship to Point Park University through NYCDA.
Fun Fact: Hannah loves to travel and aspires to visit hundreds of countries all
over the world.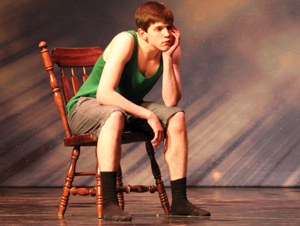 Patrick Cook (by Brooke Roberson)
PATRICK COOK
Age: 18
Studio: CC & Co. Dance Complex in Raleigh, NC
He's cute, quirky and versatile, and he's already dancing with the pros. Last December Patrick performed in Break the Floor Productions' Come Together, the debut show for Shaping Sound, a new company started by Travis Wall, Nick Lazzarini, Teddy Forance, Kyle Robinson and Misha Gabriel. Patrick is also an Advanced Pro Elite Protégé with The PULSE on Tour.
Fun Fact: Patrick can make water drop sounds like Cameron Frye in Ferris Bueller's Day Off.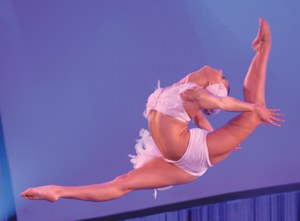 Victoria McWilliams (PROPIX)
VICTORIA MCWILLIAMS
Age: 18
Studio: Tempe Dance Academy in Tempe, AZ
With almost superhuman lines and control, this trained gymnast is as alluring on the dance floor as on the mat, whether performing her signature ring leap and back handspring half-twist or a simple port de bras. In 2009, Victoria was a Junior Olympics silver medalist for gymnastics, and she was also the 2010 New York City Dance Alliance first runner-up Teen Outstanding Dancer.
Fun Fact: Victoria loves the Harry Potter movies. She has a crush on Tom Felton, who plays Draco Malfoy.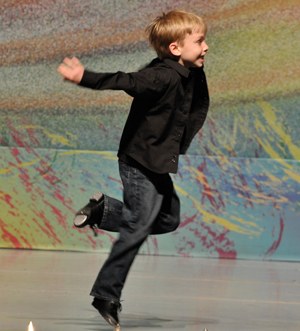 Luke Nielsen Spring (courtesy Jill Spring)
LUKE NIELSEN SPRING
Age: 8
Studio: Studio Bleu Dance Center in Ashburn, VA
Since finding a pair of tap shoes in the lost-and-found at his sister's dance studio when he was 4, this tiny tap prodigy has charmed audiences with intricate rhythms that even a seasoned professional would envy. He competes in a variety of styles, but his natural talent in tap has earned him TV performances on "The Ellen DeGeneres Show" and the Season 7 Finale of "So You Think You Can Dance."
Fun Fact: At his first competition, when asked what he hoped to receive if he performed well, Luke replied, "pancakes." When onstage during the awards ceremony, not only did he receive a first-place trophy, ribbon, plaque and medal, but the competition director presented him with a stack of hot pancakes as well!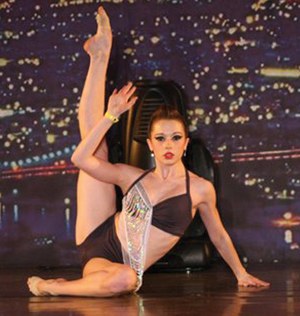 Emma Bradley (PROPIX)
EMMA BRADLEY
Age: 17
Studio: Buffa's Dance Studio in Burke, VA
Emma Bradley is a personality-filled portrait of versatility, comfortable in everything from delicate pointe work to hard-hitting jazz. In addition to her summer studies with American Ballet Theatre and Exploring Ballet with Suzanne Farrell, Emma travels the convention circuit and participates in the NRG YouTube Video Dance Project. Her 2011 awards include NUVO Teen Breakout Artist and Teen High Score Soloist and WCDE Teen Elite Dancer. She's also an Artists Simply Human Apprentice Winner.
Fun Fact: Emma loves her pet rabbits (Coco and Lola) and Nike sneakers.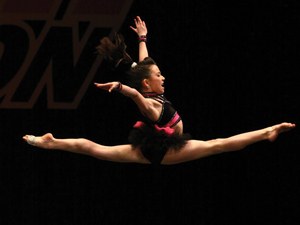 Kamryn Beck (courtesy Starpower)
KAMRYN BECK
Age: 12
Studio: Krystie's Dance Academy in Warren, OH
Kamryn's dynamic energy and musicality make her impossible not to watch. She assists Mollee Gray at Wild Dance Conventions and was Starpower's 2010 and 2011 National Junior Miss Dance.
Fun Fact: Kamryn's family recently moved to Lancaster, PA, but she still commutes to Krystie's in Warren, OH, every weekend to train—a five-hour drive each way! She sleeps over with studio owner Krystie or a teammate from Friday to Sunday.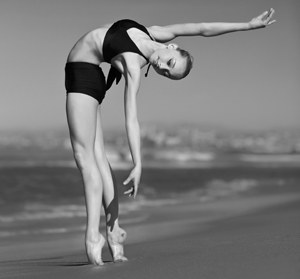 Christina Ricucci (by David Hofmann)
CHRISTINA RICUCCI
Age: 13
Studios: Murrieta Dance Project in Murrieta, CA, and Dmitri Kulev Classical Ballet Academy in Laguna Hills, CA
This lithe beauty is the whole package: Not only is she the current "Miss Teen Dance America" for Kids Artistic Revue, but she also performs with the contemporary dance company Westside Dance Project, sings, models and was the 2010 Gold Medalist at the World Ballet Competition.
Fun Fact: Christina's dad is in a band, and she loves to go onstage and sing with him.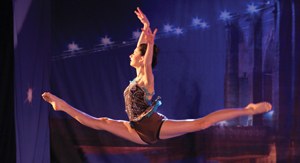 Jordan Pelliteri (PROPIX)
JORDAN PELLITERI
Age: 15
Studio: Plumb Performing Arts Center in Scottsdale, AZ
Just try to watch this girl dance without staring at those gorgeous legs. The 2008 NYCDA National Outstanding Mini recently filmed a promo for the new TV show "Smash," and in January she performed in NYCDA's Destiny Rising show at NYC's The Joyce Theater.
Fun Fact: Jordan's favorite TV show is "Pretty Little Liars."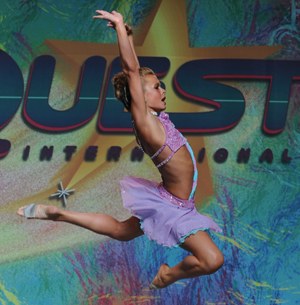 Madison Cubbage (courtesy Strictly Rhythm)
MADISON CUBBAGE
Age: 14
Studio: Strictly Rhythm in Alexandria, VA
This super–in-shape, well-rounded powerhouse is constantly on the road assisting at The PULSE on Tour (where she's an Elite Protégé) and Motiv8 Tour Dance Convention (where she's an Apprentice).
Fun Fact: Madison works hard for those killer abs! She does core work several times daily.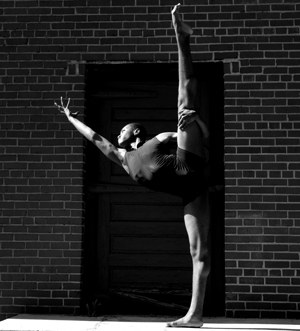 Vinson Fraley Jr. (by Joshua Fedorul)
VINSON FRALEY JR.
Age: 17
Studio: DanceMakers of Atlanta, Inc., in Atlanta, GA
Vinson's passionate lyricism and strong lines draw you into his world when he dances. The NYCDA high score soloist recently received a scholarship to the Dance Theater of Harlem's summer program and hopes to one day dance with Alonzo King LINES Ballet or Alvin Ailey American Dance Theater.
Fun Fact: Vinson is a National Honor Student and loves to entertain his classmates with impersonations of funny TV commercials.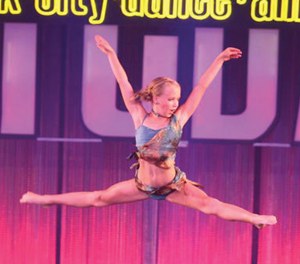 Paisley Norburg (PROPIX)
PAISLEY NORBURG
Age: 13
Studio: Next Step Dance Performing Arts Center in Frisco, TX
This high-energy blonde beauty is making moves on the competition stage and beyond.
She has been an NYCDA Regional Outstanding Dancer for the past three years and can be seen on the box of Mattel's Dallas Cowboys Cheerleader Barbie. She also recently danced in an Angelina Ballerina video segment.
Fun Fact: Paisley is a straight-A student and loves working with special needs children at her middle school.
Win It
Sep. 05, 2017 12:10PM EST
Photos by Erin Baiano
It's time to get your pirouette on! From September 5th to September 30th, we're hosting a contest to find out who's the best turner of them all.

Put together your most impressive turning combo. Post a video online. Share your turns with us and thousands of other dancers around the world. And if our editors think you're the top turner, you'll win a fabulous prize.
Keep reading...
Show less
All of 18-year-old Kaylin Maggard's dreams—from scoring the title of National Senior Outstanding Dancer at New York City Dance Alliance Nationals to winning the 2017 Dance Spirit Cover Model Search—are coming true. And to anyone who knows the gorgeous contemporary dancer, that's no surprise.
From the moment the Dance Spirit staff met Kaylin, it was obvious her humility and talent would take her far. Not only did she go full-out during the photo shoot and class at Broadway Dance Center, but she was always cheering on, laughing with, and supporting her fellow CMS contestants Haley Hartsfield and Michelle Quiner. During the voting period, the social media world was abuzz with praise for her work ethic, positive attitude, and generosity.
Since her CMS trip to NYC, Kaylin's moved from her hometown of Columbia, MO, to the Big Apple for her freshman year at Juilliard, and is busy getting acquainted with the city. As for the future? She's taking it one opportunity at a time, but something tells us we'll be seeing this contemporary queen reach new heights every year.
Keep reading...
Show less
New York City principal Lauren Lovette has become an icon thanks to her emotional maturity and exceptional musicality. The 26-year-old quickly rose through the ranks after joining the company as an apprentice in 2009, reaching principal status in 2015. A Thousand Oaks, CA, native, Lovette started studying ballet seriously at age 11, at the Cary Ballet Conservatory in Cary, NC. After attending two summer courses at the School of American Ballet, she enrolled as a full-time student in 2006. Last year, she made her choreographic debut with For Clara, her first piece for NYCB. Catch her latest work this month during the company's fall season. —Courtney Bowers
Keep reading...
Show less
In our "Dear Katie" series, former NYCB soloist Kathryn Morgan answers your pressing dance questions. Have something you want to ask Katie? Email dearkatie@dancespirit.com for a chance to be featured!
Dear Katie,
I know I'm not getting good enough dance training from any of my local studios. But I'm not sure I'm ready to move away to study at a big-name school, either. How do you know when you're ready to leave home to pursue your passion?
Marisa
Keep reading...
Show less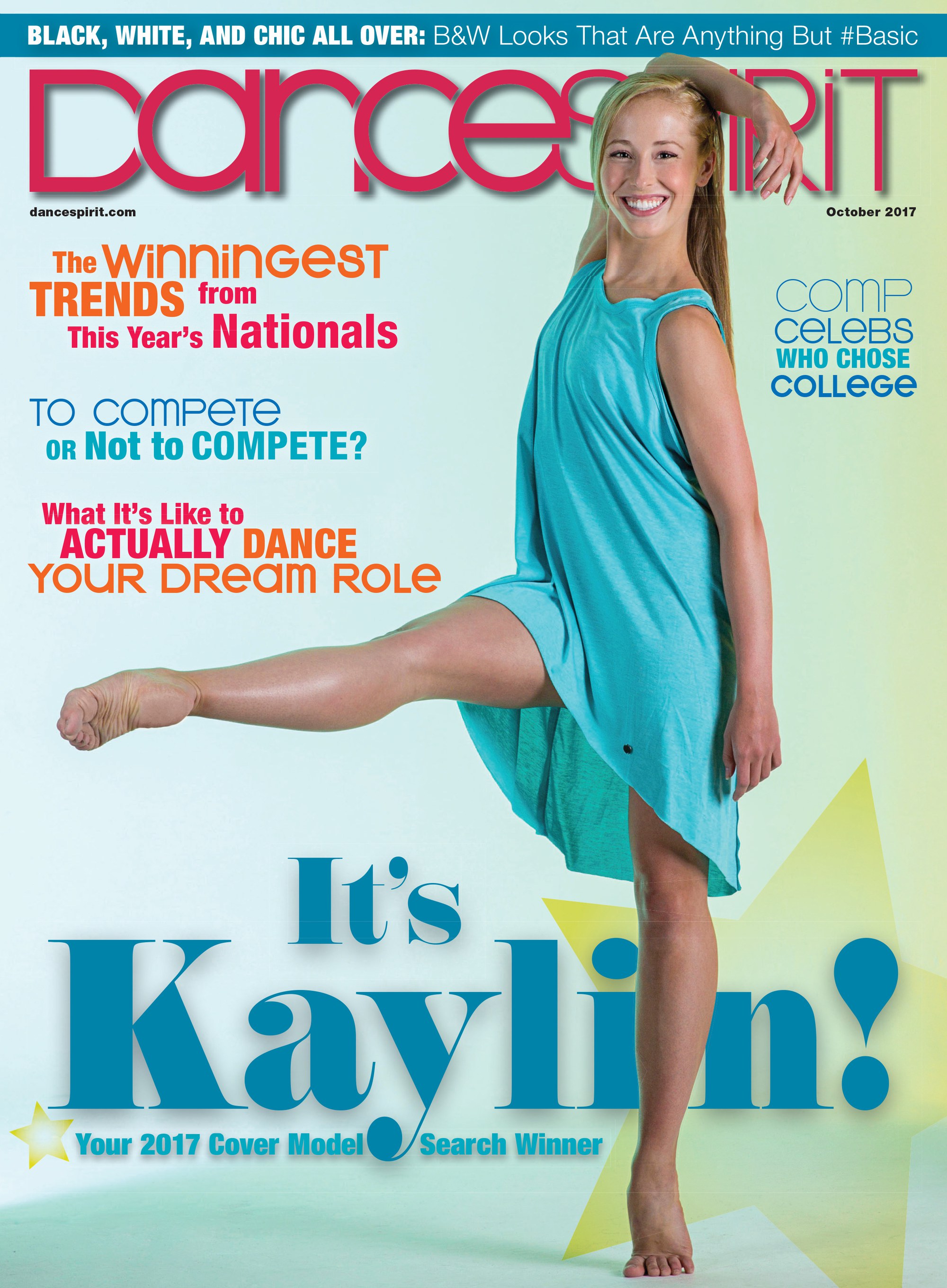 Get Dance Spirit in your inbox