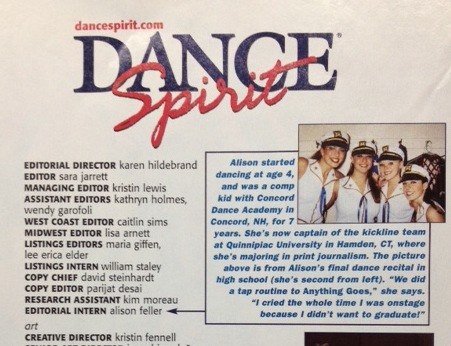 As an intern, former DS editor in chief Alison Feller got to have a photo and bio next to her name in the magazine!
You'd be surprised at how many current editors at all your favorite magazines—Dance Spirit, Dance Magazine, Pointe, Dance Teacher—started out as interns. I was a Dance Magazine intern the summer after college graduation—and I absolutely loved it! My favorite memory? Getting to attend and contribute ideas in meetings with the editors—and having them actually care about my opinion. Plus, all the interns had a standing date to eat bagels together on Mondays, and we always had so much fun! Below, read about other great internship memories from editors at all the DanceMedia mags. If you're intrigued, you may be the perfect candidate to be an intern  just like we were! The application deadline for fall 2014 internships is August 15. Click here for more details.
"I loved feeling like a total dance-world insider. It was so crazy to be in an office where people like Allegra Kent and Susan Jaffe would just stop by!"
—Margaret Fuhrer, editor in chief, Dance Spirit
"I loved calling people and saying 'This is Jennifer Stahl from Dance Magazine.' That made me smile every time because I'm a nerd. I got to interview two of my dance idols, SFB soloist Elizabeth Miner and former ABT dancer Leslie Browne for a piece I wrote on what dancers wanted for the holidays. I also got to be in a DM Style shoot with some of my friends from NYU.  It was awesome to see the behind the scenes of a photo shoot and how it all came together—and to have my picture in the magazine."
—Jennifer Stahl, editor in chief, Dance Magazine
"I got to do everything from transcribing interviews and fact checking stories to writing actual features for the magazine and traveling to cover Nationals in Massachusetts. The best part of my internship, though, was the first time I got to see my name in print. It felt like Christmas morning + my birthday + midnight on New Year's Eve + a basket of puppies. I got to be on the masthead (where the magazine lists everyone who works for it) and, for the first time, see 'By Alison Feller' permanently inked. It was magical."
—Alison Feller, former editor in chief, Dance Spirit
"One of my favorite memories was helping out with the Dance Magazine Awards. If you think what happens on stage is fun, you should see what happens in the wings! I remember ABT's Maxim Beloserkovsky joking around and doing barre in a boot (he was injured at the time) and getting presentation pointers from Susan Jaffe. Pretty surreal."
—Kristin Schwab, associate editor, Dance Magazine
"I remember doing my first phone interview as an intern. It was with Taylor 2's Latra Wilson for a DM newsletter story, and it was the biggest honor and most frightening 15 minutes of my young career! Totally worth it, though, to see my finished article published."
—Andrea Marks, assistant editor, Dance Teacher
Apr. 11, 2017 04:18PM EST
Welcome to the new dancespirit.com—a completely addictive way to enjoy our top-notch dance content.
It's got all the stuff you've always loved: gorgeous images of your favorite dancers, internet-breaking viral videos, thoughtful technical advice for dancers of all styles, effective health and wellness tips, crazy-good giveaways. And now there's a lot more of it—right at your fingertips.

We've invested in the latest technology to produce a brilliant digital experience, using the powerful tools for social discovery and engagement developed by our partner, RebelMouse. They know what they're doing, guys.
Produced by the editors and writers you trust. Powered by RebelMouse. BOOM.
If you need a heartwarming bit of news today, look no further. American Ballet Theatre principal (and idol of budding ballerinas everywhere) Misty Copeland stopped by The Steve Harvey Show the other day to surprise a group of young ballerinas, and the result is giving us #allthefeels.
The dancers, from the Mayfair Performance Company in Chicago, were guests on Harvey's show. But little did they know, Harvey had a huge surprise for them:
As a young dancer, there's nothing more important than having a visible role model, and Copeland goes above and beyond. (Seriously, the reactions say it all.) Check out the girls' dazzling performance below. Happy Sunday, y'all.
Keep reading...
Show less
Apr. 29, 2017 01:45PM EST
In honor of "La La Land" being released on DVD April 25, Los Angeles mayor Eric Garcetti declared that same day to be "La La Land Day." Because magic is real and dreams can in fact come true, the occasion was marked with aerial dancers from BANDALOOP rappelling off the side of City Hall, performing to a gorgeous medley of Justin Hurwitz's dreamy score for the film.
Without further ado, here's this week's cure for the #SundayScaries. (PS this footage was filmed from a drone. How cool is that?!)
Keep reading...
Show less
Apr. 28, 2017 07:04PM EST
Pacific Northwest Ballet principal Noelani Pantastico is famous for her passionate stage presence and strong, powerful technique. Originally from Oahu, HI, Pantastico trained at Central Pennsylvania Youth Ballet and frequently attended summer courses at PNB. In 1997, she joined PNB as an apprentice, and was promoted to principal in 2004. Four years later, she joined Les Ballets de Monte-Carlo as a soloist—but, in 2015, Pantastico headed back home to PNB, and she's danced there ever since. Catch her in the company's June program, which features George Balanchine's La Source, Jerome Robbins' Opus 19 and Alexei Ratmansky's Pictures at an Exhibition. Read on for her letter!
"Dear Noe,

You'll soon enter a career that will shape the course of your existence. Pay attention and enjoy every moment, because it goes very quickly. Life in the dance world is beautiful, although there will be times when deep reflection is necessary, and when roadblocks will make you rethink your career path. This is normal, and it's OK. Here's some advice that will help you get through.

Don't complain, and ignore idle gossip. Negativity will do nothing for you. It's wasted energy. Your mental state is connected to your physical being and immune system—being mindful can help you stay healthy. You won't want to believe this, but the sooner you do, the sooner you'll get better and won't be dealing with so many ailments. When you're dealing with pain, injury or even a common cold, consider whether you're also going through an emotional problem or change. This is total body care.

Don't try to control the course of things. Everything that happens is meant to happen. There's a lesson in every moment. Just listen, observe and work hard. This will give you intelligence and power, and ultimately the ability to handle anything the world throws at you.

Lastly, give the best you can every day. Don't waste a minute. Remember: Life responds to you and to what you put out there. It's not about what happens to you, but about what you make of it. Be meticulous with your steps. Care for every motion. Your love and gratitude will vibrate beyond you.

I love you very much,
Noe"
Photo by Angela SterlingPantastico in Jean-Christophe Maillot's "Roméo et Juliette"
Keep reading...
Show less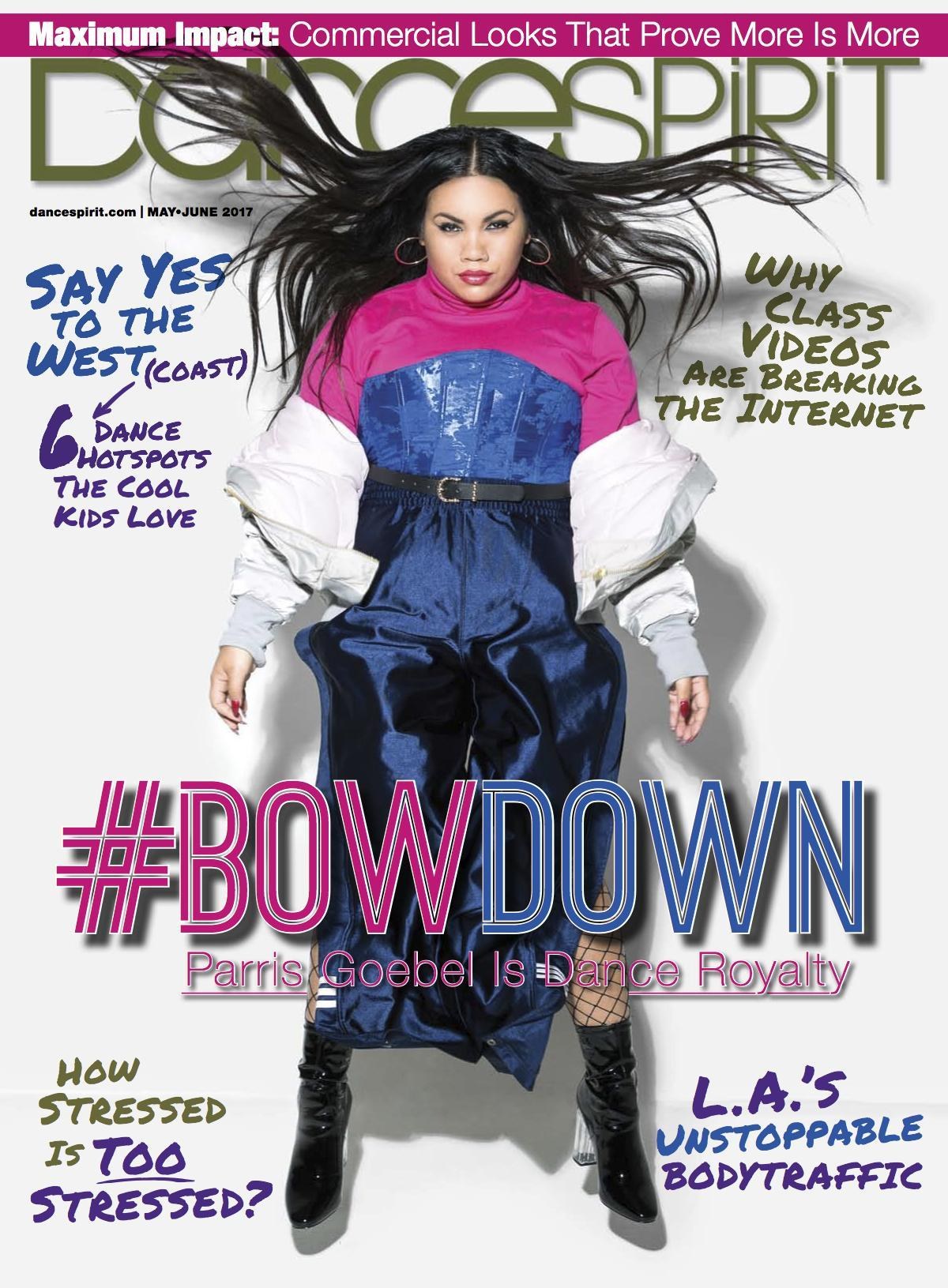 Featured College Dance Program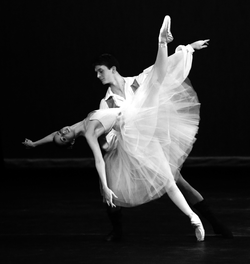 Get Dance Spirit in your inbox