Musical Theater
Apr. 20, 2012 11:38AM EST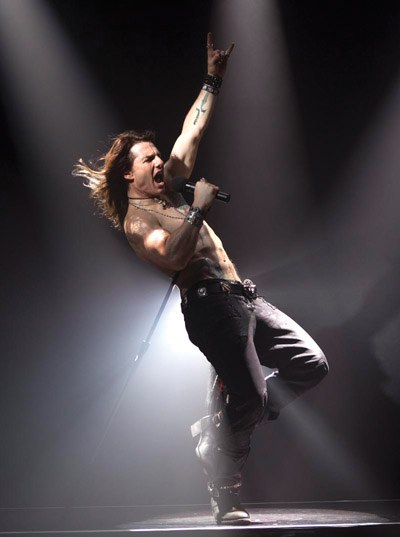 Tom Cruise as Stacee Jaxx (photo by David James)
From Hairspray to Chicago, we've eagerly followed some of our Broadway favorites to the big screen—and Rock of Ages is no exception. Take a trip with us down the Sunset Strip and see why this movie is sure to soar to the top of the charts.
The movie doubles as a mini "So You Think You Can Dance" reunion.
Scroll through the credits and you might think you're watching an "All-Stars" episode of "SYTYCD." Along with director Adam Shankman and choreographer Mia Michaels, alumni dancers Courtney Galiano, Anya Garnis, Will Wingfield, Jaimie Goodwin and others can all be spotted in the flick.
Tom Cruise is a triple threat. (Really!)
Bringing the larger-than-life character of metal god Stacee Jaxx to the big screen is no easy feat, but Tom Cruise was up for the challenge. Cruise took daily vocal lessons in order to belt out his character's songs, and also spent a lot of time in private dance rehearsals with Michaels and assistant choreographer Kevin Wilson. "Working with Tom took my craft to another level," Michaels says. "We're both so intense in the way we work, and it was so cool to have our worlds collide. He's an insatiable powerhouse." Adds Wilson: "Tom was so professional—he was always there and always willing to learn and grow. I was extremely impressed with his musicality."
You'll see Mia Michaels' work in a whole new light.
Mention Mia Michaels to any dancer, and chances are visions of contemporary or lyrical dance will come to mind. So was this gritty, hard-hitting style of dance Wilson calls "'80s rock thrash" out of her comfort zone? Maybe, but Michaels says she relished the challenge: "This style of choreography was much more actor-based, much more rock-and-roll reality. It was important for me to make sure the Rock of Ages work didn't look too choreographed—much of the movement is based on gestures and emotions." That's not to say you won't see several major dance-centric numbers, including a "Beat It"/West Side Story–style routine and a pivotal scene in a club featuring 40 dancers.
Tom Cruise handpicked the main dancers.
Dancer Chantel Gonsalves, who plays one of four featured "groupies," can thank Tom Cruise for the gig. To get the job, she had to make a tape showing her personality for Cruise to review. "Adam Shankman had seen my dance reel and liked me, but it had to go through Tom Cruise, who had the final say," Gonsalves says.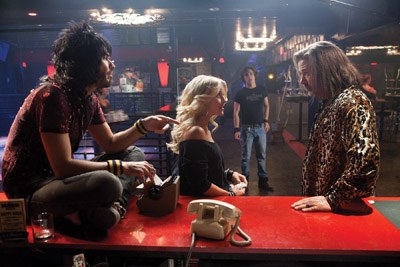 (L to R) Rock of Ages stars Russell Brand, Julianne Hough, Diego Boneta and Alec Baldwin, among other big-screen favorites. (Photo by David James)
Rock of Ages is totally '80s-tastic.
Wilson vividly remembers the first time he saw the film's costumes. "It was in a huge warehouse. I felt like I was in a thrift store, because everything was so true to the time period," he says. "Walking down the aisles with racks and racks of '80s clothing was really nostalgic." Gonsalves rocked "massive hair" through much of the movie. "I felt like I was truly living in the era," she says. The film is packed with cameos from dance greats. Among the dance notables who make appearances are Broadway performer Mary Ann Lamb (Fosse, Chicago) and choreographers Cris Judd, Joey Dowling ("SYTYCD") and Anne Fletcher (Step Up). "Because it's such a big dance movie, Mia and Adam wanted to give back to dancers who have been in the business a long time," Wilson says. "The list goes on and on—it was great to bring several generations of dancers together."
Dancers received star treatment during filming.
Call it a perk of having a dance-friendly director, but the Rock of Ages dancers say they had a blast on set in Miami. Wilson was impressed with the way the dancers were taken care of. "The first thing Adam did when the group of L.A. dancers arrived was stop production and take them on a tour of the whole set. Tom was the same way—he always made sure everyone, right down to the extras, felt important," he says.
The dancers aren't the only ones who rock the dance floor.
Leading ladies Julianne Hough and Catherine Zeta-Jones are certainly no strangers to the dance world, but what about the other actors? According to Wilson, none of the talent got a "free pass." True to form, Michaels challenged everyone involved to be their best dance selves. "Mia doesn't settle for simple choreography, so everyone had to step up," Wilson says. "Audiences will be able to appreciate seeing people like Alec Baldwin and Tom Cruise holding their own."
If you haven't seen the Broadway show...   Rock of Ages is the story of small-town girl Sherrie who moves to L.A. in search of fame and, in the process, falls in love with cute city boy and wannabe-rocker Drew. There's drama along the way—heavy-metal hottie Stacee Jaxx gets between the pair, and meanwhile the city is trying to shut down some of the fun on the Sunset Strip. All the plot's details are explained through song and dance, of course.
Much of Janelle Ginestra's career has been about helping others shine. She's dedicated herself to supporting and cheerleading her partner, WilldaBeast Adams; the emerging talents in their dance company, ImmaBEAST; and the countless dancers she inspires at master classes and conventions. Her YouTube channel has become a launching pad for young talents like "Fraternal Twins" Larsen Thompson and Taylor Hatala, thanks to viral videos featuring Ginestra's creative vision.
But Ginestra's a skyrocketing success in her own right—an in-demand choreographer, a social media influencer, and a dance entrepreneur, building a legacy one eight-count at a time. It's time for her turn in the spotlight. And she's more than ready. "I want to be a legend in whatever I do," she says. We'd argue that she already is.
Keep reading...
Show less
Win It
Oct. 13, 2017 04:31PM EST
Tiler Peck and Chase Finlay in Swan Lake (photo by Paul Kolnik)
For ballerinas, it's the dream role to end all dream roles: Odette/Odile in Swan Lake, the type of part dancers spend years preparing for and whole careers perfecting. And it's a role that New York City Ballet principal Tiler Peck never thought she'd dance. Though Peck is one of the world's preeminent ballerinas, her short stature made Odette/Odile, typically performed by longer, leggier dancers, seem (almost literally) out of reach.
Then—surprise!—her name popped up on the cast list for NYCB's fall season run of Swan Lake.
Keep reading...
Show less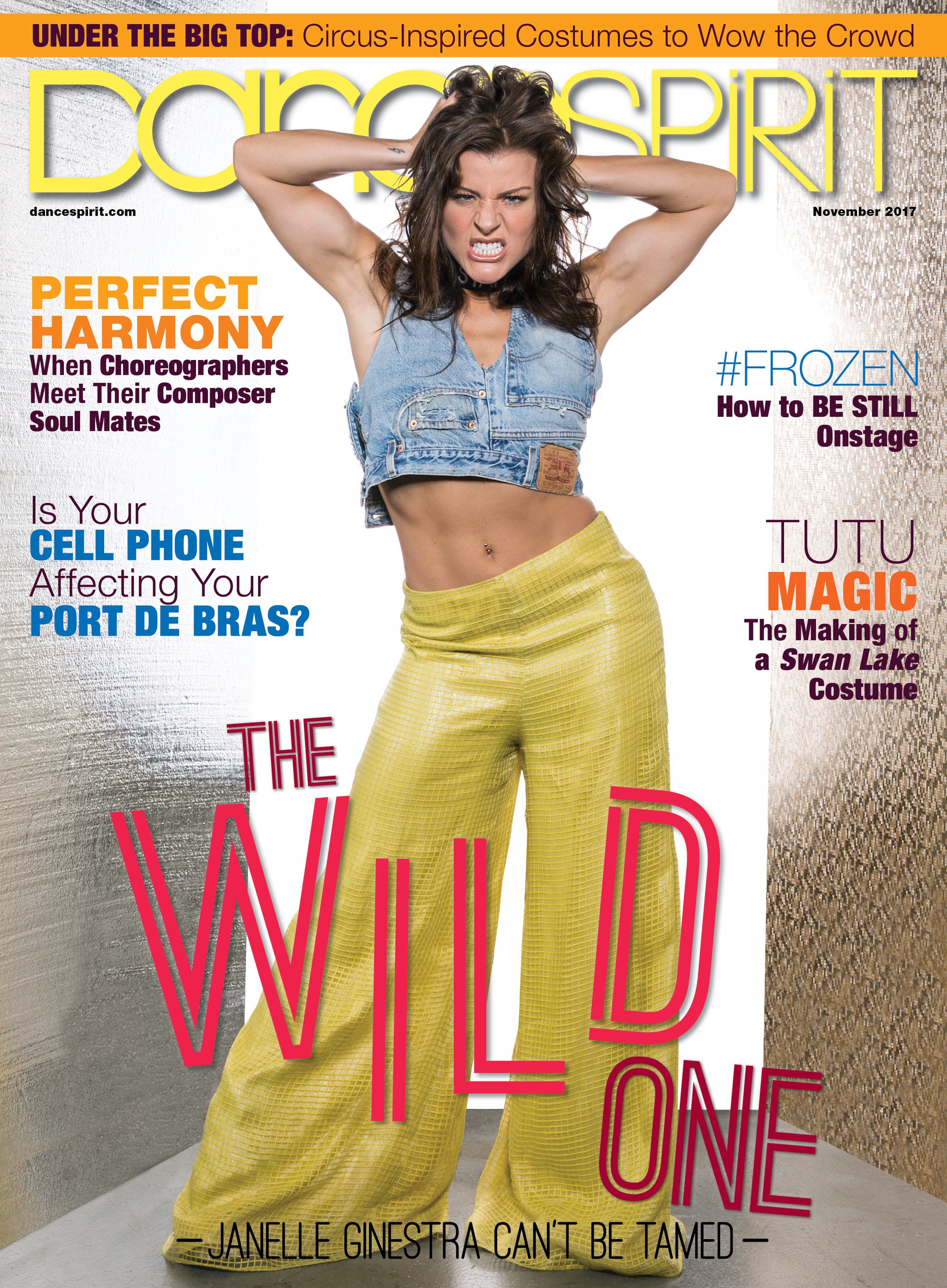 Get Dance Spirit in your inbox