Why You Should Try an Unfamiliar Dance Style This Summer
Christopher Perricelli leading class at Gus Giordano Dance School (courtesy Amy Giordano)
There are zillions of things to think about when choosing a summer program, but here's one you might not have considered: using an intensive as an opportunity to focus on a new style. Maybe you're a tap dancer who's ready to see where else your rhythm and quick feet can serve you, or a contemporary dancer curious about the more traditional roots of your genre. A summer program can be the perfect place to broaden your horizons, giving you the opportunity to make technical and artistic changes that stick throughout the year.
---
Why Summer?
An intensive's deep-dive format can feel totally overwhelming, even in a style you're confident in. But that unique format is also what makes it the best time to try something new. "Immersing yourself in intensive summer study allows for pure focus," says Limón Dance Company program manager Becky Brown. Unlike a master class or workshop, a summer program permits dedicated practice over the course of several weeks, giving you the time you need to absorb detailed instructions.
Embrace Being Not-Perfect
Feeling out of your depth is a good thing—it means you're growing. But don't be nervous that attending a summer program outside of your style will mean weeks of awkwardness and discomfort. Michelle Chassé, director of Boston Conservatory at Berklee's Musical Theater Dance Intensive, often sees contemporary and ballet dancers attend the summer program, but the compressed time frame and high level of intensity quickly help them feel at home. "Students are really challenged, even bewildered, in the first few days of the program," she says. "But by the end of the first week they've already begun to absorb and digest what they're being taught."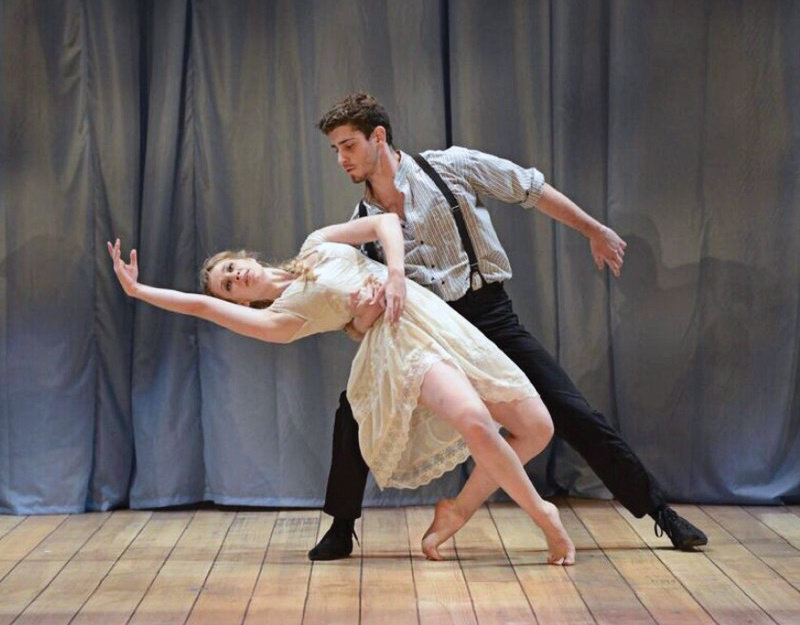 Boston Conservatory at Berklee's musical theater dance intensive students Celia McLennan and Michael Haggerty (photo by Eric Antoniou, courtesy Boston Conservatory at Berklee)
Reap the (Career-Building) Rewards
In addition to the training you'll receive, an intensive is a major networking opportunity, because it gives you time to build relationships. And if you spend part of your summer with an entirely new dance community, you're likely to create dozens of relationships that might not otherwise have been available to you. "Use the intensive as an opportunity to expand your network of contacts," says Amy Giordano, executive director of the Gus Giordano Dance School in Chicago, IL. "Parents, teachers, photographers—you're exposed to all these new people."
Change Your Big Picture
It seems counterintuitive, but spending a summer studying an unfamiliar technique might just make you better in your "home" genre. "Every style incorporates inspiration from the others," says Brian Young, owner and director of Sweatshop Dance in Denver, CO. "So learning a new style of dance might be just what you need to connect the dots, even in the styles you're most familiar with."
Or a summer program experience could change the course of your career. Student Ilana Cohen studied primarily ballet before attending her first Limón summer program. "I'd started to feel stuck in my ballet training," she says. "My body wasn't physically shaped to do it, and while I had taken classes in more contemporary styles, I didn't understand them because I couldn't see what the goal was." When she first started studying Limón technique, the framework and instruction made sense. "Before the intensive," she says, "it had never occurred to me that it would be possible to consider a career in dance."
Want to branch out, but not sure which intensive might be right for you? We've got some ideas:
If you're a bunhead who's ready to loosen up, try: Complexions Contemporary Ballet summer intensives
If you're a contemporary dancer who wants to dig into improvisation, try: The Gaga intensives
If you're a tapper who's eager to explore rhythm in a different way, try: Belén Maya flamenco workshops
If you're a comp kid who lives for acro, try: Bandaloop
A version of this story appeared in the January 2018 issue of Dance Spirit with the title "The Summer Study Style Challenge."
(From left) ABT's Erica Lall; NYCB's India Bradley; Washington Ballet's Nardia Boodoo; NYCB's Rachel Hutsell (all photos by Rachel Neville)
Misty Copeland. Her name is synonymous with exquisite artistry and outspoken advocacy. And her visibility has made a huge impact on the ballet world. Ballet's relationship with race has always been strained at best, hostile at worst. But Copeland's persistent message and star quality have finally forced the ballet industry to start talking about racial diversity, inclusivity, and representation. "The rarity of seeing ourselves represented is sad," Copeland says. "The more we see every hue and body shape represented on the stage, the more possibilities young dancers feel they have for themselves."
Keep reading...
Show less
Our nominees (clockwise from top left): Roberto Campanella, Aurélie Dupont, Ashley Wallen, and Anthony Van Laast
Last month, we asked why there wasn't a Best Choreography category at the Oscars—and discovered that many of you agreed with us: Choreographers should definitely be acknowledged for their work on the super-dancy movies we can't get enough of.
Now, we're taking matters into our own (jazz) hands.
We've decided to create a Dance Spirit award for the best cinematic choreography of 2017. With your input, we've narrowed the field to four choreographers whose moves lit up some of the best movies of the year. Check out our nominations for best choreography below—and vote for the choreographer you think deserves the honor. We'll announce the winner on Friday, March 2.
Being a dancer comes with the task of having to entertain the same questions over and over again from those outside the dance world. Of course, we love having our friends and family take an interest in our passion—but if someone asks ONE MORE TIME whether or not we've met Travis Wall, we might just go crazy.
Here are 10 questions that dancers hate getting asked.
Keep reading...
Show less
ABT JKO School student Miuka Kadoi shoiwng off her beautiful line (photo by Kenneth Edwards)
Contemporary phenom Christina Ricucci has super-flexible hips, which means she can stretch her legs to unbelievable heights. But when she noticed herself making contorted positions in class, Ricucci realized she was approaching her extensions all wrong. "I went back to the basics in class, squaring my hips and using my turnout," Ricucci says. "I learned to create proper positions, rather than whacked-out versions of them."
Some dancers are so wonky they have a hard time supporting their high legs, while others struggle with limited flexibility. But no matter your facility, you can find a balance of stretch and strength to achieve your fullest range of extension. It's not about how high (or not) your legs can go: It's the quality of the movement, and how you get those legs up, that counts.
Keep reading...
Show less
Bronze medalist Kaetlyn Osmond skating her "Black Swan" long program (screenshot via YouTube)
Once upon a time (until the 2014 Winter Olympics in Sochi concluded, to be exact), figure skaters had to compete to music without words. Before this rule change, a skater faced an automatic point deduction if the music even hinted at vocals. Understandably, there were *a lot* of Olympic programs skated to classical music, and you'd tend to hear the same music selections over and over and over.
Keep reading...
Show less


Get Dance Spirit in your inbox