Why We Love The Nutcracker
Like many of you, I'm guessing, seeing The Nutcracker every year was a major holiday tradition growing up. My studio never put on our own production, so my BFF Becky and I would go to a different show each winter with our moms.
We started small by seeing a Nutcracker at St. Paul's School in Concord, NH. I was young, it was my first Nut experience, and my mind was blown.
Eventually, we upgraded: We took a drive south to see Boston Ballet's Nutcracker. Mind = further blown. Whether on a small school stage or a much larger one, The Nutcracker was instantly magical to me, and it was a crucial part of my early dance experience. I became obsessed with the Tchaikovsky score, and I always picked a really lavish dress to wear to the show because being fancy was important at The Nutcracker.
It wasn't until I moved to NYC and started working at Dance Spirit that I saw the granddaddy of them all: New York City Ballet's production of George Balanchine's The Nutcracker.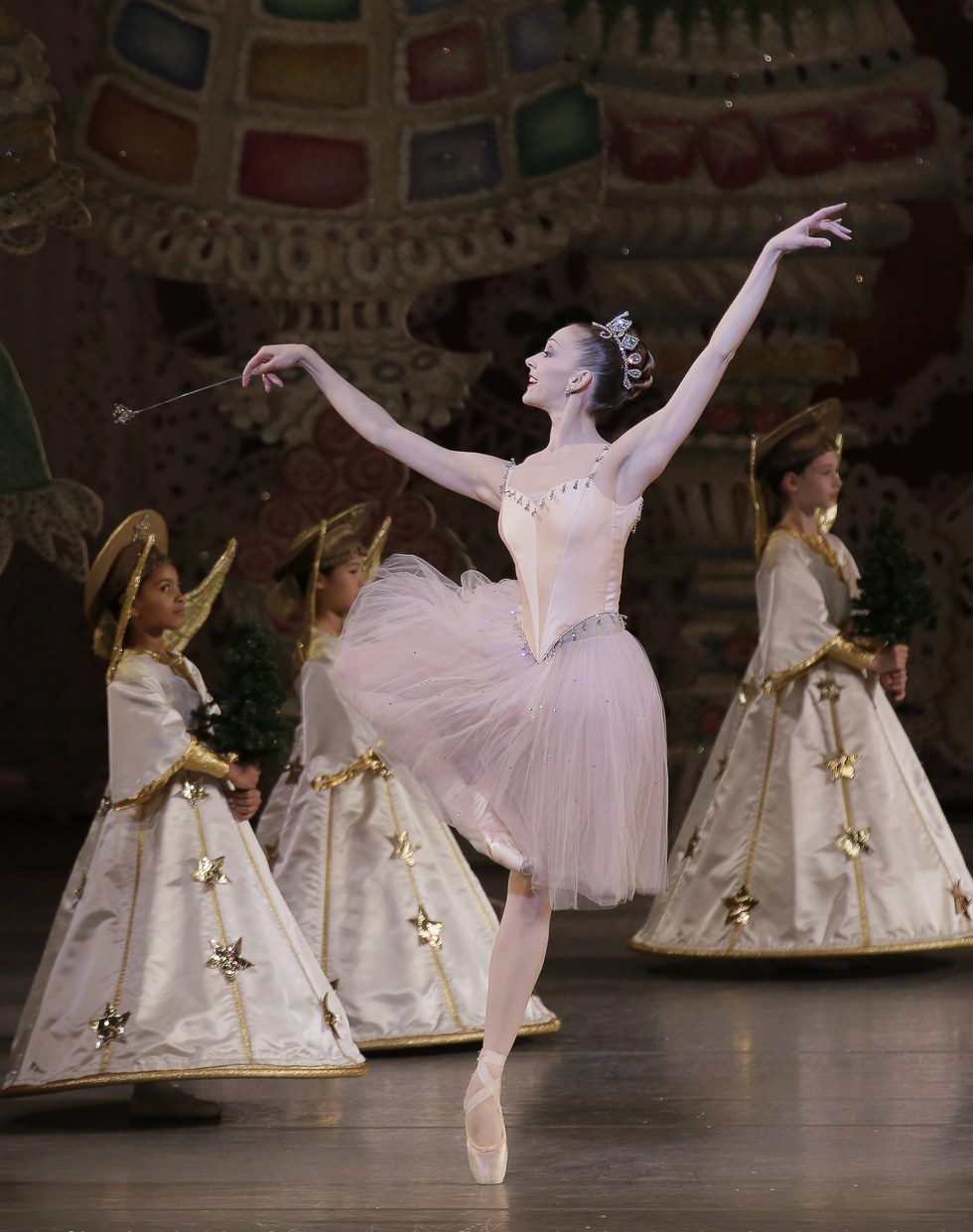 Maria Kowroski in George Balanchine's The Nutcracker. Photo by Paul Kolnik.
NYCB principal Maria Kowroski danced the Sugar Plum Fairy role, and I remember thinking it was physically impossible to have legs that long and feet that archy—and yet there she was, in all her perfect ballerina glory, being promenaded around by her cavalier.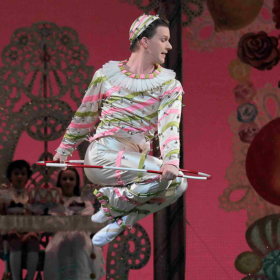 Daniel Ulbricht in George Balanchine's The Nutcracker. Photo by Paul Kolnik.
Fellow principal Daniel Ulbricht led the hyper-peppy Candy Canes, while former Dance Spirit cover girl Kathryn Morgan, then a corps de ballet dancer, stood out during the snow scene.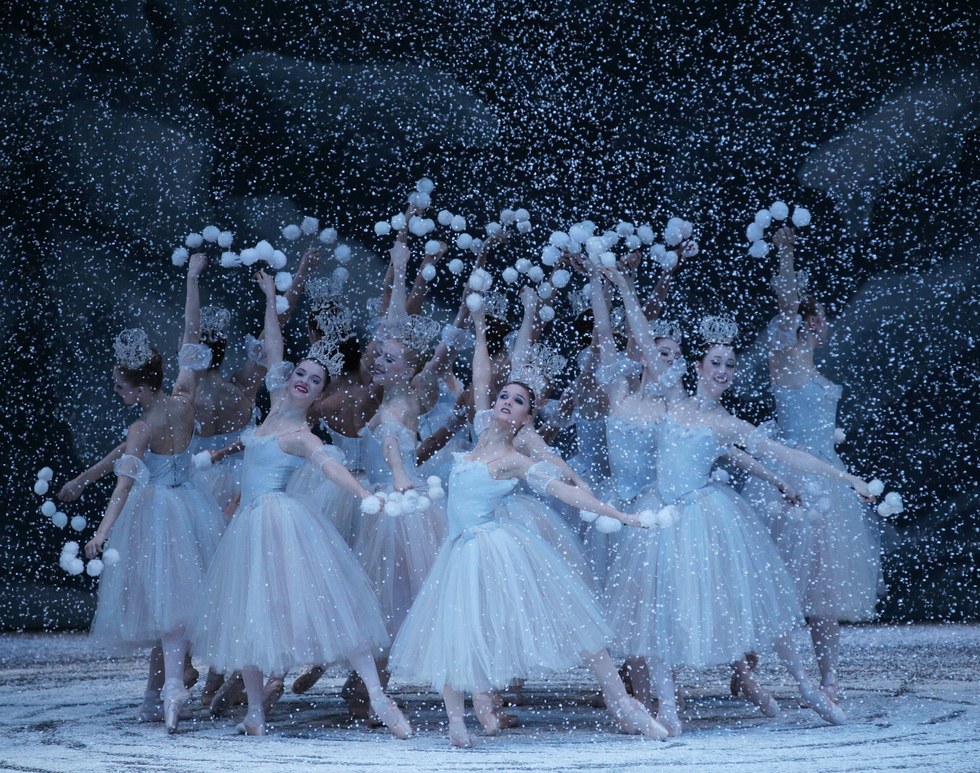 My beloved snow scene. This is New York City Ballet in George Balanchine's The Nutcracker. Photo by Paul Kolnik.
Ah, the snow scene. It makes me cry every time because it's just so beautiful. The Nutcracker is the holiday season to me, and I can't wait to continue my annual tradition by seeing NYCB's production again next week. In the meantime—until I get my Land of Sweets fix—I'll be happily prancing around the office humming all that good music and forcing the rest of the DS staff to share their favorite Nutcracker memories with me. And then I'll share them with you...
"The 'Dance of the Bonbons' was the first piece I almost performed onstage—I chickened out last-minute when I saw Mother Ginger's massive skirts! It wasn't until college that I had the opportunity to dance in The Nutcracker again. The wait was totally worth it: I got to dance 'Arabian,' a role so powerful and mysterious. I still get chills every time I hear the music." —Maggie McNamara
"I have hundreds of wonderful Nutcracker memories. But the reason the ballet is special to me is less about a single moment and more about the way it became a yardstick. Every year, between the ages of 7 and 18, I came back to it; every year, there were new parts to discover, or old parts to rediscover. It was the way I measured my progress, and it always had something new to teach me. (Still does!)" —Margaret Fuhrer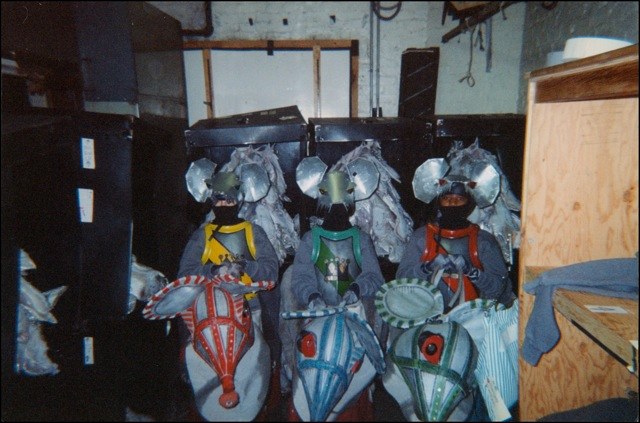 Rachel (center) as a Cavalry Mouse
"I was in the children's cast of The Joffrey Ballet's Nutcracker for a few years. My last time auditioning, I had grown too tall to technically be a kid, but they offered me the part of a Cavalry Mouse—or a mouse who's riding another mouse like a horse. The part was easy, I didn't have to spend hours on my hair and makeup and the audience went wild whenever we galloped our way into the Battle Scene. When I'm in the audience to this day, I always cheer loudest for those Cavalry Mice." —Rachel Zar
"The Nutcracker combines two of my favorite things: Christmas and ballet. I saw the Joffrey's production almost every year growing up, and loved coming home and dancing by the fire in my living room, holding my own nutcracker doll and wearing a satin nightgown like Clara." —Meggie Hermanson 
We want to hear your Nutcracker stories! Share your favorites in the comments below—and happy Nutcracker season!
(From left) ABT's Erica Lall; NYCB's India Bradley; Washington Ballet's Nardia Boodoo; NYCB's Rachel Hutsell (all photos by Rachel Neville)
Misty Copeland. Her name is synonymous with exquisite artistry and outspoken advocacy. And her visibility has made a huge impact on the ballet world. Ballet's relationship with race has always been strained at best, hostile at worst. But Copeland's persistent message and star quality have finally forced the ballet industry to start talking about racial diversity, inclusivity, and representation. "The rarity of seeing ourselves represented is sad," Copeland says. "The more we see every hue and body shape represented on the stage, the more possibilities young dancers feel they have for themselves."
Keep reading...
Show less
Screenshot via NowThis on Facebook
The Olympics are always full of inspiring Cinderella stories, where athletes no one had heard of mere months ago end up blowing all expectations out of the water, and maybe even nabbing a medal in the bargain. But we've recently caught wind of a different kind of Cinderella story—and it's one we really, really hope shows up in the Closing Ceremonies of the PyeongChang Olympics, airing tonight on NBC starting at 8 pm Eastern/5 pm Pacific time.
Keep reading...
Show less
Being a dancer comes with the task of having to entertain the same questions over and over again from those outside the dance world. Of course, we love having our friends and family take an interest in our passion—but if someone asks ONE MORE TIME whether or not we've met Travis Wall, we might just go crazy.
Here are 10 questions that dancers hate getting asked.
Keep reading...
Show less
ABT JKO School student Miuka Kadoi shoiwng off her beautiful line (photo by Kenneth Edwards)
Contemporary phenom Christina Ricucci has super-flexible hips, which means she can stretch her legs to unbelievable heights. But when she noticed herself making contorted positions in class, Ricucci realized she was approaching her extensions all wrong. "I went back to the basics in class, squaring my hips and using my turnout," Ricucci says. "I learned to create proper positions, rather than whacked-out versions of them."
Some dancers are so wonky they have a hard time supporting their high legs, while others struggle with limited flexibility. But no matter your facility, you can find a balance of stretch and strength to achieve your fullest range of extension. It's not about how high (or not) your legs can go: It's the quality of the movement, and how you get those legs up, that counts.
Keep reading...
Show less
Our nominees (clockwise from top left): Roberto Campanella, Aurélie Dupont, Ashley Wallen, and Anthony Van Laast
Last month, we asked why there wasn't a Best Choreography category at the Oscars—and discovered that many of you agreed with us: Choreographers should definitely be acknowledged for their work on the super-dancy movies we can't get enough of.
Now, we're taking matters into our own (jazz) hands.
We've decided to create a Dance Spirit award for the best cinematic choreography of 2017. With your input, we've narrowed the field to four choreographers whose moves lit up some of the best movies of the year. Check out our nominations for best choreography below—and vote for the choreographer you think deserves the honor. We'll announce the winner on Friday, March 2.


Get Dance Spirit in your inbox