"World of Dance" Series Premiere Recap: Can We Have Some More?
Diana Pombo performing her solo on "World of Dance" (NBC)
Well, that was perhaps the fastest hour of television ever.
We knew that NBC's "World of Dance" competitor lineup was stacked, but the show's premiere episode last night gave us just a taste of the deep talent field, with performances by only seven acts. None of them disappointed. But in the words of J.Lo herself (spoken, in her case, about a gorgeously understated routine by Kinjaz): We want more. Can we have some more?
---
Yes, yes, we know: Patience! That "more" is coming later in the season, based on what we've seen in the preview reels. And we appreciate the show's commitment to doing this right, with its detailed 100-point evaluation system that factors in performance, technique, choreography, and presentation (much the way judging works at normal dance comps), and its multi-tiered, multi-round format.
So, what were the SUPER highlights of this all-highlight show? Let's start with out-of-the-gate front-runners Les Twins, two very familiar French faces that even the other competitors couldn't help but gush about. Their detailed, emotional, super-tight routine earned a big standing O from the judges, and the night's highest score. Lopez especially loved them because their uncanny connection reminded her of her own twins, which, d'aww. (These guys certainly have a way with the divas—first they capture Beyoncé's heart, and now J.Lo's?)
We've been excited about Keone and Mari Madrid's appearance on the show since we first spotted them in an early trailer, so we did a little happy dance when they popped up last night. The couple pulled from their Greatest Hits™ collection, performing an updated version of the "Happy" routine that went viral a few years back. While the subtleties of their style didn't all quite translate in the show's big-arena environment—which, we're going to say right now, definitely gives larger acts an edge—their singular charm totally won over the judges. Plus, they mentioned they're on the show because they want the security they need to start a family and OH GOODNESS JUST GIVE THEM THE PRIZE ALREADY WE NEED BABY MADRIDS IN THE WORLD.
The last act of the night, and the evening's only solo performer, was 11-year-old contemporary gumby Diana Pombo, who had the crowd on her side from the beginning because she's tiny and adorable and was incredibly sweet in her pre-performance interview. Diana did the kind of solo we've watched over and over at competitions—in fact, she did a similar routine last year at The Dance Awards, where she won Mini Best Female Dancer—but it's still awesome to see this kind of dance on national television, and she was completely committed to the choreography. She said that J. Lo is her idol, which earned her a great big hug from La Lopez herself, and ended the night on a nice warm fuzzy note.
We'll leave you with Derek Hough's demonstration of proper hip action, because YAAAAAS D. 'Til next week!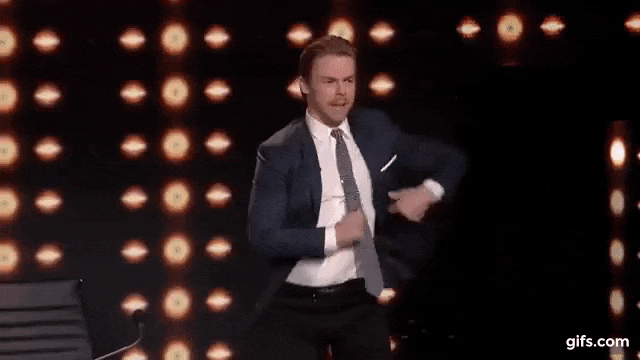 (From left) ABT's Erica Lall; NYCB's India Bradley; Washington Ballet's Nardia Boodoo; NYCB's Rachel Hutsell (all photos by Rachel Neville)
Misty Copeland. Her name is synonymous with exquisite artistry and outspoken advocacy. And her visibility has made a huge impact on the ballet world. Ballet's relationship with race has always been strained at best, hostile at worst. But Copeland's persistent message and star quality have finally forced the ballet industry to start talking about racial diversity, inclusivity, and representation. "The rarity of seeing ourselves represented is sad," Copeland says. "The more we see every hue and body shape represented on the stage, the more possibilities young dancers feel they have for themselves."
Keep reading...
Show less
Thinkstock
"Whole, low-fat, or skim?" The question of which milk to drink has gotten a little more complicated lately, with a wide variety of nondairy milks popping up in grocery stores. To find out which ones are worth your milk money, we had registered dietitian Monika Saigal answer some FAQs.
Keep reading...
Show less
Popular
Feb. 16, 2018 11:58AM EST
Via Jaime Guttenberg's memorialized Facebook page
Yesterday, the dance community was heartbroken to learn that Jaime Guttenberg and Cara Loughran, both 14-year-old dancers, were among the 17 people killed on Valentine's Day in the shooting at Marjory Stoneman Douglas High School in Parkland, FL.
Keep reading...
Show less
Sarah Lane as Clara in The Nutcracker (photo by Gene Schiavone, courtesy American Ballet Theatre)
American Ballet Theatre principal Sarah Lane charms audiences with her bright energy and crisp technique. The San Francisco, CA, native first started dancing at age 4 at a local community center, and at age 7 started training in Memphis, TN, at the Classical Ballet Memphis. Her family later moved to Rochester, NY, where she continued studying at the Draper Center for Dance Education. In 2002, she was a YoungArts Foundation winner in dance, allowing her to become a U.S. Presidential Scholar in the Arts. She joined American Ballet Theatre as an apprentice in 2003, was made a soloist in 2007, and was promoted to principal last fall. Recently, she originated the role of Princess Praline in Alexei Ratmansky's Whipped Cream. Catch her later this spring during ABT's Metropolitan Opera season. —Courtney Bowers
Keep reading...
Show less
You and I both know that dancing is the best thing since chocolate chip cookies! But its always nice when dance gets the recognition it deserves from non–dance-world peeps. That's why we did our own happy dance when we saw Shape magazine's article on how dancing can actually make you a better athlete.
Keep reading...
Show less


Get Dance Spirit in your inbox