You Say You Want a Revolution...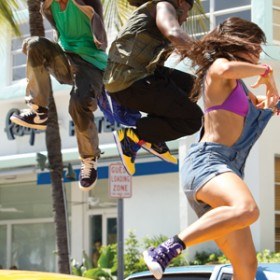 The Mob takes Miami in Step Up Revolution
The wait is over: The fourth Step Up installment (in 3-D, of course) is here! Step Up Revolution takes the fiercest dancers to the streets of Miami. Calling themselves The Mob, these hip hoppers, breakers, poppers and lockers use flash mobs to take down a wealthy businessman who's threatening to destroy their neighborhood. Dance celebrities on set included Mia Michaels, tWitch, Misha Gabriel, Phillip Chbeeb and more. And one of our favorite former "So You Think You Can Dance" contestants, Kathryn McCormick, makes her acting debut as leading lady Emily! She dances opposite hunky Ryan Guzman, also a Hollywood newcomer. DS caught up with McCormick about her exciting first experience starring on the big screen.
Dance Spirit: How'd you land this awesome role?
Kathryn McCormick: It was the first acting audition I'd ever been on, and it was intimidating. When I get nervous, I ramble on and on, so afterward I felt completely embarrassed. But I kept getting callbacks! When I got the call saying I'd won the part, I was on the way to assist "So You Think You Can Dance." I was in shock. I called my mom crying. She was like, "Did you get in a wreck? Are you okay?" I said, "I got the lead in the movie!" Then she started crying, and we had to hang up because we couldn't understand each other. It was funny.
DS: Tell us about your relationship with co-star Ryan Guzman.
KM: Before this movie, Ryan had acted, but he had never danced. I think my time on "SYTYCD" helped me, because I've been in the position of working with someone who isn't as experienced in a certain style. We connected as soon as we met, and we came to be really comfortable with each other. I helped him dance, and he helped me act.
DS: Do you have a favorite scene? 
KM: My heart is in the contemporary duet with Ryan choreographed by Travis Wall, because that's my style. But the most fun day for me was when we filmed Emily's initiation into The Mob. It's when you see her rebellious side come out for the first time. She's dancing on tables in a restaurant, and she has a dress, mask and heels on. It was so much fun to be tossed around from dancer to dancer.
DS: What's next for you? More movies?
KM: I don't know where my life is going, but it will always have dance in it. I'm in acting classes, and I'm going to both acting and dancing auditions. On top of that, I've been doing a little motivational speaking. I'm not one to make too many plans, because so often, the things that actually happen are greater than anything I could have imagined. If you had asked me five years ago what I'd be doing, this wouldn't have been on my list. I just put in the work, leave my heart open and see how it all lines up.
Mark your calendars! Step Up Revolution hits theaters July 27.
Jun. 15, 2017 02:00PM EST
From left: Haley Hartsfield, Kaylin Maggard, and Michelle Quiner (photos by Erin Baiano)
Congratulations to Dance Spirit's 2017 Cover Model Search finalists: Haley Hartsfield, Kaylin Maggard and Michelle Quiner! One of them will win a spot on Dance Spirit's October 2016 cover. Learn more about the dancers on their profile pages, and then vote for your favorite below.
We also want you to get social! We'll be factoring social media likes and shares into our final tallies. Be sure to show your favorite finalist some love on Facebook, Instagram, and Twitter, sharing their profile pages and using the hashtag #DanceSpiritCMS.
Keep reading...
Show less
Performing on a Broadway stage might seem glamorous, but it comes with one of the most grueling schedules a dancer can face. Maintaining your stamina and energy, warding off injury and keeping the material fresh for eight shows a week is no joke. So how do dancers do it? Dance Spirit talked to ensemble members from some of Broadway's danciest shows to get their survival tips.
Keep reading...
Show less
You should know Leiomy Maldonado's name, because she's shaped the way you dance. Called the "Wonder Woman of vogue," the trailblazing artist was the first transgender woman to appear on "America's Best Dance Crew," as part of the Vogue Evolution crew. And her signature "Leiomy Lolly" hair flip has inspired everyone from Beyoncé to FKA Twigs to Willow Smith to, odds are good, your own teachers and choreographers. (Smith even asked Maldonado to appear in the video for "Whip My Hair," to show the world how to do the flip properly.)
Now, Maldonado is the star of a new Nike ad celebrating the queer and transgender dancers who form the heart of the voguing community. Directed by Daisy Zhou, the spot is narrated by transgender artist Precious Angel Ramirez, and showcases Maldonado's extraordinary skills, as well as those of several other dancers from the vogue scene.

Keep reading...
Show less
Jun. 25, 2017 11:00AM EST
via YouTube
...This clip, "'Hamilton' Choreographer Breaks Down His Moves," popped up on my YouTube recommended list. I mean, I could watch Hamilton's dance wizard Andy Blankenbuehler talk about anything. Have you read our interview with him back when he was making the moves for Bandstand? The guy is freaking fascinating.
Keep reading...
Show less


Get Dance Spirit in your inbox