Joe Toreno
If you follow ballet darling Juliet Doherty on Instagram—which you probably do—you already know that the two-time Youth America Grand Prix gold medalist is a self-proclaimed "plant-powered ballerina." Doherty has followed a vegan diet for four years now, and though she never forces her lifestyle on her followers or IRL friends, she does love sharing her daily eats and the plant-based meals and snacks that help her perform at her best. Curious as to what that entails? Here's a day in the life of Juliet's meat-and-dairy-free diet.
I always start my day with a big glass of water.
Today, I squeezed the juice of half a lemon in because I have a lemon tree in the yard and a surplus of them to use! I love adding lemon not only for the flavor, but also because they are alkalizing to the body and help restore a balanced pH, they add extra vitamin C to your diet to fight against colds and the flu, and they increase peristalsis, which helps eliminate waste from the body, and cuts down on that bloated feeling.
Then it's oatmeal for breakfast.
Rolled oats are a go-to breakfast food of mine. They're filling, and the complex carbohydrates along with the protein from the oats gives me sustained energy. Plus they're quick and easy to cook!
Here are all the ingredients I used for my breakfast:
1⁄2 cup rolled oats
2 tbsp ground flaxseed
1 cup frozen organic blueberries
1 banana
2 tbsp maple syrup
I add ground flaxseed for some good omega-3 essential fats. Even Gandhi once said, "Wherever flaxseed becomes a regular food item among the people, there will be better health." I try to incorporate a bit of flaxseed into my food each day either in oats, a smoothie or even salad. The blueberries and banana each have their benefits: antioxidants, fiber, vitamins, minerals, the list goes on and on. I always have different fruits with my breakfast, and they make the oats taste sweeter. Natural maple syrup contains trace minerals like zinc, but I really just added it because it's sooo delicious. This all keeps me fueled through three hours of rehearsal in the morning.
Next up: a quick snack before technique class.
I had an apple and 16 oz. of coconut water with a scoop of chocolate plant protein. Fruit is such a great option for fast energy because your body digests it quickly. I love coconut water, which replenishes the electrolytes lost while sweating. Sometimes I add a bit of plant protein powder if I feel like I want more protein that day. The protein powder I use is a blend of proteins sourced from peas, brown rice, and hemp. Nutrient dense and yummy!
After class, it's time for lunch.
I got lunch from a smoothie bar. I love smoothies because you can pack a lot of nutrition in and you won't feel stuffed while you're dancing. Here's what was in my green smoothie:
1 large banana
1 cup mango
1 cup kale
1 cup spinach
1 tbsp coconut butter
16 oz coconut water
Then it's time for a two-hour pas de deux class, followed by dinner.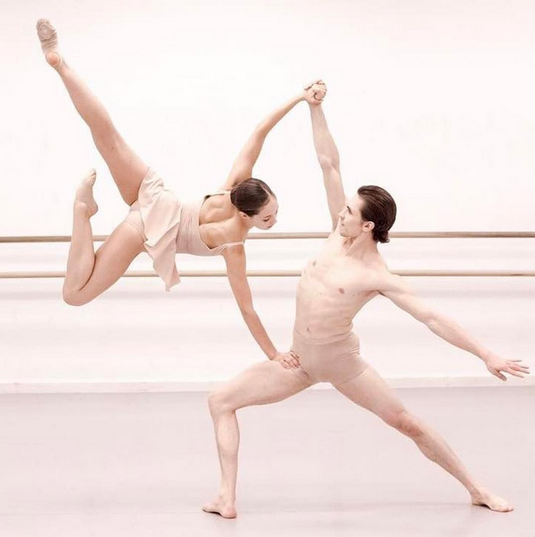 Finally, time to go home and have dinner! I kept it quick and simple tonight by making a salad and popping a sweet potato in the oven. My salad was super high-protein and took less than five mins to put together. Here's what I ate:
1 large handful of arugula
1⁄2 head of romaine heart lettuce
2 stalks of celery
2 cups of garbanzo beans
1⁄4 cup raw sprouted pumpkin seeds
2 tbsp fig balsamic dressing
1 large baked sweet potato
Everyone knows how important it is to get your greens each day. Maybe I'm weird, but I love salads and enjoy the taste of fresh raw veggies. Beans and lentils are so good for you, so I aim to have at least a cup a day. By using two cups of garbanzo beans in my salad I added 30 grams of protein! I topped my salad with some raw sprouted pumpkin seeds. Studies have shown that sprouting seeds boosts their nutritional value and makes them easier to digest. Today I opted for a dressing without oil, but other times when I have fewer fats throughout the day I like to add a little olive oil to my salad.
I'm not afraid of fats!
Natural plant fats such as avocados, nuts and seeds are necessary for the mind and body to function properly. Especially as highly active people, we need fats to recover and repair.
An extra active day requires a stretch and a late-night snack.
If I have time, I like to stretch at night. I feel that helps me sleep better, because my muscles are more relaxed, and I wake up less sore. Tonight I stretched for 30 minutes. A little later in the night, I had a cereal craving. It's important to listen to my body when it's telling me it needs more nourishment! I ate one cup of Kashi Autumn Wheat cereal with a cup of organic soy milk. Kashi cereals are my favorite; they're minimally processed compared to most cereals, and they have very few ingredients, which is always better when it comes to eating packaged foods. I make sure my milk is organic and non-GMO.
Why did I go vegan?
When I ate animal products, I used to have chronic stomachaches. I was always so bloated and uncomfortable. Since eliminating meat and dairy from my diet, I don't get the stomachaches, I feel lighter, and I'm more energized. That's a great feeling to have when you spend the whole day in a leotard, and need to be dancing intensely. I rarely get sick, and have never had a dance-related injury. And I've found it's not hard to nourish my body and thrive as a plant-based athlete.
Here's my advice for going animal-free.
Eat mindfully! Choose foods that will best support your training, performances and recovery. Fueling my body properly is something I consider essential to feeling and performing my best!
Apr. 18, 2017 12:53PM EST
Nearly two years after its Broadway debut, Hamilton is still the hottest ticket in town. The show is still sold out every single night, and for Kamille Upshaw, that means bringing her A-game every night—even if she doesn't end up onstage. As one of the cast's swings, Upshaw may fill in for an injured or vacationing cast member, or she could end up getting called in mid-show if something happens to an ensemble member. (No pressure.) She needs to know all the choreography at all times, and needs to be warmed up no matter what. That also means Upshaw, a Juilliard grad and former Dance Spirit cover girl, needs to fuel her body properly so it can be ready to rock in a moment's notice. What does that entail? We got Upshaw to dish on what a day in the life of her diet is like.
8:30 am: Breakfast
"Breakfast is half a bagel with three eggs and two pieces of bacon," Upshaw says. "I like to have a full breakfast to make sure I give my engine enough fuel."
11:30 am: Snack
"Time for some sunflower seeds," Upshaw shares. "They really help keep my energy up until I break for lunch. I also drink a lot of water throughout the day. Warning: It makes you pee a lot."
12 pm: Treat break!
"Sometimes during rehearsal we get treats," Upshaw says. "Today it was Dunkin Donuts."
2 pm: Lunchtime
"It's always so hard for me to figure out what I want to eat for lunch because there are so many options near the theater," says Upshaw. "Today I chose Green Symphony, which has fresh protein shakes and smoothies along with a variety of food. I got a Funky Monkey shake—it's banana, peanut butter, and rice milk—and a curry chicken salad wrap with avocado."
8 pm: Dinner
"Nothing fancy tonight," says Upshaw, who didn't have to perform in that evening's show. "Chicken breast with Brussels sprouts and couscous."
Mar. 10, 2017 09:14PM EST
A foam roller can be a dancer's best friend—when it's used properly. We break down the basics of foam rolling to keep your hips, calves and hamstrings (and everything in between) happy.
Consultant: Alaina Hesse, of Neurosport PT.
Modeled by: Madeline Doerr
Mar. 27, 2017 07:25PM EST
Before each Pacific Northwest Ballet show at Seattle's McCaw Hall, the green room is full of stretching dancers—and massage therapists. "If a dancer is about to go out onstage but their calf is hurting, we get them on the table, loosen up the calf and send them out," says Christopher Kagen, LMP, who coordinates massage therapy services for the company. A preshow massage increases blood flow to the injured tissue and, Kagen explains, more blood means more oxygen and more energy. The presence of a backstage therapist highlights the importance of massage for dancers. "Massage helps to decrease tension in the muscles and increases the body's healing response," says Johann Howard, DPT, of the NYU Langone Harkness Center for Dance Injuries. Dance Spirit turned to the experts to demystify five different types of massage and what they can do for dancers.
Swedish Massage
If you have no specific complaints but want a generic massage, the pros recommend Swedish massage. "It's a full-body massage and you'll feel like dough on a bread board," Kagen says. Swedish massage can be part of a regular massage routine. There's just one caveat, which applies to all massage types: Cool down first. "You never want to work on a dancer who's still hot and sweaty from whatever they've just been doing," Kagen says. Doing so risks damaging tissues that are inflamed from exertion, which can lead to bruising or soreness.
Sports Massage
Sports massages are categorized by when they take place: pre-, intra- and post-event, where events are classes, rehearsals and performances. Pre-event massages are common, while intra- and post-event massages are less likely. Generally, sports massage is used as a form of treatment rather than relaxation. The bulk of sports massage for dancers addresses an injury or physical limitation—such as range of motion in the shoulders (particularly for men doing lifts) or reduced spinal mobility. Sports massage may include myofascial massage, neuromuscular masssage and trigger-point therapy. All three of these massage types can be either superficial or deep; in the latter case, they can also be called "deep-tissue massage."
Myofascial Massage
Myofascial massage, as the name suggests, tends to muscles and the connective tissues, called fasciae, that surround and nourish them. Fasciae can get torn and, under stress, stick to muscles, other fasciae, or tendons and ligaments, Kagen says. Myofascial massage unsticks the muscles and fasciae, so they can slide past each other with ease. Myofascial massage can feel like a gentle-to-deep stretch in the area being treated. Because it often involves stroking, myofascial massage creates friction, so you may also feel a warming sensation. Like other sports massages, it's used on injuries or limitations and—gently—as a preshow massage.
Neuromuscular Massage
"When a muscle is tight in the body, it's because your nervous system is telling it to be tight," Kagen says. This type of massage involves teaching nerves to relax so that they can, in turn, relax muscles and increase the range of motion in your joints. A neuromuscular massage might include guided stretching motions in which you push or pull (your head against your resisting hand, for example), or you might be more passive as the therapist works on you. This treatment massage is usually used between performances. Neuromuscular massage before a show risks throwing a dancer off by changing the way his or her body reacts to its own instructions.
Trigger-Point Therapy
This therapy involves identifying and dissolving muscular knots, which form at sites of injury and repetitive stress, and can then cause pain elsewhere in the body. Trigger-point massage can feel like prolonged pressure on the trigger point to release the muscle contraction. This is primarily a massage to treat injury, pain or limitation.
Deep-Tissue Massage
"Deep-tissue massage just means you're targeting deeper things, like ligaments, tendons and deep muscles," Kagen says. This massage can help relieve chronic muscle tension, says Jessica Labunski, LMT, of Athletico Physical Therapy, in Chicago. Like any sports massage, it can also be used to aid injury treatment or address limitations. It's the style that she, Howard and Kagen most commonly use on dancers. But deep-tissue is not a good choice for the green room. "You don't want to perform any techniques that would completely relax the athlete or create a drastic increase in range of motion, because they may not be used to the additional movement," Labunski says. In fact, because deep-tissue work can leave you sore, Labunski recommends leaving a few days between your massage and intense dancing.
Don't Stress It
Though dancers should avoid strenuous massage before shows or before they've cooled down, the choice of massage type is not something to agonize over. Your therapist will assess the situation and determine what would most benefit you. "Any style of massage will help you achieve easier, freer movement," Kagen says.
A version of this story appeared in the January 2017 issue of Dance Spirit.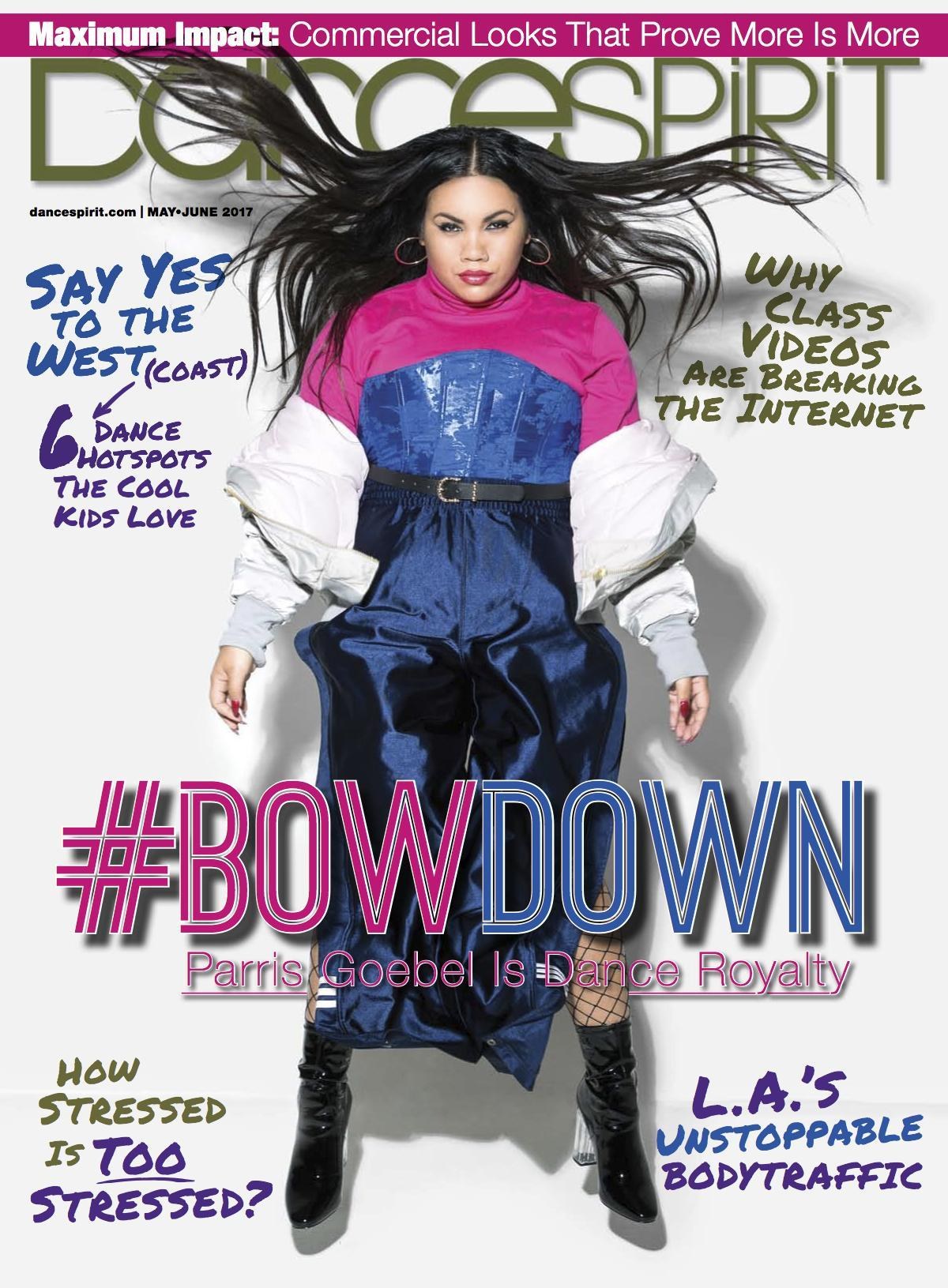 Featured College Dance Program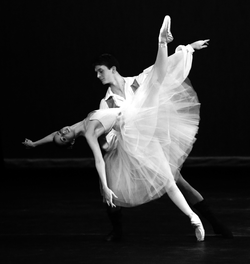 Get Dance Spirit in your inbox