Oh hey there, Hallmark Channel! The producer of all those sweet, homey movies best watched in your PJs with your mom has a super dance-y film on its holiday lineup this season: A Nutcracker Christmas. And the casting is—to use a very Hallmark-y pun—perfectly on pointe.
A Nutcracker Christmas tells the story of a talented professional dancer, Lilly, whose supportive sister dies just as Lilly is about to perform the role of Clara in The Nutcracker with New York City Ballet. (Nit-picky fact-checking: In New York City Ballet's Nutcracker, she's known as Marie and danced by a child, but OK.) Lilly's boyfriend and dance partner, Mark, keeps her from performing in the show, which makes Lilly declare she'll never dance again. Fast-forward a couple of decades, and Lilly's niece, Sadie, is about to dance Clara in a different company's Nutcracker—a company run by, of all people, Mark. And tons of drama ensues.
Yes, it's a whole lot of plot to wrap your head around. But the real story here is that Sadie is played by none other than the phenomenal Sophia Lucia, and the ever-dashing Sascha Radetsky is also involved in the project. (Radetsky's exact role is unclear from the press material, but he seems like a pretty natural fit for Mark, no?) The odds seem good that we'll get the gift of some very high-quality dancing. Merry Christmas to us!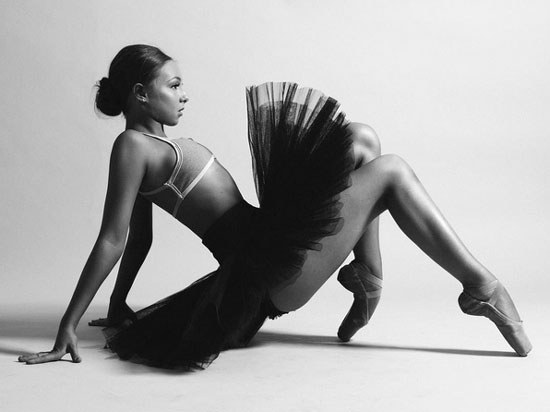 Sophia Lucia showing off those banana feet (via @sophialucia5678)
You can catch A Nutcracker Christmas on December 10 at 8 pm. Get your slippers and hot cocoa ready.
Popular
Mar. 23, 2017 01:14PM EST
(Rosalie O'Connor, courtesy BAE)
Consistent turns are a must for aspiring professional dancers, but pretty much everyone struggles with pirouettes at some point. Luckily, since we're all beholden to the same rules of physics, there are concrete steps every dancer can take to reach his or her top turning potential. "Three is the new two when it comes to pirouettes, but the secret to turning is technique, not magic," says Bojan Spassoff, president and director of The Rock School for Dance Education in Philadelphia.
Falling out of your doubles? Aspiring to go revolution for revolution with your class's star turner? No matter where you lie on the turning spectrum, our 360-degree guide to pirouettes will help you improve.
Keep reading...
Show less
One of the most beautiful things social media has brought us is the ability to feel like we're up close and personal behind-the-scenes with all our favorite dancers. And one of our favorite stars to Insta-stalk are actually two casts of 36 scintillatingly synchronized precision dancers. I'm talking, of course, about my mild obsession with the legendary Radio City Rockettes.
Keep reading...
Show less
(via @tran247fitness on Instagram)
Have we mentioned lately how much we love dance dads? Especially ones who show up to their daughter's ballet class sporting a tutu, like Thanh Tran.
Keep reading...
Show less
Nov. 17, 2017 12:50PM EST
Thinkstock
You've seen it a million times: A glamorous, toned dancer posts a perfectly styled shot of her colorful smoothie bowl. The caption gushes about how great you'll feel if you eat "clean"—but what does that actually mean? DS asked registered dietitian/nutritionist Rachel Fine and holistic health coach (and founder of The Whole Dancer) Jess Spinner for all of the dirt.
Keep reading...
Show less
Photo by Travis Kelley, courtesy Kathryn Morgan
In our "Dear Katie" series, former NYCB soloist Kathryn Morgan answers your pressing dance questions. Have something you want to ask Katie? Email dearkatie@dancespirit.comfor a chance to be featured!
Dear Katie,
I'm being bullied by one of the girls at my studio, and it's awful. I've talked to my dance teacher and confronted the bully directly, but it hasn't made a difference. What should I do?
Faith
Keep reading...
Show less