You've Never Seen Ballroom Like This Before
I have a bit of a ballroom problem.
OK: a MAJOR ballroom problem.
I'm obsessed with high-level ballroom dancing. It's so exacting, so technical—and, in the hands (and feet) of the right dancers, so full of passion and genuine feeling.
But, yes—sometimes the ballroom world's self-tanner and sequins and hair gel can be a little...off-putting. Which is why I love, love, LOVE this new video, masterminded by contemporary choreographer extraordinaire Lauren Adams.
Set to James Bay's oh-so-soulful "Let It Go"—Adams was one of a handful of artists picked by Bay and his team to enter the #DanceOnJamesBay competition—it features gorgeous world-class ballroom dancers Daniella Karagach and Pasha Paskov. Adams pares away all the glitz of ballroom competitions; Karagach and Paskov dance in simple rehearsal clothes in an unadorned studio. And that allows us to see a) just how good they are at what they do, and b) just how powerfully they connect to the music—and to each other.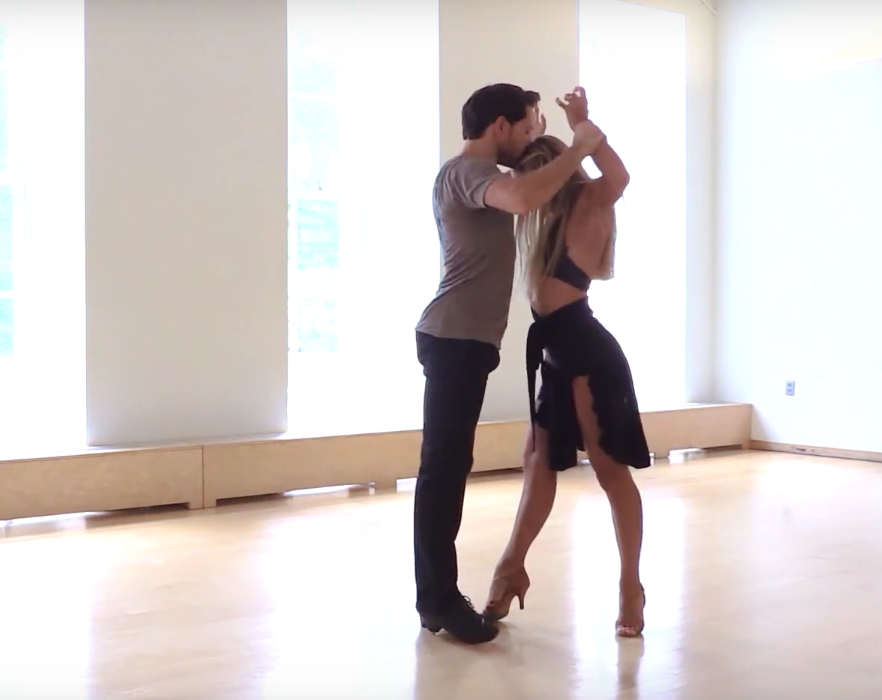 So much heat. So much LEGS. (screenshot from "Let It Go")
That connection is real. Because—get ready to swoon—Karagach and Paskov are recently married. Their chemistry just oozes through the screen, making the story they're telling even more moving.
Happy Friday, y'all:
(From left) ABT's Erica Lall; NYCB's India Bradley; Washington Ballet's Nardia Boodoo; NYCB's Rachel Hutsell (all photos by Rachel Neville)
Misty Copeland. Her name is synonymous with exquisite artistry and outspoken advocacy. And her visibility has made a huge impact on the ballet world. Ballet's relationship with race has always been strained at best, hostile at worst. But Copeland's persistent message and star quality have finally forced the ballet industry to start talking about racial diversity, inclusivity, and representation. "The rarity of seeing ourselves represented is sad," Copeland says. "The more we see every hue and body shape represented on the stage, the more possibilities young dancers feel they have for themselves."
Keep reading...
Show less
Screenshot via NowThis on Facebook
The Olympics are always full of inspiring Cinderella stories, where athletes no one had heard of mere months ago end up blowing all expectations out of the water, and maybe even nabbing a medal in the bargain. But we've recently caught wind of a different kind of Cinderella story—and it's one we really, really hope shows up in the Closing Ceremonies of the PyeongChang Olympics, airing tonight on NBC starting at 8 pm Eastern/5 pm Pacific time.
Keep reading...
Show less
Being a dancer comes with the task of having to entertain the same questions over and over again from those outside the dance world. Of course, we love having our friends and family take an interest in our passion—but if someone asks ONE MORE TIME whether or not we've met Travis Wall, we might just go crazy.
Here are 10 questions that dancers hate getting asked.
Keep reading...
Show less
ABT JKO School student Miuka Kadoi shoiwng off her beautiful line (photo by Kenneth Edwards)
Contemporary phenom Christina Ricucci has super-flexible hips, which means she can stretch her legs to unbelievable heights. But when she noticed herself making contorted positions in class, Ricucci realized she was approaching her extensions all wrong. "I went back to the basics in class, squaring my hips and using my turnout," Ricucci says. "I learned to create proper positions, rather than whacked-out versions of them."
Some dancers are so wonky they have a hard time supporting their high legs, while others struggle with limited flexibility. But no matter your facility, you can find a balance of stretch and strength to achieve your fullest range of extension. It's not about how high (or not) your legs can go: It's the quality of the movement, and how you get those legs up, that counts.
Keep reading...
Show less
Our nominees (clockwise from top left): Roberto Campanella, Aurélie Dupont, Ashley Wallen, and Anthony Van Laast
Last month, we asked why there wasn't a Best Choreography category at the Oscars—and discovered that many of you agreed with us: Choreographers should definitely be acknowledged for their work on the super-dancy movies we can't get enough of.
Now, we're taking matters into our own (jazz) hands.
We've decided to create a Dance Spirit award for the best cinematic choreography of 2017. With your input, we've narrowed the field to four choreographers whose moves lit up some of the best movies of the year. Check out our nominations for best choreography below—and vote for the choreographer you think deserves the honor. We'll announce the winner on Friday, March 2.


Get Dance Spirit in your inbox