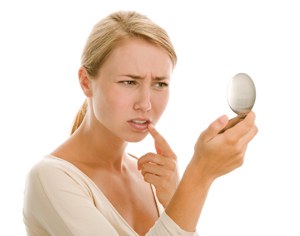 Formfitting leotards, makeup and lots of sweat are part of every dancer's day. But they can also create the perfect breeding ground for acne and skin irritation. Here, dermatologists D'Anne Kleinsmith, MD, and Daniela Kroshinsky, MD, share their advice for keeping your skin clear and radiant.
Beat the Breakout
• Take care of your skin every day. "Using products that contain salicylic acid and glycolic acid should be part of your daily regimen," Kleinsmith says. We love: Neutrogena Oil-Free Acne Wash
• Immediately after a rehearsal or performance, remove oil and bacteria from your skin with wipes that contain salicylic acid. If you have a chance to wipe off between classes or routines—even if you're planning on getting sweaty again—do it. We Love: Aveeno Clear Complexion Daily Cleansing Pads
• Always remove your makeup before bed. "Some of the main contributors to acne are blocked pores, which happen naturally in teens due to shifting hormone levels and increased oil production in the skin. But products like makeup can cause blockages, too," Kroshinsky explains. "Wipe off your makeup each night to keep the skin open and breathing."
Nix the Zit 
• "To get rid of a swollen pimple quickly, apply ice to reduce inflammation. Then, dab on an acne-fighting cleanser that contains benzoyl peroxide to help dry the zit out quickly," Kroshinsky says. We love: Clearasil Daily Clear Vanishing Acne Treatment Cream
• If a zit is really red, apply a hydrocortisone cream. "It will lessen the inflammation, redness and soreness of the spot," Kleinsmith says.
Don't pop it! Picking at your pimples can cause scarring and skin discoloration.
If you're using wipes between numbers at a competition or performance, check the ingredients. "Make sure your wipes don't contain benzoyl peroxide, which will bleach out the color in your costumes," Kleinsmith says.
If you have continual breakouts and over-the-counter products aren't helping, it's time to see a dermatologist.
Kalani Hilliker made "Dance Moms" fans sit up a little straighter when she first appeared on "Abby's Ultimate Dance Competition" back in 2013. The then–12-year-old ballerina had charisma, she had sass—and, wow, did she have technique! Abby Lee Miller, the show's infamous host, saw Kalani's star potential from the start, saving her from elimination and ultimately inviting her to perform alongside Maddie Ziegler on Season 4 of "Dance Moms." "I was never supposed to be on 'Dance Moms' beyond that one performance," says Kalani, now 16, but she ended up staying on the show for the whole season—and the following three. "It was my first time, but not my last time, causing drama. And it was also the first time I got to meet the other dancers, who have become like sisters."
Keep reading...
Show less
courtesy Jane Antonia Cornish
Translation: New York City Ballet principal dancer Ask La Cour's choreography for himself and the luxuriantly leggy Sara Michelle Murawski totally. nails. it.
Keep reading...
Show less
Kirsten Evans @settingthebarre
You may already know Apolla Shocks are able to replace your current footwear and dance shoes because of the durability, aesthetics, and traction, BUT there are many other reasons to ALWAYS keep a pair in your dance bag. BESIDES wearing them in class or onstage:
Keep reading...
Show less
Isaac Hernández in "Despertares" (via Vimeo)
Move over, Sergei Polunin*: There's a new ballet heartthrob in town.
Well, not "new," exactly: The fabulously talented Isaac Hernández has been a lead principal with the English National Ballet since 2015, and previously danced with Dutch National Ballet and San Francisco Ballet. (He's also part of a distinguished dance family: You met his brother, SFB corps member Esteban, in our March issue roundup of up-and-coming danseurs.)
But a dreamy new video by filmmaker Ezra Hurwitz—"Despertares" [Wake Up], featuring Hernández dancing in studios and on rooftops all over NYC—makes a strong case for this beautiful dancer becoming your next ballet crush:
Keep reading...
Show less


Get Dance Spirit in your inbox