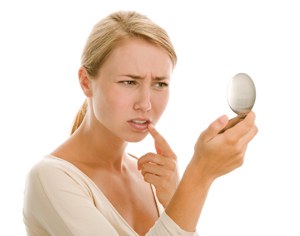 Formfitting leotards, makeup and lots of sweat are part of every dancer's day. But they can also create the perfect breeding ground for acne and skin irritation. Here, dermatologists D'Anne Kleinsmith, MD, and Daniela Kroshinsky, MD, share their advice for keeping your skin clear and radiant.
Beat the Breakout
• Take care of your skin every day. "Using products that contain salicylic acid and glycolic acid should be part of your daily regimen," Kleinsmith says. We love: Neutrogena Oil-Free Acne Wash
• Immediately after a rehearsal or performance, remove oil and bacteria from your skin with wipes that contain salicylic acid. If you have a chance to wipe off between classes or routines—even if you're planning on getting sweaty again—do it. We Love: Aveeno Clear Complexion Daily Cleansing Pads
• Always remove your makeup before bed. "Some of the main contributors to acne are blocked pores, which happen naturally in teens due to shifting hormone levels and increased oil production in the skin. But products like makeup can cause blockages, too," Kroshinsky explains. "Wipe off your makeup each night to keep the skin open and breathing."
Nix the Zit 
• "To get rid of a swollen pimple quickly, apply ice to reduce inflammation. Then, dab on an acne-fighting cleanser that contains benzoyl peroxide to help dry the zit out quickly," Kroshinsky says. We love: Clearasil Daily Clear Vanishing Acne Treatment Cream
• If a zit is really red, apply a hydrocortisone cream. "It will lessen the inflammation, redness and soreness of the spot," Kleinsmith says.
Don't pop it! Picking at your pimples can cause scarring and skin discoloration.
If you're using wipes between numbers at a competition or performance, check the ingredients. "Make sure your wipes don't contain benzoyl peroxide, which will bleach out the color in your costumes," Kleinsmith says.
If you have continual breakouts and over-the-counter products aren't helping, it's time to see a dermatologist.
Erin Carpenter as a Knicks City Dancer (David Safran, courtesy of Erin Carpenter)
The groundwork for Erin Carpenter's company, Nude Barre, began when she was a teenager. At 16, she earned a spot in the residency program at The Kennedy Center in partnership with Dance Theatre of Harlem. "We were required to wear nude—as in, our actual skin tone—tights and shoes," she remembers. Carpenter brought her "sun tan" tights and a pair of pink ballet shoes with her, because that was all she could find. But she wasn't allowed in class because her dancewear didn't match her skin. "I was so embarrassed," she says. "I looked unprepared. I just didn't have the right nudes." Her teacher explained that the dancers dyed their tights and pancaked their shoes.
Keep reading...
Show less
Via @whitneybugs on Instagram
There are dancers and then there are DANCERS! Whitney Jensen, soloist at Norwegian National Ballet, is the latter. The former Boston Ballet principal can do it all. From contemporary to the classics this prima has the technical talent most bunheads dream about. Need proof? Look no further.
Keep reading...
Show less
Jul. 19, 2017 04:53PM EST
Via YouTube
Luis Fonsi and Daddy Yankee's dance inducing hit, "Despacito," is so catchy it should probably come with a disclaimer that warns people of an uncontrollable itch to tap your feet or bob your head. Some might even feel inclined to go all out and break it down. Niana Guerrero is a prime example of "Despacito's" uncanny ability to unleash the red dressed emoji dancer within. 💃🏽 💃🏽
Keep reading...
Show less
Jul. 19, 2017 04:25PM EST
(courtesy NBC)
Guys, we all knew this was coming—"World of Dance" was eventually going to eliminate someone. But man, is it brutal to watch these talented dancers give their all, only to be sent home. It's the name of the game, though, and after last night's episode, only two dancers per division remain. (At least Misty Copeland guest-judging was a silver lining!) Here's what went down last night:
Keep reading...
Show less


Get Dance Spirit in your inbox