Mar. 28, 2017 02:26PM EST
10 Quick Questions With Ida Saki
Erin Baiano
The first time you saw Ida Saki may have been on the October 2009 cover of Dance Spirit. At the time, 17-year-old Ida was a competition dancer from Texas, where she trained at Dance Industry Performing Arts Center. That same year, Ida won the coveted Senior Outstanding Dancer title at New York City Dance Alliance Nationals, and then enrolled at the Tisch School of the Arts at New York University. From there, she joined Cedar Lake Contemporary Ballet—she landed her second Dance Spirit cover with the group in 2014—and was named one of Dance Magazine's 25 to Watch. Now, Ida performs nightly in Sleep No More in NYC. We sat down with the girl with the #flawless feet to pick her brain about her morning routine, her dance-related must-haves and what's on her current playlist.

---
1. What's the first thing you do when you wake up in the morning, and what's the last thing you do before bed every night?
As soon as I wake up, I drink some water and make coffee. And right before bed, I like to listen to relaxing music and do some light stretching.
2. What are three things you eat every day?
Bananas, eggs, and spinach or kale.
3. What are three things you can't dance without?
Music, my Nalgene water bottle and a good pair of socks.
4. In your very expert opinion, what's the best dance movie of all-time?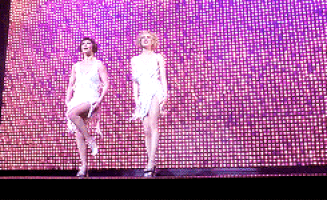 My all-time favorite movie is Moulin Rouge! But specifically for dancing, I'd go with Chicago.
5. If you were given one hour to take class from any instructor, who would you choose?
Ohad Naharin
6. What's your favorite place you've ever performed?
Torino, Italy

7. What songs are in heavy rotation on your playlist right now?
"Blind" by Hercules & Love Affair, "Cold Little Heart" by Michael Kiwanuka, and "Walt Grace's Submarine Test, January 1967" by John Mayer.
8. Other than dance, what's your favorite way to break a sweat?
Brian Guilliaux
Yoga. I always use it to warm-up on my own, and I love taking yoga classes.

9. What's your favorite way to spend a Sunday?
Relaxing! I love going to the park on a nice day or watching a movie and making dinner.

10. What has been the single greatest moment in your dance career so far?
Ida receiving her Presidential Scholar in the Arts award. NBD.
Courtesy Ida Saki
It was a great honor to receive the Presidential Scholar in the Arts award. It was my first time performing at the Kennedy Center in Washington, D.C., and it was an added bonus that it was alongside one of my best friends.
Dancer to Dancer
Jun. 15, 2019 10:12AM EST
(From left) Darriel Johnakin, Diego Pasillas, and Emma Sutherland (all photos by Erin Baiano)
Congratulations to Dance Spirit's 2019 Cover Model Search finalists: Darriel Johnakin, Diego Pasillas, and Emma Sutherland! One of them will win a spot on Dance Spirit's Fall 2019 cover. Learn more about the dancers on their profile pages, and then vote for your favorite below. You can vote once a day now through July 15.
We also want you to get social! We'll be factoring social media likes and shares into our final tallies. Be sure to show your favorite finalist some love on Facebook, Instagram, and Twitter, sharing their profile pages and using the hashtag #DanceSpiritCMS.
Cover Model Search
Jun. 13, 2019 02:20PM EST
Photo by Erin Baiano
Imagine attending American Ballet Theatre's prestigious NYC summer intensive, training among classical ballet legends. Imagine taking the stage at New York City Dance Alliance Nationals, competing against some of the country's best contemporary dancers. Now, imagine doing both—at the same time.
Welcome to Madison Brown's world. This summer, she's in her third year as a National Training Scholar with ABT, while also competing for NYCDA's Teen Outstanding Dancer title. (She's already won Outstanding Dancer in the Mini and Junior categories.) The logistics are complicated—ABT's five-week intensive overlaps with the weeklong NYCDA Nationals, which translates to a lot of cabs back and forth across Manhattan—but Maddie is committed to making the most of each opportunity. "I love contemporary and ballet equally," she says. "While I'm able to do both, I want to do as much as I can."
Maddie has an expressive face, endless extensions, and a quiet command of the stage. She dances with remarkable maturity—a trait noted by none other than Jennifer Lopez, one of the judges on NBC's "World of Dance," on which Maddie competed in Season 2. Although Maddie didn't take home the show's top prize, she was proud to be the youngest remaining soloist when she was eliminated, and saw the whole experience as an opportunity to grow. After all, she's just getting started. Oh, that's right—did we mention Maddie's only 14?
Cover Story
Jun. 15, 2019 10:00AM EST
Photo by Erin Baiano
There's a story Kate Walker, director of dance at Booker T. Washington High School for the Performing and Visual Arts in Dallas, TX, loves to tell about Emma Sutherland, who just graduated from the program. "We were watching the students run a really long, challenging piece," Walker recalls. "Several kids couldn't quite make it through. But Emma did make it all the way to the end, which is when she walked up to us faculty and very politely asked, 'May I please go throw up?' "
Cover Model Search