Sep. 05, 2012 09:28AM EST
10 Things We Learned From "All the Right Moves" Episode 4
"I will bury you far underground. You'll be saying hi to the Chinese by the time I get done burying you." —Nick Lazzarini, Voice of Reason, "All the Right Moves"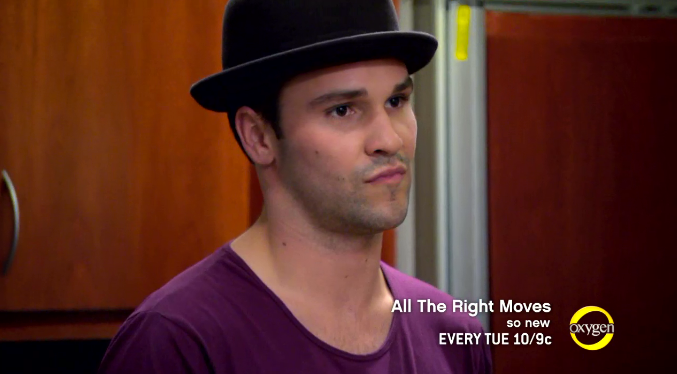 Last night on "All the Right Moves," there was convention dancing (at NUVO, with brief appearances by Denise Wall and Chantel Aguirre!), there was love triangle drama (Kyle, Teddy, Noelle, work it out, come on now) and there was allergic banana eating (why did you do that Travis, why?!). Overall, I'd say it was a good episode even though there wasn't enough Nick for my liking. But, as always, there were many lessons to be learned.
1. Kyle is so kind and forgiving and handsome. As the episode starts, we're back in Kyle's bedroom, which is an OK place to be, and we're apparently still harping on the whole "Teddy kissed Kyle's girlfriend because he was drunk off tequila" situation. Kyle says he wants to hit Teddy! It's so aggressive and violent! Luckily, the cameras take us along on Kyle's date with Noelle later that night. Her hair looks fantastic, but I hate her because she made Kyle sad. (J/K, Noelle, totally don't hate you. You're pretty and you can rock a center part like few ladies can.)
Kyle confronts Pretty Center Hair Part Noelle, and she says she and Teddy were drunk when "the kiss" happened, and all I can think is, "Noelle, you should not have had the tequila, and you should not have kissed Teddy and also, how do you wear red lipstick without it smudging on your teeth?" Then everyone starts crying, and sadness fills the restaurant, and still Noelle's makeup is smudge-proof.

Later, Kyle and Nick are hanging out in the graphic design place (Seriously, where are they? Is that a loft? An attic?) and Teddy doesn't quite apologize to Kyle, which is crap, and yet Kyle is nice and stuff.
2. These boys love tank tops. Travis, Teddy, where are your sleeves?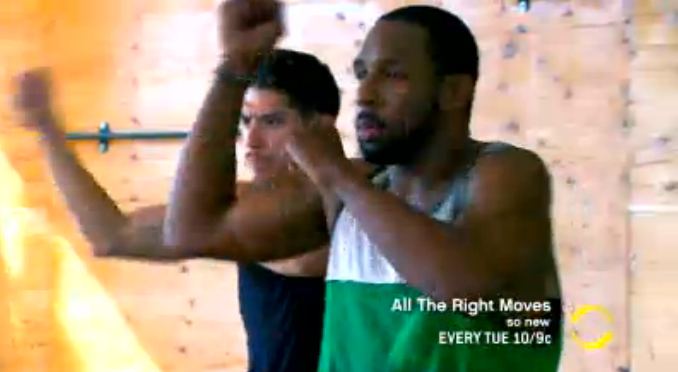 3. tWitch and Bryan Tanaka should be regulars on this show. Do you know why? Because they're talented. Also because they're charismatic. But most importantly, because they are hot. tWitch is undoubtedly one of my favorite dancers right now, and when he's onscreen I cannot turn away. Plus, they were dancing to Calvin Harris, and the music was like, "I feel so close to you right now" and in my head that was all true. I really did feel so close to tWitch right then. But he's taken. You knew that already. And his girlfriend is pretty darn cute.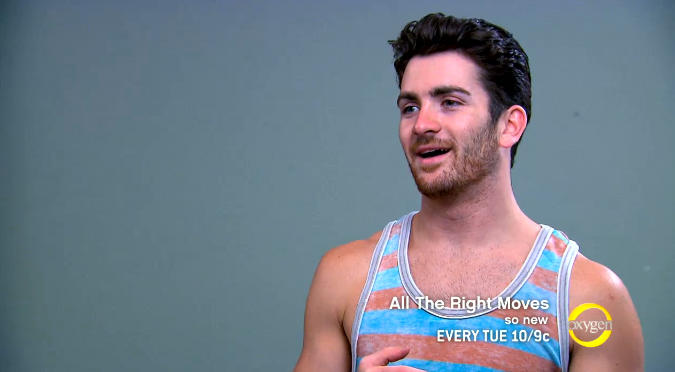 4. This was so not Teddy's episode. I've met Teddy. We spent a day together during Dance Spirit's Shaping Sound cover shoot back in February, and he was great. He was nice, he was helpful and he was very genuine. So I'm not sure what's coming across on camera, but Oxygen seems to want to make Mr. Bohemian a bit of a bad guy. And I don't think he's a bad guy. I guess that's "reality TV" for you.
In the course of this episode, we saw Teddy not apologize to Kyle and then ditch his bros for NUVO-fest 2012. Plus, Teddy turns in his "So You Think You Can Dance" submission two weeks late. Evil Teddy! Bad Friend Teddy! Unprofessional Teddy! Tank Top Teddy! (Really, Oxygen, just let the guy dance. Kid's got moves.) OK one last thing: Why did everyone know about the "Dancing with the Stars" rehearsal schedule except Teddy?
5. I don't get it. Kyle was always planning to go to NUVO...and yet...he wasn't going to be in the trio? That makes no sense. Why would he be there if they weren't planning to have him dance with the company?
6. The sequined backpack is basically the fifth roommate, and it is my favorite roommate. You other guys are cool, but every time I catch a glimpse of those sparkling sequins, I want to reach through my TV screen, rip those backpack straps off Travis's back and steal his sweet accessory. He could at least drop hints as to where he bought that thing. I've never wanted an onscreen item so badly. Give a girl a clue, Trav!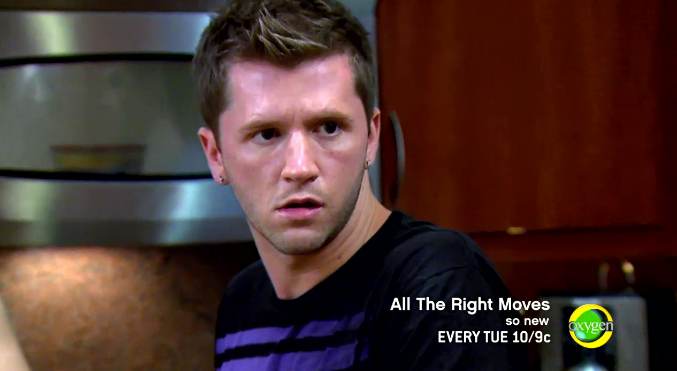 7. Travis gets so stressed. So so so stressed. When Nick calls to say his rib exploded out of his body and snapped in half (something like that—I zoned out for a second) and that he may not be able to perform with the guys at NUVO, Kyle is like, "No worries dude, we'll make it work" and Travis is like "DIJFADKAFLIEGH, OHMIGOD, WHAT ARE WE GONNA DO, I NEED TO COLLECT MY THOUGHTS."
Travis, if you are reading this (Hi!), let me tell you something directly: You. Are. Talented. You have good choreography. You have exceptional dancers. Everything will be fiiiiine. You just need to breathe through all this and let things come together, because they always come together. A little stress is good because it means you care, but too much stress will make you sick. More deep breaths, fewer panic attacks, and it's all good. Deal? No more water bottle throwing, K?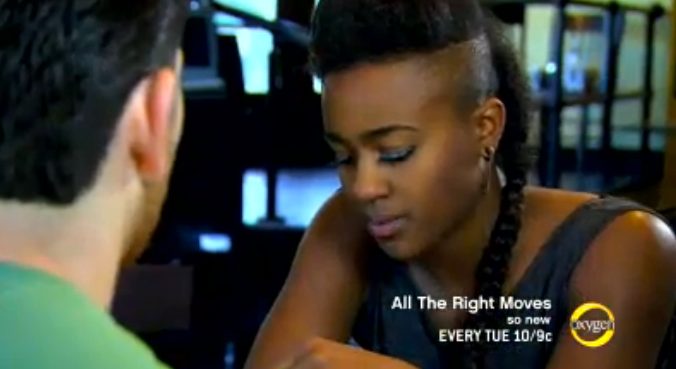 8. As predicted, Taja's hair bouf did, in fact, get bigger this week. It continues to grow and at this point I am wondering if she is harboring a tiny fugitive in there. Or maybe a pigeon. It's a big bouf. Also, I think Taja is stunning and I think she has a killer, super-strong dance body. Work it, Taja. Buy that $500 knit woven bathing suit thing! If anyone can pull it off, it's you, Taj.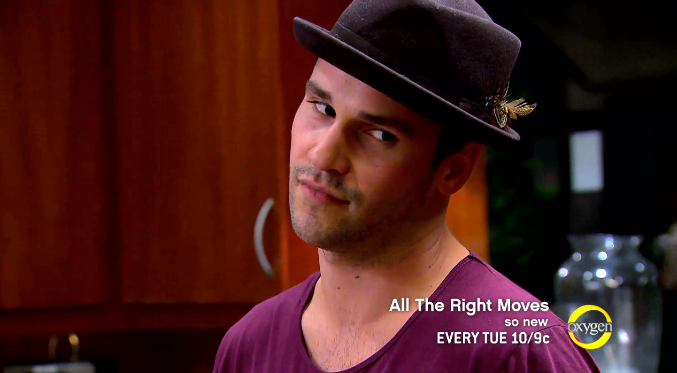 9. Nick is an exceptional friend with really white, straight teeth. Even with a dislocated rib, Nick showed up at NUVO to be supportive. Maybe it's just because, as he put it, "I love Kyle...in more ways than one." But I really do adore Nick and think he's an awesome asset to this group. Yeah he's cute and yeah he's a really good dancer, but he also seems really caring and like he wants what's best for the group and each of its members. And as Nick eloquently says when Travis is freaking out about the choreography, "There's always time for a joke." Granted Nick's jokes were "homoerotic ones" about Kyle, but he's right. Less stressing, more playing.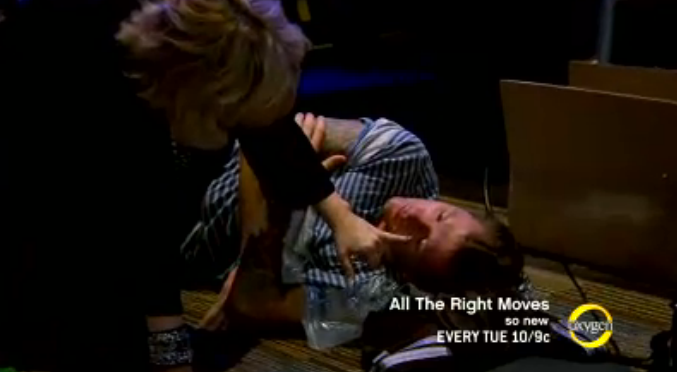 10. We don't always learn from our mistakes and sometimes we just want to eat a banana. Travis is allergic to bananas! He knows he's allergic to bananas! But he still munched on a banana! Why would he do that?! Luckily, Travis's banana ingestion and near-death (OK, allergic) reaction lent itself to some classic lines from Nick. "There goes the big Shaping Sound debut." Why? Because Travis ate a banana.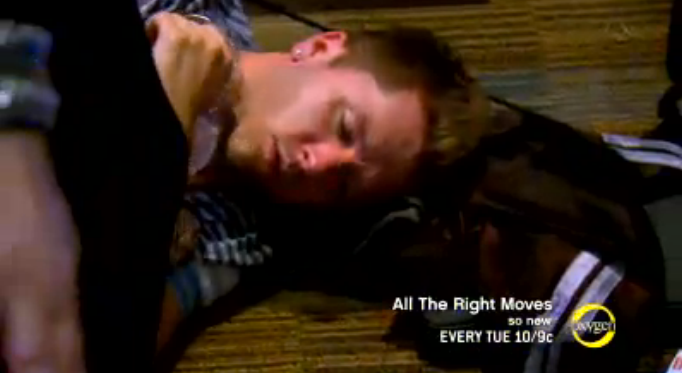 So, moments before the NUVO performance, we're down to just one healthy dancer: Hot Kyle. "It's like Final Destination for dancers," he says. To which Nick responds, "This has happened before...when he eats bananas and when he gets stressed."
But wait! Then there were two again! Travis is going to fight through the Attack of the Killer Banana, and he's going to perform! I love that Kyle and Travis didn't do a classic contemporary routine and instead they went for something a bit more upbeat and jazzy. I could have done without the terrible slow-motion filming (work on that, Oxygen—whatcha doin?) but I was digging the crazy headstand-pop-legs-out move (the technical term, of course) that Travis did. Fun performance! And Travis was happy with it, which was a relief. And it warmed my heart when Travis said, "You did a great job, Kyle, thank you." Yay!
Of course, it's not a happy ending, because as soon as the bromance-brodance boys exit the NUVO hotel, Nick gets a text from Teddy. Taja is thinking about leaving the company OMG. Travis lays down the law later though, and is all, "This is not the Taja show." Not everyone has all the right moves I guess.
To wrap this up: It appears as though Travis's sparkly sweet knapsack is adorned with an Adidas logo, which helps with my shopping investigation...ON IT!
Next week: Taja's bouf blows in the wind during a confrontational with Travis! The boys have to build a stage in two weeks! Travis is stressed! The guys dance with fedoras!
It's going to be a good one. Until then, tell us what you thought of this week's episode. Did you dig it?
Dance News
Jun. 15, 2019 10:12AM EST
(From left) Darriel Johnakin, Diego Pasillas, and Emma Sutherland (all photos by Erin Baiano)
Congratulations to Dance Spirit's 2019 Cover Model Search finalists: Darriel Johnakin, Diego Pasillas, and Emma Sutherland! One of them will win a spot on Dance Spirit's Fall 2019 cover. Learn more about the dancers on their profile pages, and then vote for your favorite below. You can vote once a day now through July 15.
We also want you to get social! We'll be factoring social media likes and shares into our final tallies. Be sure to show your favorite finalist some love on Facebook, Instagram, and Twitter, sharing their profile pages and using the hashtag #DanceSpiritCMS.
Cover Model Search
Jun. 13, 2019 02:20PM EST
Photo by Erin Baiano
Imagine attending American Ballet Theatre's prestigious NYC summer intensive, training among classical ballet legends. Imagine taking the stage at New York City Dance Alliance Nationals, competing against some of the country's best contemporary dancers. Now, imagine doing both—at the same time.
Welcome to Madison Brown's world. This summer, she's in her third year as a National Training Scholar with ABT, while also competing for NYCDA's Teen Outstanding Dancer title. (She's already won Outstanding Dancer in the Mini and Junior categories.) The logistics are complicated—ABT's five-week intensive overlaps with the weeklong NYCDA Nationals, which translates to a lot of cabs back and forth across Manhattan—but Maddie is committed to making the most of each opportunity. "I love contemporary and ballet equally," she says. "While I'm able to do both, I want to do as much as I can."
Maddie has an expressive face, endless extensions, and a quiet command of the stage. She dances with remarkable maturity—a trait noted by none other than Jennifer Lopez, one of the judges on NBC's "World of Dance," on which Maddie competed in Season 2. Although Maddie didn't take home the show's top prize, she was proud to be the youngest remaining soloist when she was eliminated, and saw the whole experience as an opportunity to grow. After all, she's just getting started. Oh, that's right—did we mention Maddie's only 14?
Cover Story
Jun. 16, 2019 07:00AM EST
Corbin Bleu in rehearsal for "Kiss Me, Kate" (Jenny Anderson, courtesy Roundabout Theatre Company)
If you're a hardcore Broadway baby, today is the worst Sunday of the year. Why, you ask? The Tony Awards were last Sunday, so basically there's nothing to look forward to in life anymore—no James Corden being James Corden, no teary acceptance speeches from newly minted stars, no thrilling excerpts from the hottest new shows. Oh yeah, and there are 50 more Sundays to go before our humdrum lives are once again blessed with the next annual iteration of Broadway's biggest night.
Musical Theater