12 Dance Resolutions to Make in 2018
Happy new year, friends! Hoping to take your dancing to the next level in 2018? Of course you are—and we've got you covered. Here are 12 dance resolutions, one to tackle each month, all culled from the pages of Dance Spirit. They'll help you hit the "refresh" button on your training.
---
January
Listen to pain.
When you come back to class after holiday break, be sure not to overdo it. Sprains, strains, and fractures are your body's way of forcing you to rest. Never push through the sudden onset of pain, something that feels sharp or cracking, or pain that persists for more than a few days. Resolve to tell your teacher or coach when something hurts, instead of shrugging it off. That kind of communication doesn't mean you're whiny or weak. You're taking responsibility for your own career and training.
February
See more dance.
Don't get stuck in a dance training bubble! Make an active effort to see performances in unfamiliar dance styles, or to see your idols dance live. (And always ask about discounted student tickets.) "It's important for me to see what [other dancers] are doing," says Mark Morris Dance Group dancer Sam Black. "Supporting other people helps me to be a part of the bigger dance community."
March
Work on your "bad" side.
It's tempting to practice the things you're good at over and over—but that can lead to serious imbalances in your technique. "It's important to work both sides equally, even if one feels better than the other," says choreographer Andy Blankenbuehler. "If your right leg is stronger, pretend you're a lefty—give that side the attention it deserves."
April
Find the food that best fuels your body.
Hungry, cranky dancers can't focus, are more prone to injury, and can't recover properly. Experiment with your meals to find foods that satisfy you emotionally (chocolate), nutritionally (broccoli) or both (mmm...STRAWBERRIES!). Take a peek at these four pros, who've found the right combinations to power through busy rehearsal and performance schedules.
May
Do one more pirouette.
Solid doubles are nice and all, but this month, push for more. "Don't be satisfied with two!" says Boston Ballet principal Lia Ciro. "You'll feel great when you get that third or fourth rotation."
June
Reign in perfectionist tendencies.
Lots of dancers are "type A." We're organized, driven, and goal-oriented. Learn to recognize the difference between healthy self-criticism (which helps you grow) and unhealthy perfectionism (which beats you down). "Sometimes I find myself being so much of a perfectionist when I'm dancing that I forget to have fun with it," says Broadway dancer Shonica Gooden. "When I tell myself to just let loose and enjoy a class, it's so much easier to do the movement."
July
Conquer stage fright.
Just in time for Nationals! Say it loud, say it proud: "This year I will not be paralyzed by stage fright." And you can do it, by identifying what level of fright you have, and then taking concrete steps to address it. A few butterflies in your stomach before you perform are totally normal. Even pros still get nervous! But if your stage fright is interfering with your love of dance, it's time to tackle it head-on.
August
Take time to recharge.
During the quiet days at the end of summer, ramp down your dancing a bit and explore your non-dance interests. "Remind yourself to be a 'colorful' person," Blankenbuehler says. "Really live your life outside of dance—enjoy going out to eat and spending time with your friends and the people you love. All those experiences will make your dancing so much richer."
September
Embrace ballet.
Ballet is the foundation for the rest of your technique. Take it seriously, whether or not you're interested in a professional ballet career. "Every dancer needs ballet, even if her specialty is salsa!" says ballroom pro Janette Manrara. "The ballet vocabulary is the ABCs of dance. It makes you hyper-aware of all your muscles, so you feel every inch of your body working."
October
Don't hold back.
As George Balanchine famously said: "What are you waiting for? What are you saving for? Now is all there is." And nobody becomes a better dancer by marking their way through rehearsals. "I'm working on becoming more bold in my dancing, and doing my best with conviction whether I feel confident about it or not," says Hubbard Street Dance Chicago's Alice Klock. "If you just put out everything you have in rehearsal, that's when you can be the most productive."
November
Take an acting class.
Every dance, even if it's plotless, tells a story, and you need to be able to convey that story effectively. "Acting can seem scary at first, but believe me—it's a life changer," says commercial dancer, actor, and choreographer Misha Gabriel. "Even if you're not planning to enter the acting world, it'll make your dance performances stronger."
December
Stick to a sleep schedule.
You won't be able to survive Nutcracker season without adequate sleep. "If you're not sleeping enough, your whole body suffers," Cirio says. "Getting on a good schedule is key."
Here's to a happy, healthy, dance-filled 2018!
Artyon Celestine and Paige Glenn showing their lift skills (photo by Kristin Glenn, courtesy Glenn)
Yes, they're quite possibly the cutest dance duo since, well, ever. But put Paige Glenn and Artyon Celestine onstage, and it's immediately clear they mean business. That was apparent to millions across the country last summer, when Artyon and Paige's unbelievable extensions, fearless turning, and infectious energy propelled them to the quarterfinals of "America's Got Talent." They've also appeared (together or individually) on "Little Big Shots," "Lip Sync Battle Shorties," "The Ellen DeGeneres Show," and "Access Hollywood Live"—not to mention the competition titles they've won as a pair.
"Simon Cowell came backstage during 'AGT' and told us, 'Go out there and do your best. They're going to like you.' "—Artyon
Keep reading...
Show less
Popular
Apr. 02, 2018 10:14AM EST
Showstopper's National Finals Opening Number Performance
Showstopper has been making its impact on the dance world since 1978. Before then, dancers didn't have a stage to perform on, the opportunity to learn from peers, or a competitive outlet like most sports. Debbie Roberts recognized this missing piece in the dance community and that is how America's first and longest running dance competition, Showstopper, was born. Debbie taught dance for over 26 years and owned and operated her own dance studio for 20 years. She is now the owner and National Director of Showstopper, along side her husband, Dave Roberts. Dancer, teacher, business owner, author, and mother, Debbie has made dance her life's career.
Keep reading...
Show less
Lealand Eve
As a teenager, contemporary dancer Eveline Kleinjans felt like nothing she did was good enough. Auditioning for university dance programs paralyzed her: "I was so focused on every move I made and what people would think that I wasn't able to be free, to be myself," she says. And her intense perfectionism had real repercussions. "I'd get negative feedback saying, 'We don't see you.' "
Perfectionism is extremely common in the dance world, because dancers hold themselves to terrifically high standards. It's easy to get a little discouraged when you aren't improving as quickly as you want. But there's a difference between healthy self-criticism and an unhealthy obsession with perfection. How can you tell when your drive to be better has crossed the line—and what can you do to get back on track?
Keep reading...
Show less
Sarah Pippin assisting in a convention class at New York City Dance Alliance (courtesy NYCDA)
To her high school classmates, Sarah Pippin was a regular girl: a good student and a friendly face around campus. But on the weekends—at dance competitions and conventions across the country—Pippin was a bona fide celeb, adored by her fellow competitors and faculty members alike.
By the time she graduated high school, Pippin had racked up major accomplishments, including performances with Janet Jackson and Shaping Sound, a role on Dance Spirit's own reality series "Road to Nationals," titles such as New York City Dance Alliance's National Mini, Junior and Senior Outstanding Dancer, and, most recently, a college scholarship on behalf of Dance Magazine through the NYCDA Foundation.
There's no doubt that Pippin, now a freshman at The Juilliard School, is among a rising generation of competition and convention stars. And while "celebrity" isn't a term they'd give themselves, you know who they are. These dancers are adored by legions of real-life fans hoping to watch and dance alongside them, not to mention the thousands of social media followers ready to double-tap everything they post.
Being so popular on the circuit has its perks—traveling every weekend, internet fame, working with big-name choreographers—but it also comes with its share of struggles. Here's a peek at what it's really like at the top.
Keep reading...
Show less
Moira Shearer as Victoria Page in the 1948 film The Red Shoes
Q: "Why do you want to dance?"
A: "Why do you want to LIVE?"
Ahhh, so iconic! If you know those lines (slash, embody them on a daily basis), you're already a fan of the 1948 film The Red Shoes. The second line, as spoken by Red Shoes heroine Victoria Page, just perfectly captures the kind of crazy, all-consuming love so many of us feel for this incredible art form.
The Red Shoes turns 70 (!) this year. And Harper's Bazaar decided to celebrate that birthday in an oh-so-glamorous fashion: They decked out three of today's most beautiful ballerinas—American Ballet Theatre's Misty Copeland and Isabella Boylston and New York City Ballet's Tiler Peck—in gorgeous couture inspired by the film. (Obviously, Louboutins were involved.)
Keep reading...
Show less
Popular
Mar. 26, 2018 09:50AM EST
Winter is drawing to a close and you know what that means -- It's time to really kick this year into gear! Move U has done the research so you can find your best match, look good, and feel great this season with a twist unique to your team! Here are five looks to put your performance on the map in 2018.
Keep reading...
Show less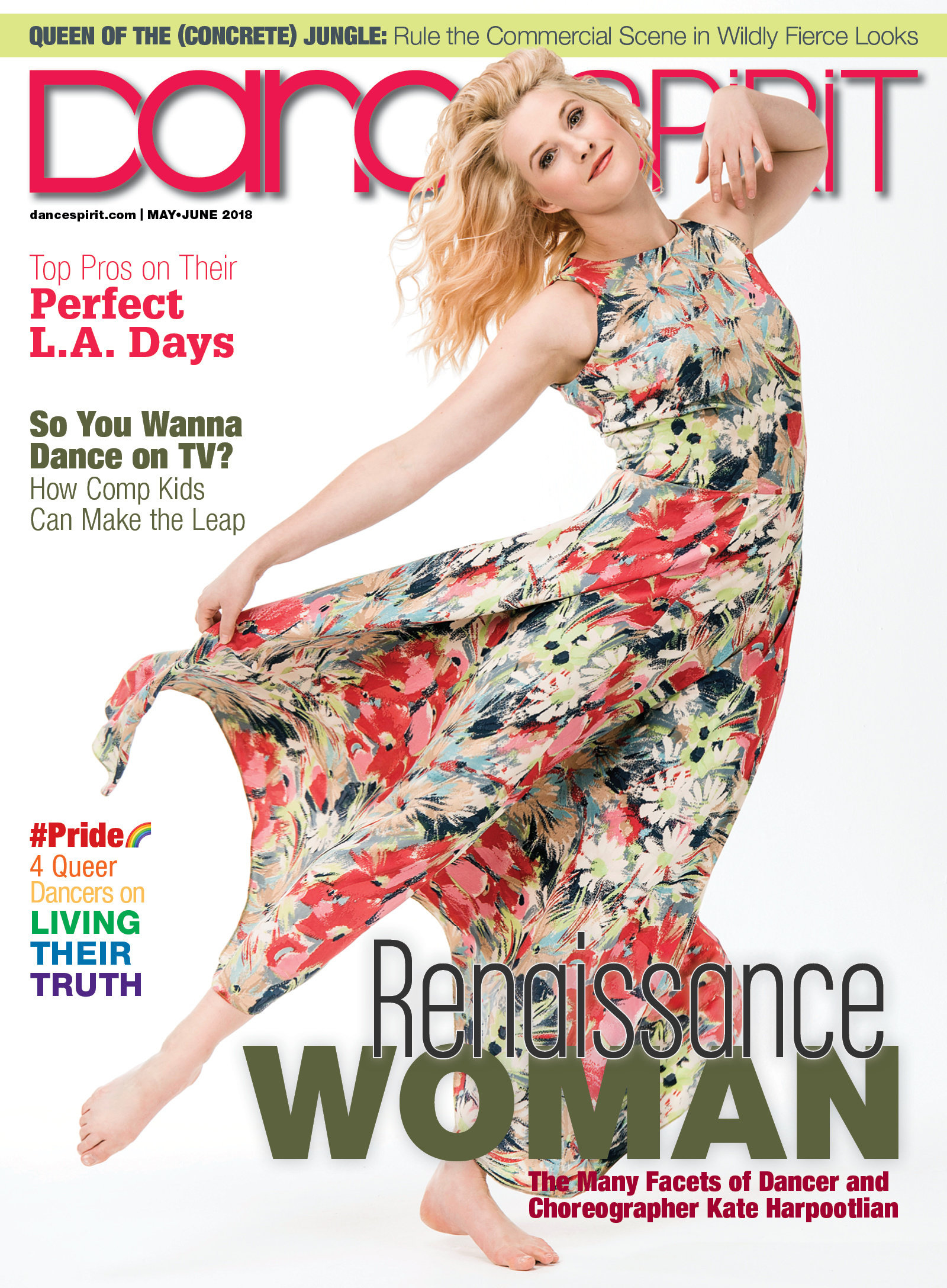 Get Dance Spirit in your inbox