4 Pro Dancers Share Their Fave Places to Eat, Shop, and Take Class in L.A.
Thinkstock
The City of Angels can be overwhelming—so many cool, artsy hot spots, so little time. How can a dancer decide where to take class, eat, shop, or sightsee? We turned to four pros living in L.A. for local recommendations. They crafted their ideal itineraries for all things dance and more.
---
Bianca Bulle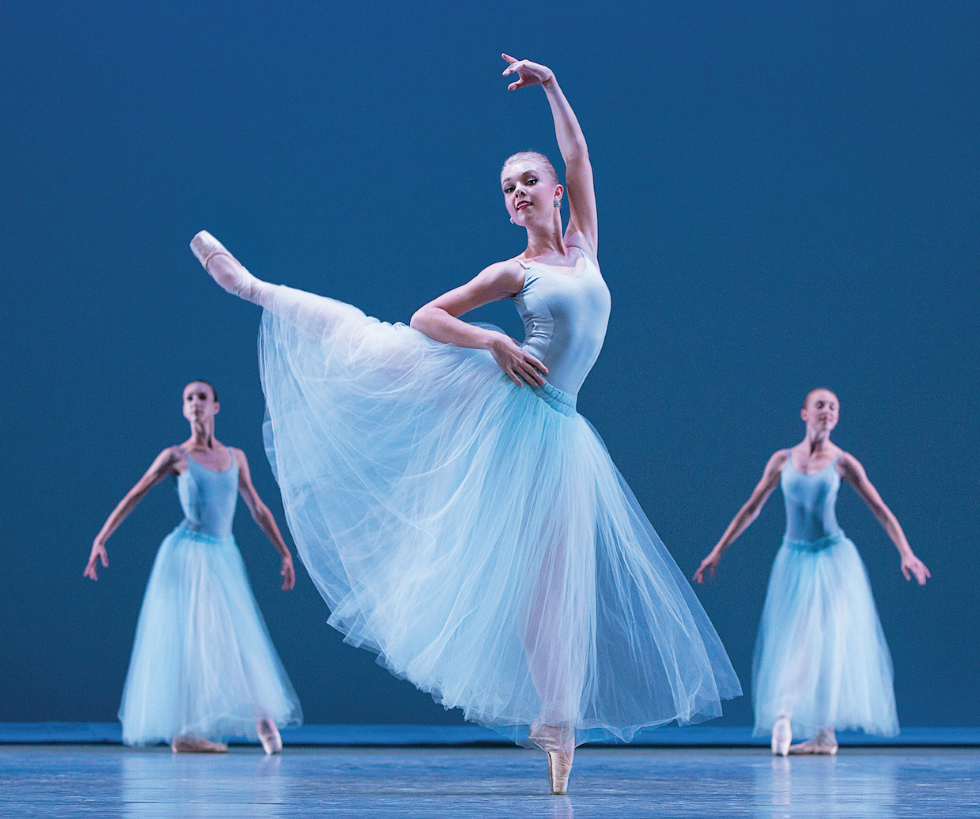 Bulle (center) in George Balanchine's "Serenade" with Los Angeles Ballet (photo by Reed Hutchinson, courtesy Bulle)
Principal dancer, Los Angeles Ballet
My perfect L.A. day would start with waking up relatively early and making myself a nice breakfast. Then, ballet class, of course, at Los Angeles Ballet (11755 Exposition Blvd.), followed by some cooldown time for stretching and physical therapy.
I love catching up with friends and having lunch outings. My favorite lunchtime and weekend food spot is a local Aussie cafe called Bondi Harvest (1814 Berkeley St.). It's near LAB, and it's the best food in town. I love to relax in the chill, low-key vibe. My other favorite spot is Gjusta (320 Sunset Ave.) in Venice. The food is amazing and it's got a nice outdoor scene. Last but not least, my favorite sandwich place is The Daily Dose (1820 Industrial St.), in the downtown L.A. arts district. It's a must. It's in the cutest little alley with lights and has the best sandwiches ever.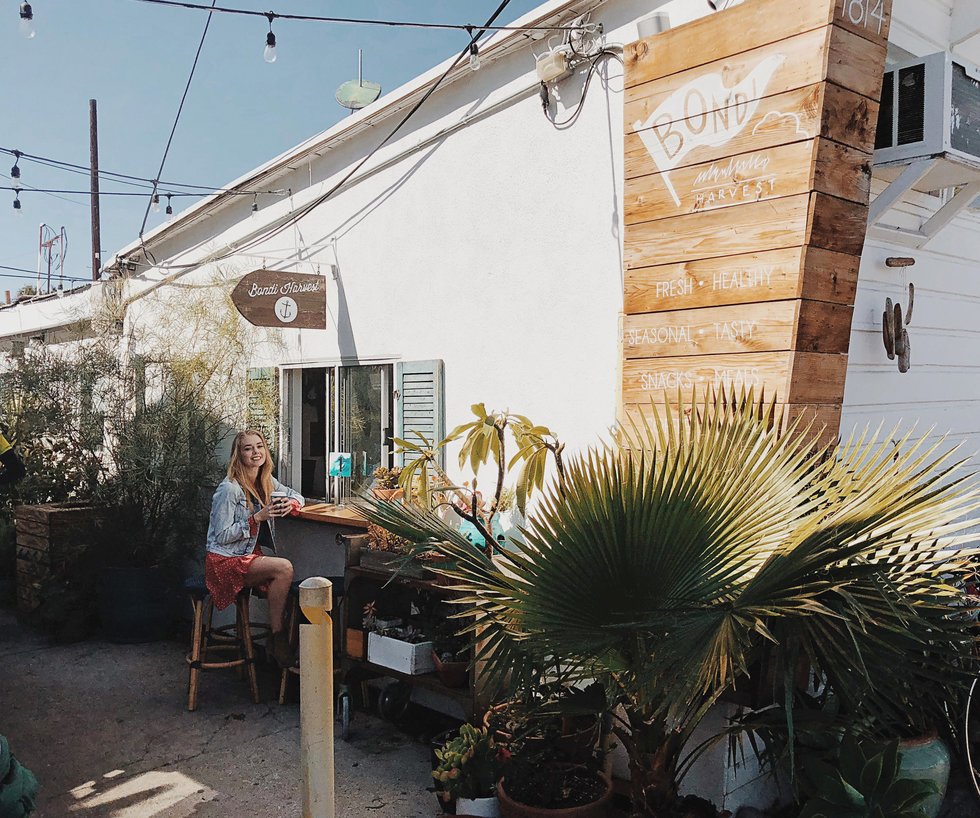 At Bondi Harvest (courtesy Bulle)
Depending on how stressful and physical my day was, I might plan to do something to escape the ballet world and get out in nature. Preferably, it'd be an afternoon walk on El Matador Beach (32350 Pacific Coast Hwy.) in Malibu. It's got gorgeous cliffs and beautiful clean water. Then, maybe a light hike in the Santa Monica Mountains. My favorite is the Will Rogers State Park (1501 Will Rogers State Park Rd.) hike in Pacific Palisades. The views are amazing and you can see the ocean, beach, and all the way to downtown.
Exploring downtown is something that I love to do in the late afternoon. There are so many streets filled with different interesting shops and foods. It's fun to just wander around for a few hours, then stay until the evening to walk through the Downtown Art Walk (downtownartwalk.org), which happens every second Thursday of the month.
For dinner, I'd head to my absolute favorite spot, Fishing With Dynamite (1148 Manhattan Ave.). It's in Manhattan Beach, and I love taking an after-dinner stroll down the beautiful pier.
Cache Melvin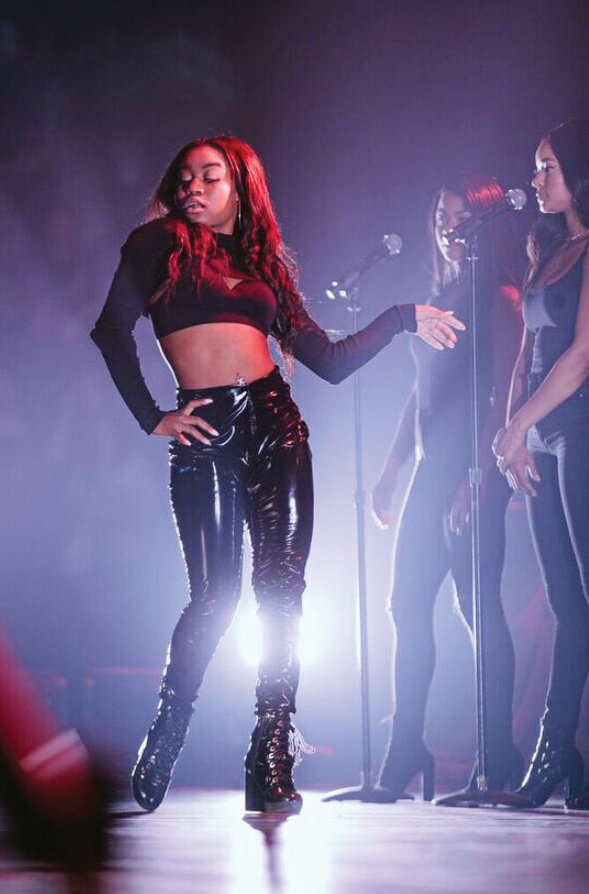 Courtesy Melvin
Commercial dancer
First, I'd wake up and open my curtains to let the L.A. sun hit my face. It gives me that spark of energy I need to start my day. I also always order Starbucks Strawberry Refresher drink on my Postmates app and cook breakfast while I'm waiting for it to arrive.
When I'm not on tour, it's important for me to stay fit and healthy to maintain my stamina. So my perfect L.A. day would involve exercising in my gym and taking a walk in North Hollywood Park (11430 Chandler Blvd.) or Runyon Canyon Park (2000 N. Fuller Ave.).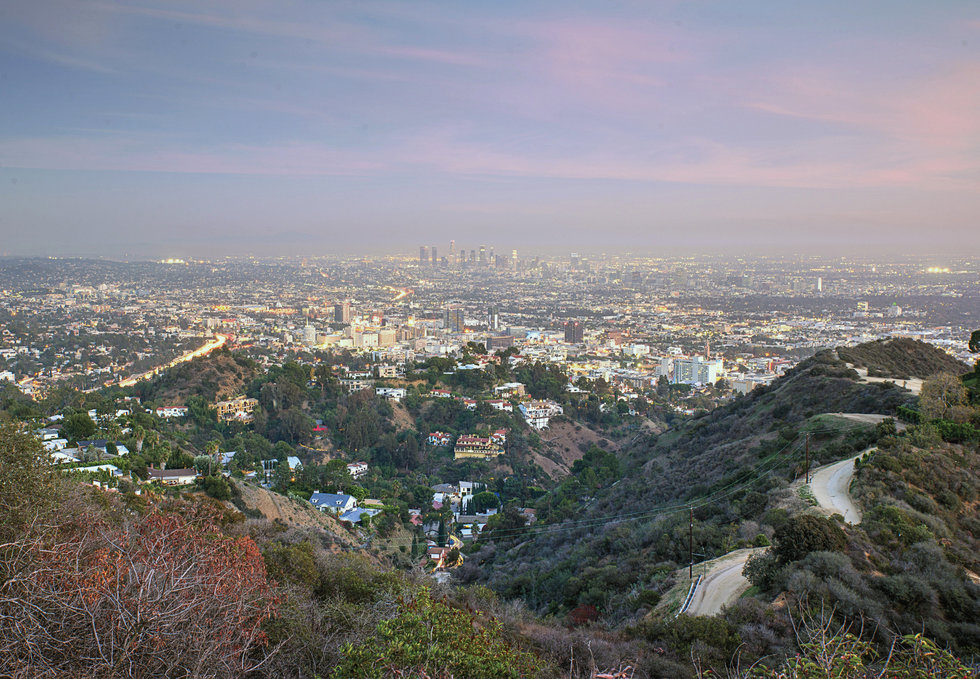 Thinkstock
I'd also take lots of dance classes at Millennium Dance Complex (11528 Ventura Blvd.), Movement Lifestyle (11105 Weddington St.), Debbie Reynolds Dance Studio (6514 Lankershim Blvd.), The Playground LA (7375 Melrose Ave.), or Edge Performing Arts Center (6300 Romaine St.). I love taking from everyone, but a few of my favorite teachers are Kevin Maher, Brian Friedman, Yanis Marshall, Bobby Newberry, Derrell Bullock, Jojo Gomez, and Tricia Miranda.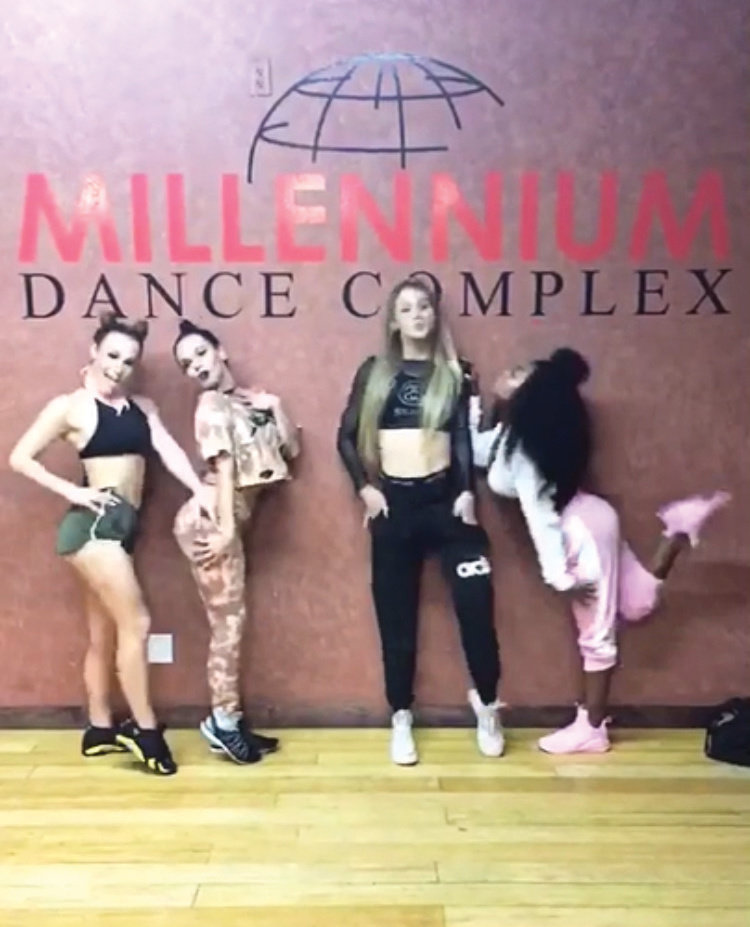 Melvin (far right) taking class at Millennium Dance Complex (courtesy Melvin)
Then, I'd grab a bite at Chop Stop (11990 Ventura Blvd.) in Studio City. I love to do the build-your-own salad bowl. I really enjoy spending time with my besties, so I'd probably meet them next, at Greenhouse Juice Bar (5235 Lankershim Blvd.), where we love to drink smoothies and take pictures—the vibe there is so cool. We also have so much fun doing mini photo-shoots and dancing in the most random places. Maybe we'd walk down Melrose Avenue, because it has a lot of cool graffiti walls, and head to the Los Angeles County Museum of Art (5905 Wilshire Blvd.) because there are those awesome tall lampposts.
I used to be a gymnast, so my perfect day would also include a stop at the gym I go to, XMA (5140 Lankershim Blvd.), to tumble.
Then, I'd head to Pitfire (5211 Lankershim Blvd.) for dinner—I'm obsessed with the chicken and shrimp mac and cheese. For dessert, I would stop by Sprinkles (629 Americana Way) in Glendale for ice cream with the red velvet cupcake topping. It's my addiction!
Tess Hewlett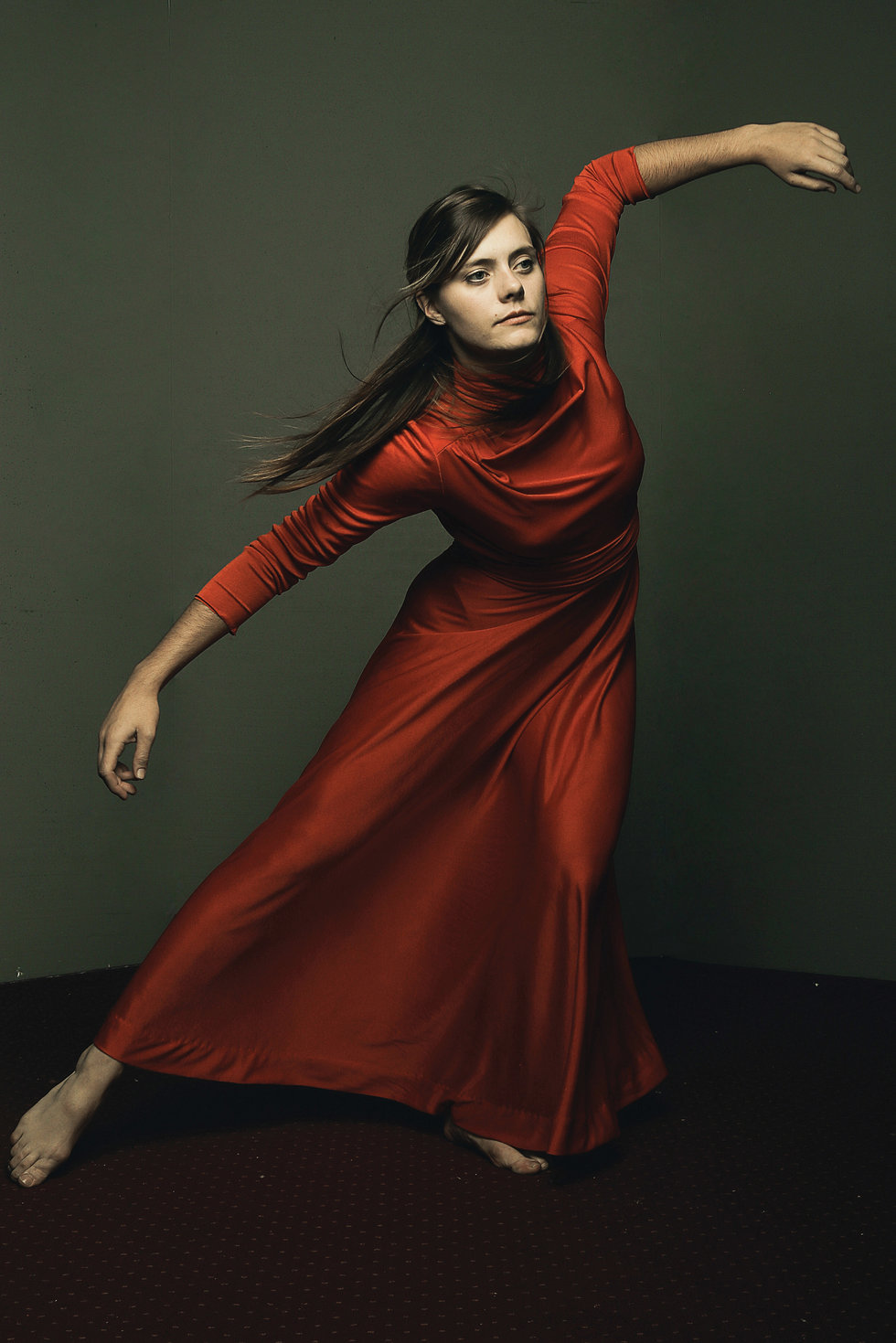 Photo by Malachi Middleton, courtesy Hewlett
Dancer, L.A. Contemporary Dance Company
I'd start by waking up and going for a walk around Echo Park Lake (751 Echo Park Ave.) to my favorite coffee shop, Woodcat Coffee Bar (1532 Sunset Blvd.). I love the dimly lit atmosphere. It's such an inspiring place for me to listen to music, finding something to create to as I drink my morning coffee.
Next, I'd head to Botanica (1620 Silver Lake Blvd.) for brunch. Their entire menu is amazing and ever-changing, but right now my favorite dish is the Turkish eggs with a side of bacon.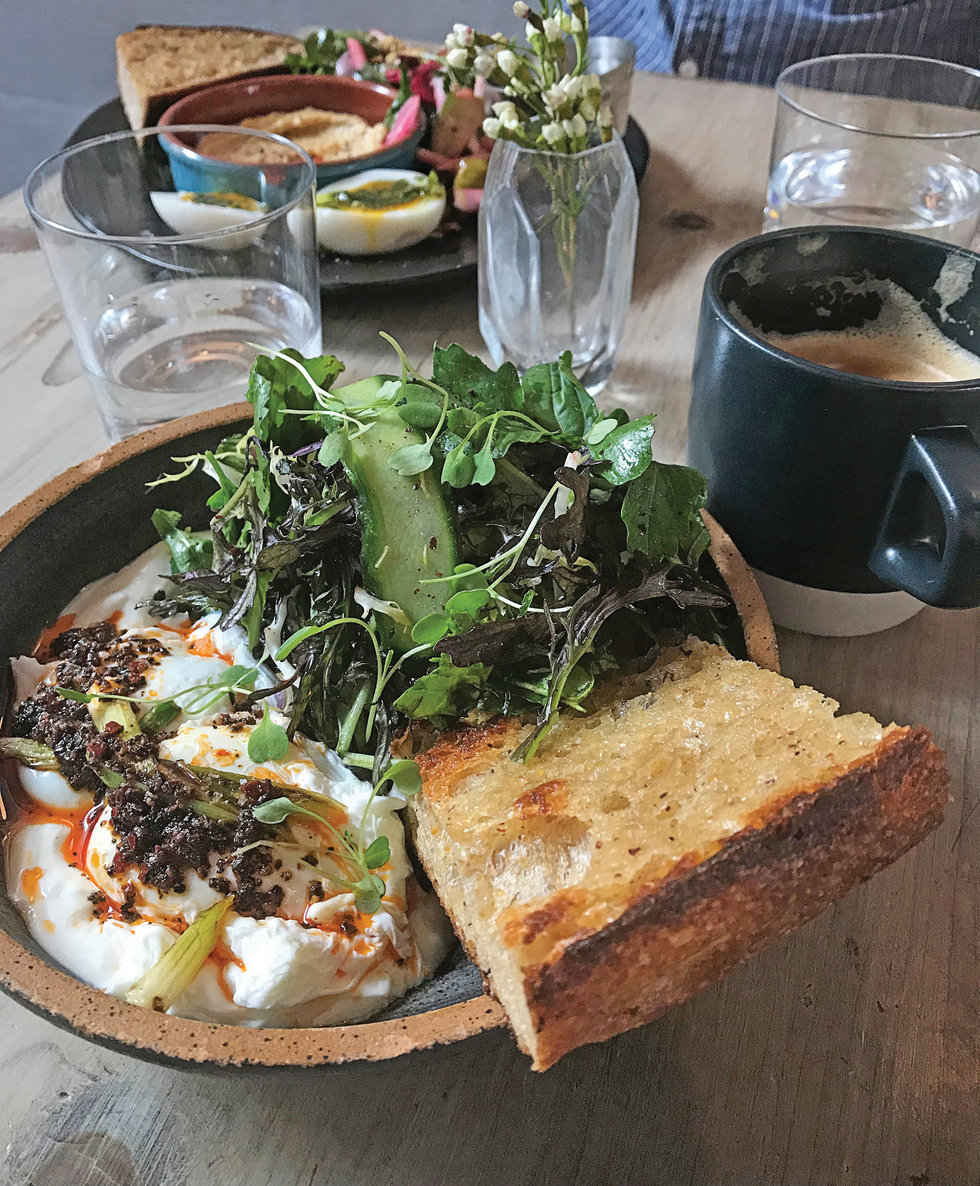 Turkish eggs dish from Botanica (courtesy Hewlett)
From there, I'd go downtown for company class with my LACDC (618 Moulton Ave.) family, taught by our artistic director, Genevieve Carson. I've been with the company since 2013, and dancing with these people feels like home. Genevieve's class and choreography are always extremely challenging, but so fulfilling.

After class, I'd head to one of my favorite vintage shops on the East Side, like The Bearded Beagle (4646 Hollywood Blvd.), Painted Bird (4208 Santa Monica Blvd.), or Paper Moon Vintage (4516 Hollywood Blvd.), to find some awesome new pieces to add to my closet. I love secondhand and vintage stores because you can find things you won't see anybody else in.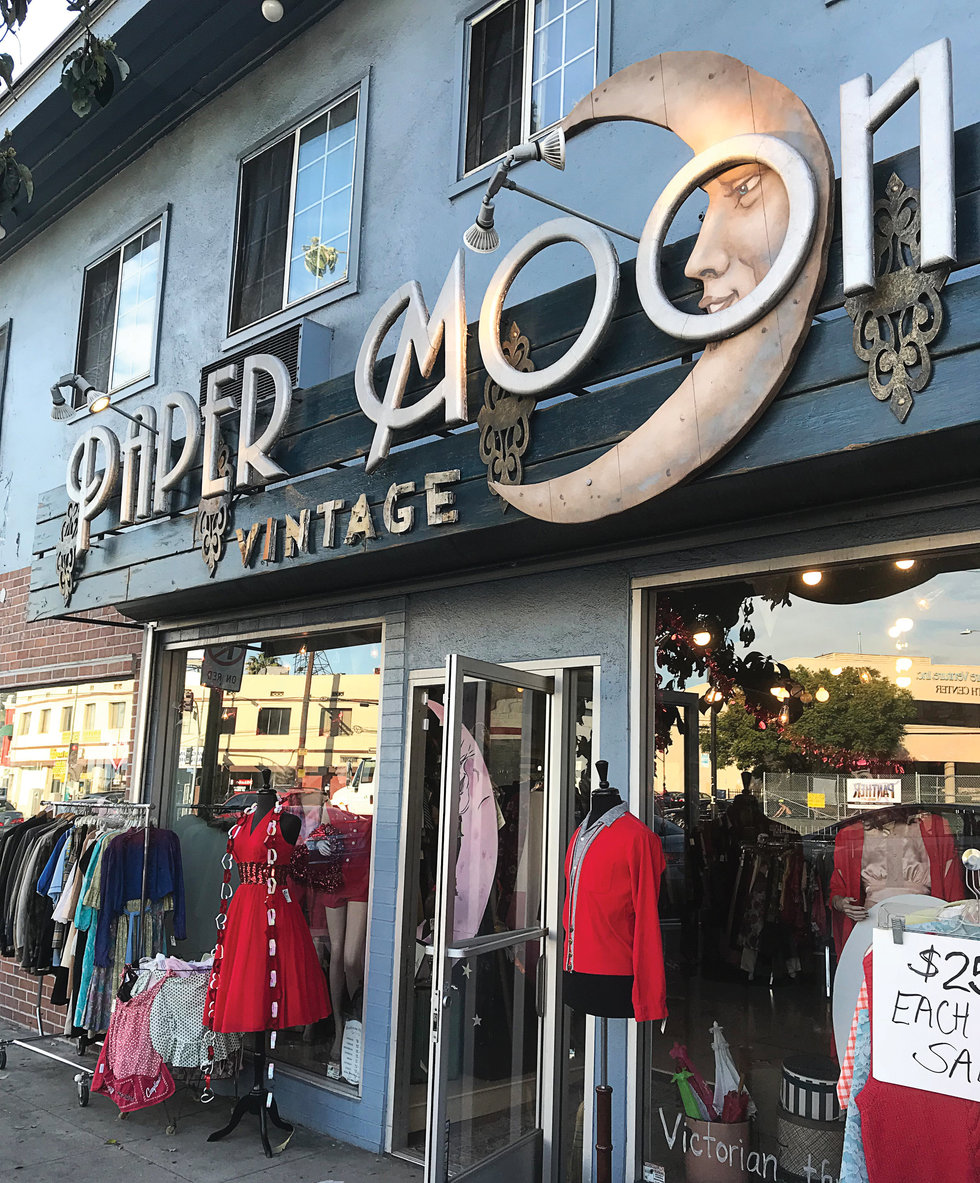 Paper Moon vintage clothing shop (courtesy Hewlett)
After a little shopping, I'd run to Scout Cafe (3707 Sunset Blvd.) for a Clover juice. And then I'd walk over to Cafe Stella (3932 Sunset Blvd.) for something quick and light, like their delicious avocado toast.
It wouldn't be an L.A. day without a little sunshine, so I'd find a pool that I could dip in for a bit. At The Standard (550 S. Flower St.) in downtown L.A., you can use the rooftop pool without having to stay at the hotel, or there's Wi Spa (2700 Wilshire Blvd.), where you can pamper yourself with all sorts of sauna rooms, hot tubs, and pools, plus a rooftop deck where you can lay out, relax, and get some sun.
My dream day would continue at The Sweat Spot (3327 Sunset Blvd.), where I'd teach my class called Give & Take. The Sweat Spot is owned by Ryan Heffington—it's my favorite studio to teach at in L.A. Give & Take is a contemporary class that helps dancers connect with their bodies and the space they're in.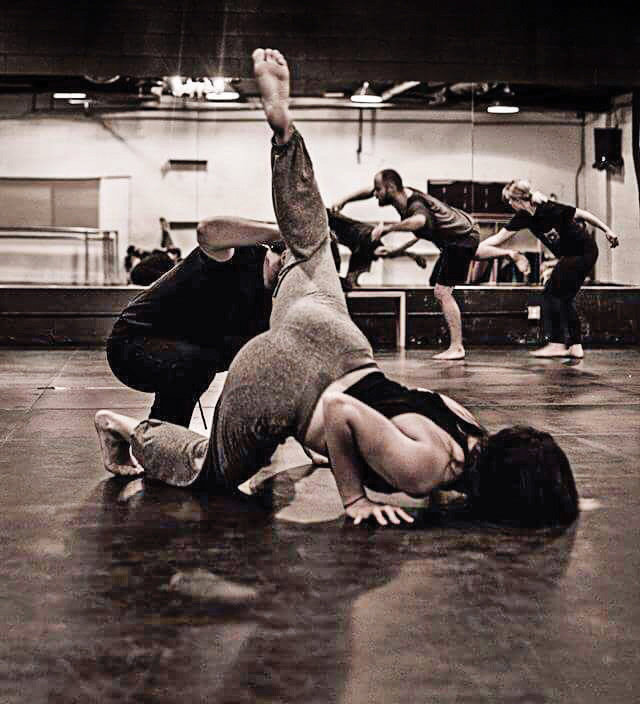 Hewlett at the Sweat Spot, teaching Give & Take (courtesy Hewlett)
After class, I'd clean up, put on my new outfit from shopping earlier, and head to Oriel (1135 N. Alameda St.) in Chinatown for dinner. It's a new French restaurant that's my favorite right now. The decor and atmosphere are beautiful, and everything on the menu is incredible. Go with friends so you can order a bunch of things and share!
Finally, I'd see a show of some sort. L.A. has so many beautiful, talented artists and so many amazing, unconventional spaces where you can see something almost any night of the week. Some of my favorite places for immersive multimedia works are Navel (1611 S. Hope St.), Basic Flowers (242 S. Broadway), and the Bootleg Theater (2220 Beverly Blvd.).
Mark Kanemura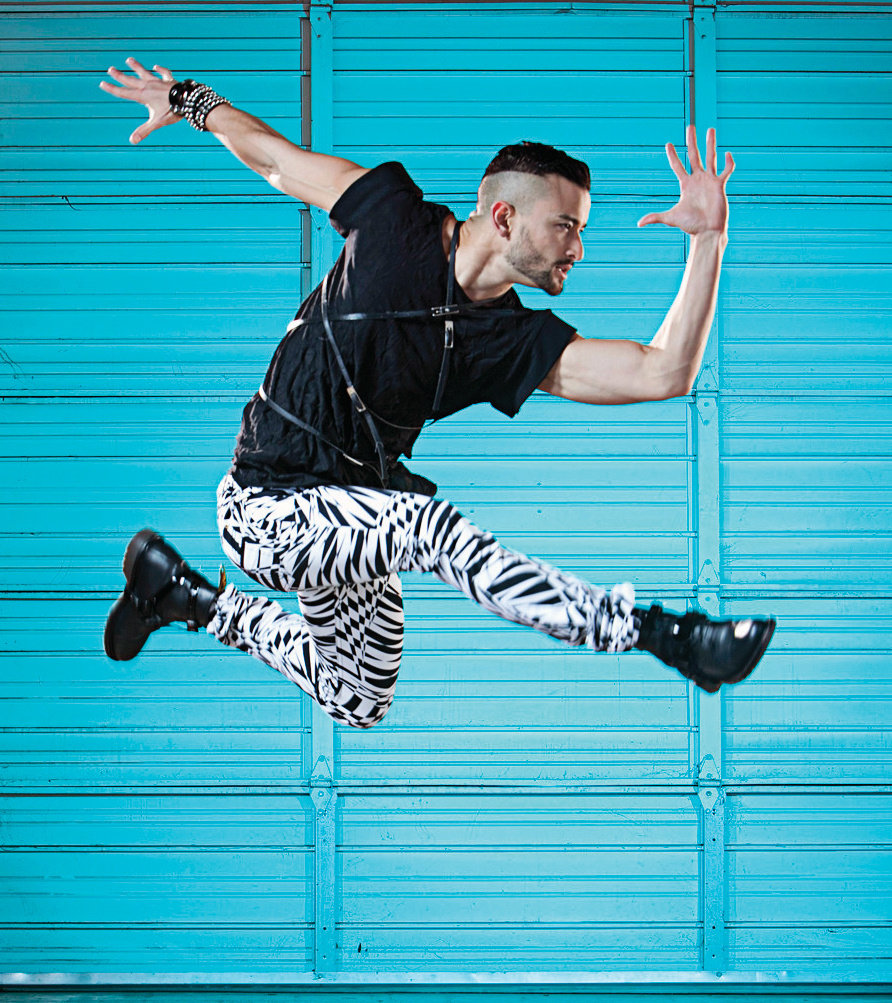 Photo by Rose Eichenbaum
Choreographer and teacher
My ideal L.A. day would begin with the sun rising and filling my apartment with beautiful light. I always start with a meditation and a prayer, followed by asking Siri to play my favorite jams.
I love kicking my day off at Barry's Bootcamp (1106 La Cienega Blvd.) in West Hollywood. It's extremely challenging, gets me sweating, and the music is bumping. I'd follow that up with a stop at Earthbar (8365 Santa Monica Blvd.). They have great smoothies and açai bowls. I'd sit outside, people-watch, and bask in the L.A. sun. After, I'd pop my headphones in and dance and sing as I walk back home.
Later, I'd head out again. I love brunch, so I'd meet up with a friend at Hugo's (8401 Santa Monica Blvd.). They have amazing chocolate chip pancakes and a huge tea menu. After delicious food and friend time, I'd head back home, light some incense, and give myself some time to create, whether that's dancing around or playing with some choreography.
Next, I'd take a drive around the city, just exploring and getting lost. If it's a nice day I'd head to Venice Beach (1800 Ocean Front Walk) to rent a bike, ride around, and hop in the ocean. The ocean has always been a big part of my life since I'm from Hawaii, so I love reconnecting and grounding myself at the beach.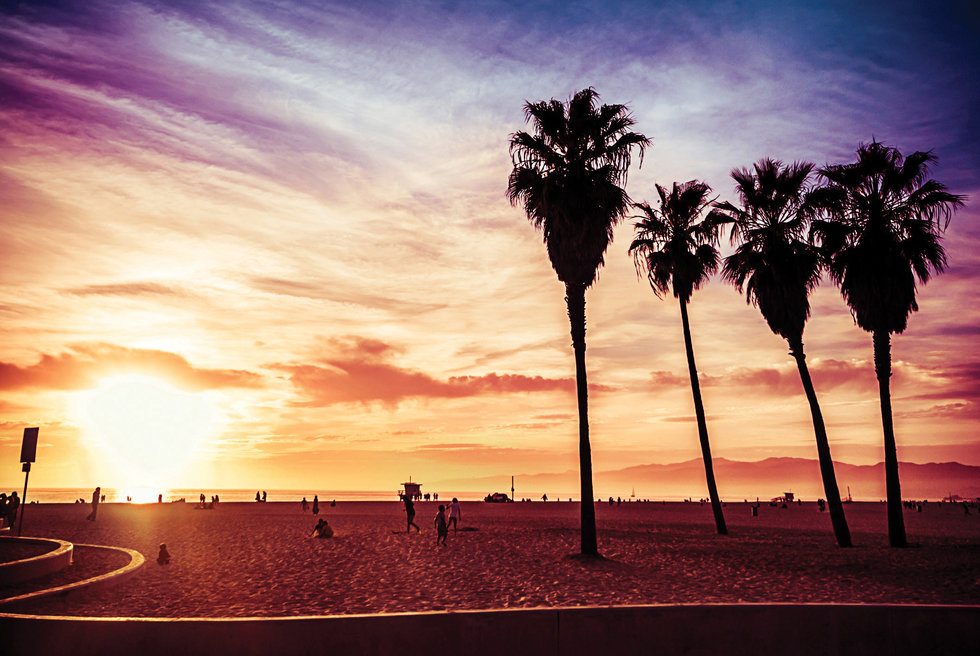 Venice Beach (Thinkstock)
At night, one of my favorite things to do in L.A. is Drag Queen Bingo at Hamburger Mary's (8288 Santa Monica Blvd.). My friends and I have a blast playing bingo while eating burgers and fries. I'm also a big sweets guy, so to wrap up my perfect day in L.A., I'd stop by Van Leeuwen Ice Cream (5915 Franklin Ave.). They have the best vegan ice cream I've ever had, and I've tried a lot of ice cream. One of my favorite combinations is chocolate and pistachio, or honeycomb.
A version of this story appeared in the May/June 2018 issue of Dance Spirit with the title "My Dream L.A. Day."
Oct. 21, 2018 07:00AM EST
Actual footage of us reading this cast list.
He got our heads in the game in High School Musical. He pushed it to the limit in Jump In! He welcomed us to Holiday Inn. And now, curly-haired dancing heartthrob Corbin Bleu will be back on Broadway in the spring of 2019 with one of the season's most anticipated productions.
Keep reading...
Show less
It's contest time! You could win your choice of Apolla Shocks (up to 100 pairs) for your whole studio! Apolla Performance believes dancers are Artists AND Athletes—wearing Apolla Shocks helps you be both! Apolla Shocks are footwear for dancers infused with sports science technology while maintaining a dancer's traditions and lines. They provide support, protection, and traction that doesn't exist anywhere else for dancers, helping them dance longer and stronger. Apolla wants to get your ENTIRE studio protected and supported in Apolla Shocks! How? Follow these steps:
Keep reading...
Show less
Mahak Naiwal, foreground, in Kathak class (screenshot via YouTube)
Keep reading...
Show less
Quinn Starner performing a variation from Paquita at the USA International Ballet Competition in Jackson, MS (photo by Richard Finkelstein, courtesy USA International Ballet Competition)
Quinn Starner is no stranger to competitions. The 16-year-old "So You Think You Can Dance: The Next Generation" alum has been slaying the contemporary circuit for years, winning Best Teen Dancer at The Dance Awards in 2017. But lately she's been more focused on ballet, relocating from Florida to train at the Indiana Ballet Conservatory two years ago. And while she's won awards at ballet competitions like ADC|IBC and Youth America Grand Prix, in June she upped the stakes by going to the USA International Ballet Competition in Jackson, MS—an audition-only event that's one of the world's most prestigious comps. We followed Quinn on her Jackson journey.
Keep reading...
Show less
@sab_nyc via Instagram
Halloween is almost here and that means its time to get serious about finding the perfect costume. A lot of you dancers need costumes that are both fun and functional so that you can go straight from dance class to the streets, without missing a beat. Here are nine of the most creative, yet versatile ensembles that'll allow you to enjoy Halloween festivities without compromising your dance training.

Keep reading...
Show less
(photo by Jim Lafferty)
Amanda LaCount was born to move. The second the music comes on at her Dance Spirit cover shoot, the bubbly 17-year-old is shimmying her shoulders and tossing her hair. When she launches into a full-out freestyle to Whitney Houston's "It's Not Right But It's Okay," you can't take your eyes off her.
And yet with every gig she lands, Amanda is challenging some of the dance world's longest-held biases. "I'm curvy," she says, "and I like being curvy. My body is not a bad thing. It's who I am." Here's how Amanda went from talented tot to hardworking pro—and from insecure preteen to body-positive role model.
Keep reading...
Show less
Al Blacksone teaching class at JUMP (courtesy Break the Floor Productions)
Is there anything better than a dance convention? Frankly, we don't think so. Although we love getting a guest teacher to come to our studio for a masterclass every so often, there's just something so exciting about packing up our leotards and dance shoes and heading to a convention for the weekend. Here are 7 reasons why dance conventions are, without a doubt, the greatest things ever.
Keep reading...
Show less
Get Dance Spirit in your inbox
Jim Lafferty
This story originally appeared on dancemagazine.com.
"So why did you quit?"
It's a question I've been asked hundreds of times since I stopped dancing over a decade ago. My answer has changed over the years as my own understanding of what lead me to walk away from greatest love of my life has become clearer.
"I had some injures," I would mutter nervously for the first few years. This seemed like the answer people understood most. Then it became, "I was just not very happy." Finally, as I passed into my 30s, I began telling the uncomfortable truth: "I quit dancing because of untreated depression."
Keep reading...
Show less
Giphy
It's the age-old debate: Is dance a sport? The answer is, without a doubt, YES. Of course, dance is much more than just a sport. But when we get down to the logistics of it all, it's impossible not to recognize it as the athletic endeavor it is. Here are 10 reasons why dance absolutely qualifies as a sport.
Keep reading...
Show less
Just for Fun
Jun. 29, 2018 10:00AM EST
Colder weather is (finally) here, which means it's time for a good dance movie binge. But which iconic films should you put on? To narrow your search, we went ahead and ranked 30 of the greatest dance movies of all time.
Of course, we know a list like this is bound to be controversial—so if you disagree with our lineup, have at it in the comments!
Keep reading...
Show less
Ashley Ellis in Mikko Nissinen's The Nutcracker (photo by Liza Voll, courtesy Boston Ballet)
Boston Ballet principal Ashley Ellis' dancing is the perfect pairing of ethereal grace and punchy musicality. The Torrance, CA, native began training at South Bay Ballet at age 6, and attended the School of American Ballet summer program in 1998. In 2001, she was accepted into American Ballet Theatre's Studio Company, and the following year, she joined ABT's corps de ballet. In 2007, she became a founding member of Corella Ballet Castilla y León in Spain, under the direction of Angel Corella. Three years later, she headed back to the States and danced with Sarasota Ballet before joining Boston Ballet as a second soloist in 2011. In 2013, she was promoted to principal dancer. Catch her performing this season in the company's Nutcracker. —Courtney Bowers
Keep reading...
Show less
Hands down the coolest assistant principal we've ever seen. (Screenshot via YouTube)
Let's take a walk down memory lane to this past September, when the #LevelUpChallenge was in full-blown viral mode. Literally thousands of videos of people dancing to Ciara's song "Level Up" flooded the Internet, but only one truly broke it: an amazing clip of the Wilson Central High School Dance Team—and their Assistant Principal, Ranesa Shipman. Never one to miss out on a viral dance challenge, Ellen DeGeneres decided to have Shipman and the team perform on "The Ellen Show"—and the fun didn't stop there.
Keep reading...
Show less
Thinkstock
You and your phone have more in common than you might guess, says Dr. Rafael Pelayo, pediatrician and clinical professor at the Stanford Center for Sleep Sciences and Medicine. "If you charge your phone halfway, it works for a few hours," he explains. "But it's not performing at its full potential, and you have to be careful about how you use that energy."
It'd be nice to just plug into the wall for nine hours until you hit 100 percent battery, but for (human) dancers, it's not that simple. So DS asked Dr. Pelayo and Dr. Argelinda Baroni, co-director of the Child and Adolescent Sleep Program in the department of child and adolescent psychiatry at NYU Langone Health, how to maximize your own battery life—ensuring you'll dance better and more safely in the process.
Keep reading...
Show less
Dance BFFs Findlay McConnell (left) and Payton Johnson (courtesy McConnell and Johnson)
Two dancers from different studios on opposite ends of the country meeting at a dance competition may sound like the formula for a cheesy teen-rivalry movie. But it's actually real life for lots of dancers on the comp circuit. Meet four sets of adorable BFFs who found winning friendships at a competition.
Keep reading...
Show less
Rylee Arnold and Miles Brown were standouts this week. (via YouTube)
We still can't get over the talent on "Dancing with the Stars: Juniors"—like how many YouTube tutorials do we have to watch to become half as good as these mini dancing machines? And just in case you forgot how skilled these prodigies are, this week's theme was sure to remind you: Last night, the ten couples performed to songs that came out the year they were born. (But let's be real, most of these songs aren't really that much of a throwback.)
Keep reading...
Show less
Ava and Emma Blaser performing their duet to Coldplay's "Fix You." (via ellentube)
It's safe to say that the bond between dancing siblings is one of the strongest out there. But for sisters Emma, 16, and Ava Blaser, 10, that bond runs deeper than most can even fathom: The pair continued to dance together throughout Ava's treatment for kidney cancer remission, and they say it helped them heal.
Keep reading...
Show less


Get Dance Spirit in your inbox