Apr. 27, 2018 12:40PM EST
It Gets Better—Really: 5 Queer Dance Pros Share What it Was Like to Come Out
James Whiteside (photo by Nisian Hughes, courtesy Whiteside)
The world isn't always a welcoming place for LGBTQIA+ people. But for those figuring out their sexuality, dance can provide welcome opportunities for expression. We talked to five star dancers about their experiences coming out and growing up, and how dance helped them live their full truth.
---
Kyle Abraham, Artistic Director of A.I.M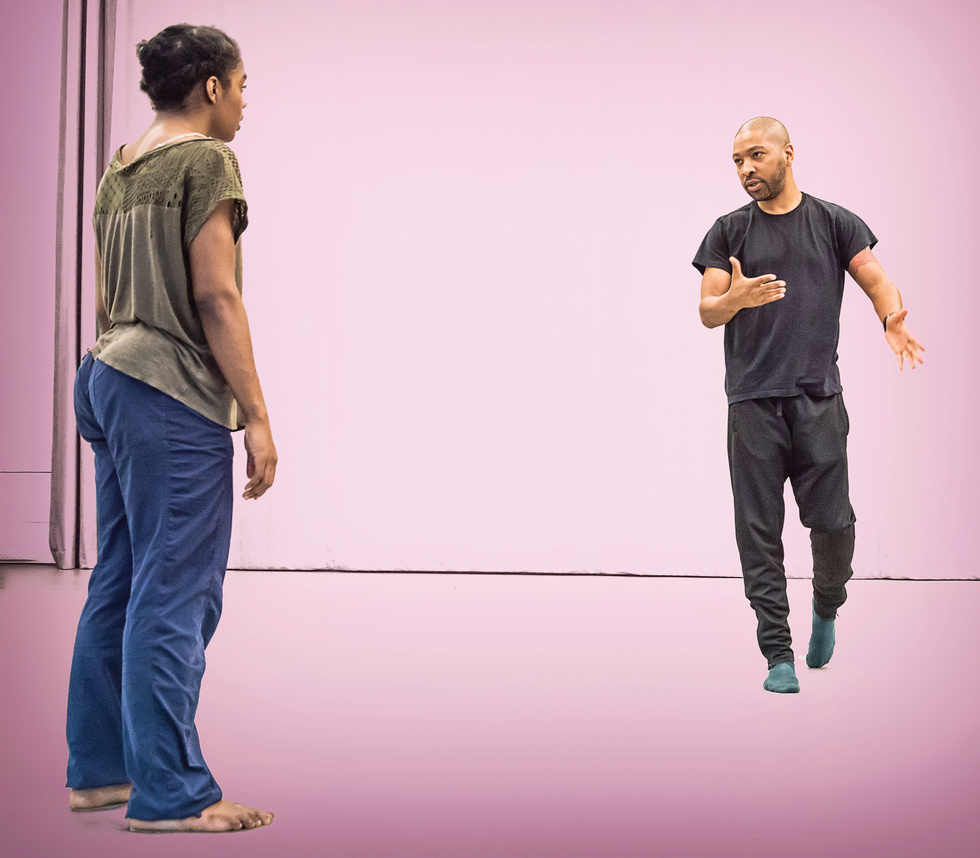 Kyle Abraham (right) in rehearsal (photo by Tim Barden, courtesy A.I.M.)
For whatever reason, people were calling me gay before I had a chance to figure out how I identified. But I'm so happy to have come out when I did. I was 15 years old, and it was actually music, TV, and movies that made me comfortable with the idea of being gay. Seeing queer representation in music, like Morrissey, the singer for The Smiths—there was such a beautiful ambiguity about who the music was written for, who the pining was for.
A lot of my friends were heavily involved in zine and rave culture, and the openness really created a space for me to come out to the people in my inner circle and then to family. Dance was an outlet for feelings of isolation and loneliness. You can connect that to my sexual orientation, but you don't have to. Race plays such a powerful role in both my identity and sexual orientation. In America, we're still fighting hard for black folks to be seen as beautiful. We need to be patient and empathetic toward our differences, rather than negating what makes us powerful and special.
If someone comes out to you, tell them that you're there as a sounding board for anything they need. Don't say, "I love you no matter what." Tell them that you love them even more than you did before the conversation. You should be so proud of them for exposing more of their true self to you.

Emma Portner, Choreographer and L.A. Dance Project Artist-in-Residence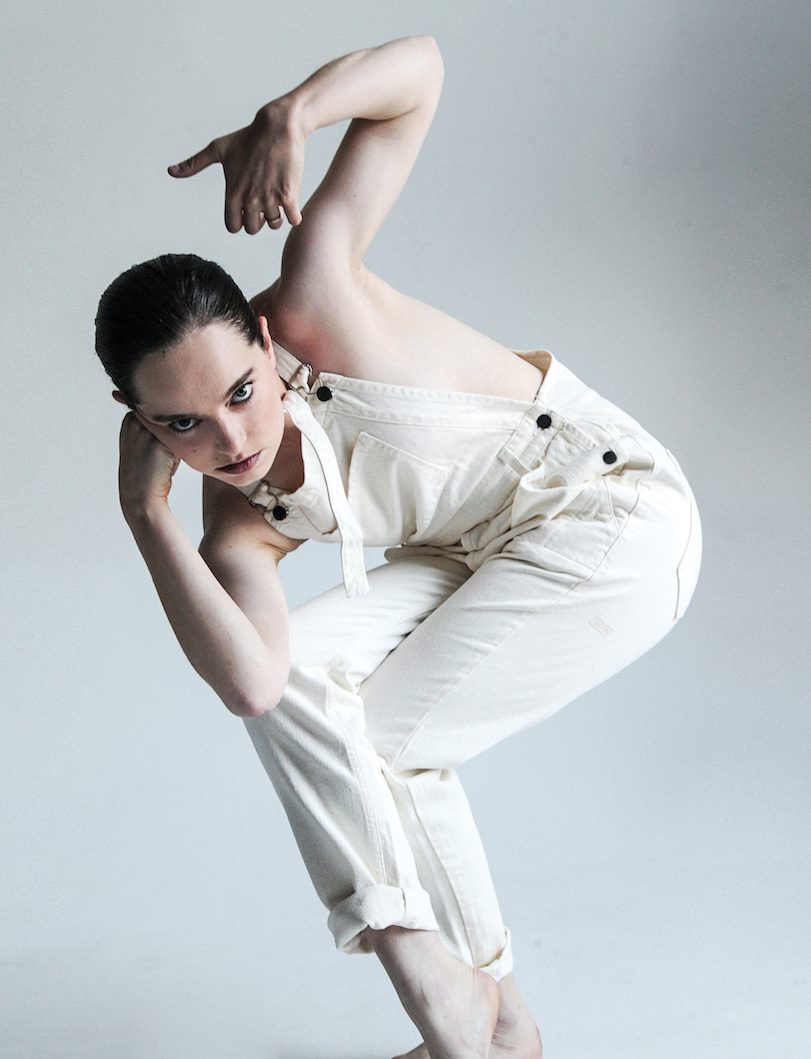 Photo by Alex Black, courtesy Portner
I went to a very queer-friendly arts high school and never felt like I had to "come out." I was just myself, and that followed me into young adulthood. One of my ballet teachers at my high school was a lesbian, and her role in my life was super-important. My parents were supportive, but I always kept my sexuality a secret at my competition studio. I was afraid the other parents wouldn't let me dance with their daughters anymore. I was free and in hiding, depending on the day, where I was, and who I was around.
Being in a highly visible queer relationship is like being in any other highly visible relationship, except that your existence challenges what's considered normal. In that way, being queer comes with more responsibility and weight. It means you recognize and confront oppression, and that's a beautiful thing. Of course, people staring at you while you're getting groceries is weird and invasive, but it's no challenge compared to what trans women of color, indigenous people, or racial minorities face every single day of their lives.
Early on in my choreographic career, I made it a point to have women dance together intimately, supporting each other equally, with strength. My work has always mirrored who I am. If my story, as someone who was judged, bullied, and taken advantage of, can be a beacon of hope for struggling LGBTQIA+ youth, I'm so happy for that. I want to tell those kids to find something (or someone, or somewhere) that brings them a feeling of safety, and to hold on to that thing. Dance was that thing for me.
Nick Lazzarini, Founding Partner of Shaping Sound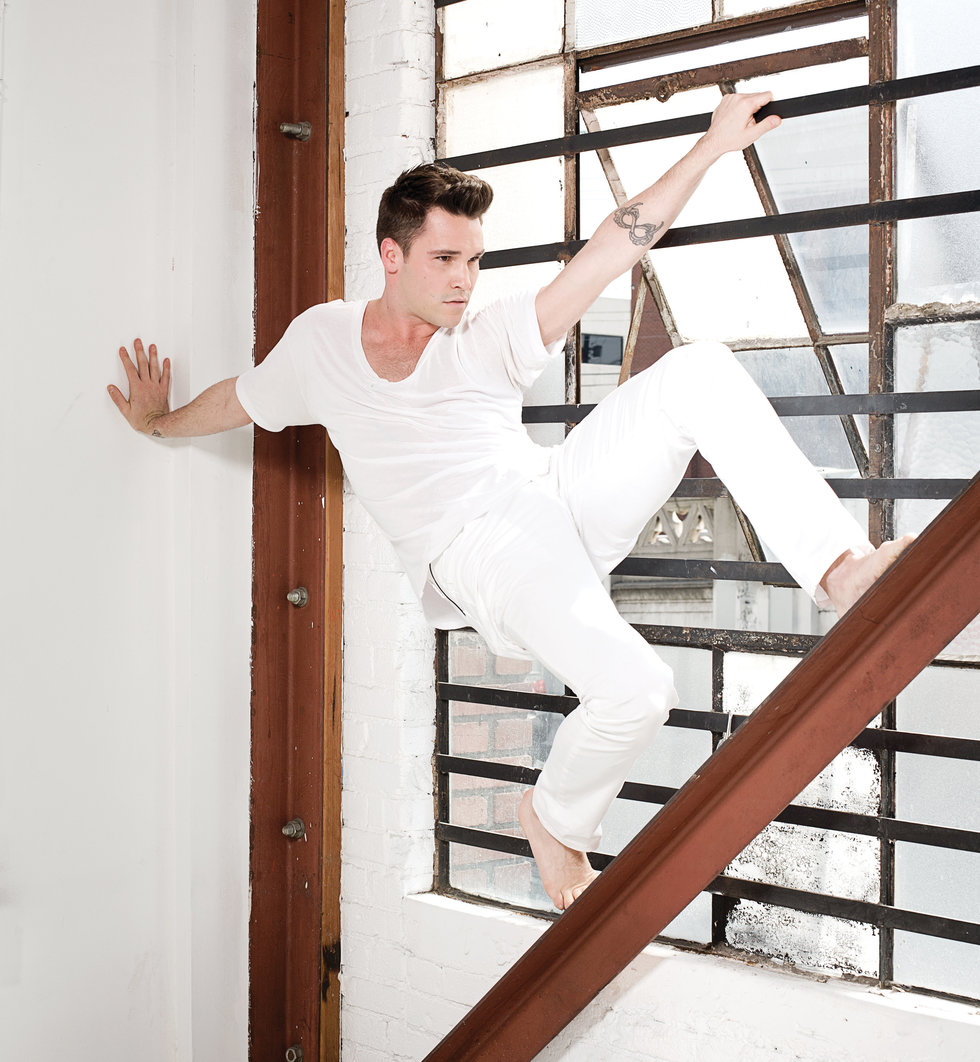 Photo by Joe Toreno
For as long as I can remember, I've always identified more with females. Growing up, I had friends who were girls, who turned into girlfriends. But in the back of my mind I always knew I liked boys. When my parents and I finally talked about it, it was after I did "So You Think You Can Dance." My mom came out to visit me in Las Vegas. She said, "You can talk to us about anything. Your girl problems...or boy problems." I turned white, but my mom said nothing was changing, and that she and my dad were happy I could be my full self. She said they had always known.
When I was a kid, dance gave me a safe space. In school, especially elementary school, I felt like I couldn't speak up or be myself because of bullies. Being around my friends in dance allowed me to be who I was. Once, when I was about 13, I got in a fight with another kid. I just snapped after years of bullying. It wasn't the right thing to do, but I understand why it happened. It's important to remember that kids aren't born mean. Fortunately, I've always maintained a tight-knit group of friends, people who knew me before I came out, and who have always been there for me. It's important to find those people who you know, no matter what, will be there for you to fall back on.
Ariana DeBose, Broadway Dancer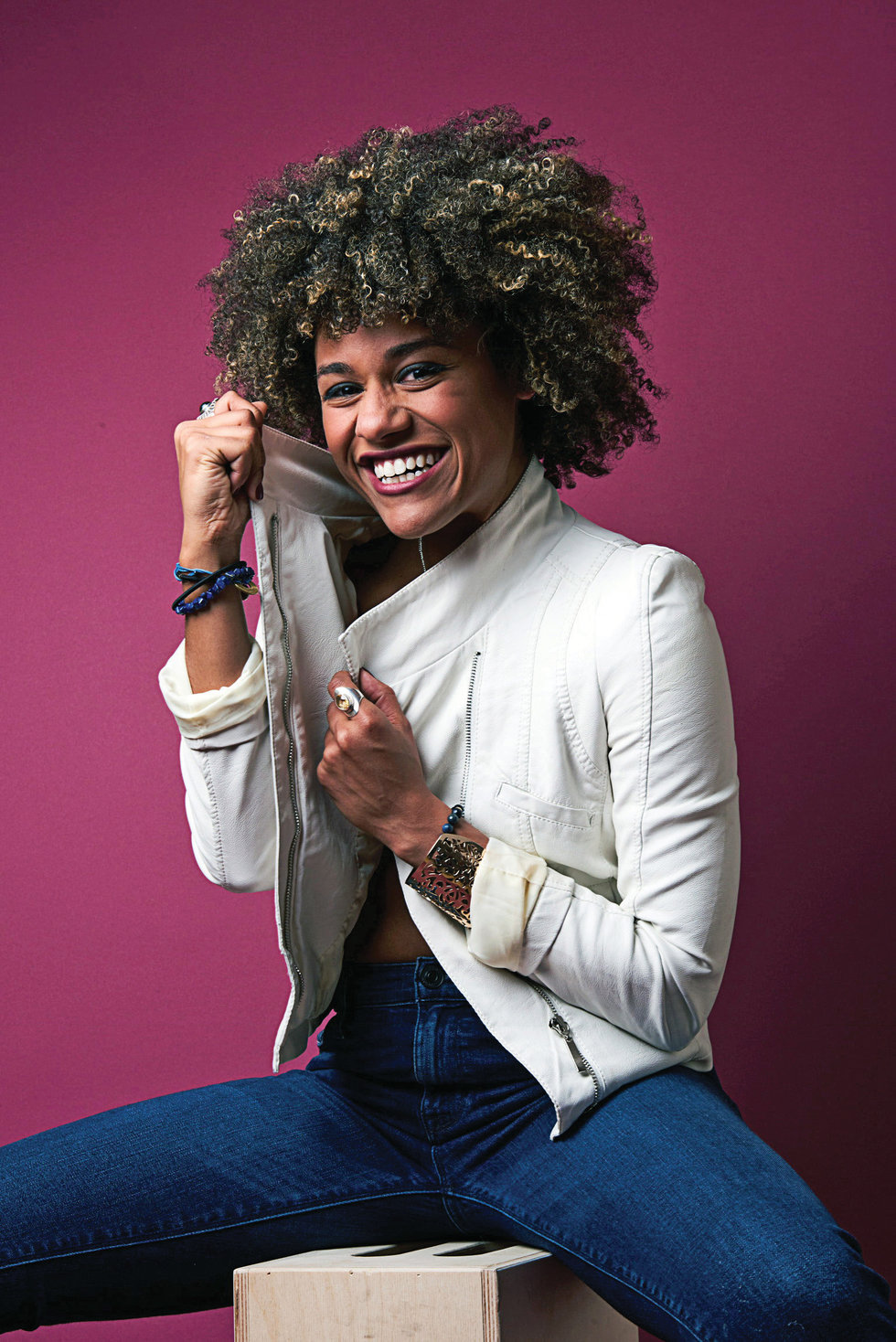 Photo by Jenny Anderson, courtesy Debose
When I was younger, friends would ask why I didn't have a boyfriend. My answer was always "Because I'm not interested and I sure don't have the time." You know: #icantihaverehearsal. Growing up, I was very focused on my training. It wasn't until I moved to NYC that I really started exploring my sexuality—though, looking back, I realize it was dance that taught me how to be vulnerable with others.
I absolutely consider myself an advocate for queer dancers. Working in the Broadway community has given me a platform, and I take that very seriously. I think letting young people see that you can, in fact, be a successful artist and be out and proud gives them something to hope for. I was one of those young dancers, once. And while I might not have been bullied, I know what it feels like to stay silent for fear of being judged. I want young people to know that attraction is a good and natural thing. Standing in your truth is one of the most difficult and empowering things you will ever do for yourself.
James Whiteside, Principal Dancer at American Ballet Theatre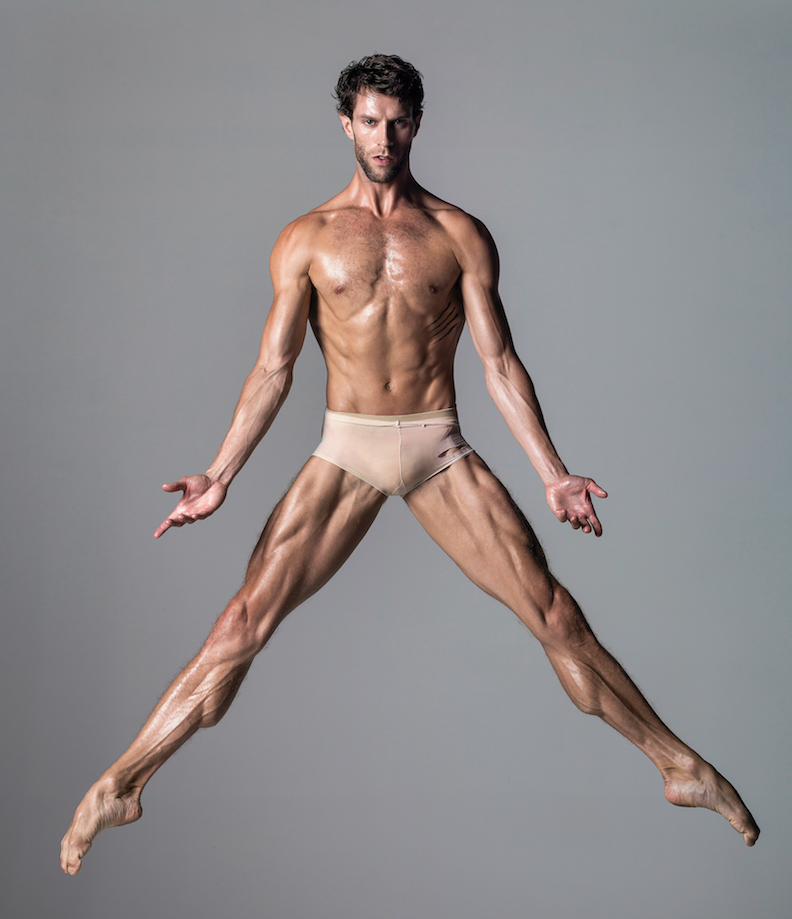 Photo by Nisian Hughes, courtesy Whiteside
I've always been aware that I'm cisgender but I have an extreme fascination with the feminine, and a deep respect for it, as well. As far as my homosexuality is concerned, others were aware of it before I was able to accept it. My friends would suggest that I was a homosexual, to which I'd vehemently reply "No I'm not!" After a while, it became clear that they'd noticed something I didn't yet have the strength to face.
As a young person, I was bullied because I was a dancer. I was called fairy, faggot, pussy, pansy, and more. When I was in high school, my friend asked me to dance with her in a pep rally. I was terrified, but I was also determined to show people that my life wasn't a joke, that I should be taken seriously and respected—pretty intense stuff for a 16-year-old. My friend and I choreographed a number to Britney Spears' "Oops! I Did it Again," and when we performed it, the school went nuts. I felt vindicated, and learned that the best way to shut up your haters is to rise above them. Like Fetty Wap's "Trap Queen" says, "Everybody hatin', we just call 'em fans though."
Now I'm beyond willing to be vocal, honest, and blunt about my sexuality. I am not ashamed. If that inspires others to accept themselves, then my heart is full. Once you've found yourself, help others find themselves.
A version of this story appeared in the May/June 2018 issue of Dance Spirit with the title "It Gets Better—Really."
Dancer to Dancer
Apr. 19, 2019 03:37PM EST
Gabriel Figueredo in a variation from Raymonda. VAM Productions, Courtesy YAGP.
This week, over 1,000 young hopefuls gathered in New York City for the Youth America Grand Prix finals, giving them the chance to compete for scholarships and contracts to some of the world's top ballet schools and companies. Roughly 85 dancers made it to the final round at Lincoln Center's David H. Koch Theater on Wednesday. Today, the 20th anniversary of YAGP came to a close at the competition's awards ceremony. Read on to find out who won!

Dance News
Apr. 19, 2019 07:00AM EST
After a string of ballet-company rejections, Jennifer Sydor (here in Laura Peterson's "Failure") found success in other areas of the dance world. (Stephen Delas Heras, courtesy Jennifer Sydor)
In her senior year at Butler University, Jennifer Sydor auditioned for more than a dozen regional ballet companies—and got a string of "no, thank you" responses. "I have an athletic build, and my movement quality isn't the typical ballet aesthetic," Sydor says. "But I'd been laser-focused on ballet. When I didn't get a ballet contract, I was heartbroken."
Her one job offer came from Kim Robards Dance, a small modern company based in Aurora, CO. After attending KRD's summer intensive, Sydor ended up accepting a yearlong position with the troupe. "I was relieved and happy to begin my career," she says. She's been working as a contemporary dancer ever since.
In the dance world, rejection is part of the package. That doesn't make it any more pleasant. But whether you didn't get the Nutcracker role of your dreams or you weren't picked for a job despite feeling like you aced the audition, you can emerge from even the most gut-wrenching "no" smarter and stronger.
Mind
Apr. 18, 2019 07:13PM EST
Ballet West principal Beckanne Sisk as Kitri (Luke Isley, courtesy Ballet West)
Guess who's baaaaack?! Your resident Dance Spirit astrologers! And on the eve of the Youth America Grand Prix awards ceremony, we thought it was the perfect time to pair each zodiac sign with a variation commonly seen during the competition. After many painstaking hours spent researching, consulting the stars, and staring wistfully into the sky, we compiled our data and present you with the definitive list of each star sign as a YAGP variation! As we said last time, don't @ us if you're not happy with your pairing—the stars don't lie, baby!
Dancer to Dancer