The North American tour production of The Phantom of the Opera is massive, with a large cast and a fabulously elaborate set (including that famous chandelier). How do all those moving parts get from city to city, giving audiences across the country the same spectacular show? Unsurprisingly, cast and crew alike have their travel routines down to exact sciences. We talked to Emily Ramirez, a former professional ballet dancer who stars as Meg Giry, and to production stage manager Heather Chockley about how Phantom hits the road.
---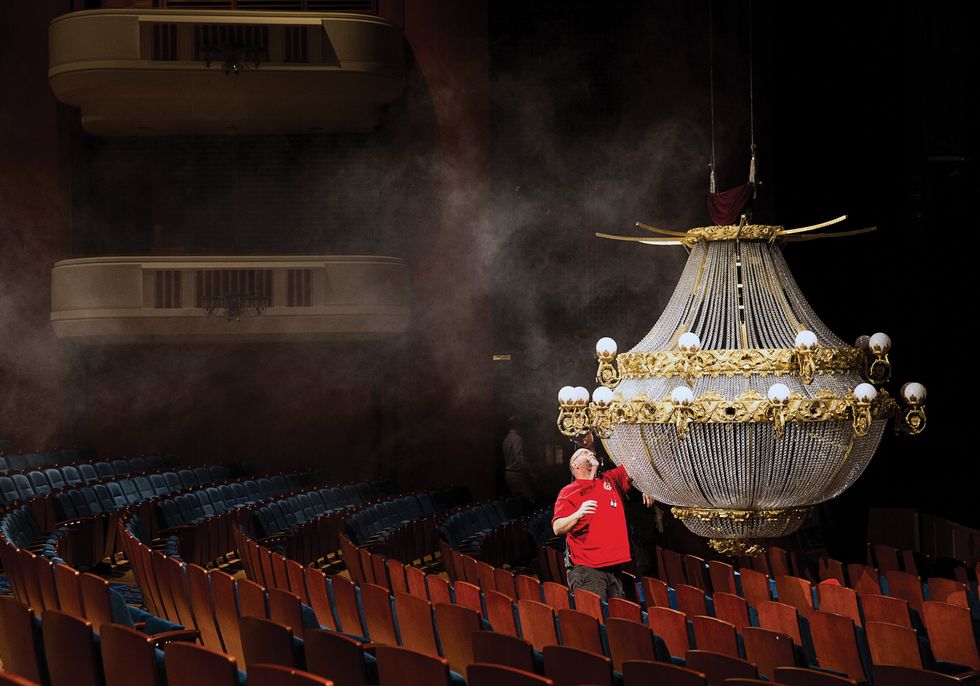 A crew member adjusts the famous chandelier (photo by Matthew Murphy, courtesy Broadway Booking Office)
When your show includes a one-ton chandelier, a huge revolving wall, double-height opera boxes, 100 moving lights, and almost 100 wireless microphones, preparation for each stop on the tour has to begin well in advance. "About a year out, our production guys will go to each prospective theater and get every possible measurement," Chockley says. "Then we'll drop our show map onto their theater map, and troubleshoot sticking points." Large theaters, like the Kennedy Center in DC or the Hobby Center in Houston, don't require many adjustments. But in smaller locations, significant changes might have to be made to accommodate the complicated production. "For one theater in South Bend, IN, we had to add a big structural steel beam over the audience to hang the chandelier from," Chockley says.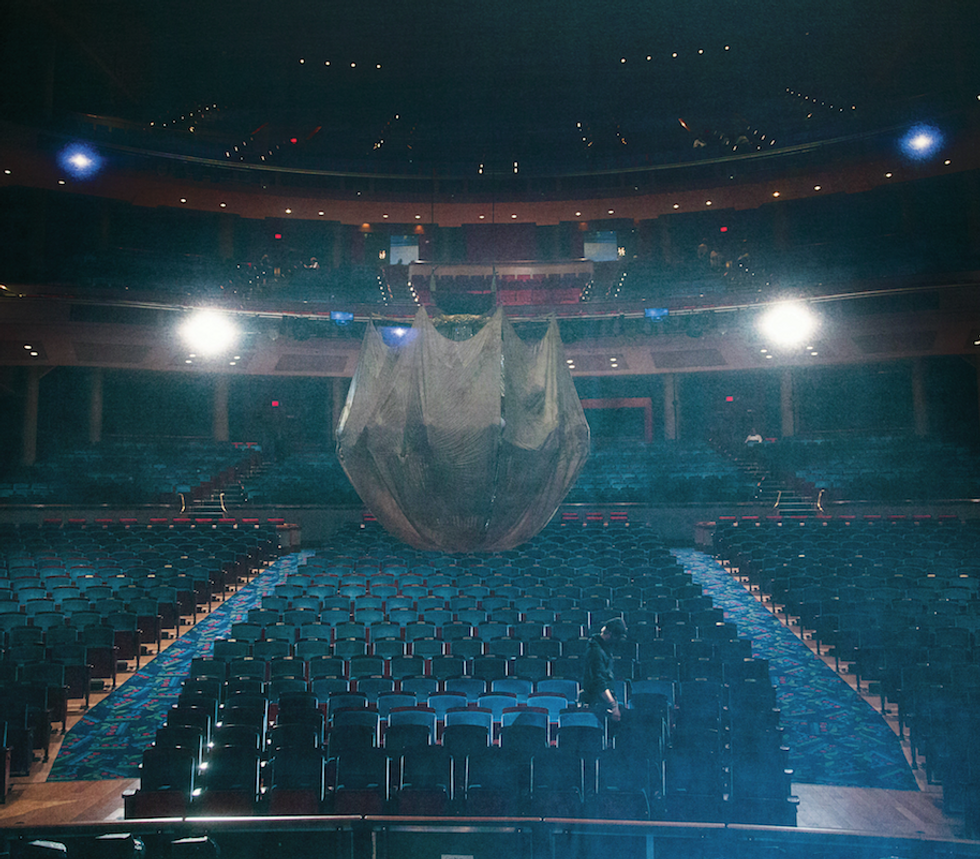 The chandelier in its cover (photo by Matthew Murphy, courtesy Broadway Booking Office)
"The chandelier is its own beast," Chockley says. "It fills the whole width of its truck, and has its own traveling cart. We usually have to build some portable decking over the seats to roll it out, and we'll have previously installed some motors in the ceiling to pick it up. Then, there's all kinds of safety testing that happens based on the height it'll travel in the theater."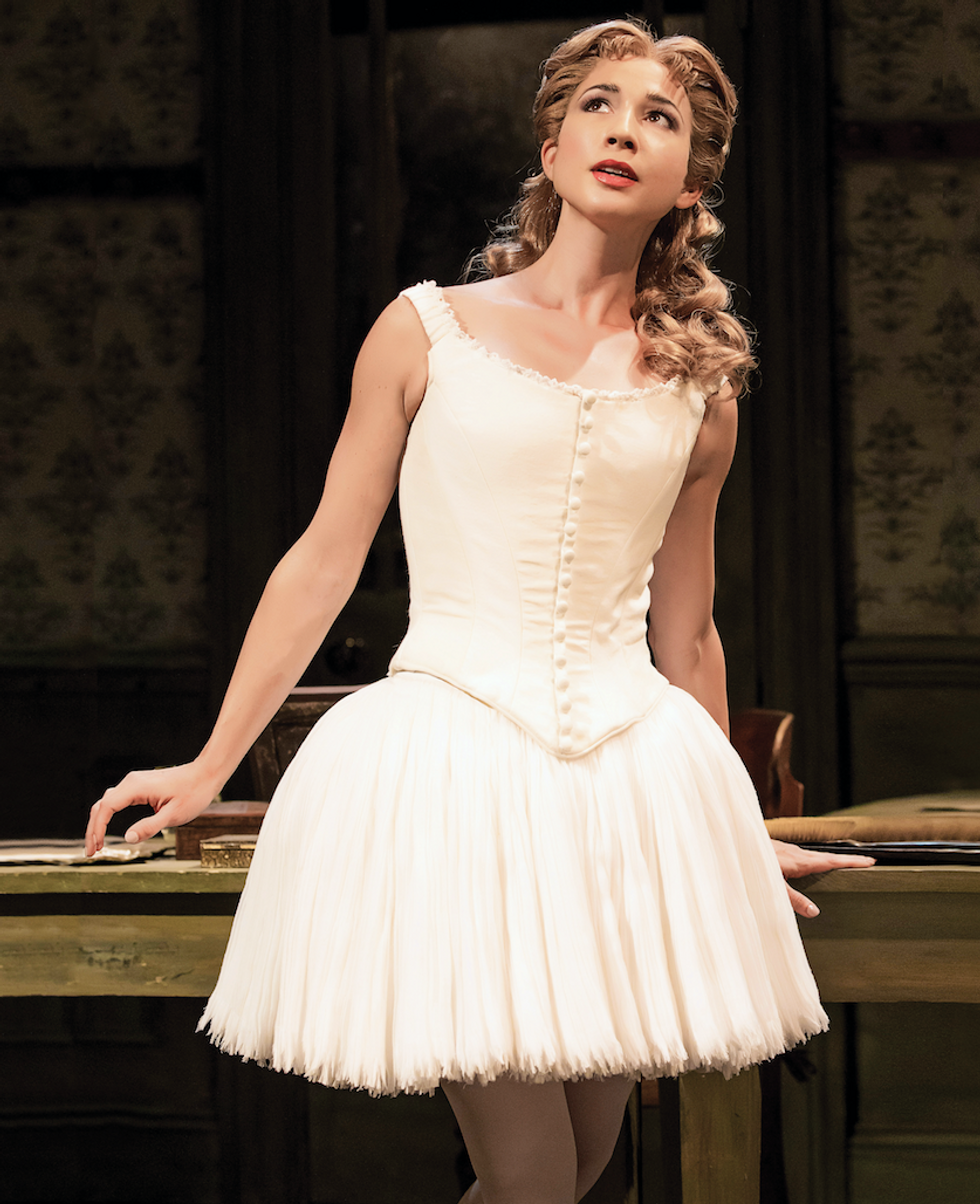 Ramirez as Meg Giry (photo by Matthew Murphy, courtesy Broadway Booking Office)
For the cast, traveling looks a little different every time. "There's always a company travel option—a flight, or a bus, arranged by the show," Ramirez says. "But you don't have to take it, and a lot of people do their own thing. You might be able to take a buyout for the price of the flight and book a ticket home for a day or two, for example. I tend to switch it up."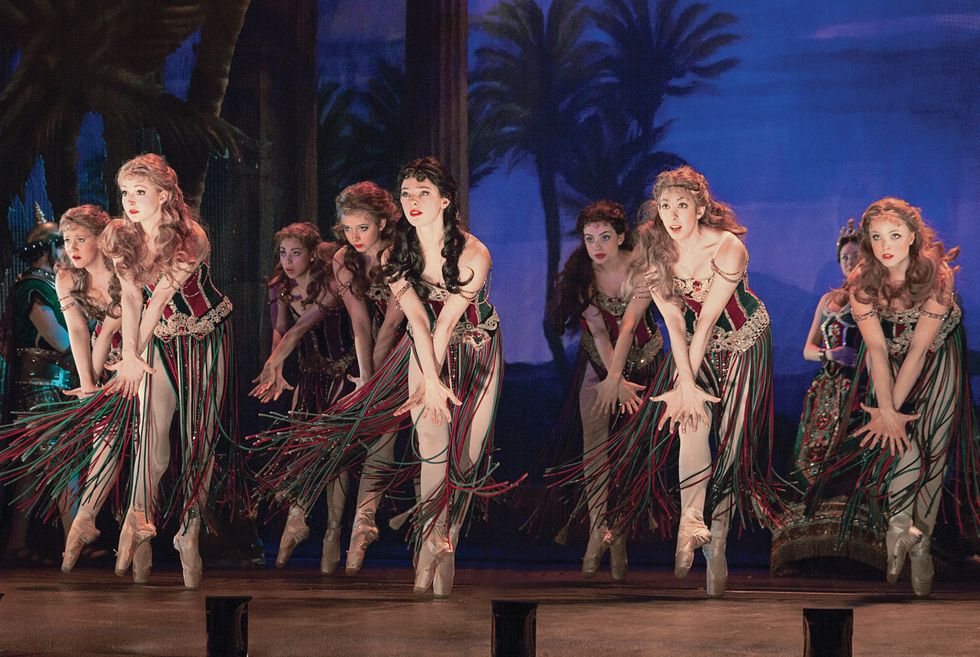 The corps de ballet in "Hannibal" (photo by Matthew Murphy, courtesy Broadway Booking Office)
Because Phantom's set covers the entire stage, including the floor, the dancers don't have to worry much about variations in stage dimensions or floor surfaces. Backstage, however, is a different story. "We might get lucky and have a full mirrored, marleyed studio to warm up in," Ramirez says. "Or we might be warming up in a triangle-shaped storage closet with carpet on the floor!"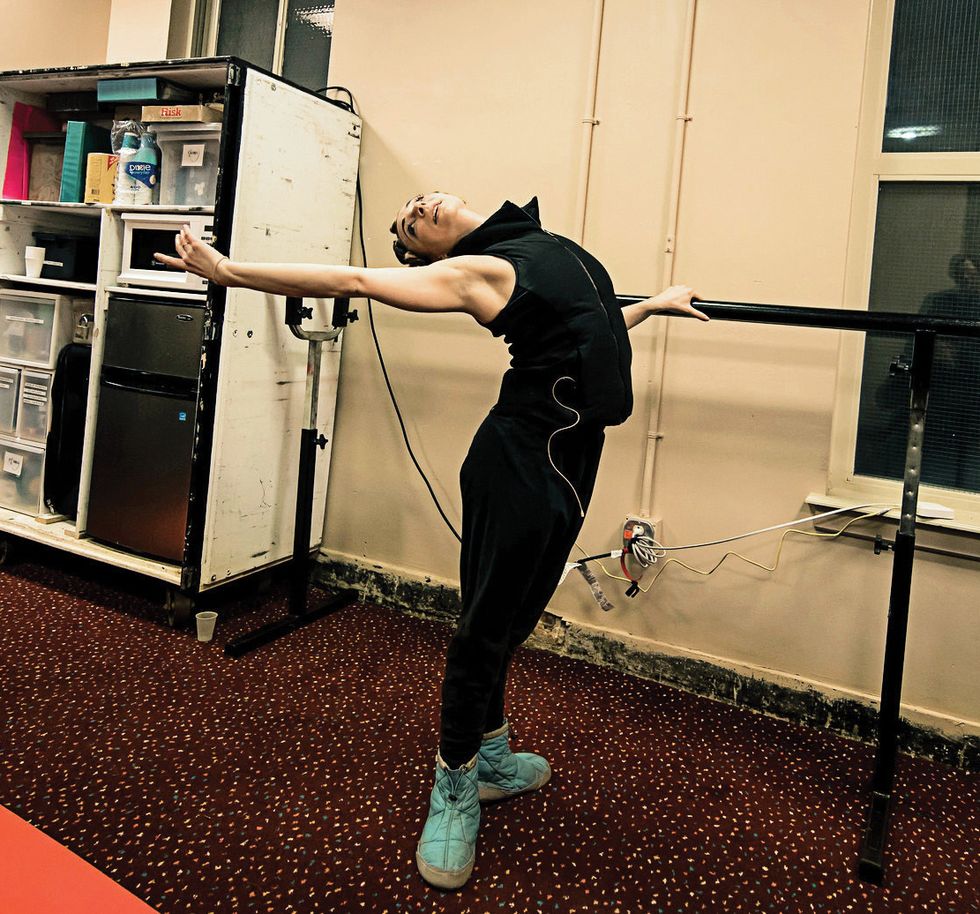 Dancer Daniela Filippone warming up (photo by Matthew Murphy, courtesy Broadway Booking Office)
Staying in shape on the road poses a special challenge for the show's dancers. "If I know I'm going to be stuck on a plane or bus for a while, I'll do little things to keep the juices flowing," Ramirez says. "In the airport, I never get on the people mover or take the escalator; I'll always walk. If I have a long layover, I'll walk the entire airport!" Once in her hotel room or Airbnb, she'll do some kind of workout that involves her own body weight—Pilates, yoga, or TRX. And she counts her humidifier, collection of essential oils, probiotic supplements, and neti pot among her travel must-haves. "Just keeping yourself healthy on the road is a full-time job," she says.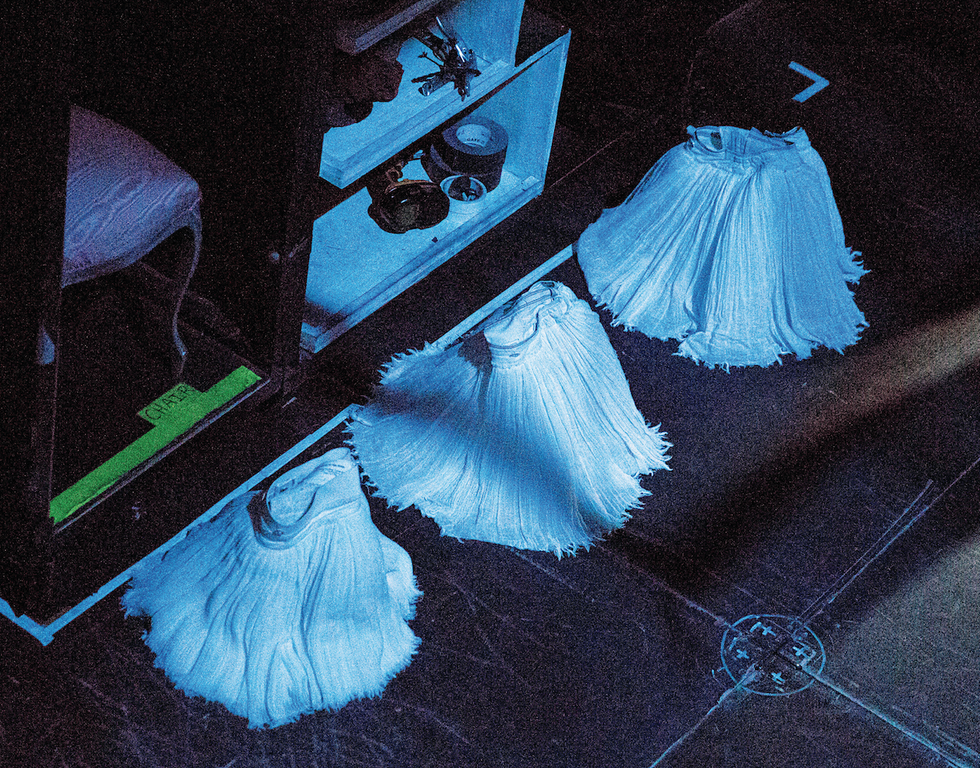 Tutus backstage, ready for the dancers' quick change (photo by Matthew Murphy, courtesy Broadway Booking Office)
To transport sets and costumes, the show uses 20 semi-trailer trucks. All of the show's scenery breaks down into "manageable, or at least truck-sized, pieces," Chockley says. Most costumes travel in big rolling closets with hard shells, which the crew calls "gondolas."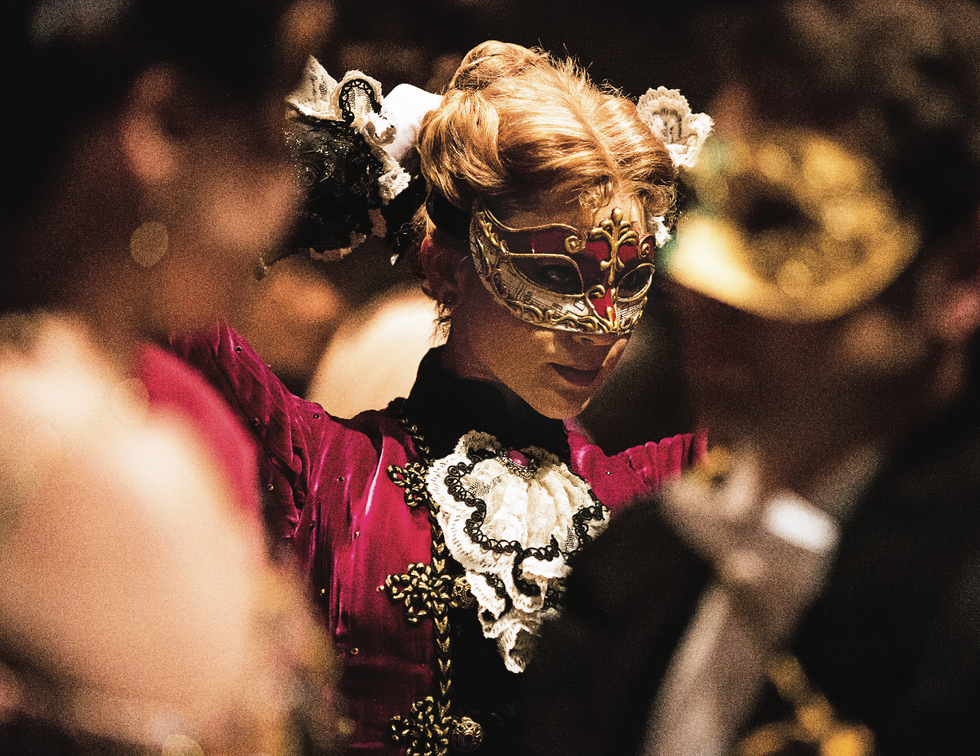 Ramierez prepares for "Masquerade" during intermission (photo by Matthew Murphy, courtesy Broadway Booking Office)
Despite the complexity of the show, load-in and load-out happen quickly—feats made possible by the intensive advanced planning. "Standard load-in is three days, with a show the evening of the third day," Chockley says. "Then we'll have about 15 hours to get everything out afterward. It's always easier to take a puzzle apart."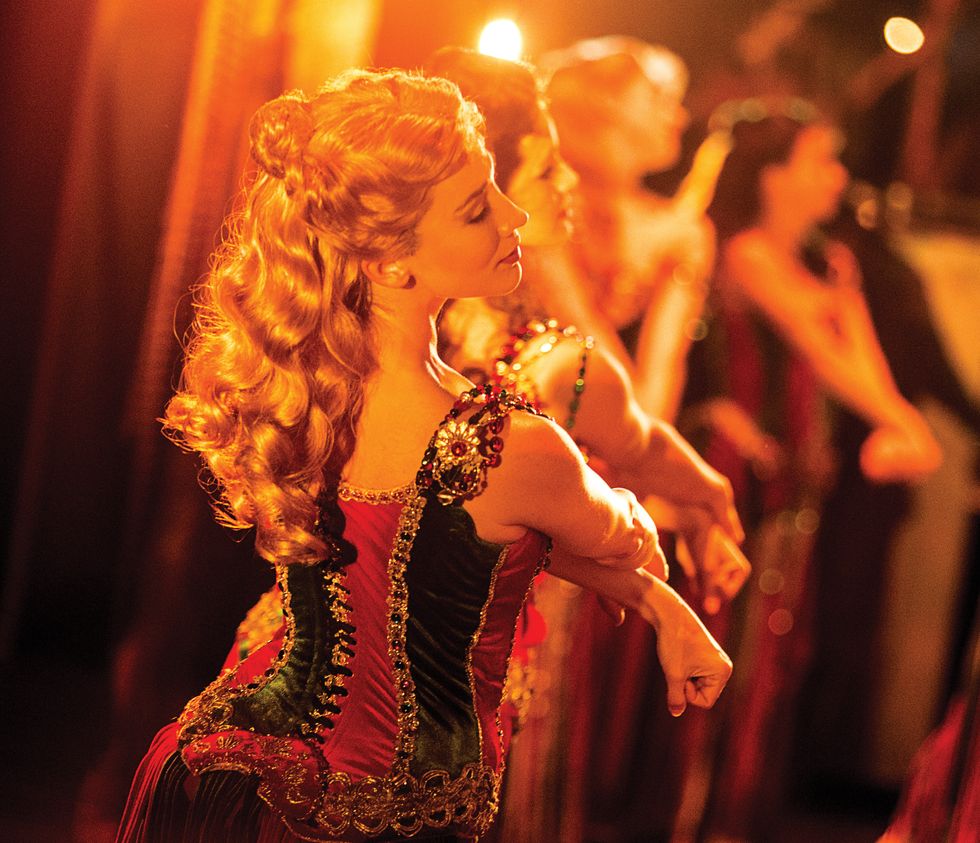 Ramierez and the corps onstage (photo by Matthew Murphy, courtesy Broadway Booking Office)
The cast has relatively little prep time before the first performance in a new theater. "Usually we'll be called in at 5 pm, and we'll run different pieces from a couple numbers and then one number in its entirety," Ramirez says. "But that's not really for us; it's for the sound people, to get their levels right in the space." At 8 pm that same day, they perform their first show. "Unless we're putting in a new person, we don't have other rehearsals built into the schedule," Ramirez says. "We might go a month or two without rehearsal. But when you're performing eight times a week, you know what you're doing."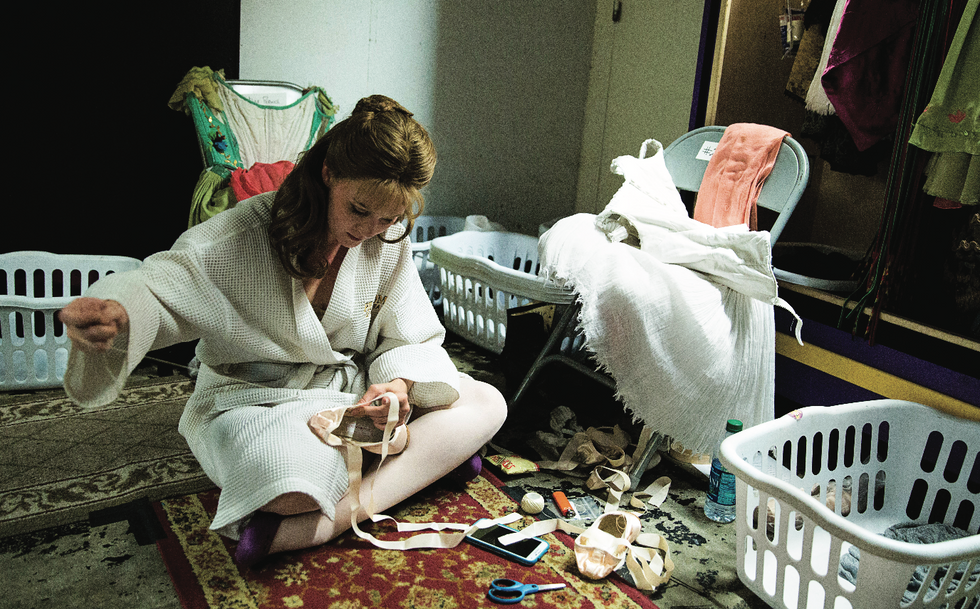 Dance Captain Lily Rose Peck repairing her shoes (photo by Matthew Murphy, courtesy Broadway Booking Office)
Despite the sometimes less-than-glamorous daily realities, Ramirez finds touring life deeply fulfilling. "This show has such an incredible reputation and history," she says. "There are a lot of variables when you're on the road, but no matter how I'm feeling or what kind of warm-up I just had or what my flight was like, the thing that's always consistent is that I want the audience to have an amazing experience. That's what keeps me grounded."
A version of this story appeared in the July/August 2018 issue of Dance Spirit with the title "Let's Take This Show on The Road."