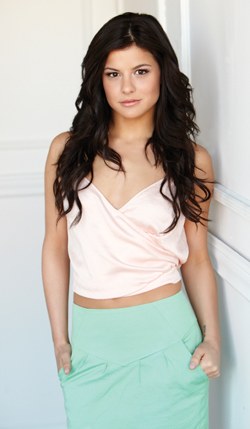 The "So You Think You Can Dance" tour is an unreal experience. During the three months on the road, we perform almost every night in sold-out venues filled with thousands of supportive fans.
The "SYTYCD" Season 7 tour, in the fall of 2010, was going amazingly well until October. That's when the lower half of my body started to feel numb. It's difficult to describe the feeling (or non-feeling) exactly, but it was like a mix between pins and needles and when you get Novocain at the dentist. During the same time, I started to get an electric sensation down to my toes when I put my chin to my chest. Although I couldn't think of a particular moment of injury, I figured maybe I had herniated a disc. After all, we were doing six performances a week, which was hard on our bodies.
Since I never experienced pain during these episodes—the symptoms were always just nagging discomforts—I didn't mention any of this to a doctor. I tried to overcome the feelings as best I could, with regular stretching and body care. By mid-March, I thought I was getting better because I began to regain feeling in my legs (though I never felt 100 percent). But then later that year my entire right side started to go numb. That's when I realized something was seriously wrong.
My grandmother has multiple sclerosis, a chronic autoimmune disease that affects movement, sensation and bodily functions. I watched her live with the disorder and knew many of the symptoms of MS overlap with the symptoms of a herniated disc, like the numbness and tingly feelings I was having. So when I finally went to the doctor over Christmas, I asked to be tested. I had a gut feeling I had the disease, but he said he doubted my test results would come back positive. There have been no studies proving MS is hereditary, although some studies show that many people with MS have family members who have the disease.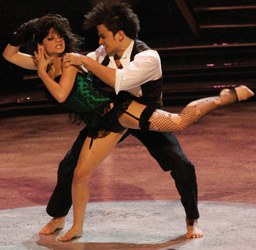 Performing a jazz routine with Mark Kanemura on "SYTYCD" Season 4 (Kelsey McNeal/FOX)
I got a series of MRIs done, and my inkling was correct: The films showed plaque on my spinal cord and lesions on my brain, confirming MS. When the doctor told me the news, I was upset, but I also felt a sense of clarity. I had a diagnosis and could start treating the disease. My first question was, "Will it affect my dancing?" But my doctor said, "The best thing for you is to keep dancing and keep your muscles strong." I definitely didn't have any objections to that!
At first, I was apprehensive about sharing the news of my diagnosis. This disease comes with the assumption that you'll get progressively worse and perhaps eventually become immobile. (MS attacks the myelin covering your nerves. Without that, your brain can no longer convey messages along the nerves to your muscles, which stops the muscles from working.) I was afraid people would think I could no longer do the things I've always been able to do or that they wouldn't hire me.
However, because of advances in medicine and research, there are many things a person with MS can do to prevent this from happening. I get an injection called Rebif three times a week. Rebif is used to prevent episodes of symptoms and slow the development of disability in patients with relapsing-remitting MS, which is the type I have (my grandmother has primary-progressive MS). Rebif isn't my favorite thing, but it's what I need to keep myself healthy, along with eating right and exercising.
I occasionally experience certain symptoms, like tingling or feeling off-balance, if I'm upset or stressed—stress is one reason relapses occur. But I'm currently in remission and able to dance. Since I was diagnosed, I've filmed episodes of "Glee," I've danced with Al Pacino in a new movie called Stand Up Guys (that was a whole lot of awesome!) and I've performed on "Dancing with the Stars." I was in the Rock of Ages movie, and I've traveled with "SYTYCD" doing Season 9 auditions. Plus, I started my own dance convention with my family called The BEAT. Some of the teaching faculty are former "SYTYCD" contestants, including Stephen "tWitch" Boss, Allison Holker, Dominic "D-Trix" Sandoval, Robert Roldan, Ade Obayomi and William Wingfield. I found out about my MS diagnosis the day after our first BEAT event in NYC. I was grateful for the timing. The BEAT gives me a chance to surround myself with family, friends and dance no matter what course MS takes.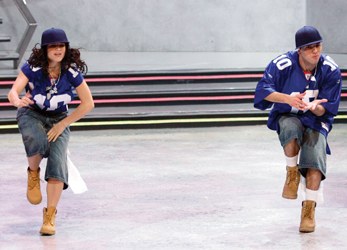 Performing a hip-hop routine with Gev Manoukian on "SYTYCD" Season 4 (Kelsey McNeal/FOX)
After receiving my diagnosis, I decided I wanted to help raise awareness about MS, so my brother and I teamed up with the National Multiple Sclerosis Society and started a foundation called BEAT MS. Now a portion of every BEAT registration will go toward the organization, which funds MS research. The society also provides people like my grandmother with nurses, helps pay for costly MS medication and hosts the MS Walk every year all over the U.S. This year my friends on both coasts took part in the walk and raised more than $20,000.
I have good days and bad days, but I've learned a lot about life that I don't think I would have otherwise. Since MS is an anxiety-driven disease, I'm trying to stop worrying (I'm a worrywart by nature) about my future. I'm also learning not to obsess about my past, wondering what I could have done better. I'm working on enjoying the now.
During the "SYTYCD" tour in 2008, I got a tattoo across my feet that, when I stand in first position, reads, "I walk forward with certainty that my dance is secure." Those words apply to my life now more than ever.
Lol, same. (Screenshot via YouTube)
Picture this: You've scored tickets to Ellen DeGeneres' hit show, "Ellen." The day has come, the show is as hysterical as ever, Ellen is debating the biggest hot-button issue since the blue/black or white/gold dress, "Laurel vs. Yanny" (side note: it's LAUREL, people), and tWitch is killing it over at the DJ booth, as always. Ellen decides it's the perfect time to single out an audience member and, lo and behold, that person is "SYTYCD" champ ( and December 2017 cover star!) Lex Ishimoto.
Keep reading...
Show less
via @kyle_vanny on Instagram competing on World Of Dance
Kyle Van Newkirk is a tap dancer you probably remember from the premiere season of NBC's World of Dance. In case you missed it, he is also one of Showstopper's incredible convention teachers. What makes Kyle stand apart from some of today's other incredible tappers? He isn't afraid to change what tap means to his audience and even himself. This modern view of tap dancing is important because it shows us that tap dancers are just as versatile and dynamic as dancers of any other genre. We sat down with Kyle to get his advice on bringing tap dancing into the 21st century.
Keep reading...
Show less
How To
Oct. 01, 2010 04:55PM EST
(Nathan Sayers)
Turnout—a combination of rotational flexibility and the strength to properly hold that rotation—is the foundation of ballet. But it's also a source of frustration for many dancers. After all, not everyone (actually, hardly anyone) is born with 180-degree rotation. "When I first started dancing, my hip flexors were strong, but I was forcing my turnout without using the right muscles," remembers Amanda Cobb, a former dancer with The Washington Ballet.
The good news is that it's possible to both improve your turnout and to dance beautifully with less-than-perfect rotation. But there's a lot of misinformation out there about how turnout works and why it's important. To help separate fact from fiction, DS asked the experts to disprove six turnout myths.
Keep reading...
Show less
University of Minnesota Dance Team (courtesy University of Minnesota)
They say there's no "I" in "team"—and nowhere is that truer than the world of college dance teams, where precision reigns, uniformity is key, and a single misstep from any given "I" can cost a group a championship trophy. So it's unsurprising that securing a spot on one of the best dance teams in the country is no easy feat.
Members of these highly athletic teams rehearse for hours every week—on top of academic classes and commitments—and perform at football and basketball games, annual concerts, and nationally televised competitions (hi, ESPN). And "no I" rule notwithstanding, each of these top teams is made up of highly trained, highly technical, highly hard-core individuals, who come together to create a ready-for-victory pack.
These six teams aren't one-off success stories—they're consistently strong, and earn the top spots at major competitions like UDA and NDA nearly every year. Up for the challenge? Here's what to know before you go to auditions.
Keep reading...
Show less
Marilyn knows what's up.
If diamonds are a girl's best friend, it's safe to say that faux-diamond earrings are a dancer's best friend. A fixture onstage at just about every competition weekend, these blinged-out baubles are also the surest sign that recital season is upon us again. And what better way to get into the sparkly spirit than by drooling over these 5 diamonds in the rough? (Sorry not sorry!)
Keep reading...
Show less
May. 16, 2018 02:26PM EST
Ema Peter
The Glorya Kaufman International Dance Center is the 54,000 square foot home of the USC Glorya Kaufman School of Dance, one of the largest facilities dedicated to dance on a private university campus. Designed for their innovative new curriculum, that supports a range of dance styles, the school's staff designated Harlequin to provide wall-to-wall flooring for the large 3,500 square foot Performance Studio as well as five dance studios in their new state-of-the-art building.
Keep reading...
Show less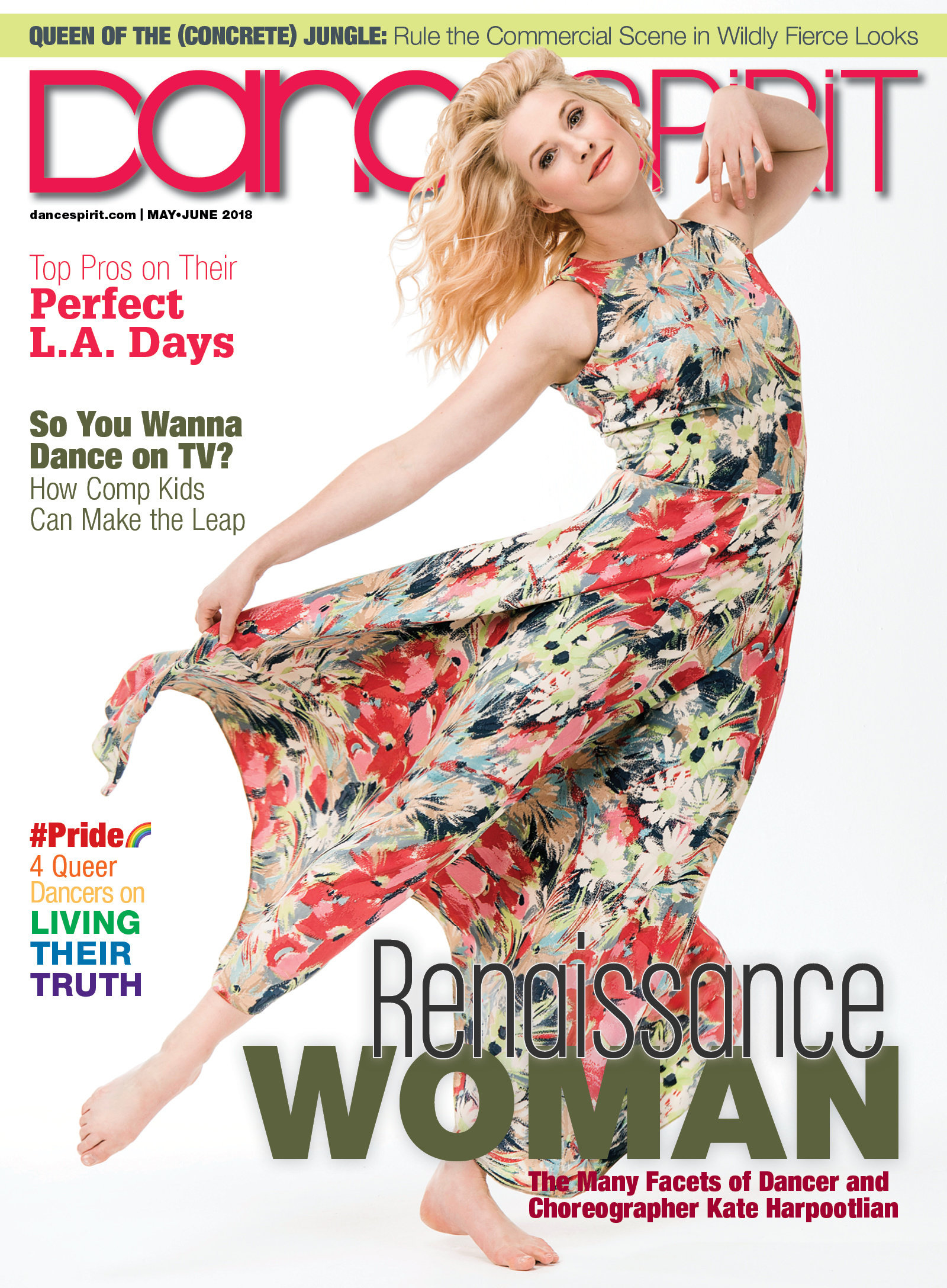 Get Dance Spirit in your inbox