Jun. 16, 2015 07:16AM EST
About a year ago, Maddie Ziegler received a life-changing message…via Twitter. Edgy Australian musician Sia, who'd become a fan of Maddie after seeing her on the reality show "Dance Moms," wrote to ask if the then–11-year-old comp kid would like to appear in a music video. "I thought the message was a joke or something, because famous people don't usually Tweet kids to ask them to be in a video," Maddie says. "But two weeks later, I was flying to L.A. to learn the choreography for Sia's 'Chandelier.' I thought it would just be a fun little project, but it turned out to be pretty major."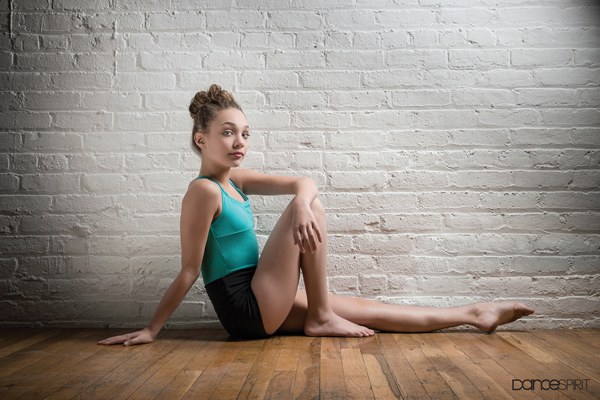 (Photo by Lucas Chilczuk)
Very major: That video, which featured Maddie dancing an eccentric, emotional solo in Sia's signature blonde wig, completely transformed the young dancer's career. It racked up more than 500 million views on YouTube, was named the top video of 2014 by Rolling Stone and received a Grammy nomination for Video of the Year. Within months of answering that fateful Tweet, Maddie had performed with Sia on "The Ellen DeGeneres Show," "Jimmy Kimmel Live!" and "Saturday Night Live." And in early 2015, she appeared in a second internet-breaking Sia video, "Elastic Heart," in which she danced alongside actor Shia LaBeouf.
One thing's for sure: While she's still a favorite of "Dance Moms" fans, Maddie's no longer just a reality TV kid. "I think people have started to see me completely differently," says Maddie, now 12. "I feel like Hannah Montana: I've got my normal brown hair when I'm competing and on 'Dance Moms,' but when I put on that blonde wig for Sia, I go undercover—I become a total weirdo."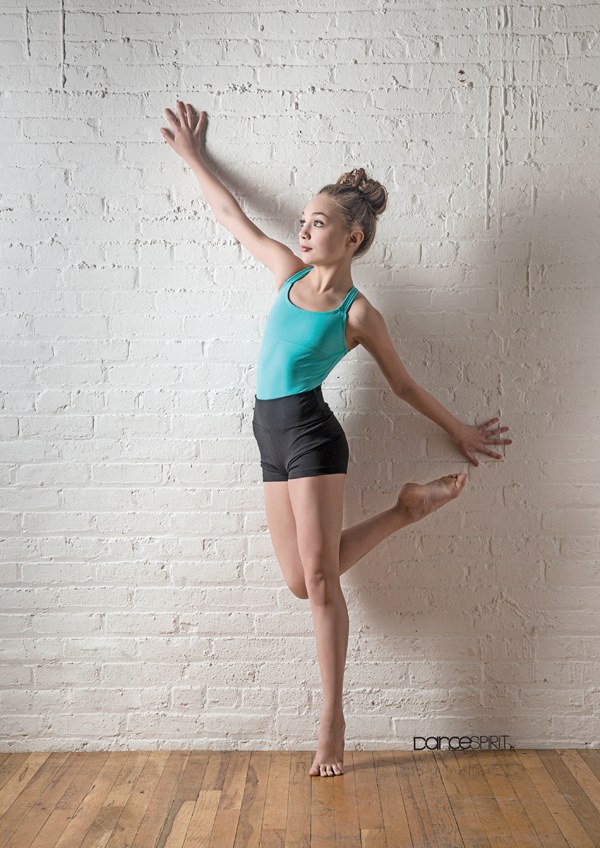 (Photo by Lucas Chilczuk)
Maddie's World
As astonishingly grown-up as she can seem in "undercover" Sia mode, Maddie is still very much a kid. She lives far from Hollywood's lights, in Pittsburgh, PA, with her mom, Melissa, and little sister, Mackenzie (both of whom are also "Dance Moms" fan favorites), and her stepdad, Greg. She continues to train and compete with the Abby Lee Dance Company, where she's been a student for more than eight years. When her schedule allows, she still takes dance and acting classes at least four days per week. Education is still a priority; she switched to homeschooling a couple years ago to make sure she could fit classes and homework into her increasingly crazy schedule. She enjoys moments when she gets to relax with her family, film makeup tutorials or go to the mall with friends—"normal kid" stuff, as she says.
Being a Celebrity Kid
Those "normal" moments are becoming fewer and farther between, though. These days, Maddie's not only working with Sia, but she's also often followed by cameras from "Dance Moms," which just finished its fifth season. During filming, Maddie's on set Wednesday, Thursday and Saturday afternoons for at least four hours—and that doesn't include off-camera rehearsals and travel time to competitions each weekend. "So many opportunities have come from 'Dance Moms,' and I'm grateful for that," Maddie says. But she has conflicted feelings about the show, which she's been filming since she was 8. "Almost every episode has something I wish wasn't there, and sometimes I just want my privacy."
Thanks to her "Dance Moms" and Sia-related successes, Maddie has an insane social media presence: more than 2.5 million Instagram followers, 605,000 Twitter followers and 117,600 Facebook fans. (And those numbers don't include the followers of the hundreds of accounts Maddie obsessives have created in her honor.) That level of fame means she's constantly being approached by admirers, which is both exciting and, sometimes, stressful. "It's hard to take pictures with fans because if I take one picture then everyone wants one," she says. "Sometimes, like when we're at Disneyland, I just have to say, 'Sorry, it's my day off, and I just want to have fun.' But I never want to be rude to fans—usually they're amazing!"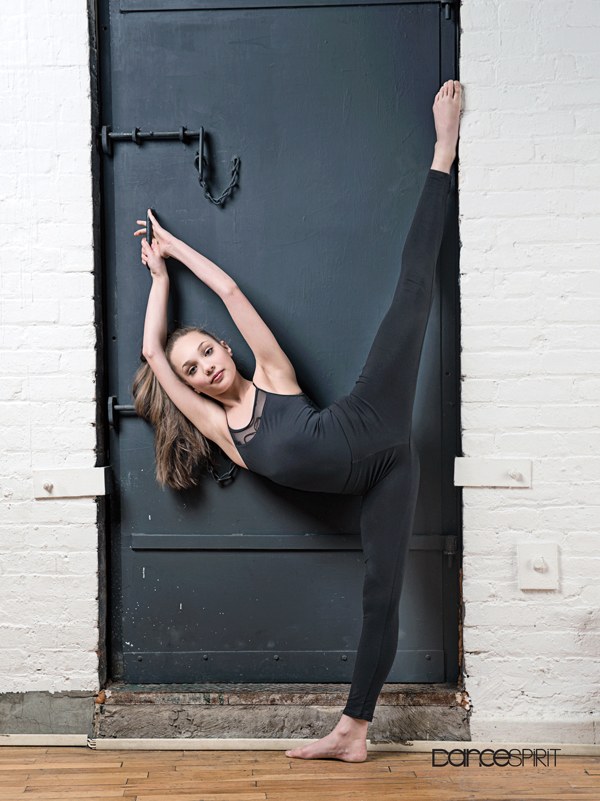 (Photo by Lucas Chilczuk)
Broadening Her Horizons
While her training with ALDC and all those extra "Dance Moms" rehearsals gave her a strong dance foundation, working with Sia was Maddie's first real exposure to dramatic acting. And while Maddie says she's always silly and crazy when she's alone with her friends, showing her wacky side in front of a camera was a new challenge. "I gave her some pretty extreme emotions to portray," says Ryan Heffington, who choreographed "Chandelier" and "Elastic Heart." "I'd ask her to hiss like a possum, and at first she just couldn't do it because she'd be laughing so hard." Eventually, though, Maddie found her inner actress and embraced the strange. "By the time we started shooting, she'd become comfortable with weirdness," Heffington says. "At this point, she can do anything I ask her, no problem."
Now that Maddie's fully embraced her dramatic side, the next step is conquering the acting world. And she's already gotten started: She recently made an appearance on Disney's "Austin & Ally." "That was just so cool, because it's my favorite show," Maddie says. "Dance will always be my number-one passion, but I definitely want to keep doing scripted TV shows, and I'd love to be in a movie."
Heffington agrees that Maddie is made for a multifaceted career. "She's an incredibly passionate artist—not just as a dancer, but also as an actress," he says. "She has the capability to cross over to other art forms and expressions besides dance."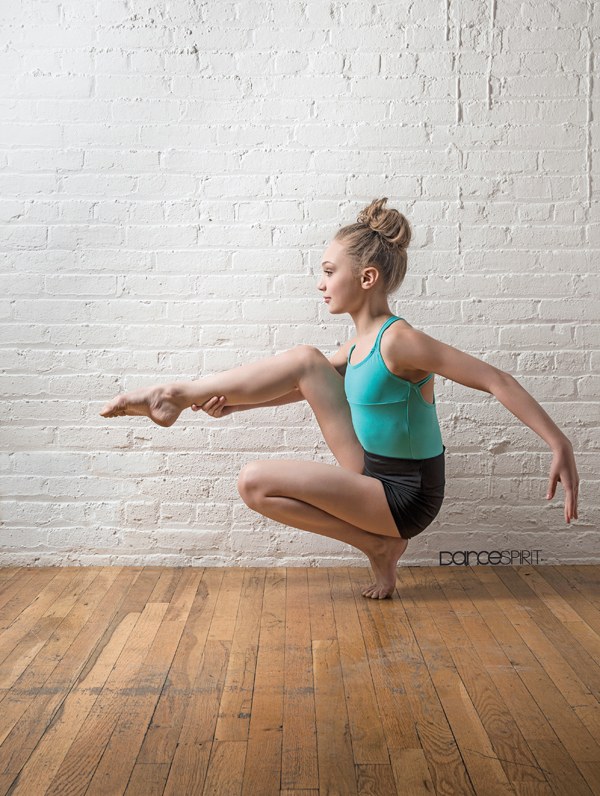 (Photo by Lucas Chilczuk)
The Next Steps
So, what does Maddie want to be when she grows up? "I don't want to wait until I'm older—I want to do everything now!" she says. And it's clear that this preteen phenom isn't slowing down anytime soon. "My schedule is very hectic, and it might be a little stressful sometimes," she says. "But I have so many fun things happening every day. I'm definitely loving life right now."
Fast Facts
Birthday: September 30, 2002
Nicknames: "My full name is Madison, so Maddie is my nickname. Some people occasionally call me Mad Dog."
Pets: "We have a maltipoo puppy named Maliboo. She's the cutest little thing—she's like 4 pounds—and I love her so much."
Dream meal: Steak and broccoli, with cheesecake for dessert
Favorite TV shows: "Austin & Ally" and "Pretty Little Liars"
Biggest pet peeve: "When a metal fork scratches against a plate. It's like nails on a chalkboard."
Hidden talents: "I'm obsessed with doing hair and makeup, but people kind of know that about me. I'm like an open book. Everyone pretty much knows my life."
Biggest role models: "All professional dancers, but especially Misty Copeland. Sia is also a role model to me—she's like my best friend. I have to include my mom and all of my dance teachers, too. They're such such big inspirations."
Proudest dance moment: Performing at the Grammy Awards
Who would play her in a movie: Bella Thorne or Olivia Holt
Favorite subject in school: Language arts. "I'm hating math right now, so definitely not math."
Biggest advice for other dancers: "You have to love what you do. If you're not passionate, it's hard to truly express yourself every day."
Sister, Sister
There's nothing quite like sharing the spotlight with your sister. Here, Maddie Ziegler and 10-year-old sister Mackenzie—a fellow "Dance Moms" girl who has a burgeoning music career of her own—discuss the ups and downs of dancing, filming and growing up together.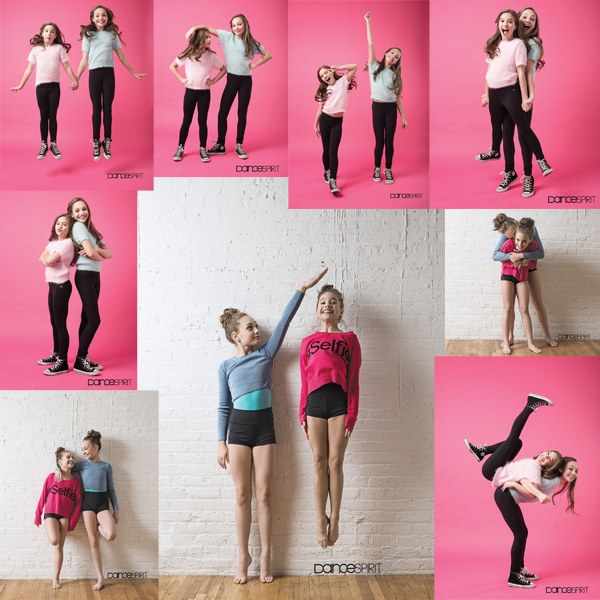 (Photos by Lucas Chilczuk)
Dance Spirit: What's it like to dance alongside your sister?
Maddie: Normally we're not on the same team since she's with a younger group,
but for "Dance Moms" we have to dance together. I'm always telling her what she's doing wrong and giving her corrections, which makes her angry. But we do love
each other.
Mackenzie: Sometimes she tells me in rehearsal that I'm doing things wrong, so we get mad at each other. But in the end, we're nice to each other and say we're sorry. When I have a solo, she gets me ready for it. And she does my hair and makeup.
DS: How are the two of you different?
Mackenzie: I do more acro and jazz, and Maddie does more lyrical and contemporary. Outside of dance, I'm doing more singing and she's doing more acting. I'm going to record my second album soon.
Maddie: Dancewise, she's more energetic and bouncy, and she does a lot of tricks. And we have different interests now. Singing is her thing, for sure. Whenever I'm singing, she'll be like, "Stop singing. You're horrible."
DS: And how are you similar?
Mackenzie: We're both good tappers. I learned a lot about tapping from her.
Maddie: Sometimes we make the same faces. People will say, "You look exactly like your sister when you do that!"
via YouTube
Keep reading...
Show less
via @kyle_vanny on Instagram competing on World Of Dance
Kyle Van Newkirk is a tap dancer you probably remember from the premiere season of NBC's World of Dance. In case you missed it, he is also one of Showstopper's incredible convention teachers. What makes Kyle stand apart from some of today's other incredible tappers? He isn't afraid to change what tap means to his audience and even himself. This modern view of tap dancing is important because it shows us that tap dancers are just as versatile and dynamic as dancers of any other genre. We sat down with Kyle to get his advice on bringing tap dancing into the 21st century.
Keep reading...
Show less
What did I just hear you say? You think all dancers are weak and delicate? PLEASE SAUT DE CHAT OUT OF MY LIFE. (Giphy)
Sure, dancers definitely have some unique identifying characteristics. (We're all obsessed with Center Stage? FACT.) But we're also subjected to all kinds of annoying, inaccurate stereotyping. Here are 10 dancer stereotypes that we never want to hear again.
Keep reading...
Show less
University of Minnesota Dance Team (courtesy University of Minnesota)
They say there's no "I" in "team"—and nowhere is that truer than the world of college dance teams, where precision reigns, uniformity is key, and a single misstep from any given "I" can cost a group a championship trophy. So it's unsurprising that securing a spot on one of the best dance teams in the country is no easy feat.
Members of these highly athletic teams rehearse for hours every week—on top of academic classes and commitments—and perform at football and basketball games, annual concerts, and nationally televised competitions (hi, ESPN). And "no I" rule notwithstanding, each of these top teams is made up of highly trained, highly technical, highly hard-core individuals, who come together to create a ready-for-victory pack.
These six teams aren't one-off success stories—they're consistently strong, and earn the top spots at major competitions like UDA and NDA nearly every year. Up for the challenge? Here's what to know before you go to auditions.
Keep reading...
Show less
They got to live out their dreams onstage with Jackson during last night's Billboard Awards. (NBC)
When Janet Jackson puts out a call for new dancers, basically the ENTIRE WORLD responds. More than 75,000 people entered Jackson's epic #DanceWithJanet contest, announced earlier this spring, which let hopefuls from around the globe audition via social media for a chance to perform with the icon.
So, out of those tens of thousands, who became the newest members of the #JTribe? Meet Phillip Galbert and L'Vala "Lala" Moss, the winners of the competition. Last night, they joined Janet onstage at the Billboard Music Awards. And they more than earned their place in the spotlight.
Keep reading...
Show less
May. 16, 2018 02:26PM EST
Ema Peter
The Glorya Kaufman International Dance Center is the 54,000 square foot home of the USC Glorya Kaufman School of Dance, one of the largest facilities dedicated to dance on a private university campus. Designed for their innovative new curriculum, that supports a range of dance styles, the school's staff designated Harlequin to provide wall-to-wall flooring for the large 3,500 square foot Performance Studio as well as five dance studios in their new state-of-the-art building.
Keep reading...
Show less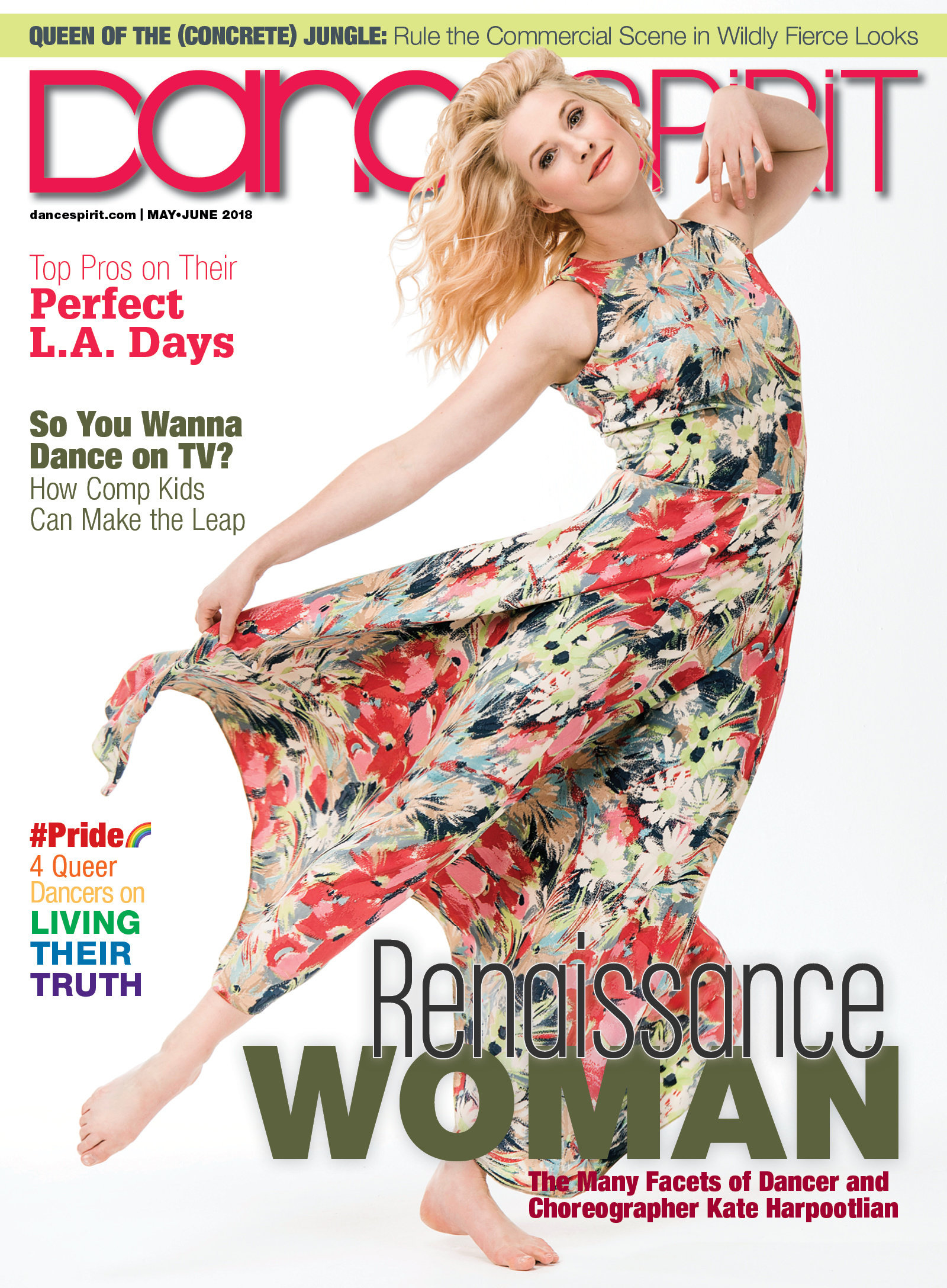 Get Dance Spirit in your inbox