During its first season, in 1956, The Joffrey Ballet was a group of six dancers touring the U.S. in a borrowed Chevrolet station wagon. Yet, despite its humble beginnings, it soon became one of the nation's most exciting dance companies. Co-founders Robert Joffrey and Gerald Arpino assembled a repertory of edgy new ballets, many of which they choreographed themselves. At the same time, The Joffrey was reviving important but little-seen works, including Kurt Jooss' The Green Table, and commissioning pieces that would become contemporary classics, like Twyla Tharp's Deuce Coupe. Joffrey and Arpino's troupe was characterized by both innovation and individuality. It was the first American ballet company that felt truly American.
Today, the company is 40 members strong and enjoys a brand-new home in the state-of-the-art Joffrey Tower in Chicago's theater district. Though it now boasts a large group of dancers and luxurious digs, it maintains the envelope-pushing spirit of the original gypsy-like troupe.
Artistic director Ashley Wheater, who was a Joffrey member in the 1980s, appreciates the dancers' devotion to the company. "I think what is so unique about The Joffrey is that people here dance with all their hearts," he says. "There is no holding back." And there has been no holding back for Wheater since he took the reins at The Joffrey in 2007. Without losing sight of the company's rich history, Wheater is looking to the future and setting the stage for a new era at The Joffrey Ballet.
A Brief History
When Joffrey and Arpino founded The Joffrey Ballet, they avoided the prevalent ballet company model of the day. Rather than a bunch of cookie-cutter bodies performing classical story ballets, they assembled a group of strong individuals dancing original choreography. The troupe brought high art to the masses by touring to big cities and small towns alike. "The Joffrey was not afraid of different kinds of environments," Wheater says.
As The Joffrey's reputation grew, so did its need to expand. In 1962, arts patron Rebekah Harkness became The Joffrey's financial backer, which allowed the company to hire more dancers, tour more extensively and create more lavish productions. But by 1965, Harkness wanted greater artistic control. Joffrey and Arpino chose to go their own way while Harkness created a new company, Harkness Ballet. The Joffrey retained many of its dancers but was otherwise forced to start from scratch.
Yet over the next 20 years, the company did more than survive—it became the face of American dance. Its innovative productions reflected the energy of the time and helped audiences engage with ballet like never before. Take Astarte, Joffrey's 1967 work based on the story of the Babylonian sex goddess of the title. The piece used rock music, strobe lights and imaginative video projections. A far cry from Giselle or Swan Lake, it represented Joffrey's vision for the future of ballet. Astarte graced the cover of Time magazine in 1968, proving the company's tremendous influence and international stature.
After Joffrey died in 1988, Arpino assumed the role of artistic director and continued his tenure as resident choreographer. The company held dual residence in NYC and L.A. until 1995, when Arpino relocated The Joffrey Ballet to Chicago. The Windy City embraced The Joffrey, and it has since become an integral part of Chicago's cultural landscape. In 2007, a year before his death, Arpino approved the board's unanimous choice for his successor: Ashley Wheater.
Making His Mark
Though he's only been at the helm for about two years, Wheater has already demonstrated his creative approach to maintaining the Joffrey/Arpino legacy. "What's really nice is to come back to their works and put new life into them," Wheater says. "I'm not changing the choreography, only how we dance their work and keep it relevant." In honor of the 20th anniversary of Joffrey's death, Wheater revived the last piece Joffrey made for the company, Postcards (1980), working with company pianist Paul Lewis to re-orchestrate Erik Satie's score. Wheater then restaged Arpino's Kettentanz (1971), redesigning the lighting to accentuate the choreography. Audiences and critics are applauding his imaginative efforts.
Like Joffrey and Arpino before him, Wheater is also committed to presenting original work by up-and-coming American choreographers. "There are new voices in American ballet," he says. "If we don't help nurture these young artists, we're going to lose out." Now-famous choreographers Twyla Tharp, Mark Morris and William Forsythe can all credit The Joffrey for giving them a platform early in their careers. Today Wheater is commissioning work from young dancemakers, including Jessica Lang (see "Choreographing Success," DS September 2009), whose piece Crossed premieres this month. "Everyone at The Joffrey has a strong work ethic and seems to be on the same page artistically and professionally," Lang says. "It's wonderful when you come into contact with a company that feels that way."
Physically, the company is unified, too. Patrick Corbin, a former Joffrey dancer and now artistic director of NYC-based modern company CorbinDances, saw the company perform recently. "They looked amazing," he says. "They're unlike the company I knew in that the bodies are all nearly perfect now. But they still have interesting personalities onstage, which was the most important thing to me about the 'old' Joffrey." Wheater nurtures this individualism by giving his dancers the opportunity to dance a wide array of roles. "People are pigeon-holed so much these days," he says. "A dancer for me is an artist, and an artist wants to be able to explore and experience the depth and breadth of the art form." Seniority is not a factor when it comes to casting; if someone is talented and exhibits a good work ethic, Wheater will consider him or her for a major role. "It isn't about waiting five years until you're considered to be a real member of the company," Wheater says. "For me, you're a member of the company the day you walk through the door."
The Joffrey, in fact, was the first U.S. ballet company to do away with dancer ranks, implementing an "all star/no star" structure with alphabetized billing in the program. "Everyone is so equally good," says Joffrey dancer Yumelia Garcia. "We don't have ranks, but that makes for a lot of competition, which keeps you working harder." Garcia, who was previously a member of Milwaukee Ballet, is new to The Joffrey this year. "In Milwaukee," she says, "I didn't have to fight for each role because I was a principal and knew I would get it. That's why I left—because I was too comfortable. I wanted to keep growing."
The atmosphere at The Joffrey may be competitive, but the morale is strong. Though it's a large company, it has the feel of a tight-knit group. "We are a family," says Suzanne Lopez, who will retire this season after 20 years with the company. "We root for each other. Elsewhere it might be cutthroat, but here we take care of each other."
A New Era
As Wheater guides the company into the new decade, he stresses the importance of communication between himself and the dancers. He maintains an "open door policy" so that they can talk to him anytime about issues or problems. "We're all in it together," he says. "Yes, I am their director. But they shouldn't feel intimidated. I want to help them be the best they can be."
Wheater feels that The Joffrey has taken a huge leap forward in the last two years. The diversity and passion that Joffrey and Arpino valued are still the company's defining qualities, but Wheater is raising expectations even higher: "I want a company that is unafraid to tackle anything and that embraces the art form in its totality."
Joffrey Alumni Reflect
Tina LeBlanc: Joffrey II (1982–84), Joffrey Ballet (1984–92); San Francisco Ballet (1992–2009)
"I remember Mr. Joffrey watching every show from the back of the house with binoculars. He looked at details: making sure peoples' ribbons didn't come out, making sure their makeup looked good. And he could not resist talent. That's why for so long the company was a hodge-podge of bodies; he would take what he thought was interesting. The dancers might not have had the 'perfect' body type, but they would shine onstage."
Patrick Corbin: Joffrey Ballet (1985–89); currently artistic director of CorbinDances
"Mr. Joffrey used to have a monthly meeting with the company and tell us what Broadway shows, what museum collections he went to see that week. He was a phenomenal Renaissance man. And he and Gerry [Arpino] got funding for the company by being their amazingly enthusiastic and charming selves—Mr. Joffrey could sell you the Brooklyn Bridge. While I was dancing, it was the only ballet company in the U.S. that wasn't funded by a personal fortune. That seemed so vitally American and democratic to me."
Elizabeth Parkinson: Joffrey II (1982–84), Joffrey Ballet (1984–90, 1992–94); currently co-artistic director of FineLine Theatre Arts
"From Mr. Arpino, I learned the importance of phrasing. Nothing in his choreography was ever evenly phrased: It had to have what he called, 'zah!' Mr. Joffrey taught us to be hungry for knowledge about all kinds of dance and theater. He had a great regard for the history of dance but was always looking for new ideas. Today, many ballet companies are trying to build audiences by presenting more contemporary works; The Joffrey has been doing that since day one!"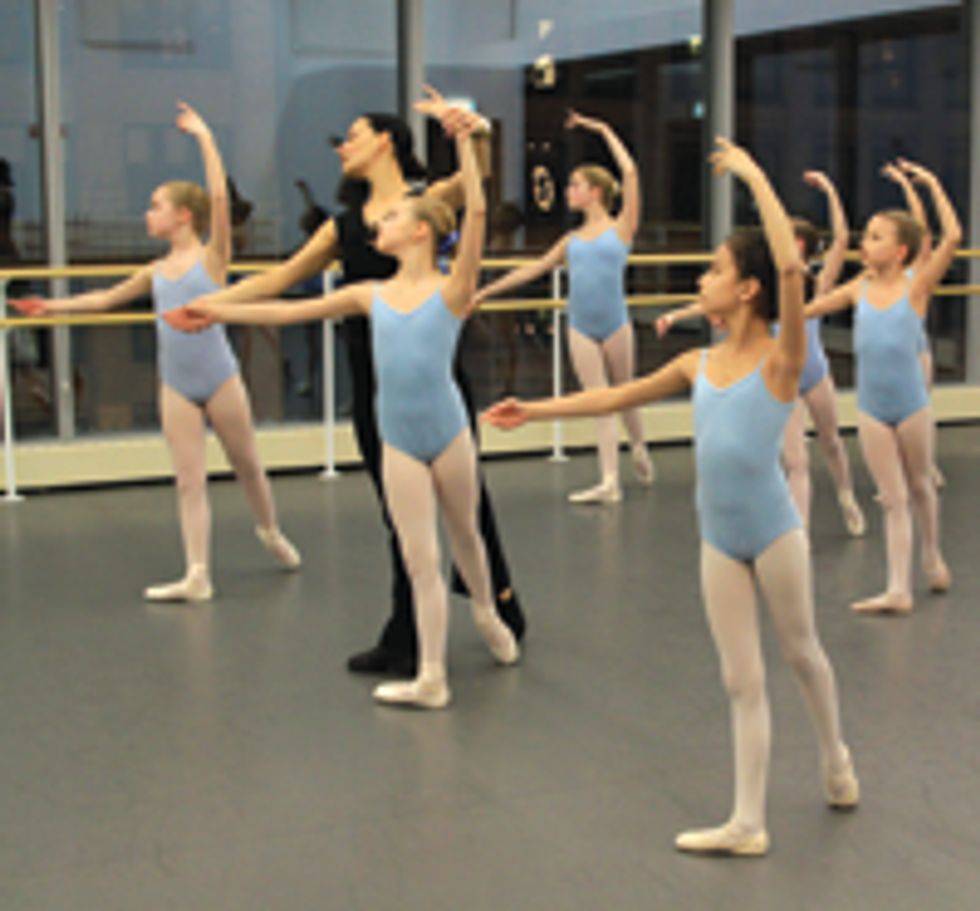 Joffrey's Academy of Dance
The Academy of Dance, the official school of The Joffrey Ballet, had its grand opening in January 2009 on the third floor of the Joffrey Tower and now enrolls about 800 students. Its curriculum emphasizes classical ballet technique but also includes training in modern, jazz, Pilates, pantomime and character dancing. The Academy's highly selective Trainee Program allows students ages 17 to 20 to rehearse and perform pieces from The Joffrey Ballet's diverse repertoire. "The school helps you experience all kinds of dance, which is important in today's ballet world," says Amber Neumann, a graduate of the Academy who is now in the company.
The Academy also collaborates with other Chicago arts organizations to provide a broad intellectual experience for its students. "Mr. Joffrey founded the company on the idea of incorporating technology and new art forms into dance," notes Joffrey Ballet executive director Christopher Clinton Conway. "The school follows in that legacy."