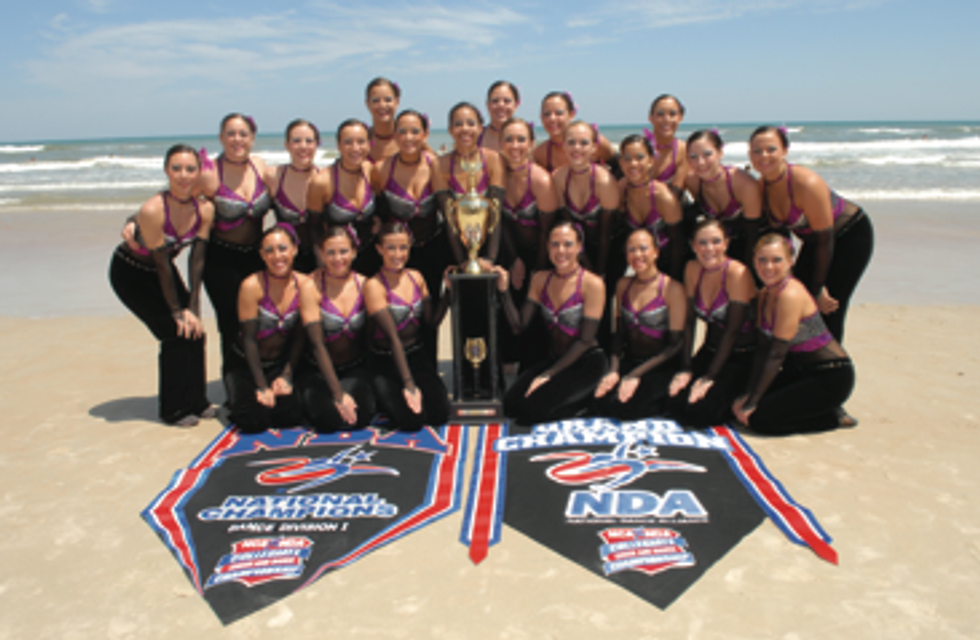 The 30 young women on the Towson University Dance Team are good at a lot of things, like nailing lightning-fast fouetté turn combinations in unison, executing sky-high split leaps—and winning national trophies. In fact, for the past 11 years, the team hasn't done anything but win. In the Division I dance category at the National Dance Alliance (NDA) collegiate Nationals, Towson is the team to beat. Last year, to broaden their competitive reach, Towson entered in the open division (where a routine can be performed in any style), rather than the dance division, and still came out victorious.
But with 11 consecutive wins—some of which were by less than a tenth of a point—comes a whole lot of pressure. "We always have to be better than the year before," says Jennifer Maletto, a senior and four-year member.
Towson is known for utilizing tight formations and hard-hitting athletic moves to achieve a polished, precise style. Despite how easy the dancers make their routines look, the team works hard. This month, the Towson dancers will put their perseverance to the test as they return to the dance category in hopes of taking a 12th straight national title.
Making the Team
At Towson, dance team hopefuls can actually make the team before they've even enrolled at the university. Co-coaches Tom Cascella and Laura King created a unique audition process for aspiring team members so they can begin grooming potential dancers before the season officially begins. Dancers can observe a rehearsal during the school year and, if they like what they see, can contact Cascella for a private audition at the school's Towson, MD, campus. After the dancers perform a solo, Cascella notifies each girl, letting her know whether or not she's been accepted for the group callback later in the semester. Each year, approximately 75 dancers audition, and 20 are invited to the callback. Only 6 to 10 make the final cut. And all of this happens before incoming freshmen have even been accepted by the university. (Of course, if you don't end up getting accepted to be one of the university's 21,000 students, you'll forgo your place on the team.)
Once you've made the team, you don't have to re-audition each year—but that doesn't mean you're safe. "You're always being evaluated," says Jennifer, the team's only dance major. "At any point, if you're not pulling your weight, you can be cut. The number of girls who make the team each year is never the same as the number who are left four years later, at graduation. It's cutthroat."
"Getting Towsonized"
Think your ballet, tap and jazz classes are enough to get you ready for Towson's high-energy choreography? Think again. According to senior Erin Ragan, nothing can totally prepare you. "Dancing at Towson is a whole new realm for the incoming freshmen," she says. "When you come from a studio, you're not used to doing the toe touches and sharp pom choreography we do. You have to be molded; we call it 'getting Towsonized.' "
To achieve their renowned athletic stamina, Towson dancers train "as hard as the football team," Erin says. Summer rehearsals—which take place outside in the Maryland heat—include runs that conclude with "the hill": After running three miles, the dancers sprint up and down one of the campus' steep inclines at least three times. Then, they jog to a parking garage where they run up and down the stairs. "Many freshmen consider leaving the team after their first day of rehearsal," Cascella says. "One of our current freshmen told me that she had never worked as hard in her entire dance career as she worked that first day."
Because each NDA dance routine must include 30 seconds of jazz choreography, 30 seconds of hip hop and 30 seconds of pom, the dancers must master all three styles. "We push the freshmen like crazy until they catch up to the level of the rest of the team," says Laura, a Towson Dance Team alum who also serves as the team's choreographer. Then, once the semester starts, the dancers settle into a regular rehearsal schedule: Tuesdays and Thursdays from 3:30–6:30 pm and weekends as needed. During Nationals season, weekend practices can last up to nine hours each day.
According to junior Christina Barton, one of the secrets of Towson's success is the discipline required of its dancers. "Rehearsals are very focused," she says. "When we're stretching, the room is quiet. Everyone is thinking about the routine." The practices, which are run by the team's six officers (positions appointed by the coaches that come with greater responsibilities, such as assisting with choreography), include extensive stretching, across-the-floor technique, high kick drills and learning or cleaning Nationals choreography. "I might make the girls stay in a pose for five minutes just to make sure every single part of their bodies is perfect, from their fingertips to their feet," Laura says. Each run-through of the routine is videotaped and the dancers, along with Cascella and Laura, critique the routine afterward. "We're constantly beating up our bodies," Jennifer says. "You thought you knew what hard work was before, but you don't until you're on a team like this. It's so strict and demanding that you have to be completely dedicated to it."
Life on the Towson Team
When they're not in academic classes or at practice, the Towson Dance Team members also perform at up to 20 home basketball, lacrosse and football games each season. The dancers choreograph 3–4 routines utilizing Towson's signature dance style with high kicks and seemingly effortless leaps. They also devote all but one weekend every month to team activities such as rehearsals and fundraising events.
The culmination of the dancers' hard work is their annual trip to Daytona, FL, for Nationals in April. Although there are typically upwards of 30 dancers on the team, only 16 perform in Florida. Everyone on the team learns the routine, but it isn't until a few weeks before Nationals that Laura and Tom decide who will dance.
Despite countless hours of preparation, the performance at Nationals doesn't always go smoothly. At preliminaries in 2008, just two 8-counts into the routine, the music started to skip. Seemingly unfazed, the dancers continued counting in their heads for the remainder of the routine. "We trained them to keep going no matter what happens," Laura says. The team received a standing ovation and, after performing the routine a second time—with music—won a tenth consecutive title. "People still talk about it," Laura says.
Making Their Mark on Campus
For many of the dancers, the dance team is the heart of Towson. "When I was 12 years old, I watched NDA Nationals on ESPN and Towson won," Erin recalls. "When it came time to apply to college, Towson was the only school I wanted to go to. I wanted that dance team." But despite the team's success and reputation in the dance world, the university has yet to embrace the team. Just a few years ago, the team was relegated to holding practices in building lobbies on campus or driving 12 miles off campus to practice at a local high school.
Still, the team remains successful in spite of the lack of support. Because the dance team is considered a student organization, not a part of athletics, it has typically received a small budget from the student government. This year, the student government wasn't sure if it could give the team any funding—news that made Cascella worry the girls wouldn't get to go to Nationals at all. With the daunting task of raising the $30,000 needed for the trip, the team sprang into action. "We couldn't talk about it anymore," Erin says. "We had to go out and do something about it." They planned fundraisers and simply asked for donations. "After we'd perform at football games, we would all go out into the parking lot where people were tailgating," Erin continues. "We'd tell people that we wanted to go to Nationals and ask them to donate whatever they could. It really adds up!"
Pressure!
With Nationals on the horizon this month, the Towson dancers are ready to rock out with what Laura deems "the best technical routine they've ever done." Though the young women on the team agree that doing their best is what's important, the high bar they've set for themselves remains. "The pressure is massive," Laura says. "There are teams that almost can't wait for the year Towson doesn't win." And when Towson arrives at Nationals, everyone takes notice. "When we walk in, you can tell people are looking at us like, 'Oh, there's Towson,' " Jennifer says. "We have a big name to represent."
You would think that, with a lengthy list of accomplishments and hefty reputation, the girls on the team would start to get cocky. But according to T.J. Maple, the pom squad coach at Stephen F. Austin State University (a frequent Towson competitor), that's hardly the case. "They never let winning go to their heads," he says, "and they've helped increase the difficulty levels and expectations at Nationals. Towson is one of the nice teams."
Tom's Tryout Tips
Think joining a college dance team is for you? Take some tryout advice from Towson coach Tom Cascella so you can ace your audition.
Contact the coach. Show your maturity by making a list of questions to ask before you get in touch with him or her.

Do your research. Know the history of the team, what majors the school offers and what style the team specializes in.

Come prepared. The coach can only determine if you are ready for the team if you're ready for the audition.

Ask questions at the audition. When you ask about the choreography, you show that you're engaged.

Work on your technique. Coaches want dancers with a strong foundation. Work on your turns, leaps and jumps.

Dance from your heart. Coaches are looking for someone who loves to dance and is willing to show emotion.

Smile, have fun and be approachable. An audition can be stressful. Make it a positive experience by being yourself and enjoying the process.

You are evaluating the team just as much as the team is evaluating you! Make sure you like the coach and current members. Make sure this is the place for you!