Oct. 07, 2012 12:00PM EST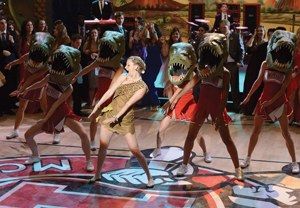 Heather Morris transitioned from dancer to actress/dancer on "Glee." (Mike Yarish/Fox)
Whether they're kick-ball-changing into your living room on "Glee" or tearing up the silver screen in Step Up Revolution, dancers are nabbing some of today's juiciest acting roles. And the trend isn't going to end anytime soon, according to McDonald/Selznick Associates agent Shelli Margheritis. "More projects than ever are considering dancers, from films to commercials to television shows," she says.
Of course, being successful as an actor takes more than just a dancer's killer physique and stage presence. To get insider intel on how to become a true double threat, we asked some of your favorite famous faces for their top tips on making the transition in style.
Don't fake it till you make it. Learn the craft. 
When the chance to audition for "Bunheads" came along, ballerina Julia Goldani Telles had never read a television script before. To get ready for the opportunity, she enlisted an acting coach—a move that, she says, helped prepare her to play the role of Sasha on the show. "My coach taught me how to approach and understand the characters and story," she says. "It was helpful to get feedback and constructive criticism from someone who really knows what she's talking about."
Taking regular acting classes is also essential. Commercial dancer Tyne Stecklein, who's had acting roles on projects like "True Blood" and Rock of Ages, studies everything from cold-reading techniques to the Meisner method of acting in various schools around L.A.—an approach Margheritis says is spot-on. "Dancers always have to keep training, and the same is true of acting," Margheritis says. "If you stay in class, you'll continually add depth to your ability." To find reputable classes in your area, ask your dance agent for a list of referrals or check the listings on websites like backstage.com and nowcasting.com.
Look for help within your agency.
If you already have a dance agent, see if he or she can connect you to a colleague who's plugged into the acting scene. (Once dancers branch out, they may choose to have agents for each of their areas of interest—acting, commercial, voiceover, etc.) "Lots of dance agencies have theatrical departments, which is great for dancers who want to transition," says Stecklein, who's signed with Clear Talent Group. "Staying within your agency is a great way to break into the acting world."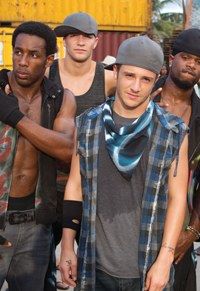 Many of Step Up Revolution's acting roles went to dancers, including (front, L to R) Stephen "tWitch" Boss and Misha Gabriel. (Sam Emerson)
Get noticed.  
Want to get ahead? Learn how to dazzle the people who can actually give you parts: casting directors. Margheritis says casting directors often hold workshops and attend acting showcases to spot emerging talent, and her first piece of advice to would-be actors is to seize these opportunities. (Consult trade magazines like Backstage to find out when workshops and showcases are taking place.) "It's an added bonus when a casting director receives your submission for a role after seeing you in person," she says. "They're much more likely to bring you in if they have that connection."
Also, make sure your headshot and reel are up-to-date and represent you in the best light. Margheritis says it's important to have separate acting and dance reels, as well as an array of photos (commercial, theatrical, etc.) so casting directors can envision you in different types of roles. "Be savvy with your picture choices so they're diversified enough to reflect your skill set," she says.
Play up your unique qualifications as a dancer.
All that hard work you've done in the dance studio is about to pay off. From taking direction to hitting marks, many dance skills translate seamlessly to acting.
"Dancers tend to have really good timing, which is essential when delivering dialogue," Margheritis says. Stecklein also found that her experience with memorizing choreography helped tremendously when it came to learning lines. "Sometimes you're handed 10 pages of dialogue the day before you have to perform," she says—but if you already know how to pick up a complicated dance routine in an hour-long class, that kind of time pressure is familiar to you.
And if you've performed in music videos or as a dance extra in a film, you already know how to deal with life on set. Misha Gabriel, one of the stars of Step Up Revolution, points out that while the film was his first as an actor, it was his sixth as a dancer. "I was no stranger to the long hours and different shots and camera angles," he says.
Work your connections. 
If you make a great impression on a choreographer on a dance project, you'll be fresh in her mind when she's hiring on a film or TV set. Stecklein danced frequently with Marguerite Derricks and Michael Rooney, both of whom later referred her to acting projects. "Dance connections can get your foot in the door and help you get in front of directors," she says.
If you have friends who've successfully made the transition from dancer to actor, don't be shy about mining their resources, too. After Gabriel landed the part in Step Up Revolution, his best friend and Footloose star Kenny Wormald "hooked me up with all his people, like his manager and his acting coach," Gabriel says. "I really appreciated his advice and help."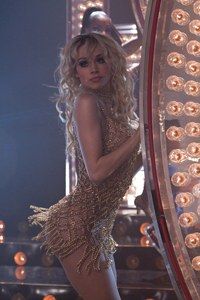 Tyne Stecklein's dancing skills helped her land a role in Burlesque. (Stephen Vaughan)
Be ready to make sacrifices.
Breaking into acting requires dedication and a considerable time commitment—which may complicate your dance career. "I had to turn down long-term dance projects or gigs that would take me out of L.A. because I wanted to be available for acting auditions and classes," Stecklein says. "I was forced to be more selective about the dance jobs I took."
Gabriel had to make similarly difficult choices. His dance jobs are now mainly limited to JUMP conventions on the weekends, leaving his weeks open for acting opportunities. "Watching Kenny turn down job after job, I learned there is no easy way to make this transition," he says. "It was hard watching my friends dance on tour for Chris Brown, but I knew I had to make a change if I wanted to get serious about acting."
That said, taking the risk can pay off. While dance jobs are rarely lucrative, the full day rate on film or TV projects for members of the SAG-AFTRA union can be quite profitable.
Keep a healthy perspective.
Remember that there are very few overnight success stories in the acting world. "There are artists who've been training for years within the acting realm, so it's important to be realistic," Margheritis says. You may already have made a name for yourself as a dancer, but as an actor, you're essentially starting over. Take advantage of even the small parts that come your way. "Do your due diligence to earn visibility and an appreciation for what you bring to the table," Margheritis says.
Stecklein also urges dancers to keep the odds in mind. "Often at a dance audition, they're looking for 20 or more people. As an actor, you're going up for a single role," she says. The process can be intimidating, but keep your eyes on the prize. "There's a role out there for everyone," Stecklein says. "Rejection is just part of the journey to the part that's meant for you."
Jun. 15, 2019 10:12AM EST
(From left) Darriel Johnakin, Diego Pasillas, and Emma Sutherland (all photos by Erin Baiano)
Congratulations to Dance Spirit's 2019 Cover Model Search finalists: Darriel Johnakin, Diego Pasillas, and Emma Sutherland! One of them will win a spot on Dance Spirit's Fall 2019 cover. Learn more about the dancers on their profile pages, and then vote for your favorite below. You can vote once a day now through July 15.
We also want you to get social! We'll be factoring social media likes and shares into our final tallies. Be sure to show your favorite finalist some love on Facebook, Instagram, and Twitter, sharing their profile pages and using the hashtag #DanceSpiritCMS.
Cover Model Search
Jun. 13, 2019 02:20PM EST
Photo by Erin Baiano
Imagine attending American Ballet Theatre's prestigious NYC summer intensive, training among classical ballet legends. Imagine taking the stage at New York City Dance Alliance Nationals, competing against some of the country's best contemporary dancers. Now, imagine doing both—at the same time.
Welcome to Madison Brown's world. This summer, she's in her third year as a National Training Scholar with ABT, while also competing for NYCDA's Teen Outstanding Dancer title. (She's already won Outstanding Dancer in the Mini and Junior categories.) The logistics are complicated—ABT's five-week intensive overlaps with the weeklong NYCDA Nationals, which translates to a lot of cabs back and forth across Manhattan—but Maddie is committed to making the most of each opportunity. "I love contemporary and ballet equally," she says. "While I'm able to do both, I want to do as much as I can."
Maddie has an expressive face, endless extensions, and a quiet command of the stage. She dances with remarkable maturity—a trait noted by none other than Jennifer Lopez, one of the judges on NBC's "World of Dance," on which Maddie competed in Season 2. Although Maddie didn't take home the show's top prize, she was proud to be the youngest remaining soloist when she was eliminated, and saw the whole experience as an opportunity to grow. After all, she's just getting started. Oh, that's right—did we mention Maddie's only 14?
Cover Story
Jun. 16, 2019 07:00AM EST
Corbin Bleu in rehearsal for "Kiss Me, Kate" (Jenny Anderson, courtesy Roundabout Theatre Company)
If you're a hardcore Broadway baby, today is the worst Sunday of the year. Why, you ask? The Tony Awards were last Sunday, so basically there's nothing to look forward to in life anymore—no James Corden being James Corden, no teary acceptance speeches from newly minted stars, no thrilling excerpts from the hottest new shows. Oh yeah, and there are 50 more Sundays to go before our humdrum lives are once again blessed with the next annual iteration of Broadway's biggest night.
Musical Theater