Feb. 01, 2015 11:15PM EST
It's the last hour of an exhausting, all-day Ailey II rehearsal. Troy Powell, the company's artistic director, has just called for a five-minute break. But the dancers, busy fine-tuning Powell's lyrical The External Knot, don't even pause. Instead, their voices lower, and they continue working out the difficult choreography on their own. So much for a break.
The dancers know they need to make the most of every minute. Ailey II, a training and touring offshoot of the iconic Alvin Ailey American Dance Theater, only contracts dancers for one to two years—and that's a lot of pressure. The natural next step for Ailey II dancers is AAADT, but while many dream of joining the main company's ranks, few actually do.
Even those who don't make it into the first company, though, get an invaluable crash course in professional dance life. Powell, who became Ailey II's second-ever director in 2012, has a new vision for the troupe. Its dancers are now experiencing more, and more varied, repertoire than ever before. The company's structure teaches dancers how to coach as well as how to perform. And a busy touring schedule allows the members of Ailey II to share their talents with fans all over the world.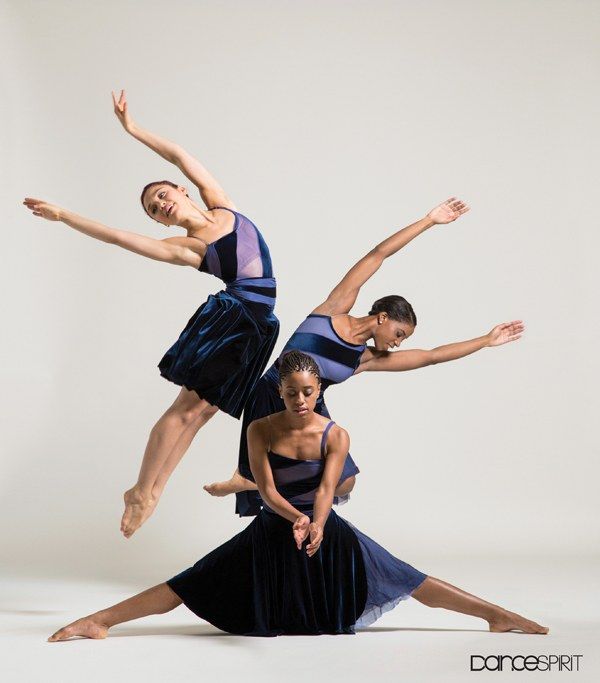 (From top) Barriento, Munroe and Bland in costume for Troy Powell's The External Knot (photo by Erin Baiano)
A New Wave
Established in 1974 by Alvin Ailey himself, Ailey II recently underwent some major changes. Two and a half years ago, Powell took the reins from longtime director Sylvia Waters (who was hand-picked by Ailey to lead the troupe), and he's been busy shaking things up—mainly by expanding the company's repertory. "This generation is all about the new, the contemporary and the European cutting-edge," he says. "I want my dancers to be able to do anything when they leave—whether that's joining AAADT, going to Broadway or entering another contemporary dance company."
In that spirit, Powell has brought in a wide range of choreographers, including European phenom Manuel Vignoulle and postmodern dancemaker Adam Barruch, to create new work for Ailey II. But he isn't letting go of the company's time-honored works, either, like Ailey's Streams and Revelations. "It's about balance," he says. "In order to keep the company alive—and to please audiences—you have to do the new work. But the traditional work helps dancers grow as artists. It's a huge challenge to do both old and new work in one evening."
Taking Charge
Powell, who trained at the Ailey School, remembers being in his dancers' shoes. He was a member of Ailey II, and spent 10 years in AAADT before becoming resident choreographer and then artistic director of the second company. He hopes his dancers may one day follow in his footsteps and become leaders, too. "In the future, my dancers may be asked to direct a company, run a rehearsal—or they may even be in my seat," he says. "And you have to train for those things. So their experience in Ailey II isn't just about performing."
Second-year dancers get the biggest dose of leadership experience: They're expected to help the newbies learn and fine-tune rep, which in turn teaches them how to coach. "I'm learning to be cognizant of what different dancers need, depending on the work," says second-year dancer Shay Bland. "It's definitely fun to see the new dancers perform roles I've done and make them their own."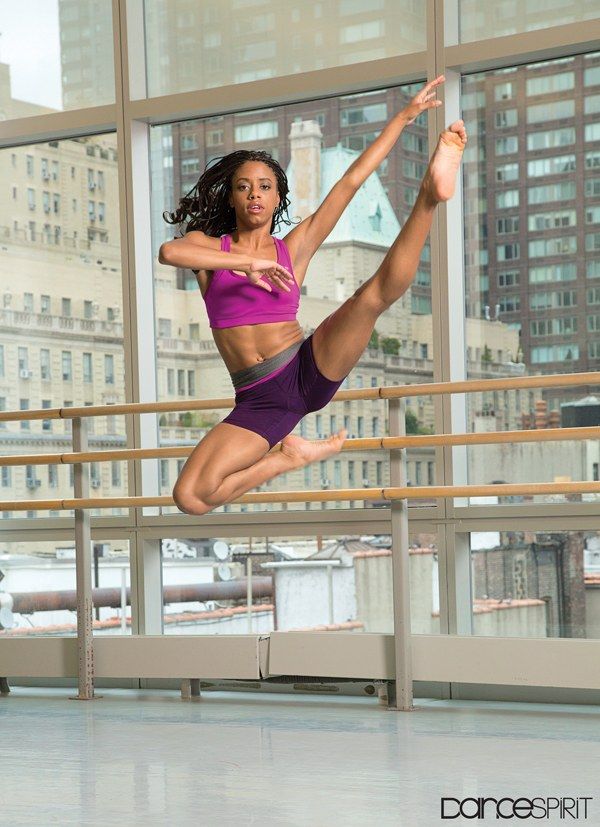 Shay Bland (photo by Erin Baiano)
Giving Back
The dancers' close working relationships are also a boon for life on the road. When this season's tour—which began in September—ends in April, Ailey II will have performed in a total of 38 venues in the U.S. and abroad. That makes for a hectic schedule, but also for a lot of fun. "We're going to be in France on my birthday," says first-year member Annellyse Munroe. "I can't wait!"
Of course, touring isn't just about seeing the world. Ailey II often travels to smaller cities that AAADT may skip, so its dancers frequently serve as ambassadors for the whole Ailey organization. "We perform for a lot of universities and for people who don't get to see dance all the time," Powell says. "I know that when I saw Ailey for the first time, I was so touched. I think a lot of my dancers joined Ailey II for a similar reason—so they could reach people all over the world and share what they've learned."
Looking ahead to the troupe's next 40 years, Powell wants to keep pushing Ailey II dancers to their limits. "We've been gaining popularity as a well-known company—and not just as a second company," he says. "My ultimate goal is to continue making the statement that while Ailey II is a second company, it's certainly not second-rate."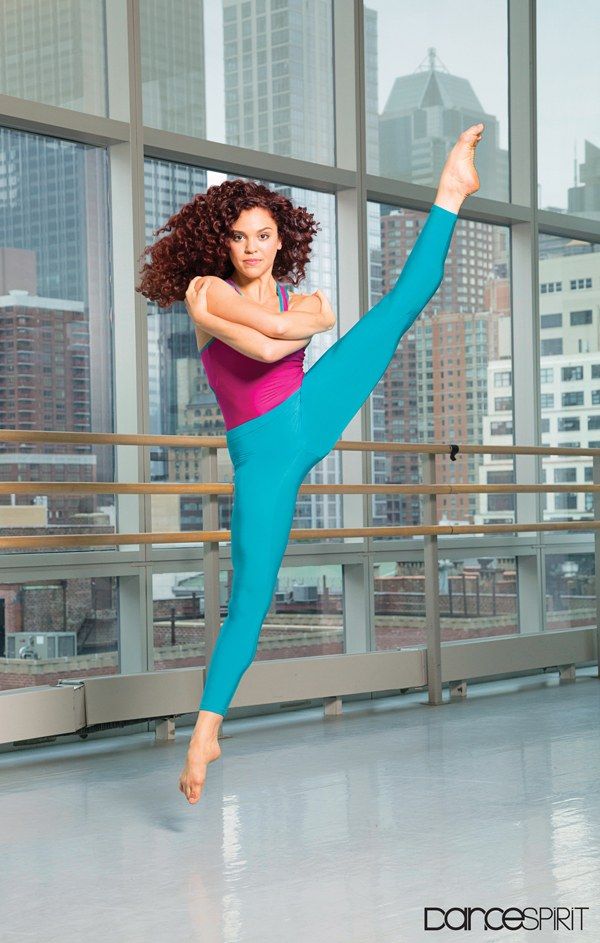 Samantha Barriento (photo by Erin Baiano)
Want to Join Ailey II?
Ailey II functions like a close-knit family. Many of its dancers trained at the Ailey School before being invited to audition for the company (yup, you have to be invited). Both Samantha Barriento and Shay Bland, for instance, studied there as teens, and Annellyse Munroe, who grew up in Miami, spent a handful of summers at the Ailey School before artistic director Troy Powell asked her to try out for Ailey II. So while it's not a prerequisite, if you want to join the Ailey family, putting in some serious training time at the House of Ailey is a plus.
What else does Powell look for in potential Ailey II members? "You need the training—a strong ballet foundation with a solid grasp of Horton and Graham techniques," he says. "But it's more than just being talented. I don't want someone who's dancing because we told them to. I'm looking for a dancer who's ready to jump out there and reveal who she is as an artist."  —JD
Shay Bland
Age: 24
Hometown: Englewood, NJ
Years in Ailey II: 2
Her journey to Ailey II: She started training at the Ailey School as a freshman in high school. After graduation, she attended Rutgers University, and two years later was offered an apprenticeship with Ailey II. "One night during my year as an apprentice, a dancer got injured before curtain, and I had to go on," she says. "I learned the role in 20 minutes. It was a wakeup call: I realized I could really make this my career."
The moment she knew Ailey was it: "I came to dance late. I was into sports—a tomboy. But when I was 13, my mom got Ailey tickets, and I saw Vespers, by Ulysses Dove. Right then and there I decided I didn't want soccer or tennis anymore. I needed to dance."
On the pressures of being in Ailey II for only two years: "Some days, it seems like I'm spiraling out of control thinking about the future. But I try to stay in the moment. I don't want to forget what I'm a part of now. If I'm able to join the first company, it'll be the biggest honor in the world. But if I'm not, I still appreciate everything this company has given me."
"She's a beautiful dancer—very smart, very intuitive. She's a 'go get 'em' type—very much in control of her artistry." —Troy Powell
Annellyse Munroe
Age: 22
Hometown: Miami, FL
Years in Ailey II: 1
Her journey to Ailey II: While in college at Florida's New World School of the Arts, she performed with the Peter London Global Dance Company. Right before graduating in spring 2014, she auditioned for AAADT. Powell asked her to return the next day to audition for Ailey II.
The moment she knew Ailey was it: "I'd always wanted to be a ballet dancer—I was obsessed with Dance Theatre of Harlem. In 2006, I came to NYC for American Ballet Theatre's summer intensive, and my aunt took me to see AAADT perform. I saw Ailey's Quintet and loved it. It felt like the dancers were looking right at me."
On being a first-year member: "I've never really performed rep like this before. Sure, at NWSA we'd do new faculty repertory, but we also presented a lot of classics by Cunningham and Limón. Now, I'm learning pieces like Manuel Vignoulle's breakthrough and Adam Barruch's Alchemies—I didn't even know I was capable of doing this kind of work!"
"It took a minute for Annellyse to get her feet wet and open up, but she's grown tremendously in such a short amount of time." —Troy Powell
Samantha Barriento
Age: 22
Hometown: Queens, NY
Years in Ailey II: 1
Her journey to Ailey II: After training at the Ailey School and Fiorello H. LaGuardia High School of Music & Art and Performing Arts, she graduated from the Ailey/Fordham BFA program in 2014 and spent her last year in college as an Ailey II apprentice.
The moment she knew Ailey was it: "It was my freshman year of high school, and I saw AAADT's Linda Celeste Sims in Ulysses Dove's Episodes. That was it for me. I loved the company's theatricality—the fact that the work was about something more than technique. It makes you feel something."
On spending so much time on tour: "Sometimes it's sad to leave home, but it's also refreshing. When we're away, the company becomes a family. We watch out for each other, coordinate our meals and hang out at night. It's so cool."
"I've known Samantha since she was about 12. She has so much natural talent, though she's also worked so hard to be where she is. In some ways, she reminds me of myself." —Troy Powell
Annellyse Munroe (photo by Erin Baiano)
Celebrating Diversity
Ailey II dancers Shay Bland and Annellyse Munroe both vividly remember seeing Alvin Ailey American Dance Theater for the first time—in part because they identified with the women onstage. "Growing up as a dancer of color, you don't really see a lot of dancers who look like you," Bland says. "To see a stage full of women who did was so inspiring. I thought, If they can do it, I certainly can, too."
Yet the idea that Ailey II is a company for black dancers only is outdated. Like the main company, it's becoming more diverse—a trend that's right in line with Alvin Ailey's original mission. "Mr. Ailey said, 'Dance was created by the people, and it should be given back to the people,' " Bland explains. "He didn't say 'People of color.' 'People' is all-encompassing." —JD
Jun. 15, 2019 10:12AM EST
(From left) Darriel Johnakin, Diego Pasillas, and Emma Sutherland (all photos by Erin Baiano)
Congratulations to Dance Spirit's 2019 Cover Model Search finalists: Darriel Johnakin, Diego Pasillas, and Emma Sutherland! One of them will win a spot on Dance Spirit's Fall 2019 cover. Learn more about the dancers by clicking on their names here:
And then vote for your favorite below. You can vote once a day now through July 15.
We also want you to get social! We'll be factoring social media likes and shares into our final tallies. Be sure to show your favorite finalist some love on Facebook, Instagram, and Twitter, sharing their profile pages and using the hashtag #DanceSpiritCMS.

Cover Model Search
Jun. 25, 2019 09:01AM EST
Madison Jordan and Jarrod Tyler Paulson brought their real-life romance to the audition stage. (Adam Rose/FOX)
It's usually right around the third or fourth week of "So You Think You Can Dance" audition rounds that we start itching for the live shows. Sure, the auditions are fun, inspiring, and entertaining, but at a certain point, we reach audition saturation. (And the live shows are just so good and feature so much more Cat Deeley.)
All that said, Nigel and co. kept things spicy this week, so our attention remained firmly glued to the screen. (It's been 16 seasons—who are we to doubt Nigel Lythgoe, sir?) Here's how it all went down.
Dance on TV
Jun. 24, 2019 12:29PM EST
Photo by Erin Baiano
When it comes to injury-prone body parts, knees reign supreme for dancers. But a little strengthening can go a long way in preventing painful outcomes. We turned to Dirk Hartog, a physical therapist with Westside Dance Physical Therapy in NYC, for three exercises that'll support and stabilize your knees.
Fitness