Jan. 09, 2019 12:10PM EST
Summer Intensive Alternatives
New York City Ballet's Craig Hall works with students at Dance Conservatory of Charleston. (courtesy Dance Conservatory of Charleston)
As the name suggests, summer intensives are, well, intense, encouraging you to eat, sleep, and breathe dance for a significant chunk of the summer. But they're not for every dancer—or every summer. Maybe you're not ready to be away from home just yet, or you want to spend your last summer with family before going off to college. Intensives can also be expensive, and not every household has the financial flexibility to cover the high cost of auditions, travel, room and board, and tuition. Whatever your reasons for seeking alternatives, it's important to recognize that, when it comes to summer study, it doesn't have to be all or nothing. "The most important thing is to keep dancing," says Lindy Mandradjieff, owner of the Dance Conservatory of Charleston in South Carolina. "Without the added stress of school, you can improve as much in one summer as you would in an entire school year." Here's how to keep up your training even if you don't plan on attending an intensive.
---
Close to Home
It may seem obvious, but if your home studio offers summer classes and you're staying home for the summer, take advantage! "The best way to mirror the intensity of a summer program is to take as many classes as possible," says Susan Jaffe, dean of dance at University of North Carolina School of the Arts and former American Ballet Theatre principal. If money is an issue, Jaffe recommends asking about summer scholarship options at your studio, which may differ from the school-year offerings. She also suggests setting up weekly private lessons with one of your teachers so that you can focus on specific areas you want to polish. "You trust and respect your regular teachers, so there's no reason you can't get great training at home," Jaffe says.
Kristy Blakeslee of KJ Dance in Plano, TX, offers students who stay home additional opportunities to assist with the studio's weeklong preschool dance camps. "Eventually, most dancers want to work on developing leadership and education skills, so that they can teach in the future," Blakeslee says. "The summer is a great time to begin."
Master It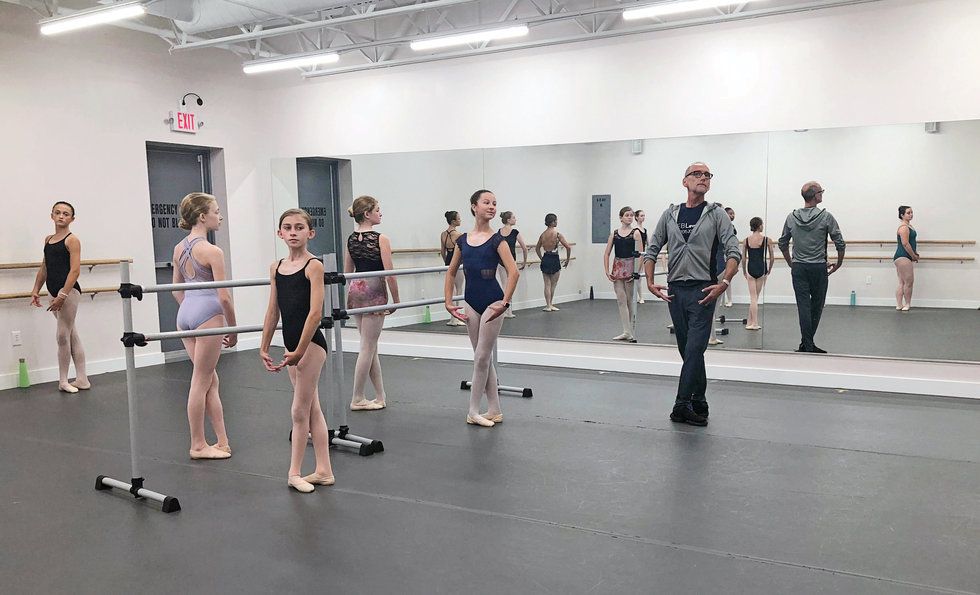 Kansas City Ballet's ballet master Parrish Maynard in class at Dance Conservatory of Charleston. (courtesy Dance Conservatory of Charleston)
Seeking out local master classes and workshops is another great summer option. As a former San Francisco Ballet and New York City Ballet dancer, Mandradjieff realized she could leverage her connections to bring top artists from across the country to Charleston. The classes are open, so students beyond her own studio can take advantage, too. "New York City Ballet's Craig Hall came and taught a Justin Peck variation that formerly only School of American Ballet students had learned, and some of our advanced students had the opportunity to take a class with Kansas City Ballet's ballet master Parrish Maynard," she says. If your school doesn't offer summer master classes, do a bit of research to see what's available in your area. Mandradjieff recommends looking to your nearest major city for classes and workshops. While this piecemeal approach may require a bit more planning on your part, it will also help broaden the scope of your training. "We had a total bunhead in one of our master classes get discovered by a Radio City Rockette," Mandradjieff says. "You never know when you're going to make that crucial connection."
Getting Collegial
If you think a degree in dance is in your future, you may consider doing a bit of in-person research over the summer, when more and more college and university dance departments are opening their doors to high school students. The summer before her junior year of high school, Madison Goodman of KJ Dance attended The Juilliard School's summer program. "I had spent most of my summers traveling for dance conventions and competitions," she says. "I decided to try Juilliard last summer, so I could see what it would be like to be a student there. I want to go to college before joining a company, and now I've got my sights set on NYC."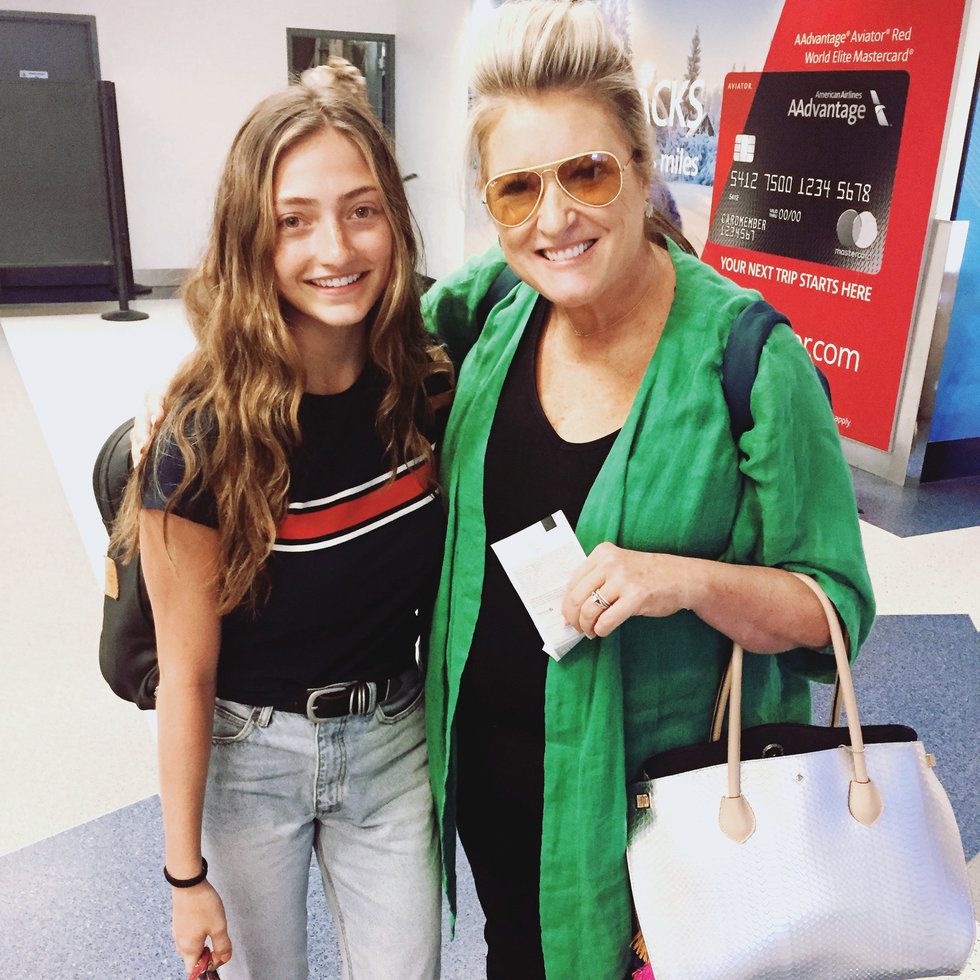 Madison Goodman poses with teacher Kristy Blakeslee of KJ Dance on the way to The Juilliard School's summer program. (photo by Katey Finn, courtesy Madison Goodman)
College and university summer programs are often shorter—and sometimes less expensive—than company intensives. College programs are also run by the schools' faculty, which means they offer a real snapshot of the student experience. And attending these programs could help you when it comes to acceptance decisions. "The faculty gets to see you dance without the pressure of auditions," says Mandradjieff.
Conscientious Cross-Training
Summer programs often offer cross-training classes, which can be re-creatable from home, too. Blakeslee recommends attending regular yoga or Pilates classes. "When students get out of the studio and do other things, they often learn more about their bodies," she says.
Jaffe points out that the dance world is beginning to embrace a more diverse array of cross-training options. "Professional companies are beginning to implement cardiovascular training for their dancers, because they've discovered how important it is to your endurance," she says. Jaffe recommends dancers try low-impact cardio, like swimming. If you can do so safely and knowledgeably, ideally with a trainer experienced with young dancers' lean muscle needs, she also recommends light weight-training.
Take a Deep Breath
Perhaps most important, know that it's also OK to take a breather. "Our program during the year is so intense, I always recommend dancers take a few weeks to recuperate their soul and hang with their friends," Blakeslee says. She finds that dancers with the self-knowledge to take a break when they need it seem to have a much lower risk of burnout.
Jaffe agrees. "Being a human is key to being a good dancer," she says. "It's great to have a love and passion for your craft, but you don't need to be training so intensely all the time."
A version of this story appeared in the January 2019 issue of Dance Spirit with the title "Intensive Alternatives."
Related Articles Around the Web
From Your Site Articles
Dancer to Dancer
Jun. 15, 2019 10:12AM EST
(From left) Darriel Johnakin, Diego Pasillas, and Emma Sutherland (all photos by Erin Baiano)
Congratulations to Dance Spirit's 2019 Cover Model Search finalists: Darriel Johnakin, Diego Pasillas, and Emma Sutherland! One of them will win a spot on Dance Spirit's Fall 2019 cover. Learn more about the dancers on their profile pages, and then vote for your favorite below. You can vote once a day now through July 15.
We also want you to get social! We'll be factoring social media likes and shares into our final tallies. Be sure to show your favorite finalist some love on Facebook, Instagram, and Twitter, sharing their profile pages and using the hashtag #DanceSpiritCMS.
Cover Model Search
Jun. 13, 2019 02:20PM EST
Photo by Erin Baiano
Imagine attending American Ballet Theatre's prestigious NYC summer intensive, training among classical ballet legends. Imagine taking the stage at New York City Dance Alliance Nationals, competing against some of the country's best contemporary dancers. Now, imagine doing both—at the same time.
Welcome to Madison Brown's world. This summer, she's in her third year as a National Training Scholar with ABT, while also competing for NYCDA's Teen Outstanding Dancer title. (She's already won Outstanding Dancer in the Mini and Junior categories.) The logistics are complicated—ABT's five-week intensive overlaps with the weeklong NYCDA Nationals, which translates to a lot of cabs back and forth across Manhattan—but Maddie is committed to making the most of each opportunity. "I love contemporary and ballet equally," she says. "While I'm able to do both, I want to do as much as I can."
Maddie has an expressive face, endless extensions, and a quiet command of the stage. She dances with remarkable maturity—a trait noted by none other than Jennifer Lopez, one of the judges on NBC's "World of Dance," on which Maddie competed in Season 2. Although Maddie didn't take home the show's top prize, she was proud to be the youngest remaining soloist when she was eliminated, and saw the whole experience as an opportunity to grow. After all, she's just getting started. Oh, that's right—did we mention Maddie's only 14?
Cover Story
Jun. 16, 2019 07:00AM EST
Corbin Bleu in rehearsal for "Kiss Me, Kate" (Jenny Anderson, courtesy Roundabout Theatre Company)
If you're a hardcore Broadway baby, today is the worst Sunday of the year. Why, you ask? The Tony Awards were last Sunday, so basically there's nothing to look forward to in life anymore—no James Corden being James Corden, no teary acceptance speeches from newly minted stars, no thrilling excerpts from the hottest new shows. Oh yeah, and there are 50 more Sundays to go before our humdrum lives are once again blessed with the next annual iteration of Broadway's biggest night.
Musical Theater