"I'll Take American Ballet Theatre for $1000, Alex"
Answer:
Members of this ballet company will appear on "Jeopardy!" this Tuesday to celebrate the troupe's 75th anniversary.
"What is American Ballet Theatre?"
Correct! On May 5, one full category will be devoted to 75 years' worth of American Ballet Theatre trivia. Some of the clues will feature performance footage, and the answers will all be read by top members of the company, including Misty Copeland, Hee Seo, James Whiteside, Sarah Lane and Craig Salstein.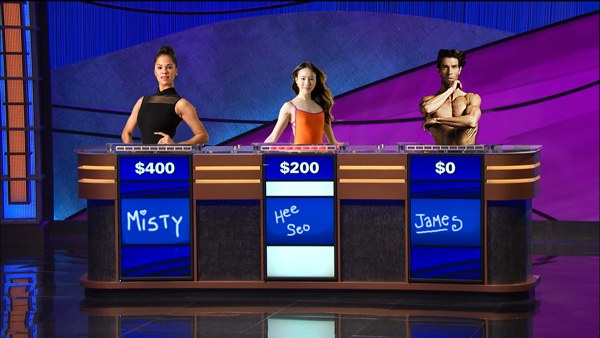 One day, Ballet Celebrity "Jeopardy!" will be a real thing... (Misty Copeland and Hee Seo by Nathan Sayers for Pointe; James Whiteside by Mark Schou Photography via ULM NYC; Photoshopping by yours truly)
Now, what does this mean for us, fellow ballet nerds? It's time to dust off our Alex Trebek–themed victory dances, because we're going to be doing a lot of correct-response gloating. Tuesday night is ours. OURS!
Still, the best "Jeopardy!" champs spend years practicing for the competition, so it wouldn't hurt us to warm up a little, too. Here are some clues from real "Jeopardy!" episodes.** (Hover—don't click—your mouse over each clue's category for the correct response.)
Ballet for $200: Princess Aurora pricks her finger on a spindle in act one of this 1890 ballet.
Ballet for $400: In 1973, Twyla Tharp choreographed Deuce Coupe for the Joffrey Ballet with music by this group.
Ballets Alex Could Star In for $600: It might be a drag, but I'll follow in the footsteps of Frederick Ashton and play one of the stepsisters in this classic.
Ballet for $800: Angel Corella of Spain is one of the "muy caliente" male stars of this U.S. company.
[Note/Hint: This clue originally aired 1998, before Corella was directing Pennsylvania Ballet. I just like to imagine Trebek saying "muy caliente!"]
Ballet for $1000: Agnes de Mille's ballet Fall River Legend was based on the case of this accused murderess.
You Should Be in a Ballet! for $2000: Your Romeo and Juliet will make everyone forget the 1965 triumph of Rudolf Nureyev & this partner.
Ballet & Opera for $2000: In a classic ballet by Adolphe Adam, she's the title peasant girl with a weak heart and a passion for dancing.
Now for the Final Jeopardy! round...
American Ballet: Characters in this 1942 ballet include the head wrangler and the champion roper.
The Oscars: Both "The Color Purple" and this 1977 ballet drama got 18 nominations—and no Oscars.
How'd you do? Tune in to "Jeopardy!" on May 5 for the real thing!
---
**As luck would have it, some very, very, very big "Jeopardy!" fans maintain a VAST episode and clue archive on the interwebs. Thanks, j-archive.com!
Dear Katie
May. 24, 2018 01:29PM EST
Photo by Travis Kelley, courtesy Kathryn Morgan
In our "Dear Katie" series, former NYCB soloist Kathryn Morgan answers your pressing dance questions. Have something you want to ask Katie? Email dearkatie@dancespirit.com for a chance to be featured!
Keep reading...
Show less
May. 16, 2018 02:26PM EST
Ema Peter
The Glorya Kaufman International Dance Center is the 54,000 square foot home of the USC Glorya Kaufman School of Dance, one of the largest facilities dedicated to dance on a private university campus. Designed for their innovative new curriculum, that supports a range of dance styles, the school's staff designated Harlequin to provide wall-to-wall flooring for the large 3,500 square foot Performance Studio as well as five dance studios in their new state-of-the-art building.
Keep reading...
Show less
Popular
Jun. 15, 2012 05:44PM EST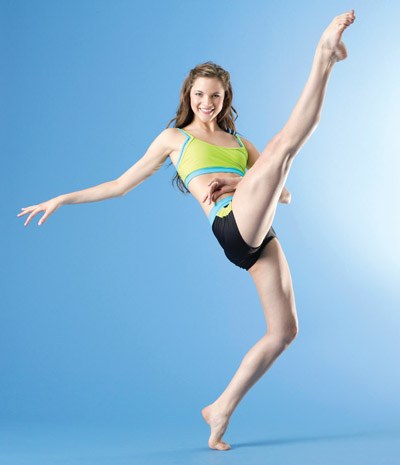 When watching Megan Skalla dance, several things are immediately obvious. She has legs for days and the archy feet to match. Her core is rock-solid, and her sweet smile is contagious. But the longer you spend with her, the more something else becomes clear: Megan's got sass. Whether it's a sharp shoulder roll during a hip-hop class or an intense stare during a sky-high développé, there's a certain something extra that makes this 16-year-old pop. And her steadfast devotion to dance means she's only getting better.
Megan started dancing when she was 3 at a small ballet studio near her hometown of Draper, UT, and was hooked immediately. At 7, she switched to a new studio, Pulse 31, and started to compete, but she still wasn't dancing as much as she wanted. Finally, she came to The Dance Club in Orem, where she currently trains. She takes ballet, jazz, tap, hip hop, contemporary and lyrical, and sometimes supplements her training with private ballet classes at nearby Barlow Arts Conservatory. "I've always loved ballet," says Megan, who has attended summer intensives at Pacific Northwest Ballet School on scholarship for the past two years. "It's the foundation for everything, and it makes me a stronger dancer in other genres."
Though she dances from morning until night, Megan admits to boogying through her kitchen when she gets home, and would still do more if she could. "There's a dance company that's a big deal at my high school, but there just aren't enough hours in the day to do both," she says. Devoting her time to The Dance Club, she says, is more conducive to her goal of dancing professionally. The studio is full of mega-talented dancers, and Megan shines among them. Her secret? "In class, some dancers will avoid going across the floor with someone they think is better than they are," she says. "But I like to go across the floor with the best dancer in class. That way, I can push myself to come up to her level."
Megan's strategy is working. She won the Teen High Score Solo award at New York City Dance Alliance regionals and was a Top 10 Outstanding Dancer finalist at NYCDA Nationals. She has performed as Clara in the Radio City Christmas Spectacular and was one of four Capezio NYCDA Model Search winners. As for the future, Megan knows one thing for sure: She's going to keep dancing. "I want to go to college for dance, maybe to Brigham Young University, Marymount Manhattan or Juilliard," she says. "But I still have a while to decide." Until then, she'll stick to her busy schedule. "It's a lot of late nights and early mornings," she says. "But it's worth it. I wouldn't give it up for anything."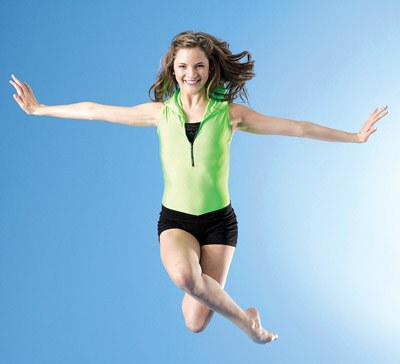 FAST FACTS:
Birthday: March 6, 1996
Favorite food: Pasta
Most-played on her iPod: "I Won't Give Up" by Jason Mraz
Dream dance role: "It would be really fun to be a Rockette. I want to do the Rockette summer intensive this year."
Three words that describe her dancing: "Soft, passionate, aggressive"
Dream dance company: Complexions Contemporary Ballet
Favorite dance movie: Step Up
Who would play her in a movie: Nina Dobrev from "The Vampire Diaries"
First thing she does in the morning: "Hit the snooze button so I can sleep for 10 more minutes."
Favorite dancers of all time: Travis Wall and Joey Dowling
Hidden talent: "I like to sing, but I'm only OK. I'd like to take voice lessons."
Performer she'd die to work with: Celine Dion
Must-see TV shows: "Pretty Little Liars" and "The Lying Game"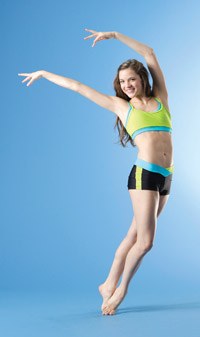 WHAT PEOPLE ARE SAYING ABOUT MEGAN:
Allison Thornton, Megan's teacher at The Dance Club: "Megan has the body that every dancer dreams of: long legs, beautiful feet, great extension. But the best thing about Megan is that she knows how to use it all. She works really hard, and as good as she is in rehearsal, she's even better onstage. Megan is very humble. She always has a smile on her face, she gets along with the other girls and she's easy to work with. She's a good person who has been blessed with great talent."
Joanna Numata, street jazz instructor at Broadway Dance Center: "The first thing I noticed about Megan were her beautiful lines. She also had a really good, positive energy during class. She took direction and corrections well, which is so important."
Love Megan? Go to dancespirit.com//cms to vote for her!
Click here to read all about Alyssa Ness!
Click here to read all about Hannah Bettes!
Oregon Ballet Theatre's Jacquline Straughan (with Brian Simcoe) showing off her beautiful epaulment in Swan Lake (photo by Jingzi, courtesy Oregon Ballet Theatre)
It's in Odette's gracefully arched neck, the Lilac Fairy's regal bearing, even a contemporary dancer's extreme lines. The "it" in question? Épaulement—the nuanced positioning of the head, shoulders, and neck. Using your épaulement (which translates, literally, as "shouldering") does more than make your dancing prettier: It makes it better, richer, and more artistic. But achieving effortless épaulement is easier said than done, especially since technique classes tend to focus on the legs and feet.
Keep reading...
Show less
Fraser dancing in the NYC Subway (photo by Underground NYC, courtesy Fraser)
Paige Fraser has performed on world-class stages and in a video with Beyoncé—yet some of her most meaningful dance moments happened in tiny classrooms on a small island 1,000 miles from America. This past spring, Fraser, who's danced with Ailey II and is a founding member of Visceral Dance Chicago, teamed up with the non-profit Milk Carton on a String to bring dance to underprivileged children in Haiti. Fraser taught daily ballet and modern dance classes and used YouTube videos and social media to introduce the students to other aspects of dance they hadn't been exposed to.
Now, Fraser plans to continue to use dance to give back through her own newly-funded non-profit, The Paige Fraser Foundation. But instead of traveling outside the country, Fraser will be helping kids in her childhood home: the Bronx. She wants her foundation to assist aspiring dancers no matter their color or abilities.
Read our interview with the dancer and do-gooder—and discover the life-changing diagnosis that inspired her to help other dancers achieve their dreams.
Keep reading...
Show less
DancerPalooza, America's Largest Dance Festival, is moving to sunny SAN DIEGO, California from July 24-29, 2018.
Check out all of the NEW Intensives DancerPalooza has to offer this year!
Keep reading...
Show less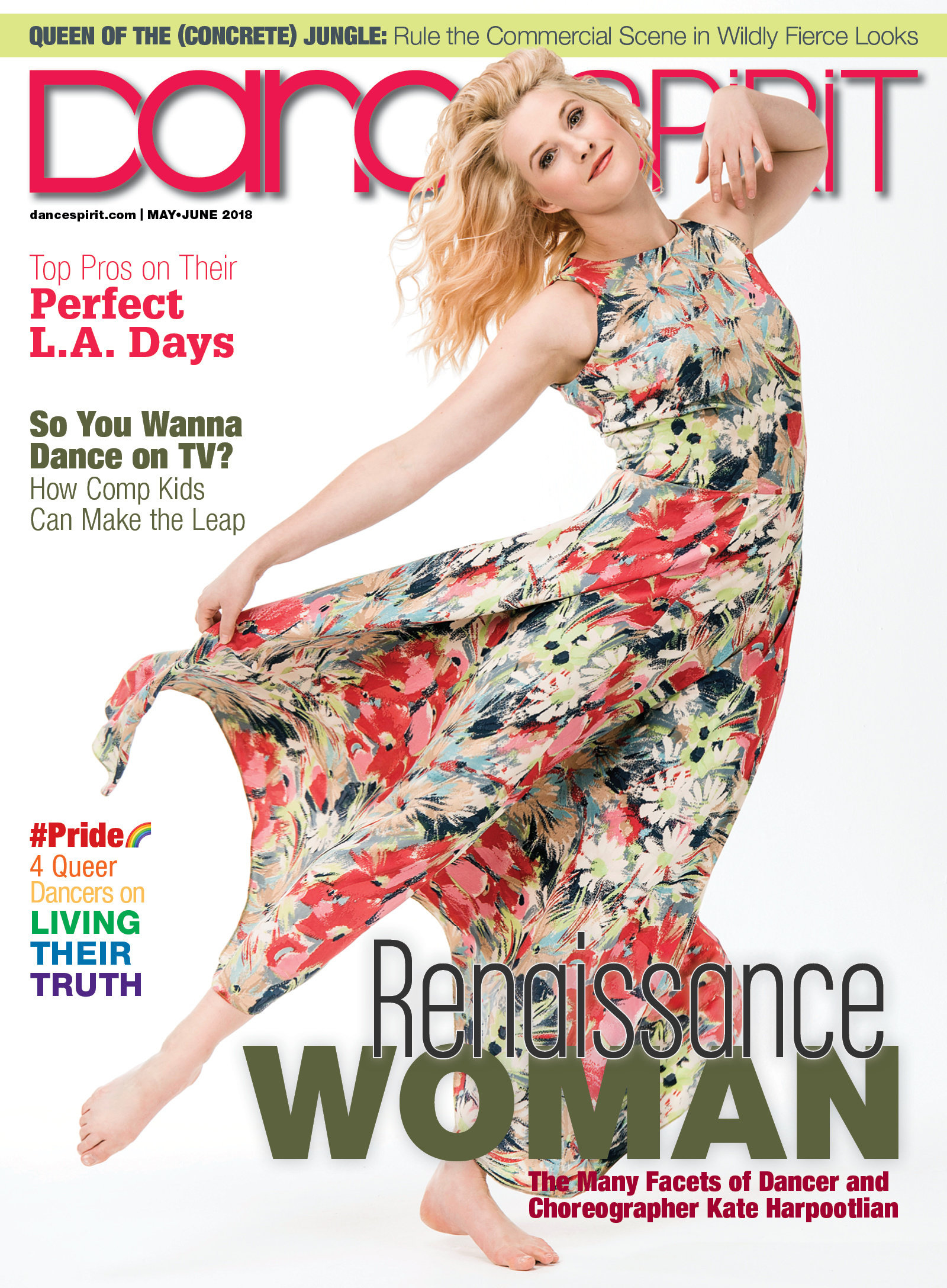 Get Dance Spirit in your inbox