May. 25, 2011 09:34AM EST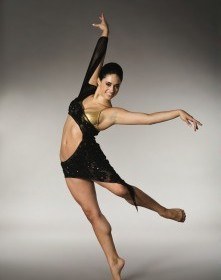 Hobnobbing with Ashton and Ellen, being hounded for autographs and photos, cruising the country on a 50-city tour—for an A-lister, it might be no big deal, but for "So You Think You Can Dance" winner Jeanine Mason, it's been quite an adventure. "Right after I won, I flew to NYC and it took me an hour and a half to get to the gate because of all the people stopping me to say congratulations," Jeanine recalls. "It's surprising to get recognized. When we were inside the show bubble, we never got to see how many people were out there supporting us."
Of course, anyone who has seen Jeanine dance—either at a competition, in her hometown of Miami or on the "SYTYCD" stage—could have guessed that it was only a matter of time until her star quality started earning her the star treatment. Thanks to her killer stage presence, this powerhouse was winning audiences over long before she became a household name. Case in point: Jeanine spent last year touring as a teacher's assistant for JUMP, where celeb choreographers are typically the center of attention—yet even as an assistant, Jeanine didn't fade into the background. "I was at a JUMP regional demonstrating Mandy Moore's choreography, and a woman came up to me with her daughter asking for an autograph," remembers 18-year-old Jeanine. "She said, 'We just have a feeling that one day we'll be watching you on TV, and we want something to remember you by.'"
Fast forward to August 6th, 2009, when 9.6 million viewers tuned in to watch the "So You Think You Can Dance" finale at Hollywood's Kodak Theatre. That mother's prophecy came true as Jeanine was crowned "America's Favorite Dancer," earning the prize of $250,000 and a DS cover story. "I was blown away: I wouldn't have predicted that I'd be anywhere near the top four, let alone the winner," Jeanine says.
Jeanine was likely alone in her surprise, as fans and judges alike had already fallen in love with her fiery brand of movement and super-sized personality. And now, just months after the win, Jeanine has big plans for her future: After the "SYTYCD" tour concludes this month, she's moving to L.A. to attend UCLA and start auditioning for jobs. DS had an exclusive chat with Jeanine to find out how she made it to the "SYTYCD" stage.
Humble Beginnings
If Jeanine's experience is any indication, some dancers just might be made, not born. Though she began taking ballet and lyrical classes at age 3, Jeanine didn't get serious about dance until the age of 9—and even then, she had a long way to go. "I was a hot mess," Jeanine says. "I didn't have proper turnout, flexibility or extension. I would come home sobbing hysterically." She's not exaggerating: "Jeanine was slightly tragic," laughs Amanda Tae, Jeanine's long-time mentor and teacher at Miami's Focal Point Dance Studio. "She was a cute girl, but completely pigeon-toed and had no extension beyond 90 degrees. But her drive was uncanny. Her hunger was something I knew could not be taught."
Though Tae knew transforming Jeanine into a top technical dancer would be a "project," she was inspired by Jeanine's determination. Jeanine wasn't the best, but she wanted to be. The two began working privately, with an emphasis on stretching, strength training and footwork, and at Tae's suggestion, Jeanine also added jazz, acrobatics, hip hop and contemporary classes to her training repertoire. Fueled by Tae's guidance and support, Jeanine's raw talent began not only to emerge but also to evolve. "Before Amanda, I couldn't find a teacher who was willing to push me, so dance never seemed like it could be a career for me, yet I wanted so badly to be dancing for the rest of my life," says Jeanine. "For her to say 'I see potential in you' struck me. Because she believed in me, a fire was ignited inside and I wanted to work hard."
Another major turning point was the "Tai Sho" oriental-themed lyrical solo that landed Jeanine her first platinum award in competition. ("I used to get bronzes all the time," Jeanine laughs.) The difficult piece called for strength and control—all aspects Tae and Jeanine had been focusing on in their sessions. "Amanda busted out modern music, a concept and a costume; I felt like I was creating a masterpiece as opposed to just prancing around the stage," says Jeanine. "Amanda wanted to make me a dancer, not just a competition kid."
Jeanine's win gave her a much-needed confidence boost, and soon the days of bronze trophies were a thing of the past. At age 12, she won her first title at Starquest Nationals, and went on to match that success every year until her final competition in 2008 at West Coast Dance Explosion. While competing, Jeanine also began to hone her performance skills, cultivating the unforgettable onstage personality America came to know and love on "SYTYCD." Says Jeanine, "The acting aspect is what shone through for me; I loved finding characters, putting on costumes and being someone else for a three-minute routine."
Indeed, that penchant for performance later came in handy on the show, where Jeanine was tasked with portraying everything from a "Wonder Woman"-esque superhero to a doll-faced Russian folk dancer to a formidable futuristic temptress. The common thread? Jeanine's unmistakable style of movement and self-expression. Buoyed by a strength matching that of many male dancers, Jeanine's dancing melds equal parts power, precision and personality—along with a certain sultry sizzle that only a Miami-born Latina can bring to the floor. Factor in an animated, expressive face that lights up the room, and it's no wonder Jeanine has made it this far.
Looking back, Jeanine attributes much of her "SYTYCD" success to those early days on the comp circuit: "That is the reason why I am where I am today," she shares. "People attach a dark stigma to 'competition kids' because they think that they aren't properly trained, but the performance opportunities [afforded by competition] are among the most amazing out there. Many of the greatest dancers I know started off in the competition world, and it has been an important jumping-off point for my own dance career."
Cinderella Story
Upon trading the dance floors of Miami for the "SYTYCD" soundstage, Jeanine didn't leave that muy caliente Latin fire behind. The show's grueling schedule called for 24/7 commitment and boundless energy, not to mention mastering styles ranging from hip hop to Broadway to jive. Plus, each week the dancers had mere hours to learn the routines they would have to perform onstage in front of millions of TV viewers. And while Jeanine had versatility, her first partner, Phillip Chbeeb, was trained exclusively in popping and hip hop—which presented some interesting partnering challenges. "We worked harder than any of the other couples because it was hard for him to grasp certain movements," says Jeanine, adding that the pair often spent their days off rehearsing instead of relaxing. (For the "Love Lockdown" routine, Jeanine and Phillip spent close to seven hours chained together practicing!) "Jeanine had a very regimented way of learning and moving," Phillip says. "She was always upbeat and kept her energy up throughout the entire run of the show. Plus, she introduced me to a whole new type of movement through her contemporary dancing. She taught me so much."
Yet Phillip's funky hip-hop sensibility provided a fitting counterpart to Jeanine's contemporary strengths, and their popularity soared week after week. "I learned so much from Phillip because we don't move anything alike," Jeanine says. "So much of this experience was made 10 times better by him."
However, all good things must come to an end, and the pair hit a low point with this season's notorious "What the Folk?!" moment: the infamous Russian folk dance. Though tackled with characteristic enthusiasm, the routine landed Jeanine and Phillip in the bottom three couples for the first time, which, in retrospect, Jeanine considers a blessing. "I hadn't yet had the opportunity to show America what I could do [in my own style], and I felt so hungry. I wanted the chance to visit my comfort zone," remembers Jeanine. "I would have thought I'd have a mental breakdown, but it ended up being the greatest moment for me."
The following week, Jeanine not only entered the top 10 and solidified her spot on tour, but also finally picked contemporary from the hat. In the wake of Phillip's elimination, Jeanine was paired with close friend Jason Glover and assigned to work with contestant-turned-choreographer Travis Wall. He created a love story set to Jason Mraz's "If It Kills Me," and the audience went crazy for Jason and Jeanine's palpable chemistry…and that kiss. "We were so lucky the way everything came together; it was meant to be," says Jeanine. "I will replay that dance in my head for the rest of my life."
So what could possibly top that? Winning the show! The two-day finale called for Jeanine and fellow finalists Brandon Bryant, Kayla Radomski and Evan Kasprzak to not only learn an unprecedented number of group and duo routines but also to reprise fan favorites from throughout the season. Translation: a week of 12-hour days of non-stop dancing! "We were delirious from exhaustion; we weren't sure how we would make it through the show," Jeanine says.
According to Jeanine, it was the energy from the 3,500-person crowd that carried the dancers through those final performances. "When I saw how many people were out there, I felt my heart burst," says Jeanine. "I felt so blessed, and it was easy to get through the show with thousands of people screaming, 'You can do this!' We were all fighting back tears because we were so overwhelmed."
Also keeping Jeanine afloat was the overwhelming support she received from her family that night and throughout the competition. From attending show tapings to making homemade signs to sending encouraging text messages, Jeanine's parents and three siblings were there every step of the way, and Jeanine is ever grateful, especially to her younger sister and best friend, Alexis. "We've always been attached at the hip, so the hardest part of being on the show was not having her there with me," Jeanine says. "Seeing her on show days and talking whenever possible was what pulled me through. Whenever I wasn't in the best mental place, Alexis was right there to remind me of my dream."
Now that Jeanine has secured the crown, she's eagerly anticipating her next move. "My dream is to be in a movie musical—I'd love to be able to merge dancing and acting and maybe even try singing," shares Jeanine. "I'd also love to do Broadway. I'm ready for anything that comes my way!"
As Jeanine looks forward, she's also taking time to reflect on her long path to success. "I've improved in dance over the years, and I've seen how it can affect people and make their days better," Jeanine says. "I grew up admiring amazing dancers, and when I started seeing little girls at my studio look at me that way, I knew it was something that I could pay back. To have an even broader audience through 'SYTYCD' has inspired me even more! Even when I'm sore and hurting, just thinking about being onstage and seeing someone smile or be inspired to move has made it worth every single second." And that's the mark of a true star.
Just the Facts
Name: Jeanine Mason
Age: 18
Bday: January 14, 1991 (She's a Capricorn!)
Fave musical: Spring Awakening
Signature Move: A split leap that Jeanine calls "Hit the Head"
Competitions Attended: West Coast Dance Explosion, JUMP, American Dance Awards, New York City Dance Alliance, Showbiz, Starquest
"SYTYCD" BFFs: Jason, Randi and Janette. ("Janette was my roommate throughout the competition; she was my Miami buddy and our room was Latin headquarters. Our families would send over Cuban treats, and everyone would eat them when we got home from practice!")
Fun Fact: Jeanine calls fellow contestant Kupono her "personal stylist;" he picked out all of her clothes for the DS cover shoot!
Heart of Gold: Jeanine donated a large portion of her winnings to Making Memories, the Alzheimer's research foundation she and her sister started in honor of their late grandfather.
There's Something about Jeanine
Mary Murphy (judge): "The first week, Jeanine drew hip hop, and if I had any doubts about how she would stack up against the others, they were all gone after that performance. Dancing with Phillip Chbeeb—who was in his own style—Jeanine not only kept up with him but started to shine, and as the weeks went by, she elevated him and every other partner she had on the show."
Sonya Tayeh (choreographer): "As Jeanine progressed on the show, she opened up and became a force to be reckoned with. I loved working with her because she was so willing and fearless, especially during the 'Superheroes' piece; she embraced her inner superhero and dove right into character. If she sticks to this humble attitude and sense of willingness, I know she will flourish in her career!"
Jason Glover (contestant): "To describe Jeanine in one word, it would be 'unique.' You just don't find dancers like her. She has beautiful lines, is funky and charismatic, and has so much life onstage. Not only does it show in her movement but also on her face. Jeanine is a brilliant performer and one of my favorite people to watch—not just in our group, but out of any dancer I've seen, from Gregory Hines to Gene Kelly."
Jenna Johnson and Adam Rippon competing during the "DWTS: Athletes" finale. (Photo by Kelsey McNeal, courtesy ABC)
Last night was both the best and the worst night of "Dancing with the Stars: Athletes." The best, because one lean, mean, dancing machine of a couple got to take home the Mirrorball trophy. The worst, because we won't be able to tune in to "DWTS" each Monday to get our weekly dose of dance mania until the fall. But all good things must come to an end, and "DWTS: Athletes" was certainly one of the best seasons yet. The remaining three couples all brought their A-games to the dance floor for the finale, showcasing two dances: a traditional ballroom routine and a freestyle. Here's the final recap.
Keep reading...
Show less
via @kyle_vanny on Instagram competing on World Of Dance
Kyle Van Newkirk is a tap dancer you probably remember from the premiere season of NBC's World of Dance. In case you missed it, he is also one of Showstopper's incredible convention teachers. What makes Kyle stand apart from some of today's other incredible tappers? He isn't afraid to change what tap means to his audience and even himself. This modern view of tap dancing is important because it shows us that tap dancers are just as versatile and dynamic as dancers of any other genre. We sat down with Kyle to get his advice on bringing tap dancing into the 21st century.
Keep reading...
Show less
What did I just hear you say? You think all dancers are weak and delicate? PLEASE SAUT DE CHAT OUT OF MY LIFE. (Giphy)
Sure, dancers definitely have some unique identifying characteristics. (We're all obsessed with Center Stage? FACT.) But we're also subjected to all kinds of annoying, inaccurate stereotyping. Here are 10 dancer stereotypes that we never want to hear again.
Keep reading...
Show less
University of Minnesota Dance Team (courtesy University of Minnesota)
They say there's no "I" in "team"—and nowhere is that truer than the world of college dance teams, where precision reigns, uniformity is key, and a single misstep from any given "I" can cost a group a championship trophy. So it's unsurprising that securing a spot on one of the best dance teams in the country is no easy feat.
Members of these highly athletic teams rehearse for hours every week—on top of academic classes and commitments—and perform at football and basketball games, annual concerts, and nationally televised competitions (hi, ESPN). And "no I" rule notwithstanding, each of these top teams is made up of highly trained, highly technical, highly hard-core individuals, who come together to create a ready-for-victory pack.
These six teams aren't one-off success stories—they're consistently strong, and earn the top spots at major competitions like UDA and NDA nearly every year. Up for the challenge? Here's what to know before you go to auditions.
Keep reading...
Show less
via YouTube
Keep reading...
Show less
May. 16, 2018 02:26PM EST
Ema Peter
The Glorya Kaufman International Dance Center is the 54,000 square foot home of the USC Glorya Kaufman School of Dance, one of the largest facilities dedicated to dance on a private university campus. Designed for their innovative new curriculum, that supports a range of dance styles, the school's staff designated Harlequin to provide wall-to-wall flooring for the large 3,500 square foot Performance Studio as well as five dance studios in their new state-of-the-art building.
Keep reading...
Show less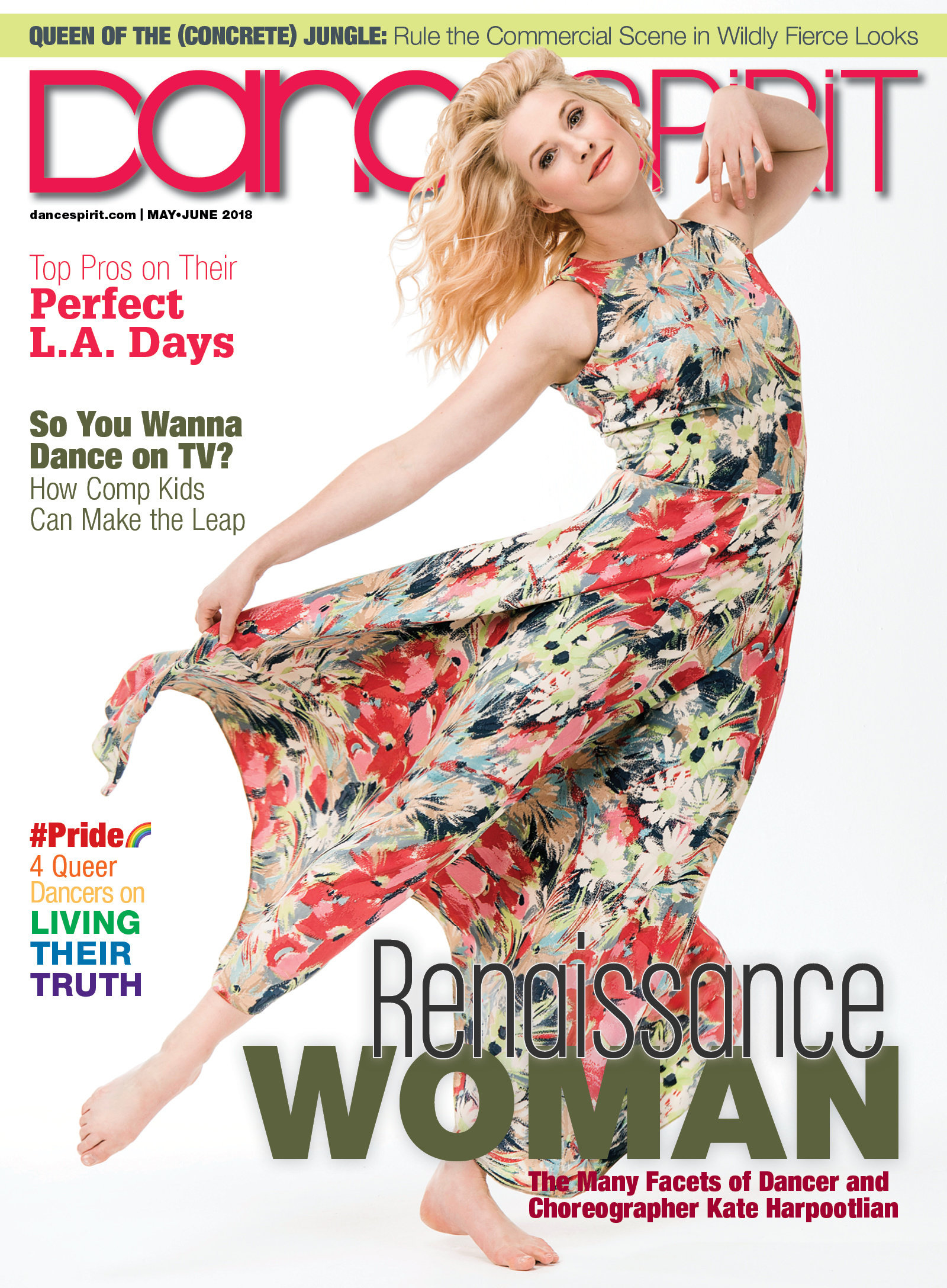 Get Dance Spirit in your inbox