Mar. 23, 2017 10:07AM EST
Around the World in 80 Pliés
James Boyd wears  through suitcases almost as quickly as he wears through jazz shoes. "I'm already on my fourth—and this one's world class," jokes Boyd, who often spends up to five months at a time traveling on tour with the Bad Boys of Dance. "I've practically been living out of a suitcase since 2010." This year's schedule alone has given the Boys nine stamps in their passports, including England, Germany, Finland and Russia.
Dancing in a traveling company or on a commercial tour is a fantastic way to get paid to do what you love, while seeing the world. "When I'm 50," Boyd says, "I know I won't be kicking myself because I didn't travel enough."
Tour life sounds like a dream come true, and most of it is. But it also involves an exhausting schedule, very little sleep and tricky cultural and language barriers. Are you considering a gig on tour? Dance Spirit spoke with Boyd and two other well-traveled dancers to get the truth about this adventurous career choice.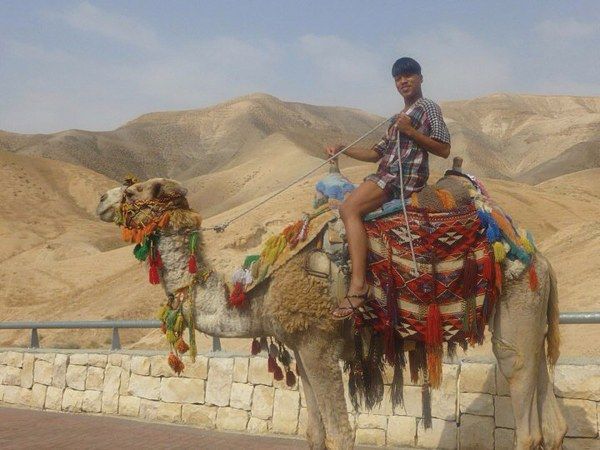 Reina Hidalgo heads to Israel's Dead Sea (photo courtesy Hidalgo)
Culture Shock
Going from country to country poses challenges you won't face when touring the U.S. For starters, odds are you won't speak the languages of many of the places you visit. "You have to be creative when communicating," says Reina Hidalgo, who's spent the last 10 years on international tours with artists including Pink, Kylie Minogue, Rihanna and Missy Elliott. "You'll use a lot of sign language—maybe even draw a few pictures. It certainly teaches you patience."
And language differences are only the beginning. For picky eaters like Boyd, the lack of familiar foods may be the hardest thing to get used to. "I remember trying to find Cheetos in a grocery store in Europe," he recalls. "I finally found something that looked like Cheetos—but they tasted like onions." Ultimately, though, life on tour has taught James to become more daring with his culinary choices. He's even eaten a grasshopper. "You learn to embrace different cultures," he says, "and now I'll try anything."
A New Kind of Audience
Cultural differences extend to the theater as well. Graci Meier has been to five continents during her three seasons with MOMIX, and she's seen huge differences in the way audiences react to the company's choreography. "What one country finds funny, another country won't," she says. "And in Hong Kong, the audience entered so quietly, we didn't think anyone had come to the show—but there were 2,000 people out there! Italian audiences, on the other hand, are loud, flamboyant and fun."
One of Hidalgo's favorite things about theaters abroad is the absence of iPads and iPhones in the air. "Americans tend to get too caught up with filming, so they're not really in the moment," she says. "Overseas, they typically disconnect all technology, so most shows are just a two-hour party."
Graci Meier (left) tours Berlin, Germany, with two other MOMIX dancers (photo courtesy Meir)
Time to Explore
Some of the most exciting moments of international tours happen offstage—if you have free time, that is. Commercial tours can be particularly hectic, sometimes stopping in each city for less than 24 hours. A company, however, may stay in residency for a few days or more. MOMIX, for example, usually stays in each inter-national city for at least one week. "Depending on rehearsals, we're usually free in the mornings and afternoons on one-show days," Meier says.
Balancing work and play is key. Dancers want to see as much of each city as possible—but taking care of their bodies needs to come first. "If your foot or knee is bothering you," Meier says, "you shouldn't walk around all day sightseeing." Instead, she likes to go for a quick run on her first day in a new city. "It's one of the fastest ways to get a tour of a town," she says. "Then I know where I want to go back to and spend time when I can."
For Hidalgo, whose schedule doesn't always come with free days, bus rides are spent getting some much-needed rest so she can explore a city for the two or three hours before a call. But she also knows that sometimes sightseeing is just not possible. "If you've traveled for four days in a row, spending your day off sleeping is OK," she says. "I tell myself that if I don't have time to do everything I want, that's a reason to come back to that city."
"When you're in these spectacular places, it's sometimes hard to remember that this isn't a vacation—you're here for a job," Meier says. "But don't forget to enjoy it. Getting to do what you love while you see the world—I don't think there's anything better than that."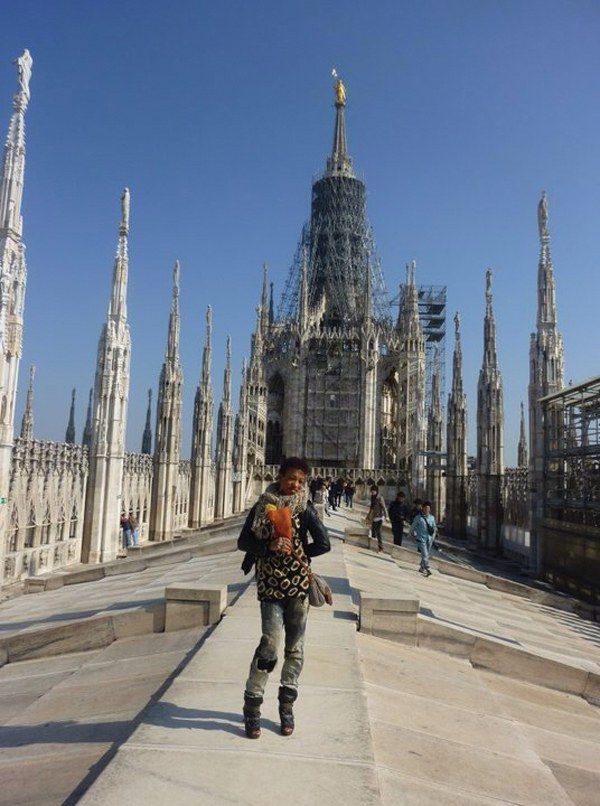 Hidalgo in Milan, Italy (photo courtesy Hidalgo)
Headed overseas? Even the simplest tasks can be tricky when you're halfway around the world. Here are some tips for getting the little things done.
Find the closest Laundromat. Most companies will take care of washing your costumes. But your day-to-day clothing will be your responsibility. "I always bring travel-size packets of Tide," says Graci Meier of MOMIX. "If worst comes to worst, there's always the bathtub."
Budget your cash wisely. Avoid sky-high ATM fees by taking out as much of the local currency as possible when you first land in a country, and then using it little
by little. "In Europe, I take out 500 Euros, then store 300 in the safe in my room," says Bad Boys of Dance's James Boyd. Don't carry too much with you at once—it's not safe.
Bring a small suitcase. When you're lugging all your stuff on airplanes, buses and trains, huge bags can be cumbersome. Meier is a big believer in the less-is-more technique when packing. Commercial dancer Reina Hidalgo brings a lot—but packs it all up wisely. "You have to prepare for different climates in different countries," Hidalgo says. To stay organized, she recommends Spacepaks that fit inside a suitcase.
Use apps to communicate. Meier recommends Word Lens, a free iPhone app that translates text to English when you hold your phone over it. But be warned: Translations need to be taken with a grain of salt. "We tried to order meatloaf off a menu in Germany," she says. "But when it came out, it was actually bologna."
Fight homesickness with the familiar. "Sometimes you need the comfort of a Starbucks or a McDonald's," says Boyd. "Luckily, you can find those almost anywhere."
Don't eat out every meal. Restaurants can get pricey, and the food isn't always prepared the healthiest way. Eating in can help you save money and eat better. "I actually bought a hot plate when we were in Europe, so I could cook in my hotel room," Meier says.
Use technology to stay in touch. Boyd uses Skype, WhatsApp, Voxer and iMessaging to call family and friends without racking up a huge phone bill. "I also like to go old-school and send postcards," he says. "It's easy and fun."
Don't forget your camera, and pack a journal to jot down your favorite things. "A year from now, you'll forget little details," Boyd says. "But if you write it down and take tons of pictures, you'll remember every trip."
Jun. 15, 2019 10:12AM EST
(From left) Darriel Johnakin, Diego Pasillas, and Emma Sutherland (all photos by Erin Baiano)
Congratulations to Dance Spirit's 2019 Cover Model Search finalists: Darriel Johnakin, Diego Pasillas, and Emma Sutherland! One of them will win a spot on Dance Spirit's Fall 2019 cover. Learn more about the dancers on their profile pages, and then vote for your favorite below. You can vote once a day now through July 15.
We also want you to get social! We'll be factoring social media likes and shares into our final tallies. Be sure to show your favorite finalist some love on Facebook, Instagram, and Twitter, sharing their profile pages and using the hashtag #DanceSpiritCMS.
Cover Model Search
Jun. 13, 2019 02:20PM EST
Photo by Erin Baiano
Imagine attending American Ballet Theatre's prestigious NYC summer intensive, training among classical ballet legends. Imagine taking the stage at New York City Dance Alliance Nationals, competing against some of the country's best contemporary dancers. Now, imagine doing both—at the same time.
Welcome to Madison Brown's world. This summer, she's in her third year as a National Training Scholar with ABT, while also competing for NYCDA's Teen Outstanding Dancer title. (She's already won Outstanding Dancer in the Mini and Junior categories.) The logistics are complicated—ABT's five-week intensive overlaps with the weeklong NYCDA Nationals, which translates to a lot of cabs back and forth across Manhattan—but Maddie is committed to making the most of each opportunity. "I love contemporary and ballet equally," she says. "While I'm able to do both, I want to do as much as I can."
Maddie has an expressive face, endless extensions, and a quiet command of the stage. She dances with remarkable maturity—a trait noted by none other than Jennifer Lopez, one of the judges on NBC's "World of Dance," on which Maddie competed in Season 2. Although Maddie didn't take home the show's top prize, she was proud to be the youngest remaining soloist when she was eliminated, and saw the whole experience as an opportunity to grow. After all, she's just getting started. Oh, that's right—did we mention Maddie's only 14?
Cover Story
Jun. 16, 2019 07:00AM EST
Corbin Bleu in rehearsal for "Kiss Me, Kate" (Jenny Anderson, courtesy Roundabout Theatre Company)
If you're a hardcore Broadway baby, today is the worst Sunday of the year. Why, you ask? The Tony Awards were last Sunday, so basically there's nothing to look forward to in life anymore—no James Corden being James Corden, no teary acceptance speeches from newly minted stars, no thrilling excerpts from the hottest new shows. Oh yeah, and there are 50 more Sundays to go before our humdrum lives are once again blessed with the next annual iteration of Broadway's biggest night.
Musical Theater