Dance may not be an official Olympic sport. But, man, has it managed to sneak its way into Sochi, or what?!
It seems like everyone's been talking about dance this Olympic season. First, there was CBS Sport's interview with Canadian skeleton racer Sarah Reid about her ballet background. Then, U.S. figure skater Gracie Gold talked to NBC about her ballet training. And who could forget "Today"'s pre-Sochi interview with Mariinsky Ballet dancer Keenan Kampa?
We kinda thought the gloriously ballet-filled opening ceremony would be the last of it. But we were wrong. Thanks to U.S. luger Kate Hansen, dance is still the talk of the town (or rather, the Olympic village).
Due to a broken foot, Hansen has designed a unique warmup: Before she hits the ice, she puts on her head phones, blasts some Beyoncé and breaks. it. down.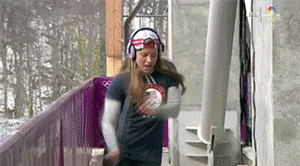 (GIF courtesy @dhm)
Here's a reel of Hansen's moves set to an inspirational soundtrack:
And here it is edited to "Pony" by Ginuwine:
Somehow, we don't think we've seen the last of these video edits and GIFs. At this rate, Hansen's warmup dance is on track to become one of the memories that characterize Sochi 2014. Way to go, girl. (And keep doin' your thing!)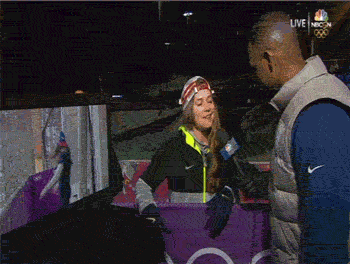 Hansen shows off her moves for NBC (GIF via BuzzFeed)