Jul. 09, 2018 02:17PM EST
How a Former Ballerina Revolutionized Pointe Shoe Padding
Kelly Schmutte fitting Sasha De Sola, a principal with San Francisco Ballet, for PerfectFit Pointe molds (photo by Jason Henry, courtesy Schmutte)
When Kelly Schmutte started dancing on pointe in fifth grade, she felt like there had to be a way to make it feel more natural. Right away she began thinking about how to improve the experience. "I wondered if there was a way to make it more enjoyable, so that a dancer could focus on technique and artistry, rather than what her shoe was doing," she says. Fast-forward to today, and Schmutte is founder and CEO of the wildly successful PerfectFit Pointe, a company that makes molded fitting solutions. Some of the biggest stars in ballet, like New York City Ballet's Sara Mearns and Lauren Lovette, say Schmutte's molds have been "game changing."
---
A Ballet Beginning
Schmutte's road from beginner pointe student to CEO was somewhat circular: She went from ballet, to school (lots of it!), and back to the ballet world again. Schmutte grew up in Davis, CA, and danced for Applegate Dance Studio's regional company during her high school years. "I've always been artistic and creative, and those parts of ballet resonated with me," she says. "You can be expressive with the music while the technical side of it really engages your brain."
But Schmutte didn't pursue a professional career in ballet. Instead, she considered going into engineering (her dad is a civil engineer) and attended Stanford University, where she earned two degrees: a bachelor's and a master of science in product design. She learned about technical elements and how to make something both aesthetically pleasing and meaningful for the target audience. Meanwhile, Schmutte explored different types of dance in college, and returned to ballet classes post-college. "Ballet has been a thread throughout my life," she says. "It's always been in the back of my mind to improve the experience of pointe shoes, and I took it on for my undergraduate capstone project. That was the genesis of PerfectFit."
Creating a Product
Schmutte's original design for PerfectFit Pointe was a moldable product with gel pouches. "The concept of a customized toe pad was there, but the materials and construction were totally different," she says. After graduation, she moved to Boston briefly, working as a design researcher, but she couldn't find enough time to focus on her own fledgling product. "I knew that finding the right material was going to be a challenge, and I had to spend time doing more research," she says.
Schmutte worked in a Capezio store for six months and assisted with pointe shoe fittings, talked to dancers and families, and did hour-and-a-half interviews to get different perspectives on pointe shoes. "Dancers' feet are as different as their faces," she says. "I realized I needed to make something that was going to be designed for a variety of foot types."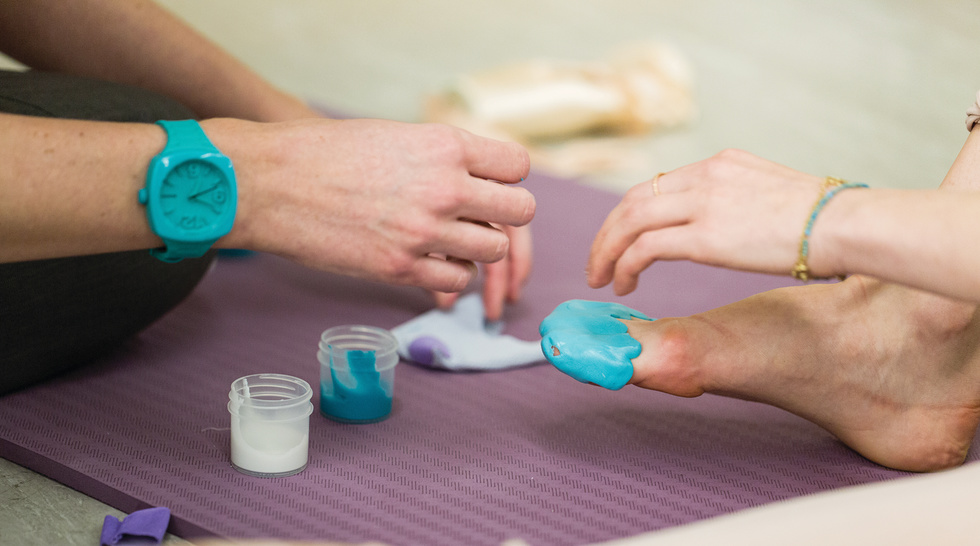 Schmutte's customizable molds (photo by Jason Henry, courtesy Schmutte)
The final result? A unique fitting solution that fills empty spaces in the box of the shoe that traditional pads can't reach, reducing the pressure on your feet in the process. "That way, your weight isn't concentrated on just a few points of your toes or knuckles, but over a larger area," says Schmutte. She found a chemist to manufacture the silicone component, and used other connections to produce the "soft goods": toe socks, spacer sleeves, and a mesh bag that doubles as storage for the inserts.
Getting Dancers on Board
Once Schmutte felt her product was ready, she started to strategize and plan how to grow her business. She launched an online store, reached out to dancers she had already met through her research, and started an Instagram account in the fall of 2015. "I started following a lot of dancers on Instagram," she explains. "I knew it would do amazing things for the brand if I could get an endorsement by a high-level professional dancer."
One of the dancers she followed was New York City Ballet principal Sara Mearns. Schmutte sent her a message, asking if she wanted to try some free samples. Mearns responded saying she'd love to try the product and give feedback.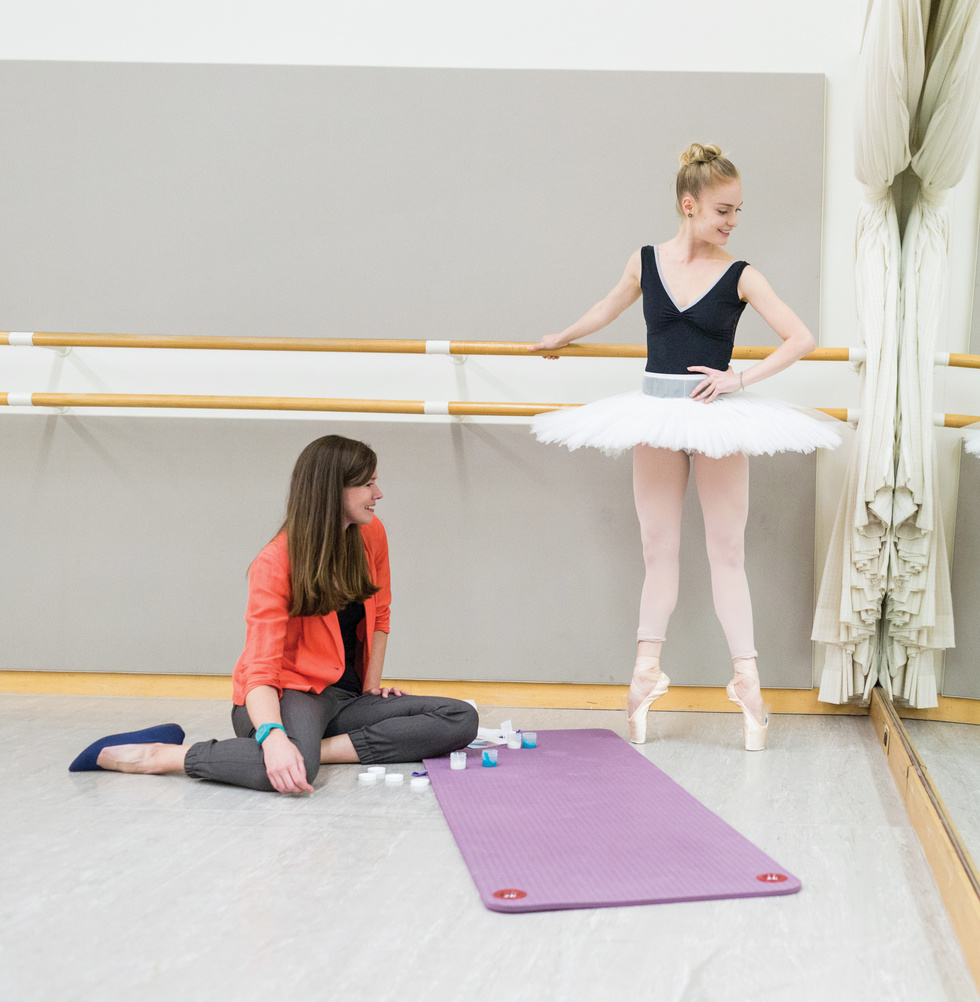 Schmutte watching De Sola test out her customized molds (photo by Jason Henry, courtesy Schmutte)
The result? "She really loved them in a way that I never would have anticipated!" says Schmutte. "I had this assumption that professionals had already found what worked for their bodies. But I was wrong. Dancers are the ultimate perfectionists and are always searching and trying new things." Just like Schmutte. These days the product is available online, and even more dancers from major companies—including New York City Ballet, American Ballet Theatre, San Francisco Ballet, and the Royal Danish Ballet—use her inserts in their pointe shoes.
A version of this story appeared in the July/August 2018 issue of Dance Spirit with the title "Pointe-ing The Way."
Branch Out
Apr. 19, 2019 03:37PM EST
Gabriel Figueredo in a variation from Raymonda. VAM Productions, Courtesy YAGP.
This week, over 1,000 young hopefuls gathered in New York City for the Youth America Grand Prix finals, giving them the chance to compete for scholarships and contracts to some of the world's top ballet schools and companies. Roughly 85 dancers made it to the final round at Lincoln Center's David H. Koch Theater on Wednesday. Today, the 20th anniversary of YAGP came to a close at the competition's awards ceremony. Read on to find out who won!

Dance News
Apr. 19, 2019 07:00AM EST
After a string of ballet-company rejections, Jennifer Sydor (here in Laura Peterson's "Failure") found success in other areas of the dance world. (Stephen Delas Heras, courtesy Jennifer Sydor)
In her senior year at Butler University, Jennifer Sydor auditioned for more than a dozen regional ballet companies—and got a string of "no, thank you" responses. "I have an athletic build, and my movement quality isn't the typical ballet aesthetic," Sydor says. "But I'd been laser-focused on ballet. When I didn't get a ballet contract, I was heartbroken."
Her one job offer came from Kim Robards Dance, a small modern company based in Aurora, CO. After attending KRD's summer intensive, Sydor ended up accepting a yearlong position with the troupe. "I was relieved and happy to begin my career," she says. She's been working as a contemporary dancer ever since.
In the dance world, rejection is part of the package. That doesn't make it any more pleasant. But whether you didn't get the Nutcracker role of your dreams or you weren't picked for a job despite feeling like you aced the audition, you can emerge from even the most gut-wrenching "no" smarter and stronger.
Mind
Apr. 18, 2019 07:13PM EST
Ballet West principal Beckanne Sisk as Kitri (Luke Isley, courtesy Ballet West)
Guess who's baaaaack?! Your resident Dance Spirit astrologers! And on the eve of the Youth America Grand Prix awards ceremony, we thought it was the perfect time to pair each zodiac sign with a variation commonly seen during the competition. After many painstaking hours spent researching, consulting the stars, and staring wistfully into the sky, we compiled our data and present you with the definitive list of each star sign as a YAGP variation! As we said last time, don't @ us if you're not happy with your pairing—the stars don't lie, baby!
Dancer to Dancer