Jul. 09, 2018 02:17PM EST
How a Former Ballerina Revolutionized Pointe Shoe Padding
Kelly Schmutte fitting Sasha De Sola, a principal with San Francisco Ballet, for PerfectFit Pointe molds (photo by Jason Henry, courtesy Schmutte)
When Kelly Schmutte started dancing on pointe in fifth grade, she felt like there had to be a way to make it feel more natural. Right away she began thinking about how to improve the experience. "I wondered if there was a way to make it more enjoyable, so that a dancer could focus on technique and artistry, rather than what her shoe was doing," she says. Fast-forward to today, and Schmutte is founder and CEO of the wildly successful PerfectFit Pointe, a company that makes molded fitting solutions. Some of the biggest stars in ballet, like New York City Ballet's Sara Mearns and Lauren Lovette, say Schmutte's molds have been "game changing."
---
A Ballet Beginning
Schmutte's road from beginner pointe student to CEO was somewhat circular: She went from ballet, to school (lots of it!), and back to the ballet world again. Schmutte grew up in Davis, CA, and danced for Applegate Dance Studio's regional company during her high school years. "I've always been artistic and creative, and those parts of ballet resonated with me," she says. "You can be expressive with the music while the technical side of it really engages your brain."
But Schmutte didn't pursue a professional career in ballet. Instead, she considered going into engineering (her dad is a civil engineer) and attended Stanford University, where she earned two degrees: a bachelor's and a master of science in product design. She learned about technical elements and how to make something both aesthetically pleasing and meaningful for the target audience. Meanwhile, Schmutte explored different types of dance in college, and returned to ballet classes post-college. "Ballet has been a thread throughout my life," she says. "It's always been in the back of my mind to improve the experience of pointe shoes, and I took it on for my undergraduate capstone project. That was the genesis of PerfectFit."
Creating a Product
Schmutte's original design for PerfectFit Pointe was a moldable product with gel pouches. "The concept of a customized toe pad was there, but the materials and construction were totally different," she says. After graduation, she moved to Boston briefly, working as a design researcher, but she couldn't find enough time to focus on her own fledgling product. "I knew that finding the right material was going to be a challenge, and I had to spend time doing more research," she says.
Schmutte worked in a Capezio store for six months and assisted with pointe shoe fittings, talked to dancers and families, and did hour-and-a-half interviews to get different perspectives on pointe shoes. "Dancers' feet are as different as their faces," she says. "I realized I needed to make something that was going to be designed for a variety of foot types."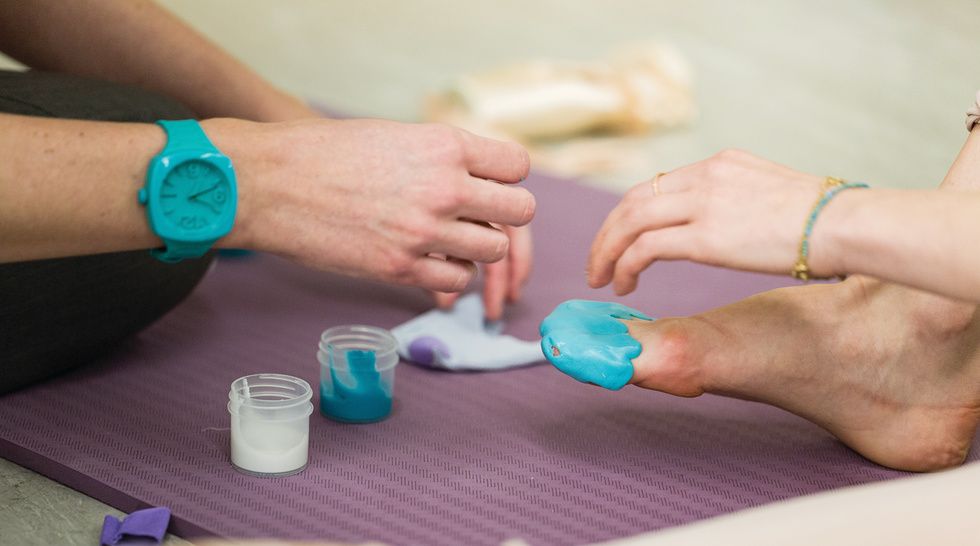 Schmutte's customizable molds (photo by Jason Henry, courtesy Schmutte)
The final result? A unique fitting solution that fills empty spaces in the box of the shoe that traditional pads can't reach, reducing the pressure on your feet in the process. "That way, your weight isn't concentrated on just a few points of your toes or knuckles, but over a larger area," says Schmutte. She found a chemist to manufacture the silicone component, and used other connections to produce the "soft goods": toe socks, spacer sleeves, and a mesh bag that doubles as storage for the inserts.
Getting Dancers on Board
Once Schmutte felt her product was ready, she started to strategize and plan how to grow her business. She launched an online store, reached out to dancers she had already met through her research, and started an Instagram account in the fall of 2015. "I started following a lot of dancers on Instagram," she explains. "I knew it would do amazing things for the brand if I could get an endorsement by a high-level professional dancer."
One of the dancers she followed was New York City Ballet principal Sara Mearns. Schmutte sent her a message, asking if she wanted to try some free samples. Mearns responded saying she'd love to try the product and give feedback.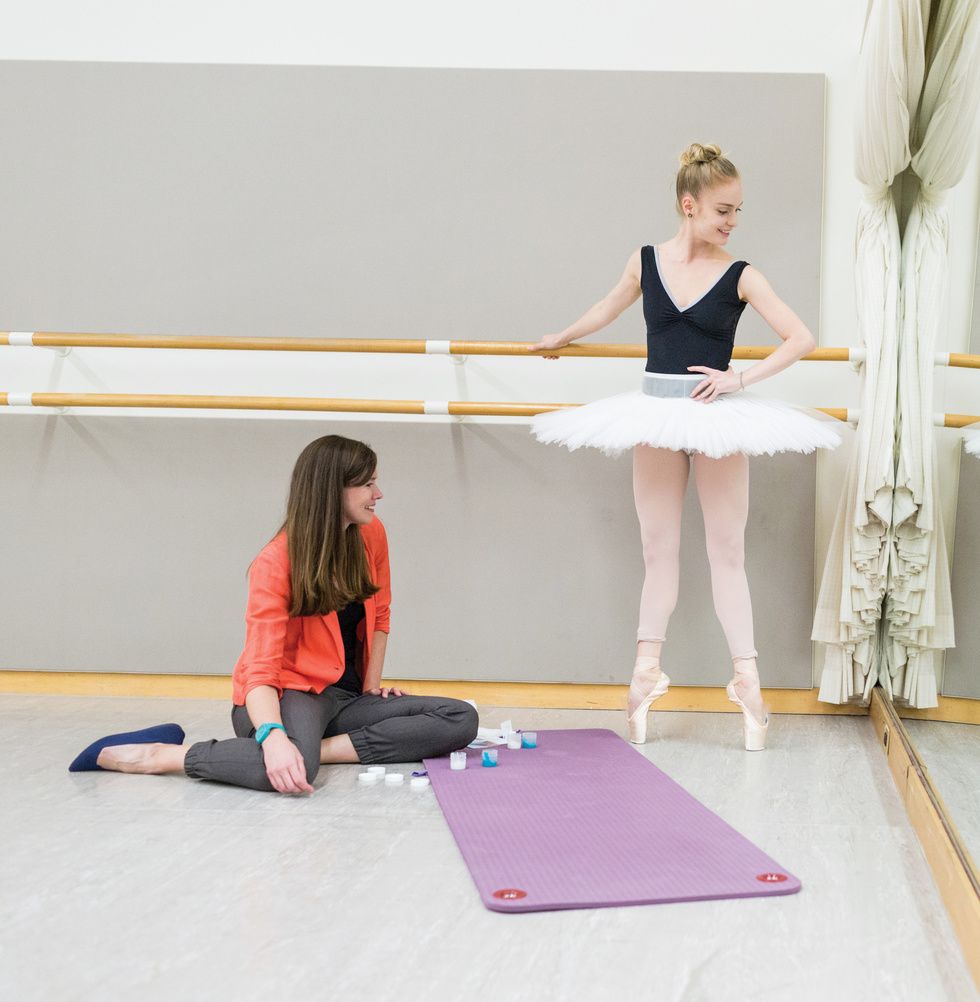 Schmutte watching De Sola test out her customized molds (photo by Jason Henry, courtesy Schmutte)
The result? "She really loved them in a way that I never would have anticipated!" says Schmutte. "I had this assumption that professionals had already found what worked for their bodies. But I was wrong. Dancers are the ultimate perfectionists and are always searching and trying new things." Just like Schmutte. These days the product is available online, and even more dancers from major companies—including New York City Ballet, American Ballet Theatre, San Francisco Ballet, and the Royal Danish Ballet—use her inserts in their pointe shoes.
A version of this story appeared in the July/August 2018 issue of Dance Spirit with the title "Pointe-ing The Way."
Related Articles Around the Web
From Your Site Articles
Branch Out
Jun. 15, 2019 10:12AM EST
(From left) Darriel Johnakin, Diego Pasillas, and Emma Sutherland (all photos by Erin Baiano)
Congratulations to Dance Spirit's 2019 Cover Model Search finalists: Darriel Johnakin, Diego Pasillas, and Emma Sutherland! One of them will win a spot on Dance Spirit's Fall 2019 cover. Learn more about the dancers on their profile pages, and then vote for your favorite below. You can vote once a day now through July 15.
We also want you to get social! We'll be factoring social media likes and shares into our final tallies. Be sure to show your favorite finalist some love on Facebook, Instagram, and Twitter, sharing their profile pages and using the hashtag #DanceSpiritCMS.
Cover Model Search
Jun. 13, 2019 02:20PM EST
Photo by Erin Baiano
Imagine attending American Ballet Theatre's prestigious NYC summer intensive, training among classical ballet legends. Imagine taking the stage at New York City Dance Alliance Nationals, competing against some of the country's best contemporary dancers. Now, imagine doing both—at the same time.
Welcome to Madison Brown's world. This summer, she's in her third year as a National Training Scholar with ABT, while also competing for NYCDA's Teen Outstanding Dancer title. (She's already won Outstanding Dancer in the Mini and Junior categories.) The logistics are complicated—ABT's five-week intensive overlaps with the weeklong NYCDA Nationals, which translates to a lot of cabs back and forth across Manhattan—but Maddie is committed to making the most of each opportunity. "I love contemporary and ballet equally," she says. "While I'm able to do both, I want to do as much as I can."
Maddie has an expressive face, endless extensions, and a quiet command of the stage. She dances with remarkable maturity—a trait noted by none other than Jennifer Lopez, one of the judges on NBC's "World of Dance," on which Maddie competed in Season 2. Although Maddie didn't take home the show's top prize, she was proud to be the youngest remaining soloist when she was eliminated, and saw the whole experience as an opportunity to grow. After all, she's just getting started. Oh, that's right—did we mention Maddie's only 14?
Cover Story
Jun. 16, 2019 07:00AM EST
Corbin Bleu in rehearsal for "Kiss Me, Kate" (Jenny Anderson, courtesy Roundabout Theatre Company)
If you're a hardcore Broadway baby, today is the worst Sunday of the year. Why, you ask? The Tony Awards were last Sunday, so basically there's nothing to look forward to in life anymore—no James Corden being James Corden, no teary acceptance speeches from newly minted stars, no thrilling excerpts from the hottest new shows. Oh yeah, and there are 50 more Sundays to go before our humdrum lives are once again blessed with the next annual iteration of Broadway's biggest night.
Musical Theater