From Ballerina to Wellness Guru
The Whole Dancer founder Jessica Spinner (Malika Ahmed, courtesy Spinner)
Dancers need more than balance at the barre to be successful—they need it in life, too. That's where Jessica Spinner's online program The Whole Dancer comes in, making professional nutrition and wellness counseling available to dancers everywhere. "There's only so much your teachers can impart on you in the studio, and they're mostly focused on technique," Spinner says. "You need to have something outside to support you, as well."
---
A former ballerina, Spinner started her training with Eglevsky Ballet School on Long Island before attending Butler University. Spinner's own battle with her body image began at 14, immediately following her first summer program. "I'd picked up some bad habits and I'd gained some weight," she remembers. "I hadn't realized until I was sitting next to my ballet teacher outside the studio. She patted my thigh and said, 'That wasn't there before.' " So Spinner went on her first diet. Too embarrassed to even ask her mother for guidance, she did so alone and decided not to eat anything containing more than three grams of fat. "Clearly, it was a totally misguided idea and supremely unhealthy."
Spinner danced professionally with Louisville Ballet, and then as a freelance dancer in Boston. But a fractured tibial sesamoid ended her dance career. "Trying to come back from that injury, I felt emotionally drained every day," Spinner remembers. "I was lacking a support system and felt totally lost and alone." It took Spinner years of odd jobs and schooling to figure out what her new passion could be—a process unfortunately familiar to many former dancers. As she transitioned from dance and began taking yoga and exercising outside, Spinner was able to stop worrying so much about being thin, and think more about being healthy. A new passion was born. She sought a program with a more holistic approach to wellness, and eventually decided to attend the Institute for Integrative Nutrition to become a wellness coach.
"When I first started, I was just sort of a generalist," she says. But Spinner didn't feel connected to her clients, who mostly worked nine-to-five jobs. "In the back of my mind I thought I should be working with dancers. I didn't know how to approach it, but it kept calling to me." As she realized how much she would have benefitted from working with a health coach when she was dancing, she could no longer deny the pull to get back into the dance world. Spinner's struggles early in her training and during her career transition laid the groundwork for The Whole Dancer. In coming up with the curriculum, she focused
on areas she found necessary to create a balanced life based on her experience—goal setting, healthy eating, cross-training, career, personal assessment, self-love and self-care. "In the program, mind-set is a big component throughout, and healthy eating is the focus of one full week," she says. "Knowing what to eat helps, but if you can't move past those negative comments that we as dancers hear, sometimes daily, you're not going to be able to build the balanced lifestyle that is necessary to drive a long and successful career."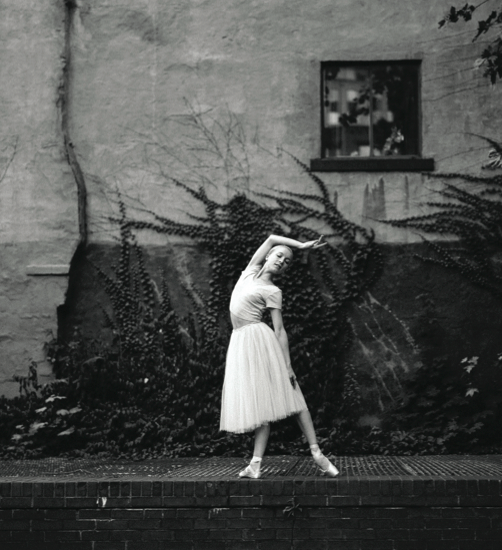 Collaborator Shelby Elsbree (Karolina Kuras, courtesy Elsbree)
In August of 2015, Spinner launched The Whole Dancer with a free webinar focused on eating for energy and injury prevention. She began The Whole Dancer's first round of enrollment during the webinar. Today, the program is an eight-week online course that includes webinars, worksheets and live calls, with topics ranging from meal planning to self-care and goal setting. It's designed to teach dancers the skills they need to cope with dance-specific pressures. "Dancers learn how to do unbiased self-assessment and create challenging yet attainable goals," she says. "They get support from a community of dancers, as well as a mentor who's been through it." Participants also gain access to a private Facebook page for discussion with other dancers who are currently enrolled in the program or who have been enrolled in the past. "You begin to realize that you're not the only one feeling the stress—and that can help immensely," Spinner says.
Spinner connects the program to real life by partnering with professional dancers. These collaborators are on hand to answer questions and give examples from their own dance careers. Former Boston Ballet corps member Shelby Elsbree, Spinner's first professional collaborator, got involved after a mutual friend connected the two based on their common interest in wellness. (Elsbree runs the popular blog Tutus & Tea, where she focuses on everything from healthy recipes to "Happy Things.") Elsbree loves working on something so valuable to dancers. "I love that this program can benefit dancers at varying stages," Elsbree says, "from graduating students ready to audition to professional dancers well into their careers." (Participants to date have ranged from 16 to 26 years old.)
For Spinner, discovering a passion on the other side of a dance career has been immensely rewarding. "I'm reminded of what lovely people dancers are," she says. "We aren't always willing to admit our weaknesses to our fellow dancers, so offering a support system through The Whole Dancer is really just wonderful."
Dec. 03, 2018 04:07PM EST
Showstopper sees all different dancers from across the world at their dance competitions. They understand sometimes it can hard to know how to stand out among the 100s of dancers that perform on their stages.
Keep reading...
Show less
Sky Brown and JT Church in the finale of "Dancing with the Stars: Juniors" (via @dancingabc on Instagram)
Last night was a Christmas miracle of epic proportions for one lucky couple on "Dancing with the Stars: Juniors" as they took home the Mirror Star Trophy. But we're getting ahead of ourselves. Four couples competed for the title of champion and each and every performance was lit! With two routines—one holiday themed freestyle and one repeat dance from the season that included their mentors (plot twist!), these dance darlings battled it out on the dance floor. It was truly a night to remember as we enjoyed some of the best performances of the season that got us in the holiday spirit.
Keep reading...
Show less
Josefina Scaglione as Maria (with Jeremy Jordan as Tony) in the 2008 Broadway revival of "West Side Story" (via @thelightsonbroadway on Instagram)
Every scrap of news coming from the highly-anticipated West Side Story remake has been nothing short of thrilling, tbh. First, there was the open casting call here in NYC for dancers to play the Jets and Sharks. Next, we heard the unsurprising-yet-awesome news that Justin Peck will choreograph the new movie. Now, there's possibly the most exciting news flash yet: You (yes, YOU) could play the star-making role of Maria opposite the dreamy Ansel Elgort as Tony!
Keep reading...
Show less
When Hannahlei Cabanilla rolled up to her Dance Spirit cover shoot—just 36 hours after being named the "So You Think You Can Dance" Season 15 champion—she looked impossibly fresh-faced and well-rested. The Anaheim Hills, CA, native may have had "about eight blisters," as she joked, on her feet; she may barely have slept since the big win; and she may have just performed on "Live with Kelly and Ryan." But she jumped right on set, and quite literally didn't stop jumping for the next five hours. The fabulous technique, irresistible personality, and (especially) boundless energy that earned her the title of America's Favorite Dancer were all on full display.
So what was it actually like for Hannahlei to compete on the show she'd watched since she was a tiny dancer—and what's next for the now–19-year-old? Read on.
Keep reading...
Show less
Photo by Gage Crismond, courtesy Cogliandro
Cat Cogliandro's genius is turning paradoxes into powerful art. In her gestural contemporary choreography, vulnerability becomes strength and imperfection is beauty. Born and raised in Houston, TX, Cogliandro earned a BFA in dance from SUNY Purchase before moving to L.A. Cogliandro now teaches in L.A. and nationally, and choreographs for her company CATASTROPHE!, which was the second runner-up at the 2015 Capezio A.C.E. Awards. Here, Cogliandro tells DS where she finds inspiration. —Helen Rolfe
Keep reading...
Show less
Get Dance Spirit in your inbox
Just for Fun
Jun. 29, 2018 10:00AM EST
Colder weather is (finally) here, which means it's time for a good dance movie binge. But which iconic films should you put on? To narrow your search, we went ahead and ranked 30 of the greatest dance movies of all time.
Of course, we know a list like this is bound to be controversial—so if you disagree with our lineup, have at it in the comments!
Keep reading...
Show less
Courtesy MSG Entertainment
For some it's a holiday tradition, for others its an iconic spectacle, but no matter the reason, more than 1 million people will watch the Rockettes perform in the Radio City Christmas Spectacular each year. And though the production has been around since 1933, much of what goes on behind those velvety curtains and intricate sets remains a mystery. To curb our curiosity and find out what ensues when these leggy ladies aren't doling out their sky-high kicks, we got a backstage tour from the legends themselves.
From hair and makeup, to warm-up exercises, and costume quick changes (the fastest quick change in the show is a #mindblowing 75 seconds, by the way) we got a glimpse into the glamorous (and sometimes not so glamorous) world of the Rockettes.
Keep reading...
Show less
Nia Sioux and her co-star from North Carolina Theatre's production of Aladdin and His Winter Wish (courtesy North Carolina Theatre)
Nia Sioux has been entertaining audiences with her fab dance skills since 2011, when "Dance Moms" first aired. Now, two music videos and an acting gig (on the daytime TV series "The Bold and the Beautiful"), later Sioux is proving that she's more than just a triple threat—she's a star. And last week when Sioux debuted in North Carolina Theatre's production of Aladdin and His Winter Wish, she was every bit that star. Sioux opened up to Dance Spirit about her transition from comp kid to a triple threat and offered advice for young dancers hoping to follow in her footsteps.
Keep reading...
Show less
Isabelle Lapierre in a still from Finding Clara. Courtesy Justice Studios.
Last winter, we told you all about "Finding Clara," a YouTube series produced by tween clothing brand Justice. It followed four BalletMet Academy students cast in BalletMet's The Nutcracker. This year, it gets even better: The heart-melting show has been turned into a full-length documentary. Finding Clara was released today for rental and purchase on Amazon, Google Play and iTunes.
Keep reading...
Show less
Getty Images
It's pretty much undeniable that today's social-media-obsessed culture expects you to build your brand online—even as you're still building your skills in the studio. The positives of gaining exposure as a student are obvious, and posting your dance accomplishments may feel natural if you're already personally prolific on platforms like Instagram, YouTube, or Facebook.
Keep reading...
Show less
Alvin Ailey American Dance Theater dancer and choreographer Hope Boykin shares the best tips she learned. (via Instagram, @hbdance)
Alvin Ailey American Dance Theater recently hosted their first Choreography Unlocked Festival, where artists in the business of creating dance gathered to immerse themselves in workshops, performances, and panel discussions. Young choreographers learned tips, tricks, and all about the creative process of choreographing from Ailey's Artistic Director Robert Battle and other choreography experts, including Jawole Willa Jo Zollar.
Keep reading...
Show less
(via @diegopasillas_ on Instagram)
Congratulations to the November Cover Model Search Editors' Choice video winner, Diego Pasillas! Catch his solo below, and enter the Cover Model Search here!
Keep reading...
Show less