The mark of a truly skilled ballerina is her ability to make the pointe shoe look like a part of her body, an extension of her beautifully S-curved leg. It's hard to believe the shoe was ever foreign to her, or that she ever had that awkward first time on pointe. We asked six professional ballerinas to reminisce about that very first pair, and the memories—and photos—they shared are sure to make you smile.
---
Dana Benton
Principal Dancer, Colorado Ballet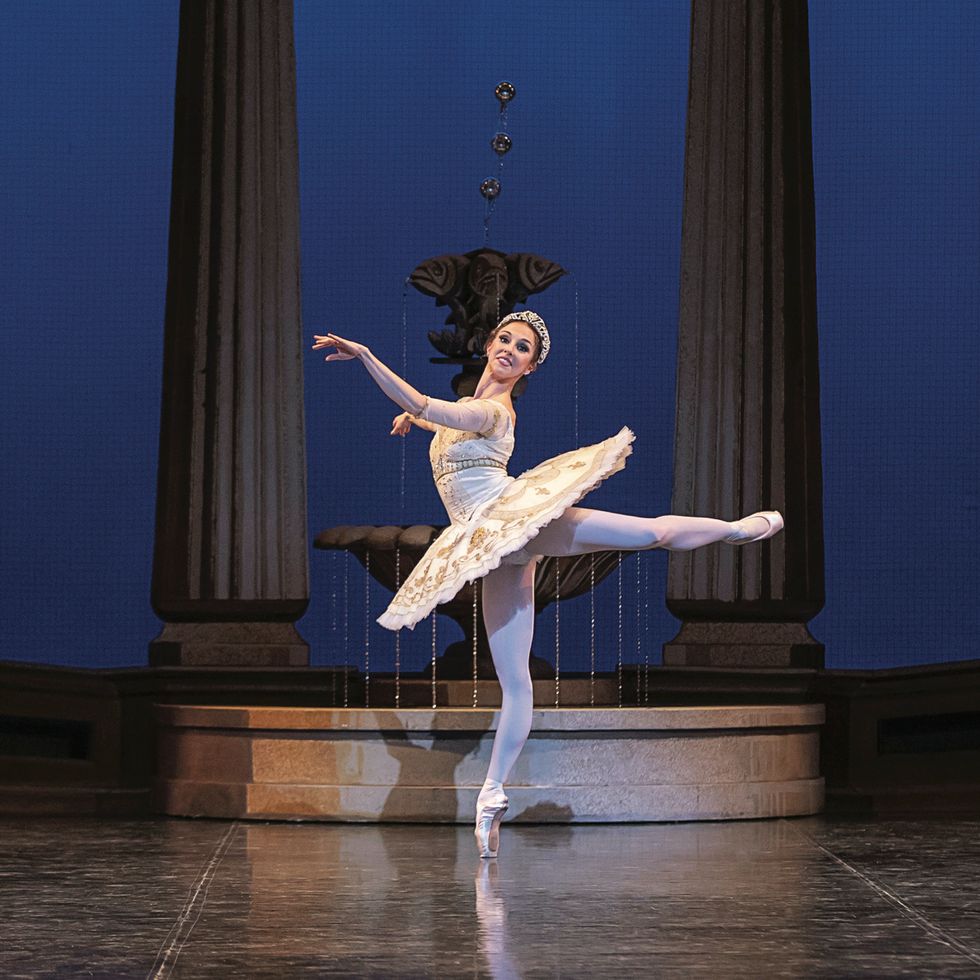 Benton in "The Sleeping Beauty" (Mike Watson, courtesy Colorado Ballet)
"I was 10 when I got my first pair of pointe shoes, training with Deborah Bowes at The National Ballet School in Toronto, Canada. My fitter was Carol Beevers, and I'm still in touch with her. All the company dancers at The National Ballet of Canada wore one type of shoe—I don't remember it now, but I of course wanted that. Unfortunately, my feet were too small—I was a kid's size 12. (I still have small feet. My Suffolks are only a 1.5 XXX!) I was so disappointed and also began to worry they wouldn't have any shoes that fit me. But we found a Gamba pair that fit. I was on cloud nine."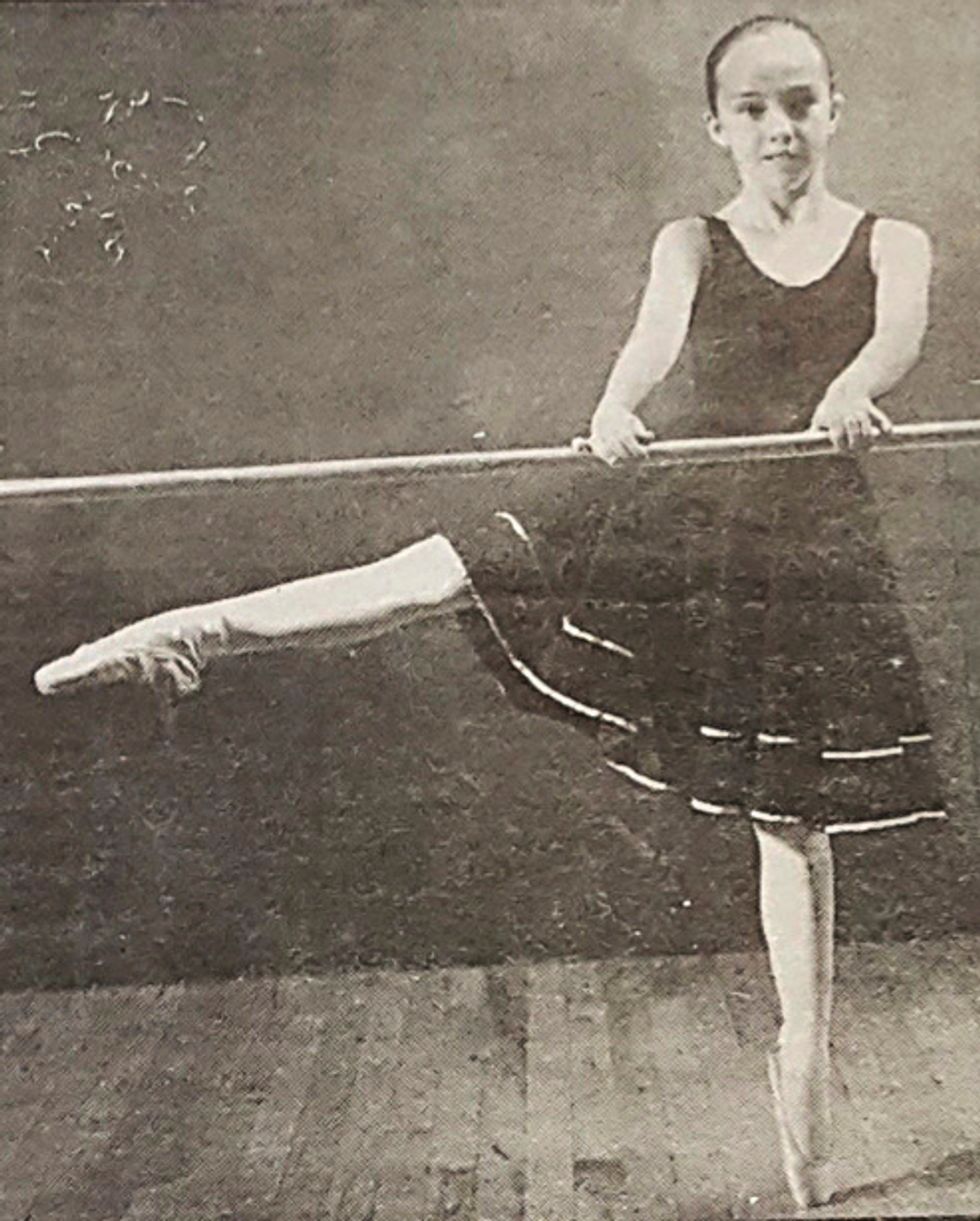 Benton as a student (courtesy Benton)
Lia Cirio
Principal Dancer, Boston Ballet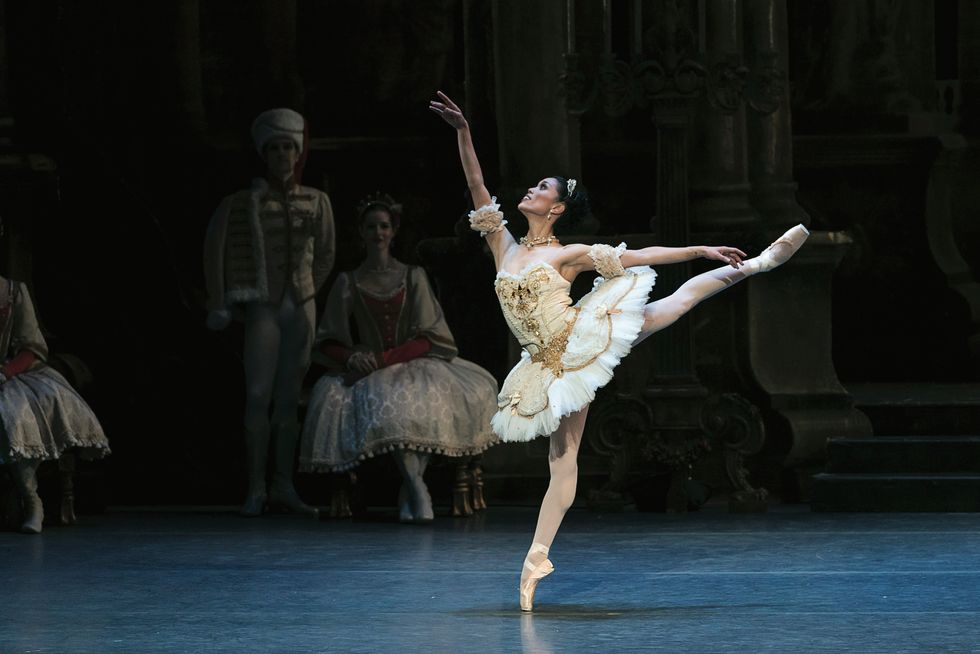 Lia Cirio in "The Sleeping Beauty" (Liza Voll, courtesy Boston Ballet)
"I got my first pair of pointe shoes when I was 12, training with Lori Ardis at Swarthmore Ballet Theatre. I was so excited about going to my fitting for my first pair. My teacher made us go through a series of toe-strength tests before we were allowed in the shoes themselves. When you passed the test in her eyes, she would personally take you to pick out your first pair. One of my ballet friends passed at the same time as I did, so Mrs. Ardis took us together. I don't remember the exact shoe, but I ended up with a pair of Capezios. I remember thinking how beautiful they were, and I loved the color of the satin. I was very nervous that I might not be able to actually go on my toes in the shoes."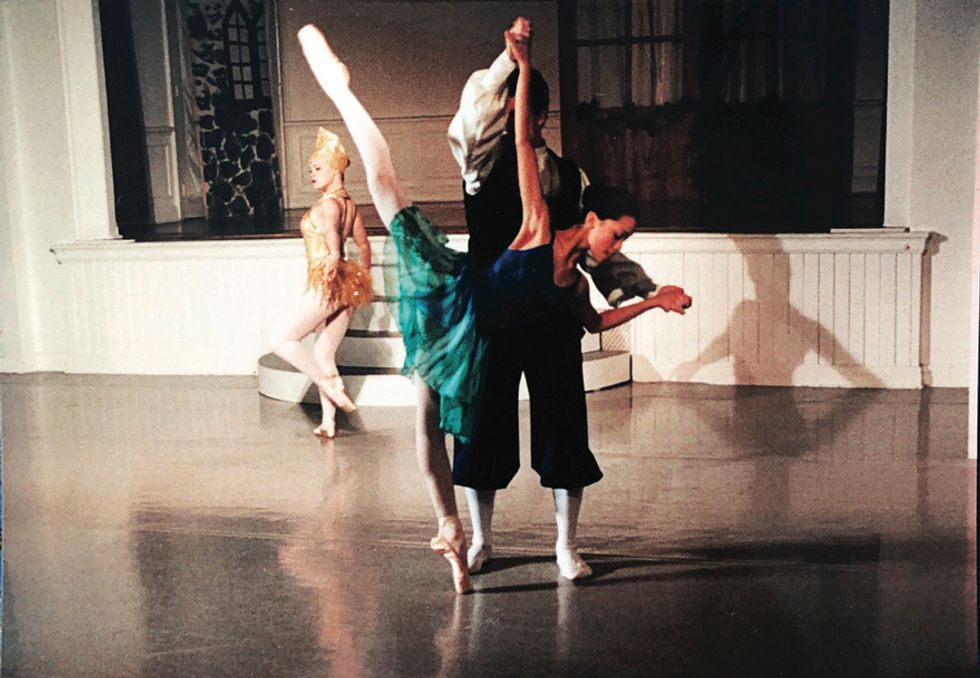 Cirio as a 13-year-old student (courtesy Cirio)
"My first pointe classes feel like a lifetime ago. I felt stronger than I thought I would be (probably because of that strength test my teacher put me through). However, I was really sad at how fast my feet and toenails were bruised. I remember feeling as if my feet would never be the same again!"

Lillian DiPiazza
Principal Dancer, Pennsylvania Ballet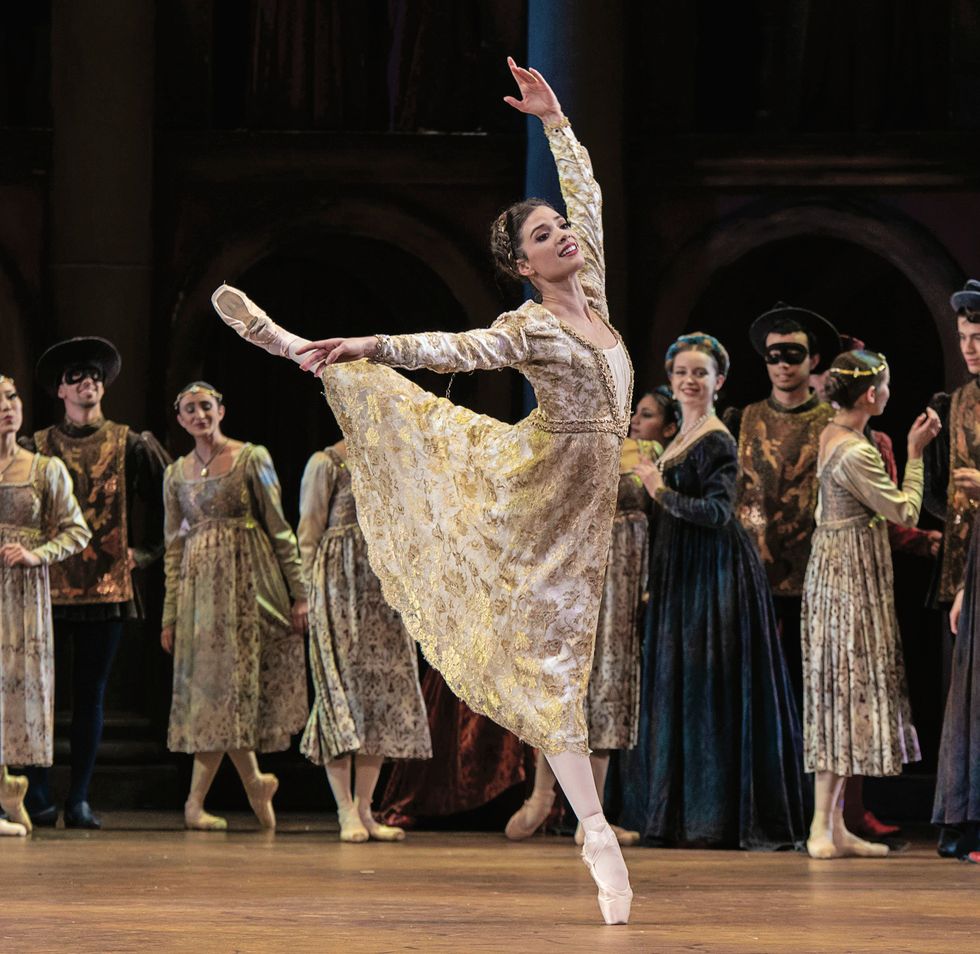 Lillian DiPiazza in "Romeo and Juliet" (Arian Molina, courtesy Pennsylvania Ballet)
"I remember when I was in Preparation for Pointe (a level at my ballet school, Maryland Youth Ballet), the founder of the school, Tensia Fonseca, brought me into her office for me to try on a small pair of pointe shoes. She thought I might be too small at age 10 to fit them. But they fit! I was elated. And sure enough, that year, I got my first pair of pointe shoes: Capezio Nicolini, size 1.5. I had my fitting at our local dance store, Artistic Dance, with two friends from ballet, and our teacher, Tensia Fonseca. We were so excited to see what brand we would get."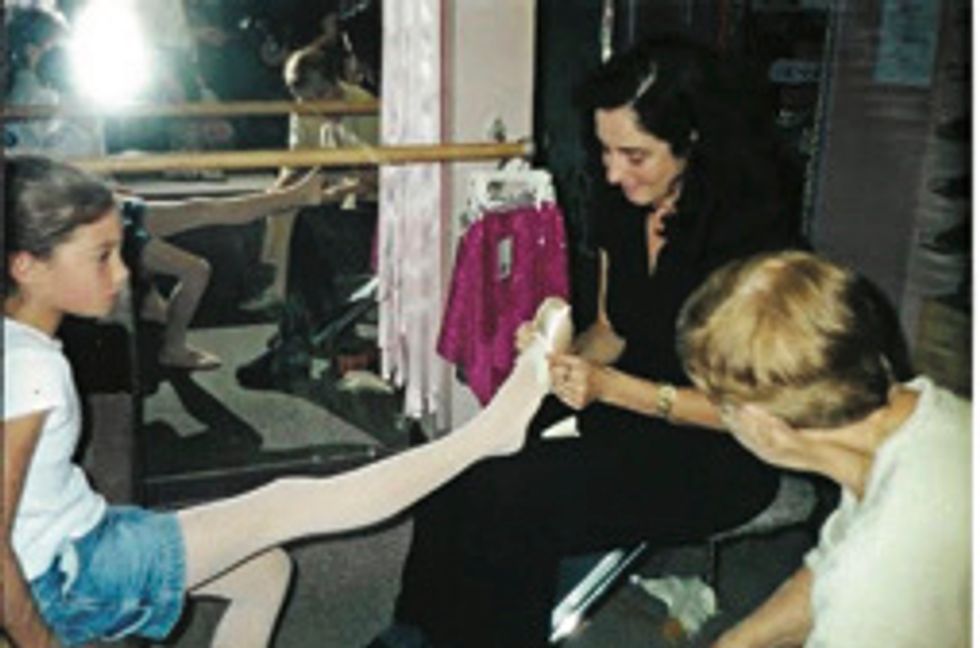 (here and below) Getting fitted for her first pair of pointe shoes (courtesy DiPiazza)
"We had to leave our pointe shoes at the ballet studio for the first few weeks as we learned the proper technique for pointework. I guess they didn't want us trying pirouettes at home the first day! It seemed like a bummer at the time but now I can see the importance for young dancers."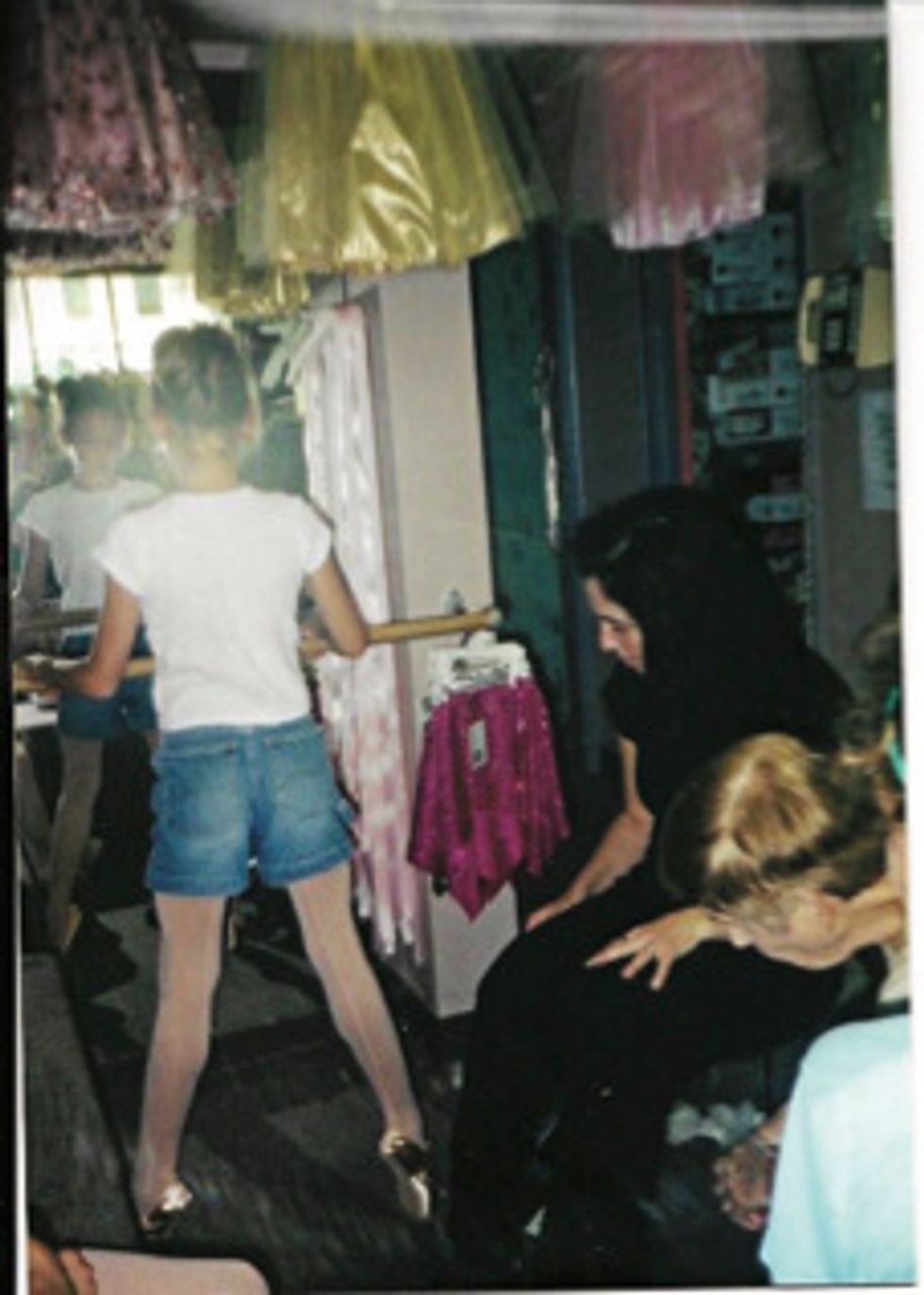 Isabella DeVivo
Soloist, San Francisco Ballet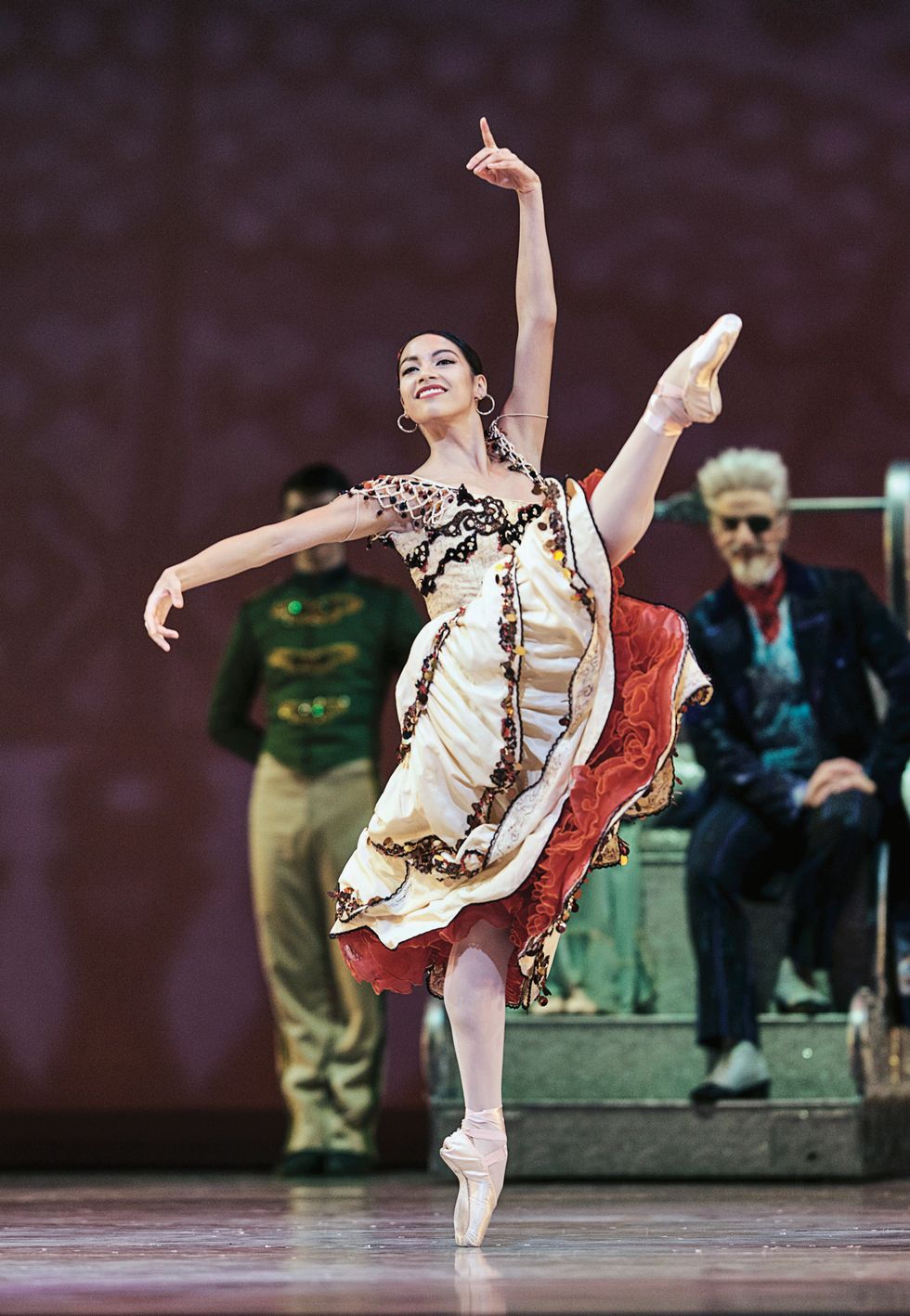 Isabella DeVivo in "The Nutcracker" (Erik Tomasson, courtesy San Francisco Ballet)
"I grew up dancing at the School of American Ballet. There, I was fortunate enough to be involved in the New York City Ballet productions. As a child, it was a special experience to dance on the same stage as so many of the company dancers I admired so much. After performances, I would leave little notes for my ballet idols, and ask if I could receive a pair of their signed pointe shoes. I'd wear them as my slippers at home, using hair ties around my arches to keep them from coming off. Many hours were spent in front of my mom's full-length mirror attempting the steps I'd seen the dancers perform. When I was finally old enough to have a pair of my own, I tried to keep in mind all of those ballerinas who inspired me, whose shoes I had already tested, whose presence I had dreamed to re-create. To this day, the moment I first knotted the ribbons of my own pointe shoes remains a very precious memory to me. It was that instant when I truly began to write my own story."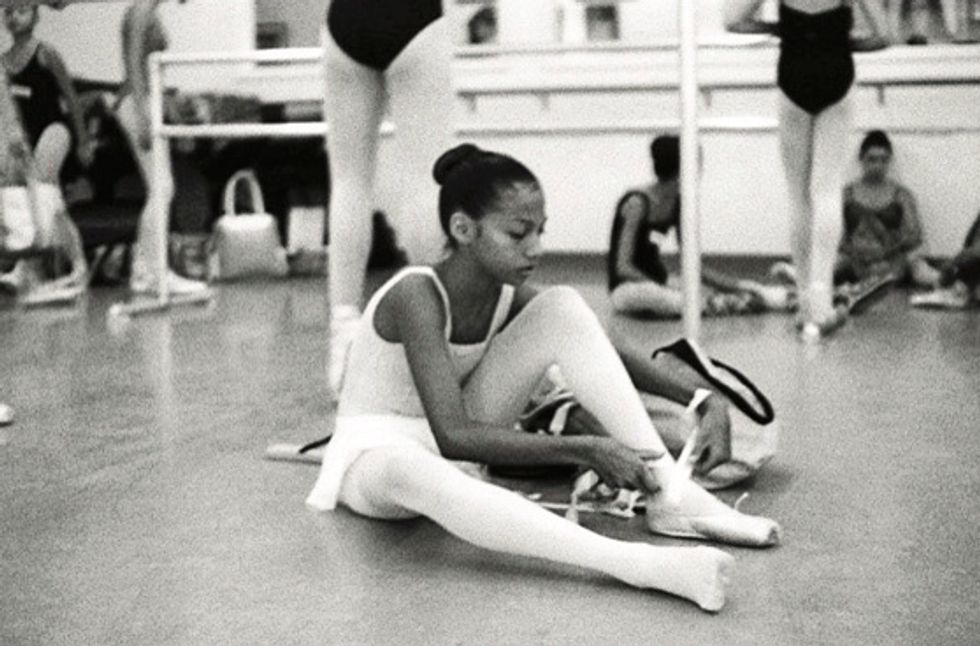 DeVivo as a student (courtesy DeVivo)
Daphne Lee
Dance Theatre of Harlem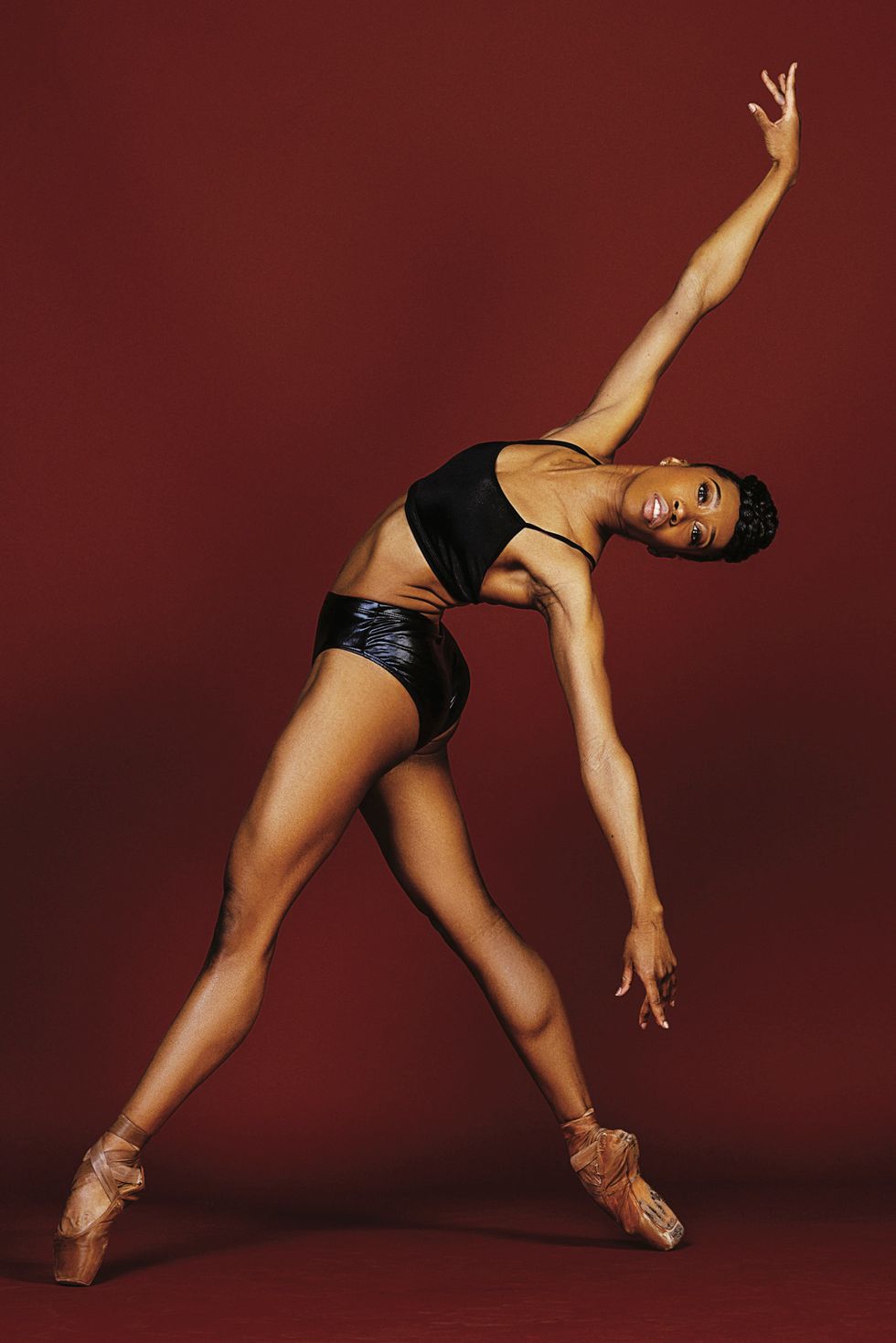 Raphael Baker, courtesy Collage Dance Collective
"My first pair of pointe shoes were Grishko NovaFlex. The wide box fit my wide, flat feet and short toes. I trained at the Rahway Dance Theatre in Rahway, NJ, and my mother, Jay Skeete-Lee, was the owner. Therefore, I got the honor of having my mommy teach my first pointe class. She's certified from the Royal Academy of Dance and trained at English National Ballet and Dance Theatre of Harlem. I remember the class went better than I thought because my mother started everyone off in demi-pointe shoes from Sansha. They're like pointe shoes without the shank, so you can't go on pointe, but it gets you prepared for pointework by working on your relevé. I was very turned in, and it was hard to balance, and my toes and feet were swollen by the end of the class. My mother would give us 5 minutes before class was over to take off the shoes and jump to get the blood circulating back to our feet. What a relief."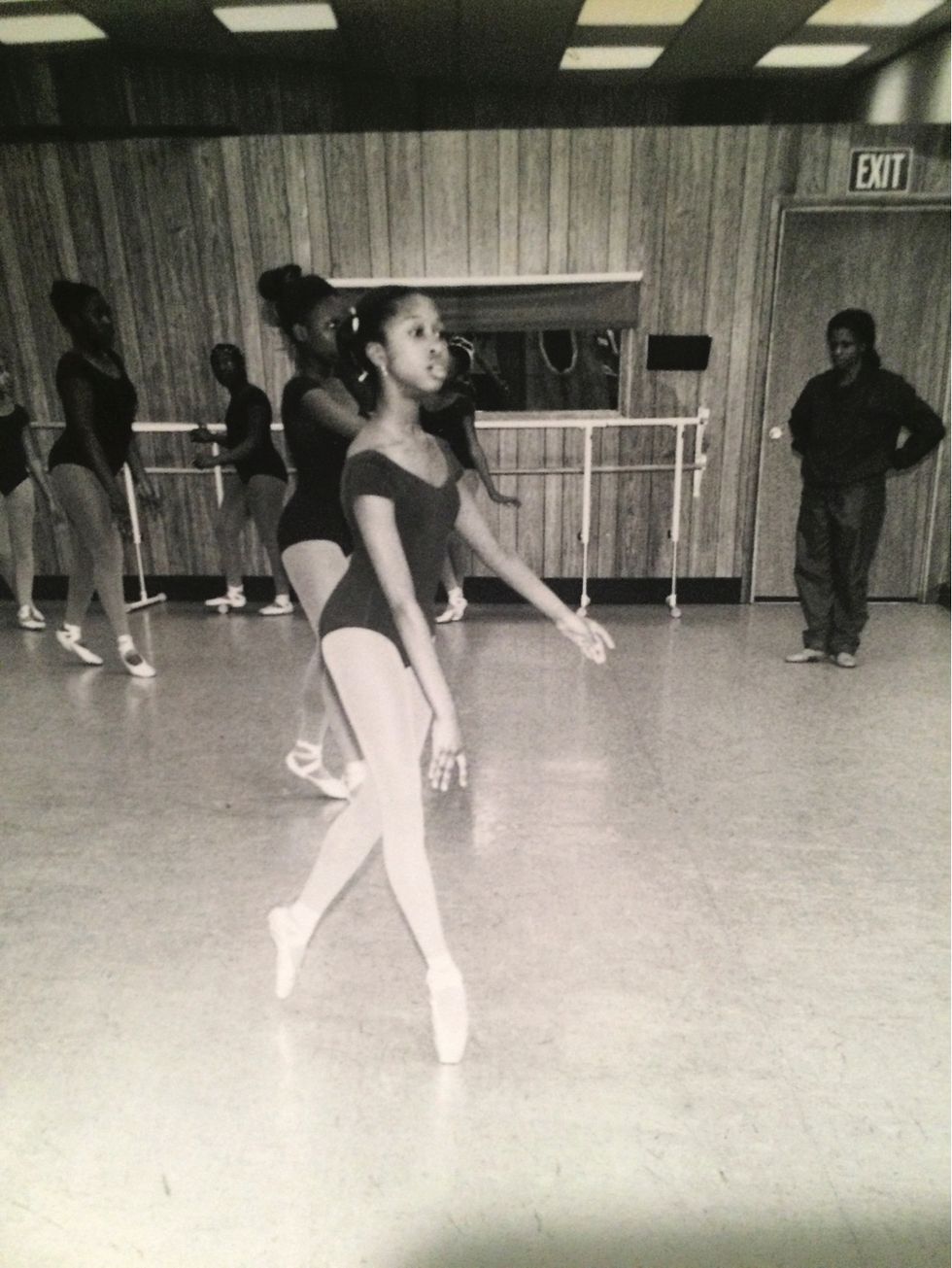 A young Lee in class with her mom (courtesy Lee)
"My dance studio was ethnically mixed and everyone had to learn how to pancake their shoes to match their tights. My mother taught everyone how to do it, and she also had a little song about tying ribbons. What I loved about my mom is that she knew at the time that dance was recreational for me, but still exposed me to the possibilities of what being a professional dancer could be like. As we can see, I went for it!"

Tricia Albertson
Principal Dancer, Miami City Ballet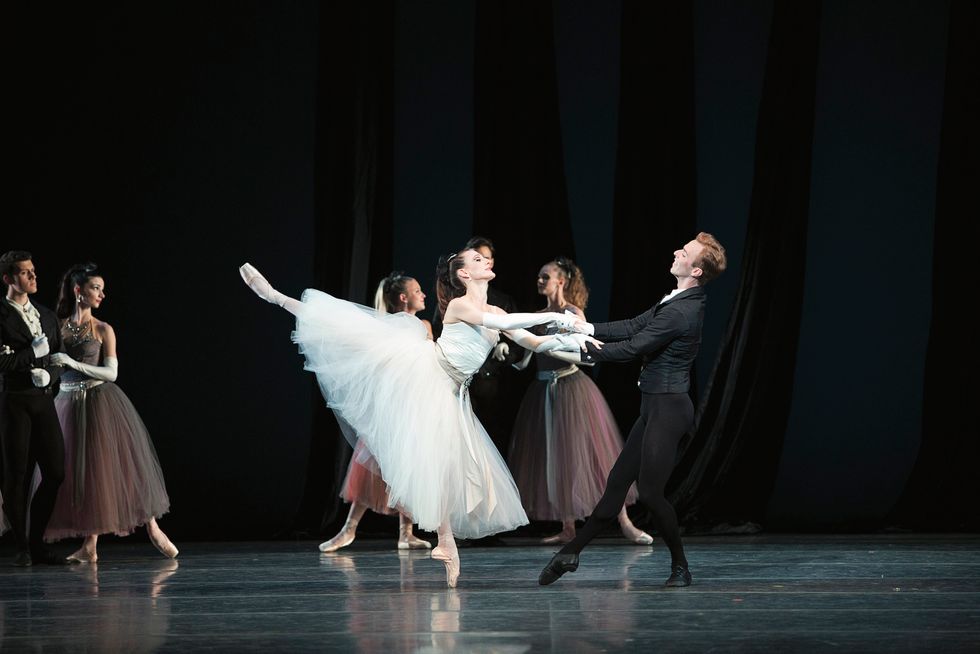 Tricia Albertson in George Balanchine's "La Valse" (Alexander Iziliaev, courtesy Miami City Ballet)
"I was 10 years old when I got my first pointe shoes. Salespeople gave my mom a hard time and said I was too young, but my feet were surprisingly strong for that age. I ended up with a pair of Capezio Contemporas. I was giddy about my first fitting. I remember feeling really mature, like this was some sign of growing up, of being an adult dancer."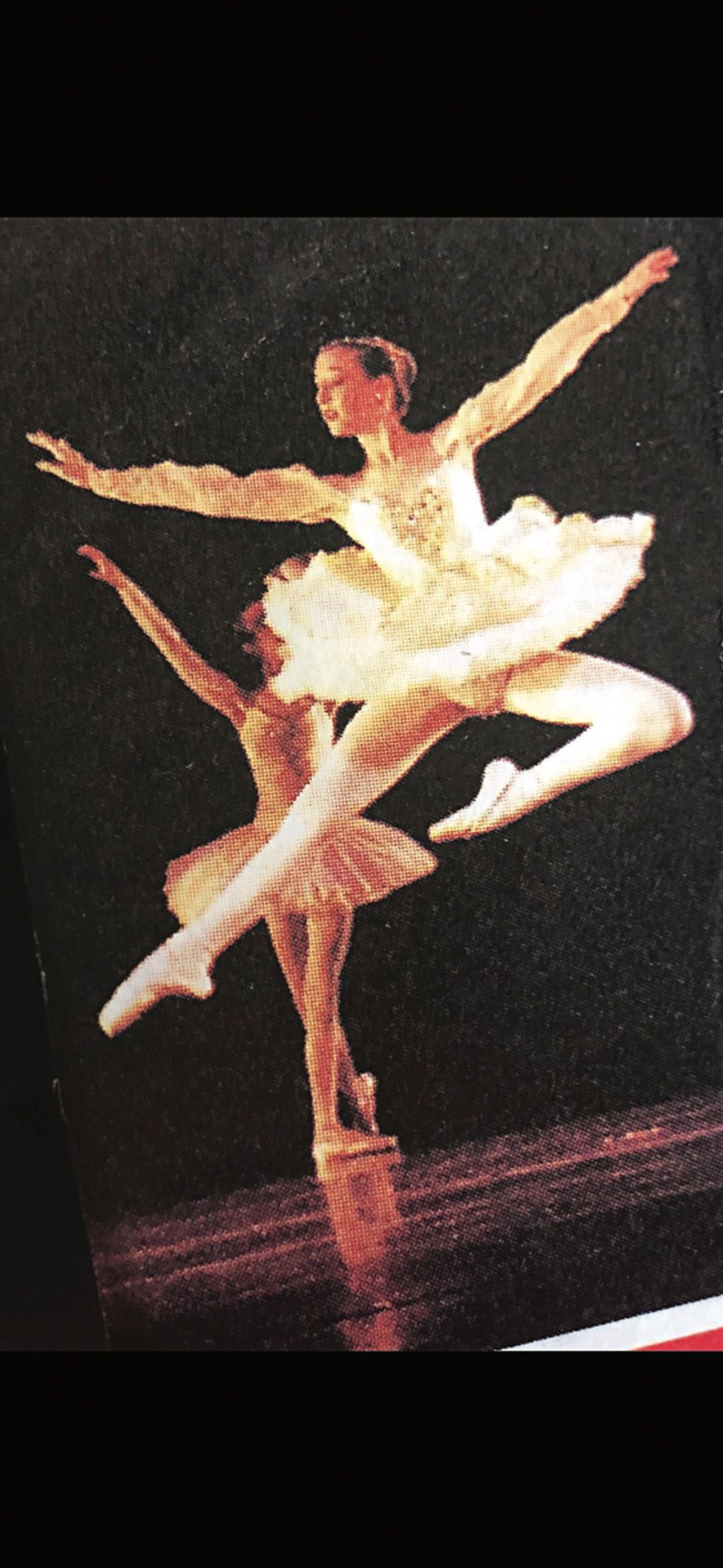 Albertson performing as a student (courtesy Albertson)
"I was training at a small school in Santa Cruz, CA. Vicki Bergland, a wonderful teacher and still a great friend, was my first pointe teacher. I was, of course, excited for my first class, until I strapped those things on my feet and really tried to stand on them. I was taught to use lambswool in my shoes, which doesn't really stay in place. I remember feeling the hard inside of the shoe rubbing on my toes. We did very simple things in that class: just stepping up into parallel and rolling down. I could barely get all the way on pointe with my knees straight. I left the class having lost that feeling of maturity! Ballerinas made it look so easy. I had in my mind that I'd be able to do so much more so much faster. I wonder sometimes what made me want to keep trying after the blisters, the toenails that felt like someone had whacked them with a hammer, and what looked like such a long road to get to really dance on them. My first teacher was very encouraging, and even at that age, even when I felt discouraged, I never wanted to walk away from ballet. I loved it too much."
A version of this story appeared in the March 2019 issue of Dance Spirit with the title "My First Pair."