Former Bunheads Branch Out From the Barre
Makeda Crayton as the African Queen in Cirque du Soleil's Zumanity (Eric Jamison, courtesy Zumanity)

For dancers who've spent their lives in pink tights, signing a big ballet company contract can seem like the be-all-end-all goal. But ballet-trained dancers aren't one-trick ponies, and many end up leading successful dance careers outside the ballet world. Before you say "ballet or no way," get inspired by dancers who traded in their pointe shoes for something a little different.
Makeda Crayton, Soloist in Cirque du Soleil's Zumanity
I trained under former Dance Theatre of Harlem principal Homer Hans Bryant, and always dreamed of following in his footsteps. But when DTH went on hiatus in 2004, I decided to look for other jobs, and I ended up finding my dance home at Cirque du Soleil.
I love Cirque's storytelling aspect. It reminds me of performing story ballets, but you're given a lot more freedom to develop your character. Right now, I play the African Queen in Zumanity—I have a solo that opens the whole show. It's up to me to pull the audience into our world, and I'm constantly reinventing my character to find new ways to connect. I still do a floor barre before every performance, and I'm thankful for my ballet training. The show's acrobats are always shocked at how quickly I can pick up movement. Before DTH reopened in 2013, I was invited to take class with its traveling repertory ensemble. While it reminded me how much I missed ballet, I realized my path as a dancer had changed. I love what I do.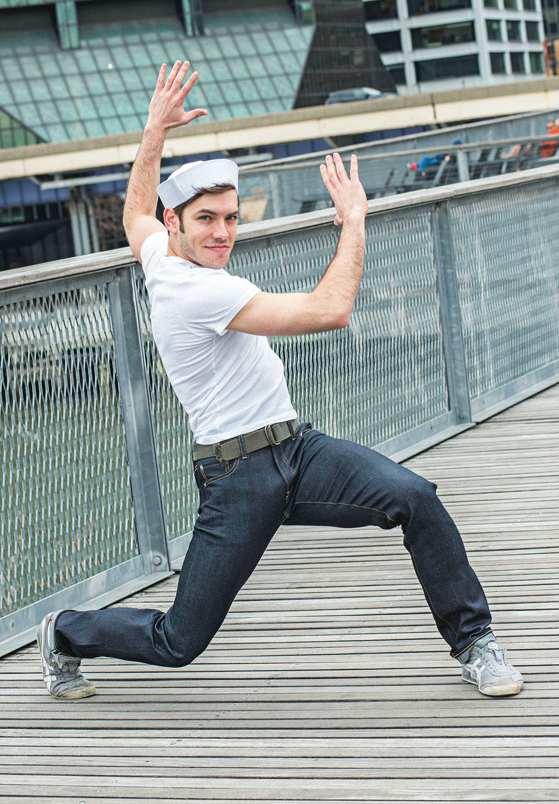 Brandon Leffler in costume for "On the Town" (Monica Simoes, courtesy Leffler)
Brandon Leffler, dancer in Trip of Love, off-Broadway
I was on The Performing Arts Center in L.A.'s commercial track when I first fell in love with ballet. The school's director helped me switch around my schedule so I could do a classical concentration, and I ended up booking a job with Ballet Austin II after attending the company's summer program.
I spent a year there, and it was an amazing experience. Ballet Austin is a small company, so we got to dance in the corps for larger ballets. Once
I got used to the day-to-day rigor of ballet company life, though, I realized I needed a bit more freedom. That's when I set my sights on Broadway. I moved to NYC to take a job with Nai-Ni Chen Dance Company, and began auditioning for musical theater jobs. About a year later, I booked a national tour of Cats, and haven't looked back since.
The greatest gift ballet gave me is my solid technical base. In musical theater, you're doing the same movement eight times a week. Unless you're using your body properly—and ballet teaches you how to do that—you're going to get injured.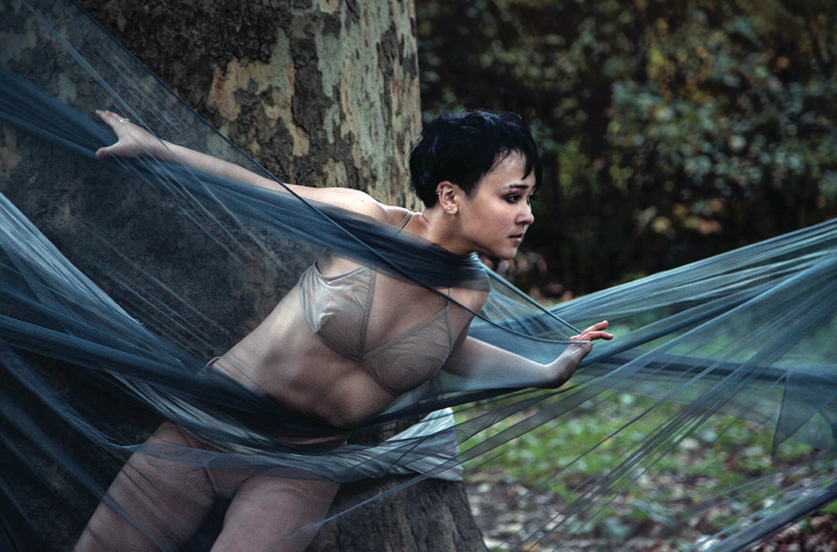 Wada as a member of Sidra Bell Dance (David Flores, courtesy Sidra Bell Dance)
Madison Wada, Sidra Bell Dance New York
Growing up in the small town of Lancaster, CA, I studied many styles at a local studio, but I fell in love with ballet. I looked up to ballerinas like princesses. When I decided ballet was my dream, my mom started driving me an hour each way every day to train at Los Angeles Ballet Academy. It was a rigorous school, with graded exams at every level. But after spending a summer at Alonzo King LINES Ballet post-graduation, I decided I wanted to go in a more contemporary direction. As much as I loved classical dance, I knew even if I gave 125 percent, I still probably wouldn't make it—I just don't have the feet or the stature. When I started to explore contemporary dance, first at LINES and then with Sidra, I began to appreciate the value of my movement quality, beyond the height of my leg or the number of pirouettes I could do.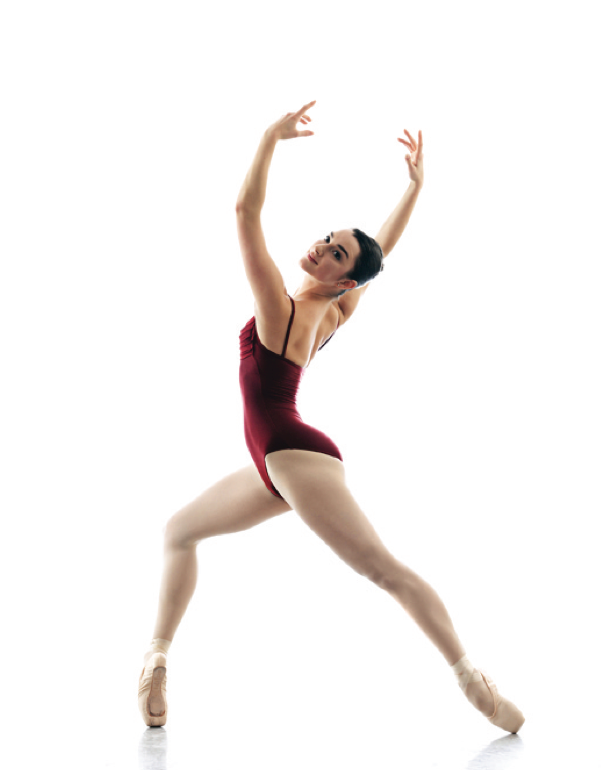 Usborne in her bunhead days (Patrick Baldwin, courtesy Usborne)
Georgia Usborne, Gallim Dance
My second-year ballet teacher at Central School of Ballet in London told me I didn't have the facility to join a company—and that I needed to learn to maximize what I had. Ballet was my passion, but with the limitations of my body, I knew classical technique would always be a struggle. I ended up spending three years at Bern Ballet in Switzerland, which has a more contemporary repertoire and allowed me to further explore that kind of movement. I had to break down a lot of mental walls to find my artistic voice, and taking Gaga class in Bern helped me find that freedom of expression. Now, at Gallim, I've found the perfect balance of ballet and Gaga.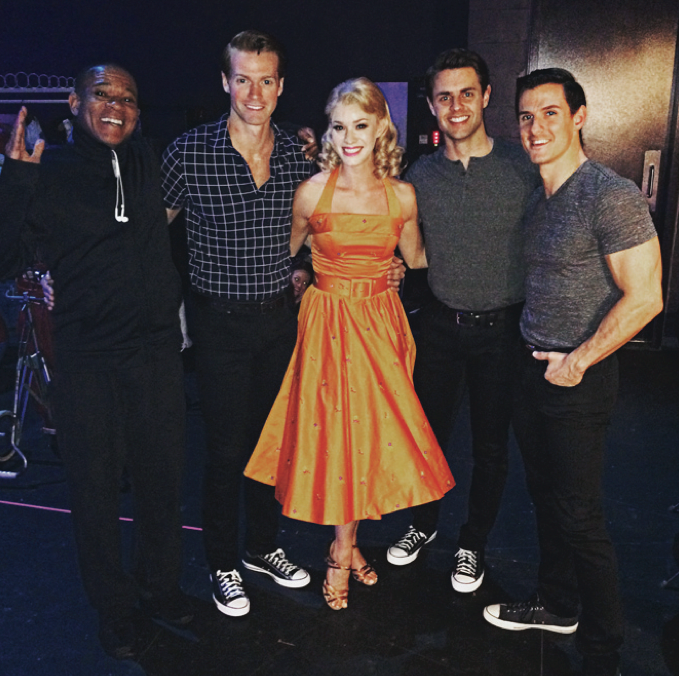 Prominski backstage at "Dirty Dancing" (courtesy Prominski)
Katelyn Prominski, Broadway dancer
I started off on a pretty successful ballet track: I trained at San Francisco Ballet, toured with The Suzanne Farrell Ballet, spent four years in the Boston Ballet corps and then joined Pennsylvania Ballet. Shortly after moving to Philadelphia, I got very sick. I didn't know what was happening to my body—ballet became miserable. I was diagnosed with Type 1 diabetes and decided to retire.
My boyfriend at the time (now my fiancé) was touring with Billy Elliot, and as I started to get better, I realized musical theater could be a great way for me to return to performing, because it's a slightly less grueling, more flexible environment than the ballet world. I just finished touring with Dirty Dancing, where I used my ballet training every day. Broadway choreographers love ballerinas—they know I'm going to give them a six-o'clock penché, sky-high leaps and can-can kicks to my face.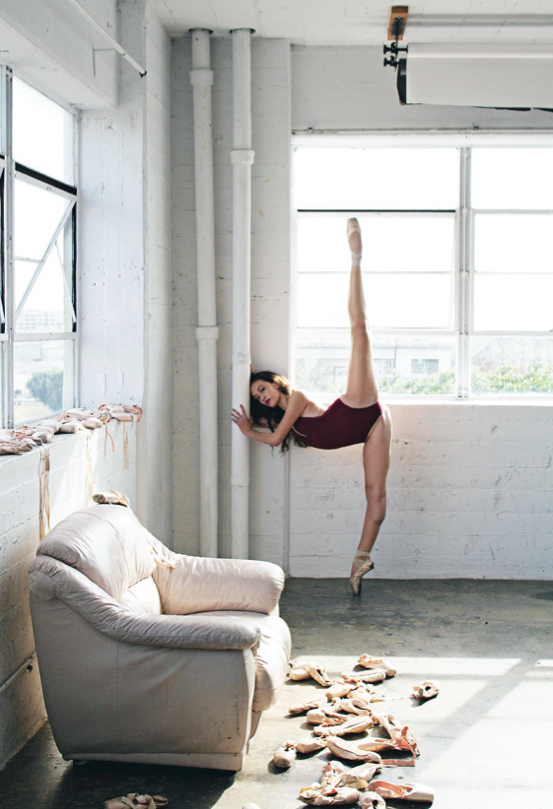 Emnace in her ballet days (Oliver Endahl, courtesy Emnace)
Ariana Emnace, Commercial dancer
I trained intensively in ballet, going to summer programs at San Francisco Ballet and American Ballet Theatre and competing at Youth America Grand Prix. ABT was always my dream. I was fixated on joining a ballet company and becoming a principal—it's what I thought I deserved after training so hard.
When I started auditioning, my ballet teacher convinced me that joining an agency might be a better fit. I signed with Bloc and began looking for commercial and ballet jobs. For a while, nothing really happened. Then Mystic Ballet of Connecticut offered me a spot in their training program—right as I booked a private audition for Chris Brown's BET Awards performance. I told myself if I didn't book the Chris Brown job, I'd move to Connecticut and recommit to ballet. But I got the gig, and I took that as a sign. Since then, the commercial world has really opened up for me. I've realized this is my path.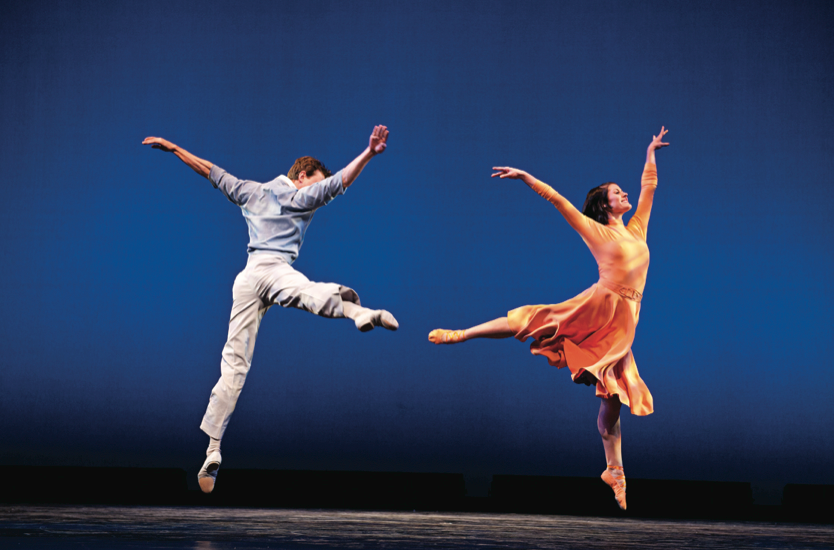 Rutledge (right) with Reid Bartelme in Lar Lubovitch Dance Company's "Elemental Brubeck" (Nan Melville, courtesy Lar Lubovitch Dance Company)
Laura Rutledge, former dancer with Lar Lubovitch Dance Company
I danced at Indianapolis Ballet Theatre, California Ballet Company, State Street Ballet and Ballet San Jose, and I thought ballet was my home. But when I was a member of Company C Contemporary Ballet, I was introduced to Lar Lubovitch's choreography. From day one of rehearsal, I totally fell in love with the movement. I felt my whole body sigh. I decided to make the cross-country move to NYC to dance with the company.
It was a huge transition for me—no more pointe shoes, and I really had to learn to drop my weight. But all of Lar's movement is based in the ballet vocabulary. You always have to find clarity in your lines. Honestly, I don't think he would've hired me if it weren't for my solid ballet foundation.
(Clockwise from top left) Jacalyn Tatro, Shelby Patterson, and Sydney Burtis (all photos by Erin Baiano)
Congratulations to Dance Spirit's 2018 Cover Model Search finalists: Sydney Burtis, Shelby Patterson, and Jacalyn Tatro! One of them will win a spot on Dance Spirit's October 2018 cover. Learn more about the dancers on their profile pages, and then vote for your favorite below. You can vote once a day now through July 15.
Keep reading...
Show less
Popular
Jun. 12, 2018 02:05PM EST
(Clockwise from top left) Jacalyn Tatro, Shelby Patterson, and Sydney Burtis (all photos by Erin Baiano)
Congratulations to Dance Spirit's 2018 Cover Model Search finalists: Sydney Burtis, Shelby Patterson, and Jacalyn Tatro! One of them will win a spot on Dance Spirit's October 2018 cover. Learn more about the dancers on their profile pages, and then vote for your favorite below. You can vote once a day now through July 15.
Keep reading...
Show less
Photo by Erin Baiano
Click here to vote for Sydney.
It's obvious to anyone who's seen her tap that dance is Sydney Burtis' passion. But in many ways, dance has also become a form of therapy for Sydney: It's helped her find her voice, both inside and outside the studio. "Dance allows me to express things about this world and things within myself," she says. "It's the expression that really resonates with me."
Keep reading...
Show less
n RWS Entertainment Group Audition (courtesy RWS Entertainment Group)
Figuring out how to avoid getting cut in a musical theater audition can feel like a mystery. "It's not just about your technique, it's about the whole package of the person," says Justin Bohon, a casting director at Binder Casting, whose clients include The Lion King on Broadway. But how do you present yourself in the best way possible, and avoid making a faux pas that distracts from what's most important—your dancing? Bohon and three other casting directors gave us the scoop on their biggest audition pet peeves.
Keep reading...
Show less
We caught up with former Rockette Trina Simon at Showstopper's Myrtle Beach dance convention to get her expert advice on how to work as a professional dancer. Trina's work on Broadway has given her insight into the key things to focus on as a professional dancer looking for jobs and making a name for yourself, whether you are new to the world of professional dance or you have been making your way from one audition to the next for a while.
Keep reading...
Show less
Jun. 20, 2018 12:59PM EST
Where to begin?! We're still picking our jaw up off the floor after last night's insanely impressive "World of Dance" episode, one that was so jam-packed with standout performances and familiar faces, we don't even know how to recap it in all its glory! (!!!) Without further ado, here's what went down last night:
Keep reading...
Show less
Including SpongeBob SquarePants! (Joan Marcus, courtesy Boneau/Bryan-Brown)
Every good trip to NYC should include a Broadway show (or three!), and there are a TON of brilliantly dancy musicals to see right now. But Bway tix can be expensive, especially on a dancer's budget. Which is why we are allll about Broadway in Bryant Park, the annual event that brings some of the greatest stuff happening on the Great White Way to the great outdoors—for free.
Keep reading...
Show less
Christopher Wheeldon is going to be giving Michael Jackson some new moves: The Royal Ballet artistic associate is bringing the King of Pop to Broadway.
The unlikely pairing was announced today by Jackson's estate. Wheeldon will serve as both director and choreographer for the new musical inspired by Michael Jackson's life, which is aiming for a 2020 Broadway opening. This will be Wheeldon's second time directing and choreographing, following 2015's Tony Award-winning An American in Paris.
Keep reading...
Show less
Via Instagram
Keep reading...
Show less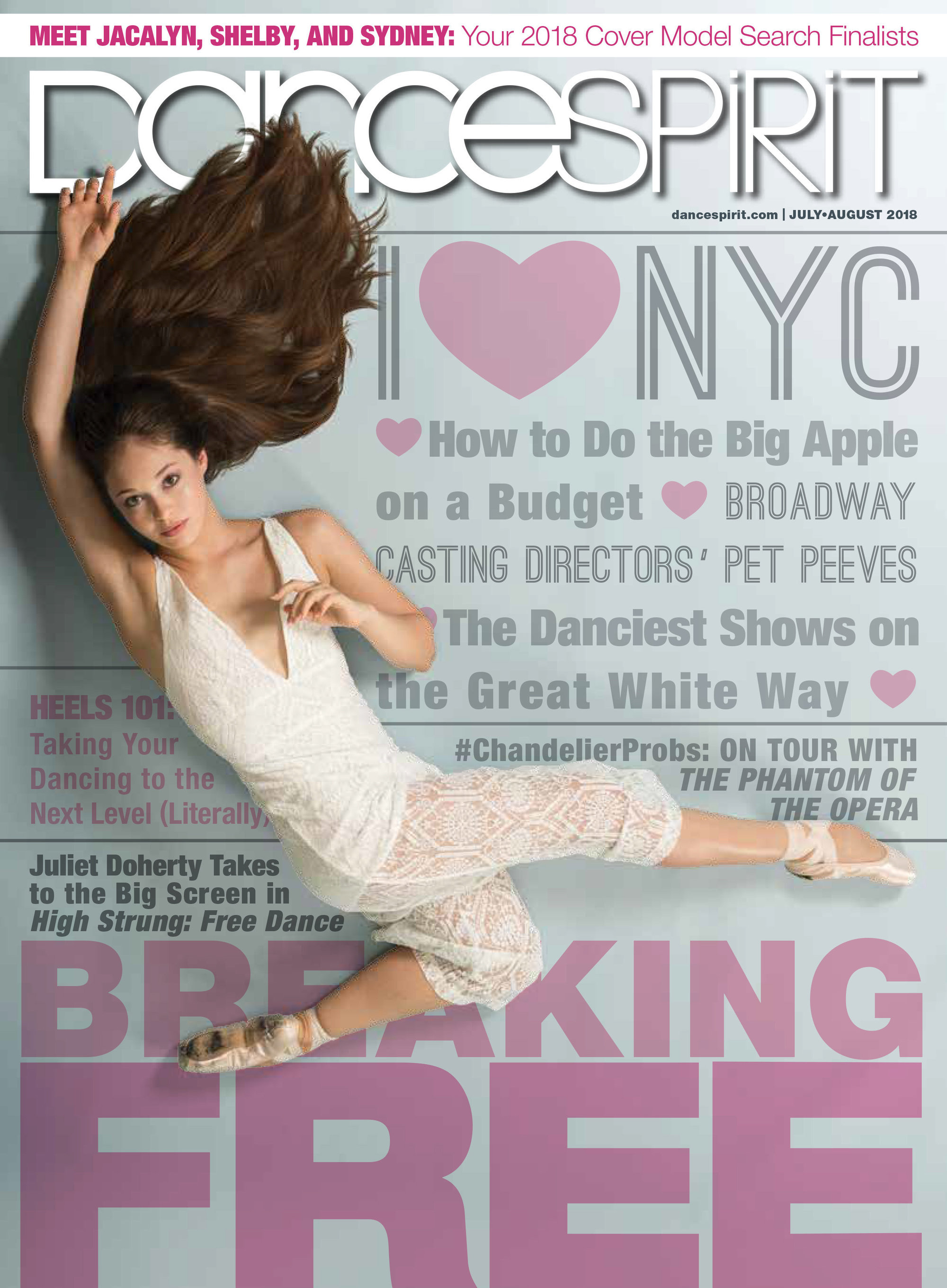 Get Dance Spirit in your inbox