You already know Matthew Bourne: He's the choreographer who awesomely remade Swan Lake with a flock of male swans. (You may not have seen his Swan Lake live, but you definitely saw it at the end of Billy Elliot. Grown-up Billy as the Swan! Ahhh so great.)
Bourne is all about rethinking old-school ballets. Recently he took on another big Tchaikovsky classic, Sleeping Beauty. In Bourne's version, the Princess Aurora is born in the late 1800s—about the time Tchaikovsky wrote the Sleeping Beauty score—and wakes up, after her 100-year nap, in the present day.
As if that weren't enough of a curveball, there's another twist: Bourne replaces the ballet's Lilac Fairy with an intimidating character known as Count Lilac. And as his title hints, the Count is, in fact, a vampire. Needless to say, things take a turn for the weird—and fast.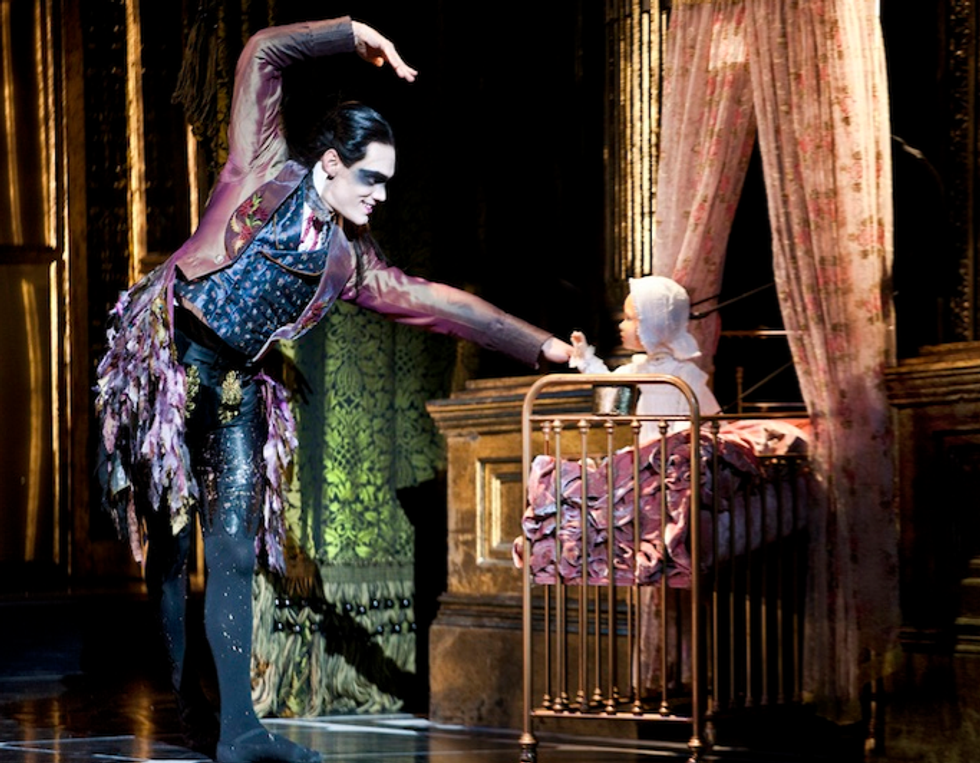 Count Lilac doing his vampire thing. Yes, that is a puppet baby Aurora. And yes, she is amazing. (photo by Simon Annand)
Curious about how all that plays out onstage? You're in luck: Several PBS stations will air Bourne's Sleeping Beauty this Friday night. Click here for local listings. In the meantime, you can get a sneak peek at all the gothic goodness in this trailer: