Mar. 01, 2010 12:59PM EST
Sarah Lane and Joseph Phillips performing at the YAGP 2008 Gala. Photo by Gene Schiavone
Picture this: It's 1990, and Jose Manuel Carreño, a young, relatively unknown Cuban ballet student, has just wowed the judges at the USA International Ballet Competition with his ultra-powerful jumps and incredibly controlled pirouettes. At the end of the competition, he's presented with the Grand Prix City of Jackson Award of Excellence—a prize even higher than the competition's senior division gold medals. Suddenly, Carreño is on the professional ballet world's radar, and he's quickly snatched up by the English National Ballet. Fast-forward to today: Carreño is living every ballet dancer's dream as an internationally renowned principal dancer with American Ballet Theatre.
At their best, ballet competitions do just what they did for Carreño, catapulting young unknowns into the limelight. At their worst, they're still a great learning experience. While most dancers won't win medals, nearly all competitors will benefit from the preparation, performance opportunities and feedback from judges.
The four major ballet competitions each have different vibes and offer different opportunities. To help you figure out which one is right for you, DS put together a guide highlighting key aspects of each.
The Basics
Most ballet competitions accept dancers ages 15–19 and expect you to bring prepared variations, both classical and contemporary. Some provide scholarships, while others award medals and professional contracts.
Youth America Grand Prix (YAGP)
YAGP is a competition for everybody. Its goal is to find new talent, and any dancer age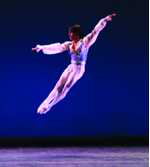 Eseban Hernandez at the 2009 YAGP. Photo by Nina Alovert
9–19 can compete. "One of the things that sets us apart from other competitions is our wide age range," says Sergey Gordeev, director of PR and external affairs. "We include very young dancers, and rather than just evaluating them wherever they are in their development, we try to identify their potential and help them fulfill it by channeling them to world-class dance schools and giving them scholarships to study there."
Founded in 1999 by the former Bolshoi Ballet dancers Larissa and Gennadi Saveliev, YAGP holds semifinal competitions around the world and a final round in NYC every year. Students compete for medals; for the opportunity to receive contracts from professional companies; for the chance to perform at various international galas and dance festivals; and for scholarships to leading dance academies, like the Royal Ballet School, the Jacqueline Kennedy Onassis School at American Ballet Theatre and the Royal Danish Ballet School. Though medalists at the NYC finals receive cash prizes, the scholarships have little to do with first, second or third place. Instead, "representatives from big schools observe competitors and judge their potential based on their performance onstage and in class," Gordeev says.
Next competition date: March 21–25, 2010 (NYC finals)
Famous alumni: Sara Mearns (2001), principal, New York City Ballet; Sarah Lane (2002), soloist, American Ballet Theatre; Kiril Kulish and David Alvarez (2006), Tony Award recipients for their performances in the title role of Billy Elliot on Broadway
For more information: yagp.org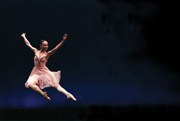 Sarah Lamb at the 2000 NYIBC by Marbeth
New York International Ballet Competition (NYIBC)
The NYIBC, founded in 1983 by Ilona Copen, is a competition for high-level preprofessional dancers. Held every two years at Lincoln Center in NYC, it's limited to 48 participants who compete as couples. Dancers ages 17–24 from any country may apply, either as a soloist or with a partner who is also applying to compete, and a selection committee chooses the final group of competitors.
To ensure that no participant has an unfair economic advantage, the NYIBC covers the cost of competitors' room and board, transportation within the city and entertainment and cultural activities. And unlike other competitions, the NYIBC does not announce the repertoire competitors will perform until all participants arrive in NYC. Dancers then learn, rehearse and perform these selections over the course of three weeks, studying with the same teachers and working under the same conditions. "The main goal is not the competitive part; it's the training," says NYIBC artistic director Eleanor D'Antuono. "We bring in coaches of the highest quality, like former ABT ballerina Cynthia Gregory and Indianapolis City Ballet artistic director John Meehan."
After the final round, medals are presented, and some medalists may receive contracts with professional companies, such as The Joffrey Ballet.
Next competition date: June 2011
Famous alumni: Gillian Murphy (1996), principal, ABT; Sarah Lamb (2000), principal, The Royal Ballet; Kathleen Breen Combes (2003), principal, Boston Ballet
For more information: nyibc.org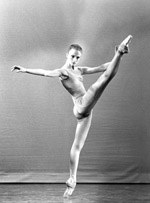 Julie Kent at the 1986 Prix by Francette Levieux
Prix de Lausanne (Prix)
The Prix de Lausanne is a selective competition for dancers ages 15–18 who are ready—or nearly ready—to enter the professional ballet world, but have not yet danced professionally. The annual event, based in Switzerland since its inception in 1973, offers a variety of scholarships to prestigious international dance schools and companies. The artistic committee reviews video submissions and then selects a maximum of 75 dancers from around the world to participate in the competition.
At the Prix, students have the chance to rehearse both classical and contemporary variations under the supervision of prominent coaches including Patrick Armand, ballet master at La Scala Ballet in Milan, and former Royal Ballet principal Viviana Durante. Competitors who do not make it to the finals are still permitted to take an audition class viewed by school and company directors.
The Prix requires that dancers pass a strict health examination before they are allowed to compete, and also monitors its scholarship winners over the course of the year, making sure that they receive a good academic education in addition to their ballet studies. Deborah Bull, a member of the artistic committee, says, "The health and well being of the dancer, both during the competition and in the long term, is central to the Prix's philosophy. We firmly believe in taking a holistic approach to the dancer first and foremost as a person."
Next competition date: January 2011
Famous alumni: Alessandra Ferri (1980), former principal, ABT; Julie Kent (1986), principal, ABT; Carlos Acosta (1990), principal guest artist, The Royal Ballet; Christopher Wheeldon (1991), artistic director, Morphoses; Gillian Murphy (1995), principal, ABT; Misa Kuranaga (2001), principal, Boston Ballet
For more information: prixdelausanne.org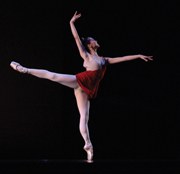 Misa Kuranaga at the 2006 USA IBC
Photo by Richard Finkelstein/ Courtesy USA IBC
International Ballet Competitions (IBCs)
International Ballet Competitions are held in several cities around the world. They're intended for serious preprofessional and professional ballet dancers ages 15-26, who vie Olympic-style for gold, silver and bronze medals.
The IBCs have a complicated history. The first IBC was held in Varna, Bulgaria, in 1964, and that competition then rotated annually between Varna; Moscow, Russia; Tokyo, Japan; and Jackson, MS. While the IBCs no longer follow this schedule, Moscow and Jackson still hold competitions every four years and Varna holds one every two years; the Jackson competition was made home of the USA IBC in 1979. Other IBCs have since been established in Helsinki, Finland and Budapest, Hungary.
Participants must submit video applications to be invited to compete in either the junior (age 15–18) or senior (age 19–26) division. "Students and young professionals in the junior division compete to test themselves against our high standards," says Sue Lobrano, executive director of the USA IBC. "They learn so much about professional ballet life from the strenuous pace of the classes, rehearsals and competition. Senior division dancers, on the other hand, have generally already started their careers, but will receive additional exposure and publicity through the competition."
In addition to medals, dancers can win cash prizes, contracts and scholarships. Even after they've been eliminated, dancers are permitted to request a critique of their performances and to attend classes and competition performances for free. This year, new awards will be handed out at the USA IBC, including six one-year contracts with companies including Miami City Ballet and the Washington Ballet.
Next competition date: June 12-27, 2010 (USA IBC in Jackson)
Famous alumni of USA IBC: Nina Ananiashvili (1986), artistic director, State Ballet of Georgia; Jose Manuel Carreño (1990), principal, ABT; Rasta Thomas (1998), freelance performer and artistic director, Bad Boys of Dance; Misa Kuranaga (2006), principal, Boston Ballet
For more information: usaibc.com (USA IBC); varna-ibc.org (Varna IBC); russianballet.ru/competition (Moscow IBC); balcomphel.fi (Helsinki IBC); nureyevibc.com (Nureyev IBC in Budapest)
Reasons to Compete
Preparation: A competition requires lengthy preparation, focusing on artistic and technical details. This intensive training helps build discipline and pushes you to be your best. "The process is the prize," says Bo Spassoff, co-director of The Rock School.
Education: Where else can you meet, watch and interact with dancers from all over the world? "Use it as a learning experience," says Carlos Molina, a Boston Ballet principal who won the Igor Youskevitch Award at the NYIBC in 1996. "Take the opportunity to learn from other dancers." And if you make a friend or two, that's even better, especially since many of the dancers you meet will end up being your co-workers in the future!
Performance: Ballet competitions offer amazing performance opportunities, particularly for dancers from smaller studios. It's not often that 16-year-olds get to tackle Odile's furious turns or Kitri's tricky hops on pointe onstage—except in competition! Performing challenging ballerina roles will strengthen your technique and your artistry, and give you the chance to command a professional stage.
Exposure: Competitions guarantee visibility, even if you don't take the top prize. "You don't have to win a medal to earn a place in a company," says Sue Lobrano, executive director of the USA IBC. "Many directors are looking for a particular type of dancer and hire non-medalists all the time."
Common Competition Mistakes
All flash and no finesse: "Sometimes in competitions, people ignore the beauty of the art form and go for dazzle—high extensions and multiple pirouettes—hoping to impress the judges," says Bo Spasoff, co-director of The Rock School. "While there's an athletic component to dance, there's also an artistic component. Don't lose sight of the artistry of the work when you're performing at a competition. Allow your individuality and love of dance to come through."
Training for competitions and not your career: "I saw dancers at Varna who turned in beautiful performances night after night and yet struggled in a ballet class to put two or three steps together," says Roy Kaiser, artistic director of Pennsylvania Ballet. Remember that your ultimate goal is not to win a competition; it's to develop clean, solid technique. Don't skip class to practice your variations, and while you're in class, focus on the clarity and purity of your dancing. A strong foundation will enable you to adapt to different styles and will make you an attractive candidate for professional companies.
Bad behavior: Don't be a diva. You may be performing principal parts in competition, but stay humble; remember that nearly every ballet career starts in the corps. And throwing a tantrum when a variation doesn't go your way will only show directors and judges that you're not ready for the professional ballet world. No matter what happens on- or backstage, keep it classy.
Did You Know?
Ballet competitions can be especially helpful for international students. Medalists from abroad often have a leg up when applying for U.S. working papers, making it easier for them to work with American companies.
Via @chelshightower on Instagram
From competing on "So You Think You Can Dance" to performing on "Dancing with the Stars" for seven seasons (and earning an Emmy nomination for her work on the latter), Chelsie Hightower has lived the pro dance dream. Though Hightower retired from "DWTS" several years ago and now teaches and choreographs in her home state of Utah, she admits that her dance career exceeded even her own high expectations. "I've accomplished things that I didn't know were possible," she says.
But most fans of "DWTS" would never have guessed that while filming, the talented and seemingly fearless ballroom pro was facing her fiercest competitor off-camera. Hightower has struggled with anxiety for most of her life, but the issue became especially severe during her years on the show.
With the help of therapy and other coping exercises, Hightower has found healthy ways to manage her anxiety. Now, she hopes that sharing her experience will inspire other dancers struggling with mental illness to get help.
Keep reading...
Show less
Popular
Jan. 15, 2019 12:01PM EST
Past "SYTYCD" hopefuls at The Academy (Adam Rose/FOX)
More fabulous TWall routines. More passengers on the Hot Tamale Train. MORE CAT DEELEY BEING DELIGHTFUL.
That's right, y'all: "So You Think You Can Dance" was just renewed for a 16th (!) season, to air this summer on Fox. And audition dates have already been announced.
Keep reading...
Show less
It includes this familiar face! (Erin Baiano)
Something's coming, I don't know when
But it's soon...maybe tonight?
Those iconic lyrics have basically been our #mood ever since we first heard a remake of the West Side Story film, directed by Steven Spielberg and choreographed by Justin Peck, was in the works. THE CASTING. THE CASTING WAS COMING.
Well, last night—after an extensive search process that focused on finding the best actors within the Puerto Rican/Latinx community—the WSS team finally revealed who'll be playing Maria, Anita, Bernardo, and Chino (joining Ansel Elgort, who was cast as Tony last fall). And you guys: It is a truly epic group.
Keep reading...
Show less
Dancer Tony Bellissimo on the field at Super Bowl LII (via Instagram)
The Super Bowl is America's most-watched television event. Last year, when the incomparable Justin Timberlake took center field for the halftime show, more than 106 million viewers were watching his every move—and that's not even a record!
What's it like to perform for such an incredibly huge audience? Dancer Tony Bellissimo has plenty of experience with high-pressure dance gigs, having worked with artists including Rihanna, Britney Spears, John Legend, and Chris Brown. But stepping out alongside Timberlake during last year's halftime show was a next-level experience. We talked to Bellissimo about how he scored such a coveted job—and how he handled the pressure.
Keep reading...
Show less
screenshot via @donte.colley on Instagram
Y'all, it's time to call a spade a spade: The first month of any New Year kind of sucks. It's way too cold, you're probs failing at one or two of those ambitious resolutions, and spring (with its exciting performing opportunities) feels so very far away. And yet, in the midst of so much darkness, a hero has emerged. His name is Donté Colley, and you're about to double-tap every single thing he's ever posted.
Keep reading...
Show less
Photo by Joe Toreno
It's almost 2019 and the ballroom dance scene is positively booming! From prestigious world championships to TV shows, kids are at the core of all this hip-shaking action—and we're so here for it. These eight up-and-comers in particular are shaping the field. They're the next generation of superstars to make the leap from technically exquisite ballroom-ites to bona fide celebrities.
Keep reading...
Show less
Just for Fun
Jan. 11, 2019 02:28PM EST
Dance Teacher
Jan. 11, 2019 12:37PM EST
Joanne Chapman teaching turns (photo by Dan Boskovic, courtesy Joanne Chapman School of Dance)
Think back to your newbie dancer days. Can you remember your introduction to spotting? It might've involved staring hard at your own reflection in the mirror as you wrestled with your first pirouette. Or maybe your teacher had you put your hands on your shoulders as you attempted a series of half-chaînés across the floor.
Keep reading...
Show less
Get Dance Spirit in your inbox
Just for Fun
Aug. 17, 2018 12:29PM EST
Thinkstock
Dance teachers have to deal with a lot. While open communication with your teacher is obviously key, lame excuses for less-than-great behavior are guaranteed to get on her nerves. Always avoid these seven excuses that will 100 percent get your dance teacher's blood boiling.
Keep reading...
Show less
It includes this familiar face! (Erin Baiano)
Something's coming, I don't know when
But it's soon...maybe tonight?
Those iconic lyrics have basically been our #mood ever since we first heard a remake of the West Side Story film, directed by Steven Spielberg and choreographed by Justin Peck, was in the works. THE CASTING. THE CASTING WAS COMING.
Well, last night—after an extensive search process that focused on finding the best actors within the Puerto Rican/Latinx community—the WSS team finally revealed who'll be playing Maria, Anita, Bernardo, and Chino (joining Ansel Elgort, who was cast as Tony last fall). And you guys: It is a truly epic group.
Keep reading...
Show less
Just for Fun
Jan. 11, 2019 02:28PM EST
via @dynamicdancestudios on Instagram
There are dance routines, and then there are dance routines. Andrew, a 21-year-old dancer with Down Syndrome, performed the latter on the new British reality dance show "The Greatest Dancer." He brought the audience to tears as he unabashedly freestyled to Justin Timberlake's "Can't Stop The Feeling."
Keep reading...
Show less
The Broadway cast of Hamilton (Joan Marcus, courtesy Sam Rudy PR)
Today, January 11, is #AlexanderHamiltonDay: A very happy 264th birthday to Alexander Hamilton! Thanks to this most unlikely of Founding Fathers—a brilliant and ballsy orphaned immigrant who dramatically rose, then fell, then rose again—we have possibly the most successful musical of all time. We also, of course, got priceless GIFs such as this one: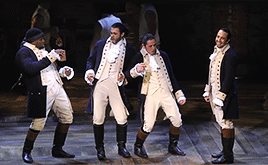 *When your crush walks over and you're trying to act natural but your friends are all like*
Aaaaaaaaaaanyway, while we can't get you "in the room where it happens" with tickets to the show's current Broadway, touring, or Puerto Rico productions—the last of which opens tonight!—we CAN offer up some fun ways to fête A.Ham's day of birth. Just you wait:

Keep reading...
Show less
Screenshot via YouTube
Every once in a while, the stars align, things fall precisely into place, and the perfect marketing campaign is born. Such is the case with New York City Ballet's new trailer for their upcoming run of The Sleeping Beauty, which was conceived and directed by company soloist Sean Suozzi.
Keep reading...
Show less
via @torysport on Instagram
Washington Ballet's Nardia Boodoo is turning heads these days, and not just at the barre. The brilliant ballerina shines in Tory Sport's latest commercial and we can't help but feel a little bit of pride as our March 2018 cover star brings ballet to the masses. What better way to show off stylish and comfy athletic wear than with Boodoo's strong and luminous dancing?
Keep reading...
Show less
Hall works with students at Dance Conservatory of Charleston. (courtesy Dance Conservatory of Charleston)
As the name suggests, summer intensives are, well, intense, encouraging you to eat, sleep, and breathe dance for a significant chunk of the summer. But they're not for every dancer—or every summer. Maybe you're not ready to be away from home just yet, or you want to spend your last summer with family before going off to college. Intensives can also be expensive, and not every household has the financial flexibility to cover the high cost of auditions, travel, room and board, and tuition. Whatever your reasons for seeking alternatives, it's important to recognize that, when it comes to summer study, it doesn't have to be all or nothing. "The most important thing is to keep dancing," says Lindy Mandradjieff, owner of the Dance Conservatory of Charleston in South Carolina. "Without the added stress of school, you can improve as much in one summer as you would in an entire school year." Here's how to keep up your training even if you don't plan on attending an intensive.
Keep reading...
Show less