Nov. 28, 2016 10:33AM EST
Bask in the Danciness of the La La Land Teasers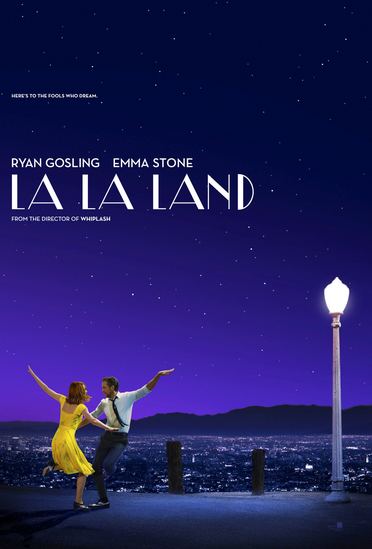 How American in Paris-y is the poster? LOVE.
You guys! We need to FREAK OUT talk about La La Land. It's out in select cities December 9, it stars Ryan Gosling and Emma Stone, it's already getting Oscar buzz—and it's the most fabulously song-and-dance-y thing to hit the big screen since, oh, the movie musicals of the 1950s.
Which is exactly the idea. Writer Damien Chazelle wanted "to take the old [movie] musical but ground it in real life where things don't always work out." The result is a modern-day spin on the classic genre, telling the story of an aspiring actress and a struggling jazz musician through song and—hooray!—LOTS of dance.
There are no fewer than 15 musical numbers in La La Land, with choreography by the ever-fantastic Mandy Moore. And you'll see almost literally every dancer in Hollywood onscreen at some point. In addition to High Strung's Sonoya Mizuno, who has a speaking role, the movie's IMDB page credits—take a breath before you start down this list, because it's a doozy—Melinda Sullivan, Dana Wilson, Khasan Brailsford, Montana Efaw, Galen Hooks, Jeremy Hudson, Ryan Ramirez, Bryan Tanaka, Mallauri Esquibel, Martha Nichols, Robert Roldan and Chelsea Thedinga. (And that is a VERY PARTIAL list.)
We already knew Stone and (especially) Gosling were triple threats, and the peeks we get at their dance scenes in the movie's various teasers are verrrrry intriguing—lots of Fred-and-Ginger vibes. Take a look at the film's official trailer and a great behind-the-scenes featurette, which includes an interview with Moore, below.
Dance News
Jun. 15, 2019 10:12AM EST
(From left) Darriel Johnakin, Diego Pasillas, and Emma Sutherland (all photos by Erin Baiano)
Congratulations to Dance Spirit's 2019 Cover Model Search finalists: Darriel Johnakin, Diego Pasillas, and Emma Sutherland! One of them will win a spot on Dance Spirit's Fall 2019 cover. Learn more about the dancers on their profile pages, and then vote for your favorite below. You can vote once a day now through July 15.
We also want you to get social! We'll be factoring social media likes and shares into our final tallies. Be sure to show your favorite finalist some love on Facebook, Instagram, and Twitter, sharing their profile pages and using the hashtag #DanceSpiritCMS.
Cover Model Search
Jun. 17, 2019 04:05PM EST
Jun. 13, 2019 02:20PM EST
Photo by Erin Baiano
Imagine attending American Ballet Theatre's prestigious NYC summer intensive, training among classical ballet legends. Imagine taking the stage at New York City Dance Alliance Nationals, competing against some of the country's best contemporary dancers. Now, imagine doing both—at the same time.
Welcome to Madison Brown's world. This summer, she's in her third year as a National Training Scholar with ABT, while also competing for NYCDA's Teen Outstanding Dancer title. (She's already won Outstanding Dancer in the Mini and Junior categories.) The logistics are complicated—ABT's five-week intensive overlaps with the weeklong NYCDA Nationals, which translates to a lot of cabs back and forth across Manhattan—but Maddie is committed to making the most of each opportunity. "I love contemporary and ballet equally," she says. "While I'm able to do both, I want to do as much as I can."
Maddie has an expressive face, endless extensions, and a quiet command of the stage. She dances with remarkable maturity—a trait noted by none other than Jennifer Lopez, one of the judges on NBC's "World of Dance," on which Maddie competed in Season 2. Although Maddie didn't take home the show's top prize, she was proud to be the youngest remaining soloist when she was eliminated, and saw the whole experience as an opportunity to grow. After all, she's just getting started. Oh, that's right—did we mention Maddie's only 14?
Cover Story